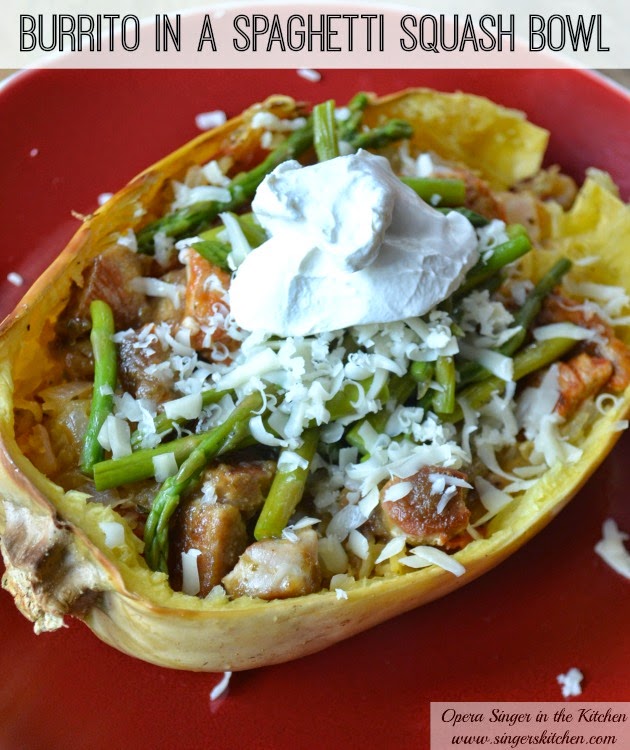 I am always looking for great substitutes for adding healthier veggies into our eating lifestyle. Spaghetti squash is just one non-starchy vegetable that I do not cook with as often and am finally happy that I have added it to our kitchen as a staple.

There would be many complaints that there is nothing that can substitute pasta or rice, but sometimes when there is a desire and need it is available and willing to be made possible. One morning I decided to roast my squash in the oven but then had an errand to run, leaving my husband to tend to the squash. I get a text back from him saying that he had removed the squash from the oven and that it looked super good. I was afraid he was going to eat it! No, not really, I was just happy that my husband was so interested in it.

I roasted two whole spaghetti squash that allowed me to make 2 meals. Last week I made a Spaghetti Squash Lasagna using the squash as the pasta base and added the meat and cheese as the topping. It was a hit with all of us. I definitely need to post that recipe soon.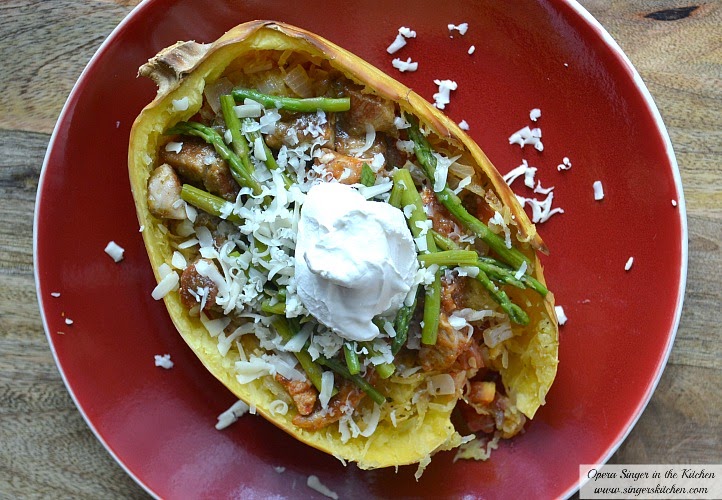 Another favorite meal of ours are burrito bowls. We tend to go to Chipotle in a bind or when I just do not feel like cooking but sometimes I just create them at home. When I was creating the dish I was thinking of layering the squash with rice, and then beans and then all the fixings but then I just decided to make a Mexican rice using squash instead of rice.

Once you cook the squash in the oven for 50 minutes, I carefully removed the squash from the skin, so I could leave the squash half shell intact to serve my dish in the squash as a bowl.I stir-fried tomatoes and onions with olive oil and added the cooked squash with some garlic and cooked until the mixture was a little dry. I filled the squash half with the Mexican fried squash and layered with my favorite toppings.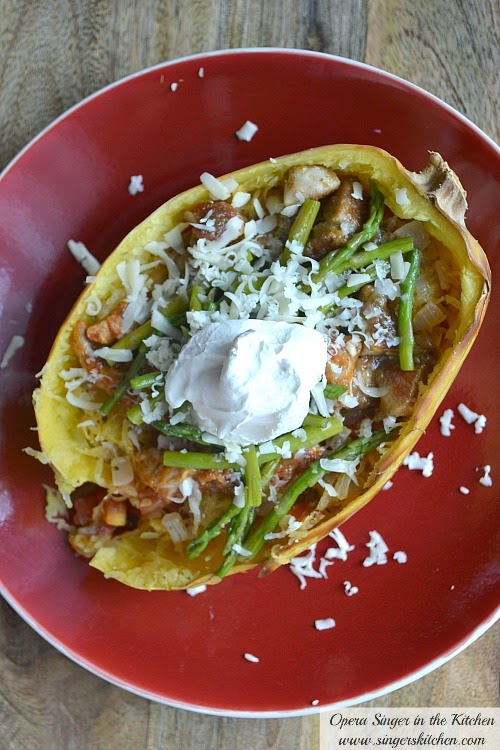 While I could have added black beans, I already had my healthy fats in my squash, so I added grilled chicken, layered with grilled veggies, grated cheese, and topped with a dollop of sour cream. I meant to put guacamole on top but ran out of avocados. Shredded lettuce is also a good options.

While I was super full with HALF of the half squash bowl, I knew I filling my body with yummy foods. Next time I am going to layer some brown rice and cut back on the olive oil in my cooking. Enjoy the recipe!


Burrito in a Spaghetti Squash Bowl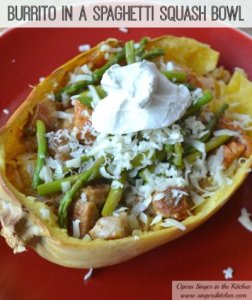 Keywords:

bake cook gluten-free low-carb soy-free sugar-free
Ingredients

(2 squash bowls for 2 people bu)
Squash
1 spaghtetti squash

olive oil or olive oil spray

salt and pepper
Mexican-fried squash
1 whole spaghetti squash, flesh removed carefully from squash shell. Keep skin intact if desired

1 onion

2 garlic cloves, minced

1 tomato, diced

1 Tbsp olive oil ( or 2 teaspoons olive oil to keep as an E-meal)
Chicken
2 chicken breasts,

salt and pepper
Toppings
cheese

salsa

Beans (optional) (E-meal if not using so much oil)

sour cream or fat free sour cream

guacamole (only for S-meal)

lettuce

any additional veggies (optional)
Squash
Preheat oven to 400F and cut squash in half, lengthwise. Spray with olive oil spray and season with salt and pepper.
Place on cookie sheet, with squash side facing up. Cook for 50 minutes. Remove from oven and cool. Remove squash flesh carefully leaving skin intact. Optional of course. Cut squash for smaller pieces.
Chicken
Rub each chicken breast with 1 teaspoon of olive oil and sprinkle with salt and pepper. Cook on medium heat for 10 minutes on each side. Let chicken sit in pan for 5 minutes. Cut into cubes or strips.
Mexican Fried Squash
Add 2 teaspoons of olive oil to large non-stick pan on medium high heat. Add onions and tomatoes and cook for 8 minutes. Add the garlic and the squash and cook for another 8 minutes. All liquid should be evaporated. Salt and pepper to taste.
Assembly
it is a lot of food. The Mexican Fried Squash can be divided between 4 people. If very hungry divide mixture and fill each squash shells. Top with grilled chicken, salsa, guacamole, lettuce, cheese and sour cream.

Related