This is a sponsored post with Giant / Martin's stores. All recipes were created in my kitchen.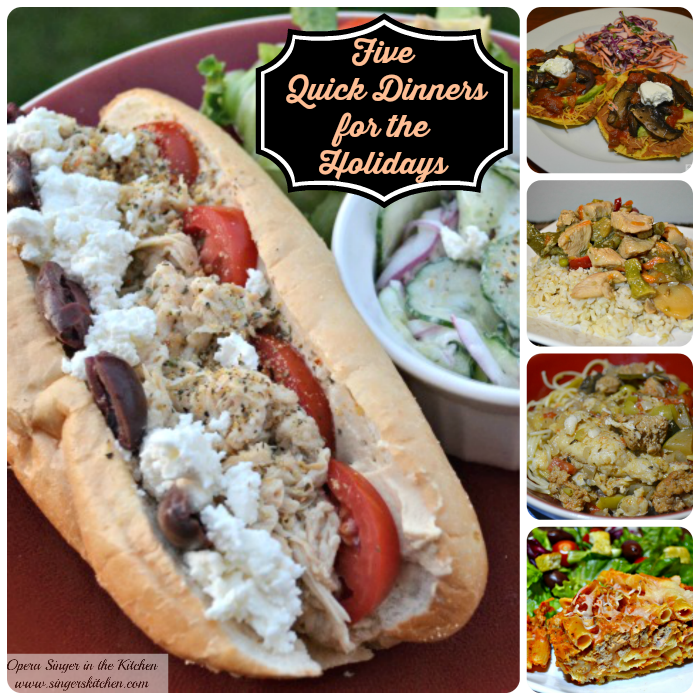 Thank you for being patient after being absent over the holidays. We had a lovely time with our family and resting at home and hardly cooking and baking until yesterday. How great is that? Sometimes even cooks want a break in the kitchen.  With the holidays in full swing and family coming in for a visit, who wants to spend a huge amount of time in the kitchen? I rather have everything planned and be sitting and spending time with out of town guests or even with my immediate family.
When it comes down to it, when I plan my meals for the week, I look back at popular main meals my family enjoyed and then add 1-2 nutritious sides to accompany the meals. When I created five quick dinners, I made sure I stayed within my budget.  If you have been following my posts, Giant / Martin's stores has been running Buy Theirs, Get Ours Free Challenge where the store's own brand is compared with the brand name product. When I came to test the products, I thought the challenge was pretty great but the products met my expectations.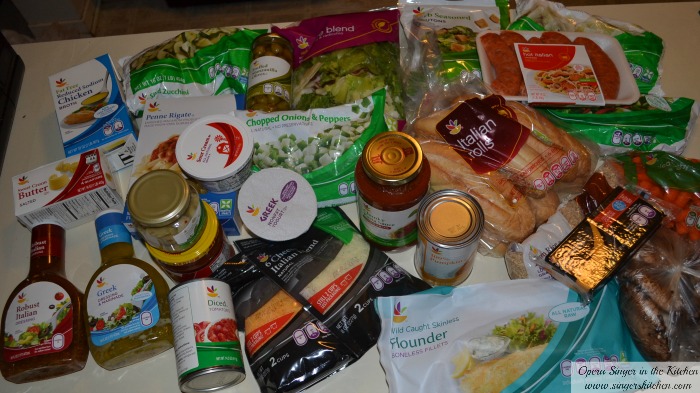 As I shopped for my ingredients I found it easy to primarily use to Giant's Own Brand for my meals planned. It felt good leaving the store knowing I stayed within budget and knowing that I would have leftovers for lunches or even enough to freeze for another dinner. I made sure I focused on meals that would be family-friendly, tasty, and different than most menu plans. There was even a vegetarian meal for a night where we skipped the meat. Be sure to know that there is at least one meal that will become your family's favorite in this mix. Make sure you pin my recipes to save for later. All the recipes are below.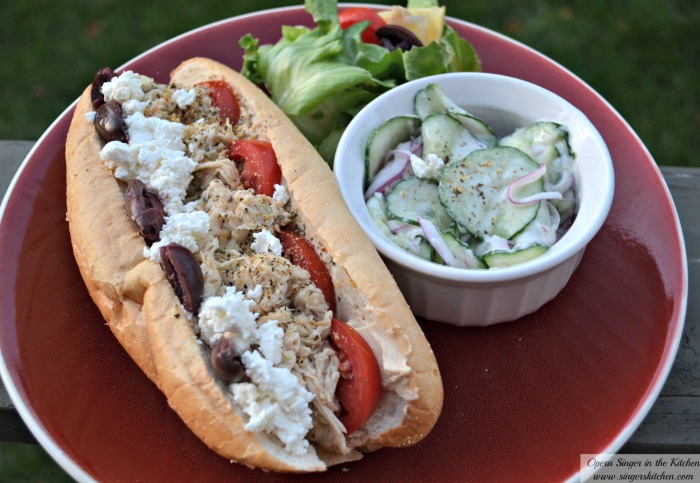 Greek Chicken Hoagies
Prep Time: 15 minutes
Cook Time: 8 hours crock pot
Keywords: slow-cooker lunch entree sandwich Greek
Ingredients (6 servings)
Crock pot Greek Chicken
24-ounces Giant chicken breast
1 bottle Giant Own Brand
Hoagie toppings
6 Giant Own Brand hoagie rolls
4 Roma tomatoes, sliced
3/4 -1 cup kalamata olives, slices
1 cup Giant Own brand feta cheese, crumbled
8-ounce prepared hummus
shredded lettuce
Instructions
Crock pot Chicken
Place chicken breast in an 8 quart crock pot. Pour Greek dressing over chicken and place heat on low and cook overnight.
In the morning, shred chicken in sauce and remove from sauce.
Assembly
Spread 2 Tablespoons of hummus on one side of hoagie then add about 4-ounces of chicken in each hoagie. Place 3-4 slices of Roma tomatoes inside the hoagie. Add 2 Tablespoons of feta cheese and kalamata olives and top with some shredded lettuce.
Accompany with a cucumber salad.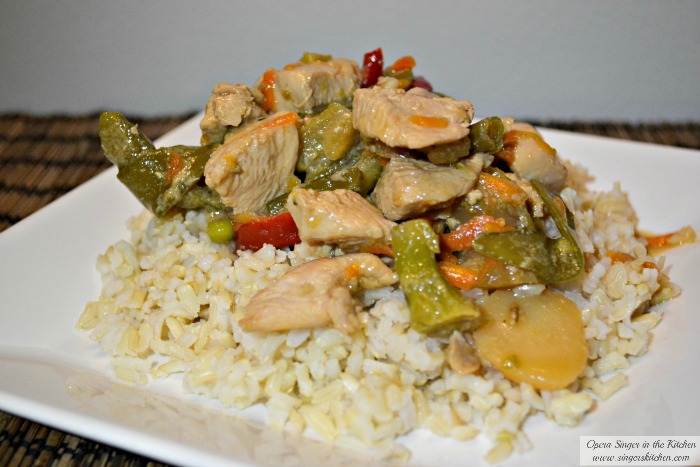 Quick Chicken and Vegetable Stir Fry
Prep Time: 15 minutes
Cook Time: 30 minutes
Keywords: cook saute entree lunch chicken Asian
Ingredients (6-8 servings)
1 1/2 pounds chicken breast
1 sesame oil
2 pounds frozen Asian-style veggie (Giant Own brand)
1/4 cup soy sauce
2 Tablespoons arrowroot powder (or cornstarch)
1/2 teaspoon ginger powder
2 garlic cloves, minced
3 Tablespoon oyster sauce
Brown rice
Instructions
Heat the sesame oil in a wok or large non-stick pan. Slice chicken and cube in -inch cubes. Toss in salt and pepper and cook chicken for 10 minutes. Set aside in a bowl. Add the frozen vegetables to the pan and cook until thawed. Remove liquid from pan.
Mix the soy sauce, oyster sauce, arrowroot powder, ginger powder, garlic to create a sauce.
Add the cooked chicken to the vegetables and mix well. Add the sauce mixture to the chicken and vegetables and bring to a boil for 10 minutes until the sauce thickens.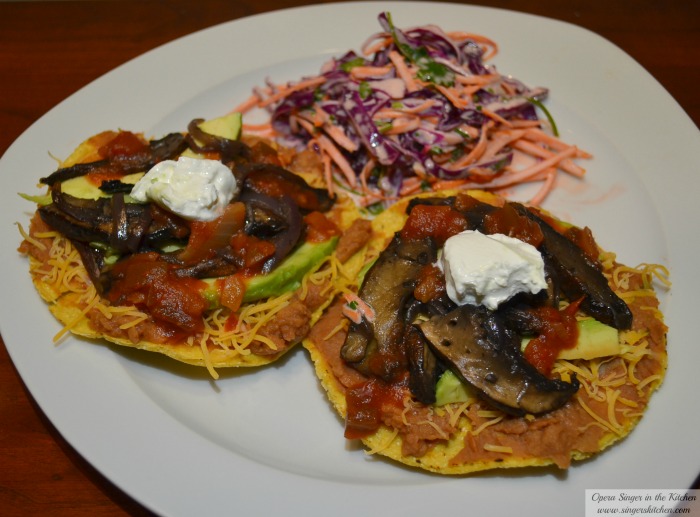 Vegetarian Mushroom Tostadas
Prep Time: 15 minutes
Cook Time: 15 minutes
Keywords: saute vegetarian vegetarian recipes on recipage beans mushrooms
Ingredients (10 tostadas)
For the Mushrooms
4-5 small portabella mushroom caps
2 Tablespoons olive oil
1 large red onion, sliced
1/2 taco seasoning packet
For Assembly
10 Charras tostadas (crispy tortillas)
1 – 16-ounce vegetarian refried beans
1 cup Giant Own Brand shredded cheese
1 cup Giant Own Brand medium salsa
3/4 cup Giant Own Brand sour cream
shredded lettuce
Instructions
Mushrooms
Heat a large non-stick skillet with olive oil. Slice the portabella mushrooms, lengthwise about 1/2 inch. Saute' the onions and mushrooms for 10 minutes. Once the moisture starts expelling from mushrooms, add 1/2 taco seasoning and cook for another 10 minutes until the liquid is mostly evaporated.
Assembly
Heat the refried beans in a microwave for 1 1/2 minutes. Spread 1-2 Tablespoons of beans evenly on each tostada. Sprinkle with 1-2 Tablespoons cheese. Add about 4-6 slices ( 1/4 cup) on top of the cheese. Continue by adding some salsa and sour cream and shredded lettuce. Repeat with the rest of the tortillas.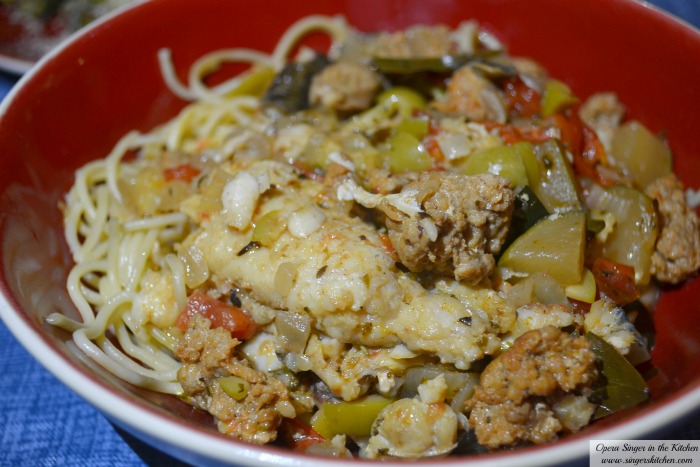 Spicy Sausage and Fish Stew
Prep Time: 20 minutes
Cook Time: 20 minutes
Keywords: bake cook saute entree soup/stew sausage fish
Ingredients (serves 4 people)
1/2 pound spicy sausage (Giant Own brand)
1 pound flounder (Giant Own Brand)
1 large yellow onion
3 garlic cloves, minced
1/2 cup sundried tomatoes, chopped
1/2 cup green olives, sliced (Giant Own Brand)
1/2 pound frozen zucchini, (Giant Own Brand)
2 cups chicken broth (Giant Own brand)
1/2 cup white wine
1/2 teaspoon salt
1/2 teaspoon black pepper
1 1/2 teaspoon Italian seasonings
Instructions
In a large and deep sauce pan, remove sausage from casing and heat over medium heat with 1 Tablespoon olive oil. Cook for 5 minutes and add the onions and minced garlic and saute' another 5 minutes. Add the sun-dried tomatoes, green olives, zucchini, broth and spices and simmer for another 10 minutes. Meanwhile season fish fillets with salt and pepper. Place fillets over sausage stew and cover pot. Cook for 10-15 minutes. Serve 1 fillet with stew over a cup of low-carb pasta.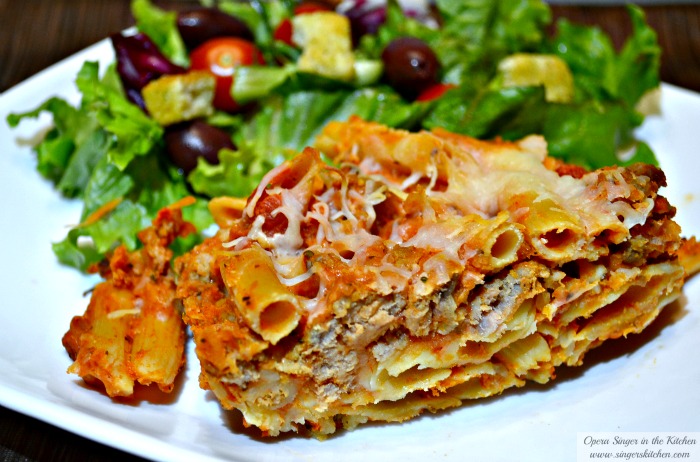 Cheesy Sausage Pasta Bake
Prep Time: 15 minutes
Cook Time: 40 minutes
Keywords: bake cook entree turkey sausage pasta
Ingredients (8 servings)
1 pound Giant Own Brand penne pasta
1 pound Giant Own Brand sausage
1 pound ground turkey
1 large yellow onion
4 garlic cloves, minced
2 bottles Giant Own Brand bottled spaghetti sauce
1 cup Giant Own Brand shredded parmesan
4 cups Giant Own Brand Italian cheese mix (divided)
Instructions
Remove sausage from casing. Cook sausage in a large non-stick skillet and cook for 15 minutes. Set aside and heat skillet with olive oil. Add the onions and garlic. Add the ground turkey and cook for 10 minutes. Mix in the sausage and set aside.
Boil pasta according to box directions. Drain water from pasta, and add pasta sauce, 1 cup parmesan cheese,3 cups Italian cheeses, 1 Tablespoon Italian seasoning, 1 1/2 teaspoon salt, and 1 teaspoon black pepper. Mix well and add the sausage and turkey into the pasta. Mix again and place in a greased 9 x13 glass pan.
Top with about a cup of the shredded Italian cheese on top of the pasta. Bake on 350 degree Fahrenheit for 30 minutes.
Divide into 8 squares and serve with a green salad.
Related