This is a compensated collaboration with Farmland® and Latina Bloggers Connect. However, all opinions expressed are my own.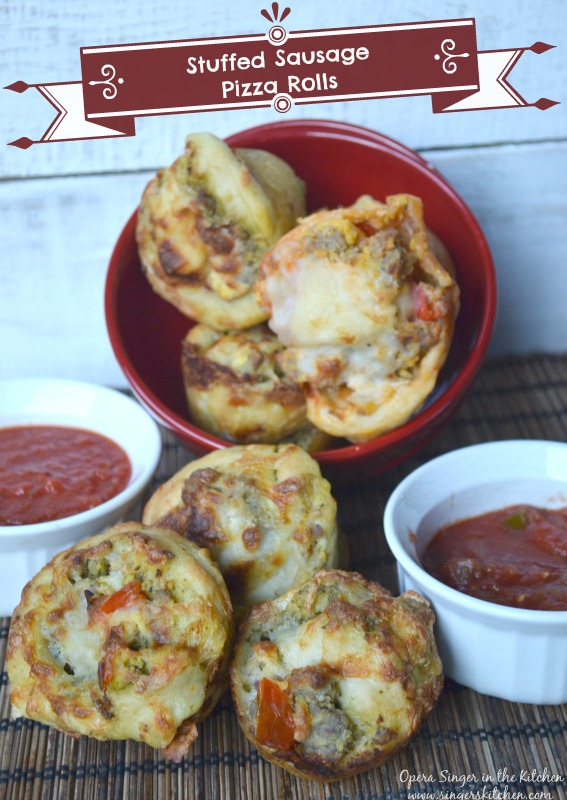 The last two days have proven to be a promise of spring quickly approaching. As I was driving into my residential area it was crazy to see most of the snow already melted. The sun shined upon my face and all I could think about was lounging outside and hearing kids playing out in the yard. Something else I like hearing are the guys screaming and yelling about their favorite sports team during game time season. Even though I am not a sport fan, I like seeing others enjoy watching sports. Is that strange?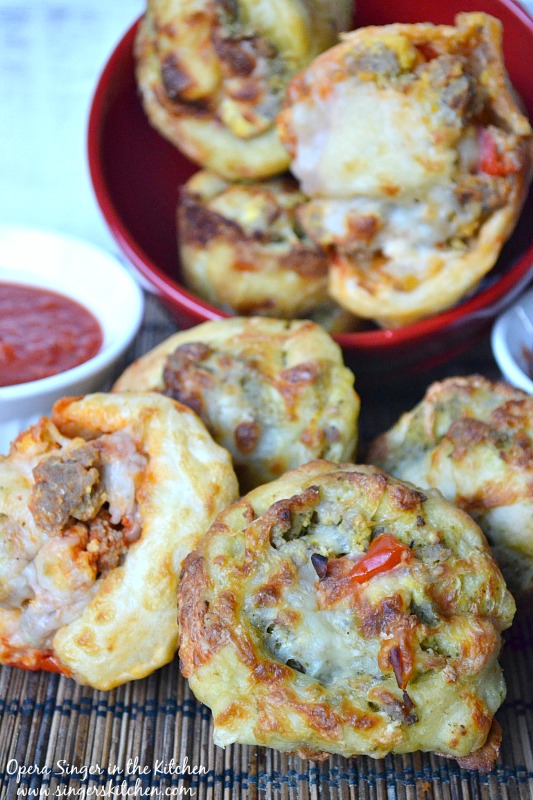 Yes, I will be that wife and hostess to have food available to munch on while the rest are debating and betting on their favorite teams. If we were all doing the same thing it simply would not be fun right? One of the favorite foods that I see ordered frequently during game time season is pizza. Even though I have my shortcuts for making my own homemade pizza, I decided to take a classic and spin them into quick bites for adults and kids to enjoy with their favorite sauce.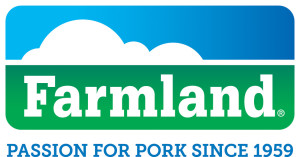 While I like pizza like any other person, I thought that making loaded sausage pizza rolls would be popular. While my family normally likes pepperoni, I decided to make them with sausage, specifically with Farmland® Sausage. I was excited to use this new sausage is that it is gluten free with no MSG and full of the delicious all natural flavor. While it is available in links and patties I was able to use the patties to make sausage crumbles.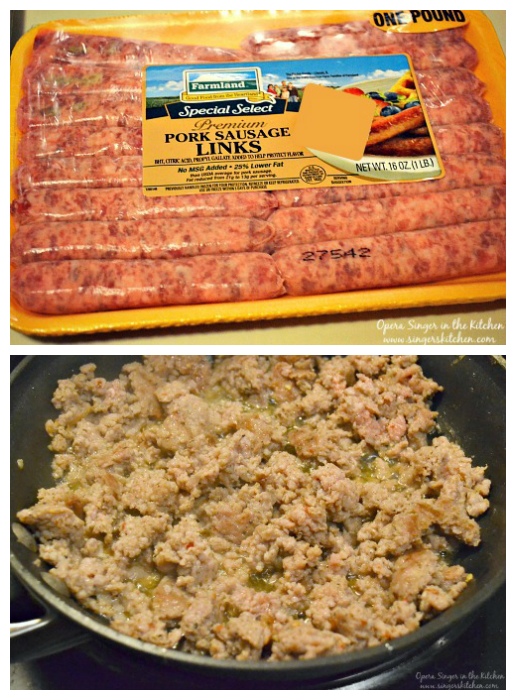 I had lots of fun creating this appetizer. I bought store-prepared pizza dough and brought it to room temperature before working with it. I flattened the dough and spread pesto. I cooked the sausage and added it on top of pesto. I then chopped pickled peppadew peppers and added shredded mozzarella cheese.  I then rolled the pizza dough like one would for cinnamon rolls and sliced 1 to 1.5 inch slices and placed the slices in a greased muffin tin pan and baked.
They were awesome and delicious! My husband loved them and they proved to be game worthy. Make them for your next party and I am sure they will be a hit.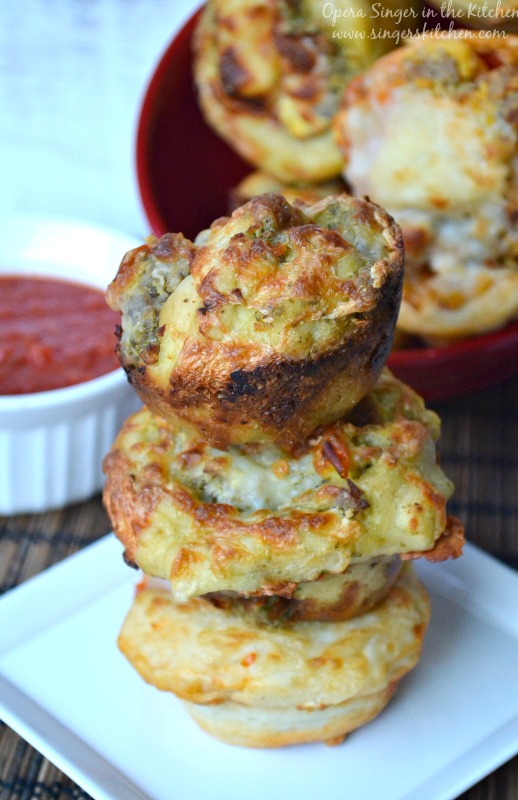 Stuffed Sausage Pizza Rolls
by Noelle Kelly
Prep Time: 30 minutes
Cook Time: 15 minutes
Ingredients (2 dozen)
1 pound store-bought pizza dough
3/4 cup store-bought pesto
1 pound Farmland® sausage
1 onion, diced
3 cups mozzarella cheese, shredded and divided
1 cup pickled peppadew peppers, sliced
1 cup white button mushrooms, chopped
Instructions
Remove pizza dough from fridge and allow to sit at room temperature for 30 minutes. Meanwhile, crumble the sausage into a medium non-stick skillet along with diced onions and cook on medium heat for 15 minutes. Cool for 5 minutes.
Meanwhile preheat oven to 425 degrees Fahrenheit.
Roll the dough on clean and floured surface until 1/2-inch thick. Spread the pesto evenly over the dough. Add the sausage on top of the pesto then add the chopped peppers and mushrooms. Spread 2 cups shredded mozzarella on top of the ingredients.
Start rolling the dough from the longest side of the dough and carefully roll the dough over the sausage pizza ingredients until sealed. Start cutting slices from the edge at 1 to 1.5-inch in width.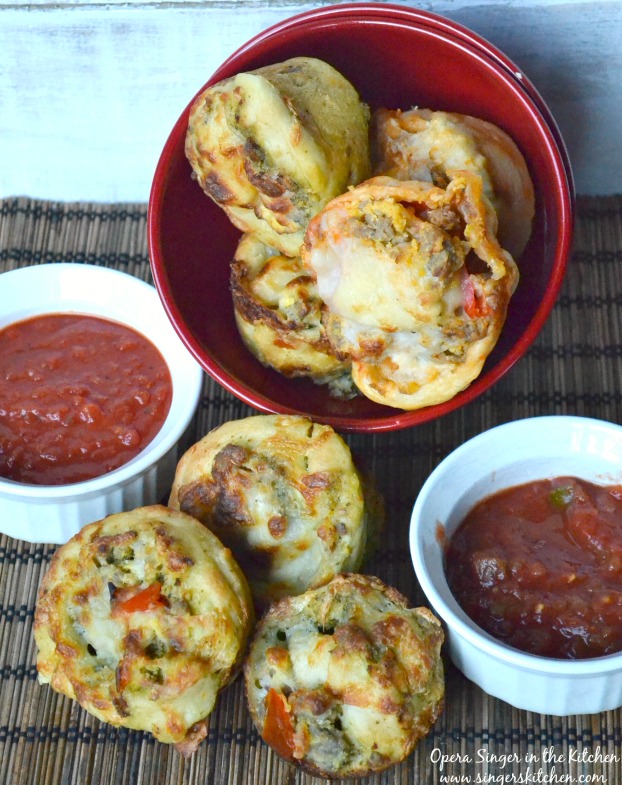 Add each slice to a greased muffin tin. Repeat until there are 2 dozen rolls. Add the rest of the mozzarella cheese over each roll and bake for 15 minutes or until lightly golden.
Serve with marinara or even some salsa.
-This is a compensated collaboration with Farmland® and Latina Bloggers Connect. However, all opinions expressed are my own.
Related