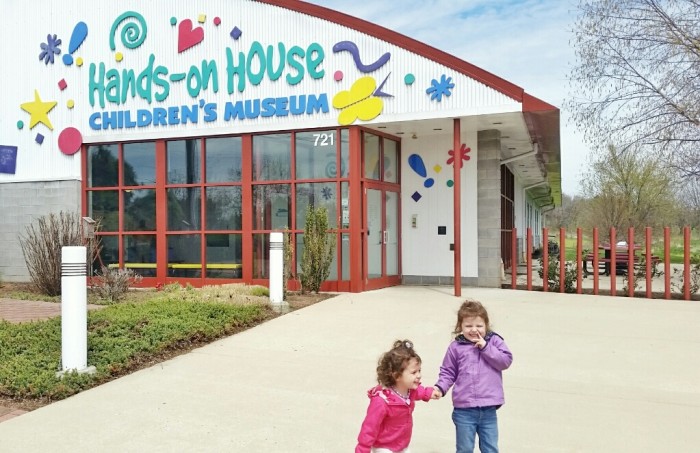 This weekend my girls and I decided to head out Lancaster to check out a few new places. My whole intention was to get my husband to go with me but it happened to be on a weekend that he was busy with some choirs from his work. He also was headed in the Lancaster direction but we had breakfast together before we both parted in our separate ways.
The girls and I arrived at the Hands-On Museum just 40 minutes after leaving breakfast. We talked about the farms and everything we might see as we arrived to the museum. As we parked I showed the girls the building and they were immediately excited to check out a new place.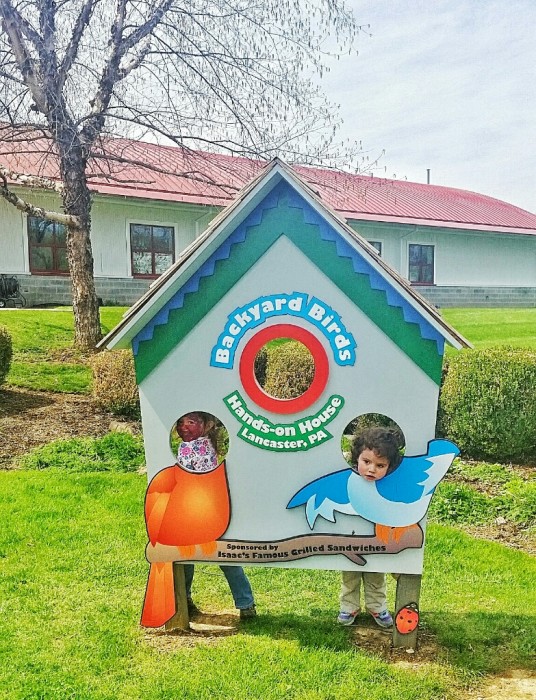 The Hands-On Museum is a one-level museum where kids from 2 to 10 can enjoy different self-directed exhibits while parents assist, ask questions and even partake of the playing and pretending. I was afraid at first that there would not be enough for my girls to do since it was one level museum but I quickly learned that my girls would be enamored, engrossed and excited about the things they love the most.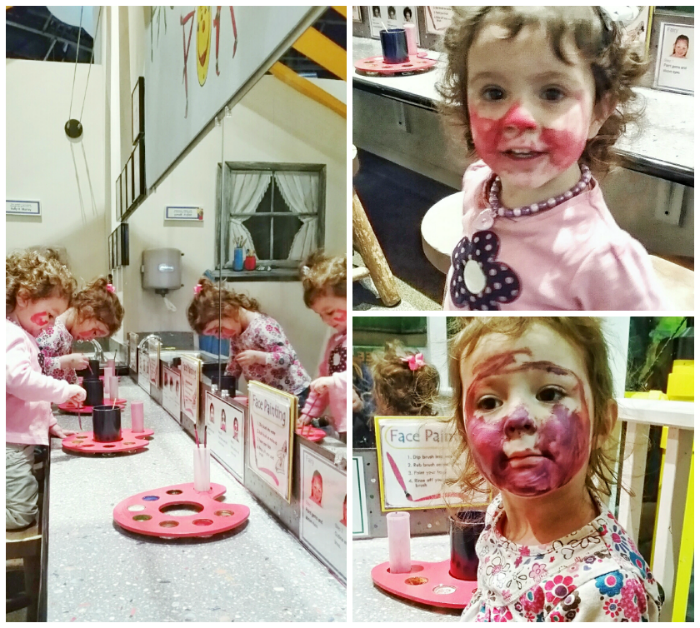 Once we started moving from exhibit to exhibit it did not take long to find the face painting. The girls both found a stool and sat in front of a mirror and started imitating the older kids around them even my 2-year old! Soon their faces were covered with red paint and I could not help but be amused by how excited they were. I think I washed their faces 3-4 times before I forced them to keep moving to the next exhibits promising our return to the face painting.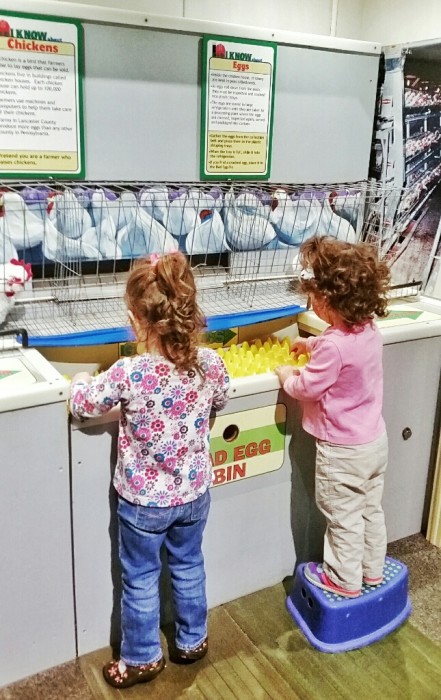 There was a section explaining life on a farm and there were even activities that imitated what farmers did on a daily basis. The next place my girls loved was the dress-up and pretend play area. They loved finding the perfect outfit and once they did they roamed and twirled and even shopped in their dresses. I was afraid I would not be able to take them off at the end of our visit.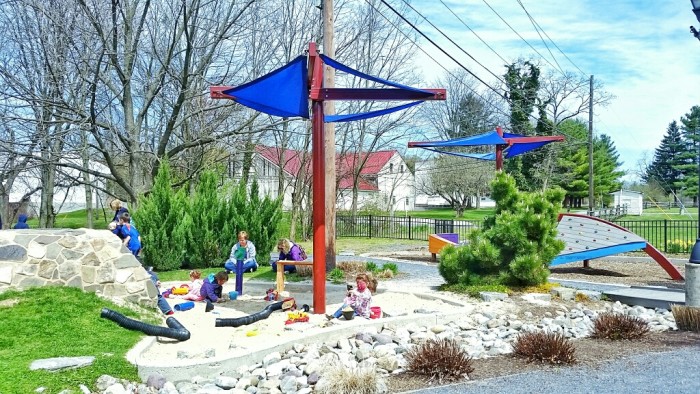 Once we finished the inside and the girls tried to go to the face painting section again, I reminded them of the outdoors. As we had walked in to the museum, the girls had noticed a playground area that had a sand pit and active area. I reminded them and they quickly decided to go outside. Luckily we were blessed with an amazing day and the girls spent an hour playing outdoors and exploring. Although food is not permitted in the museum, we could have a snack on the outside premises so we took a break after 3 hours of visiting.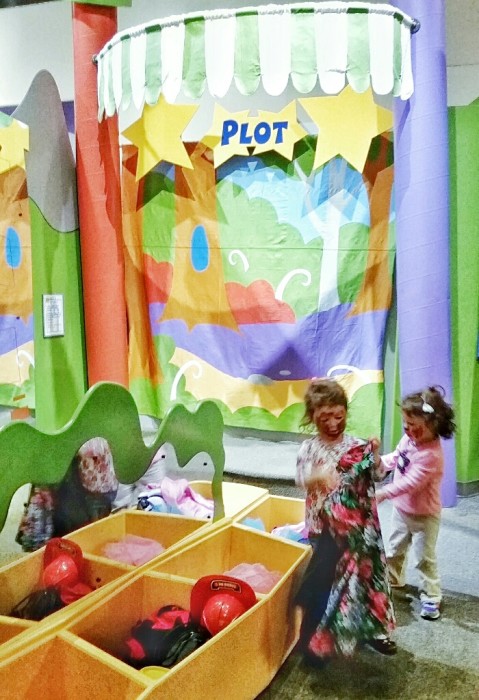 After snack, the girls asked to go back inside for more face painting and dress-up time so I agreed but only for another hour so that I could have some time for shopping at the nearby outlets. Of course, right? I was super happy with how our visit went and look forward going again. My 3-year old asked if we could bring friends the next time so I was happy to agree with her.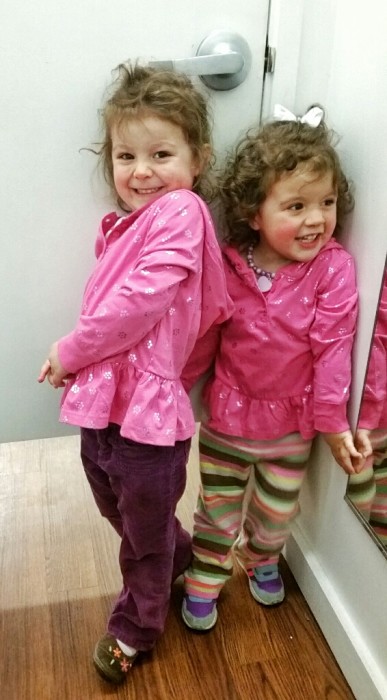 After our visit, I decided to change the girls but realized I only had new pants with me but no shirts so we visited the outlets and checked out 3 places before the girls decided on matching pink tops to go with their pants. It was cute to see them shop but they enjoyed picking out their tops.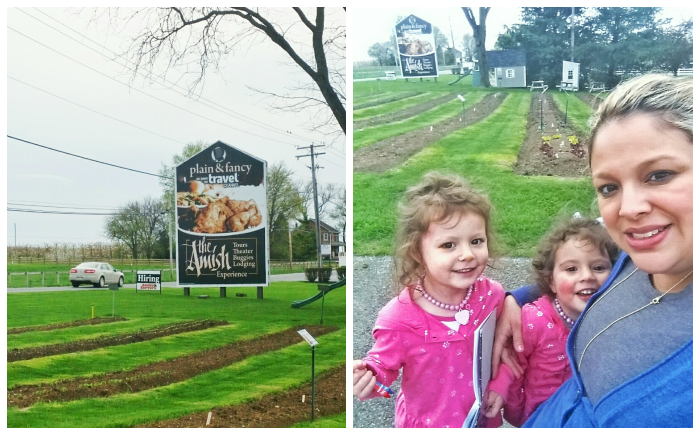 After a little shopping we made our way to our dinner reservations at Plain and Fancy and farm to table restaurant located between Bird-In-Hand and Intercourse in Lancaster Country. There is so much farmland that surrounds the restaurant and adjoining hotel that it makes a peaceful area to stay for a night or two. Although we were not spending the night, we loved walking around the premises after dinner.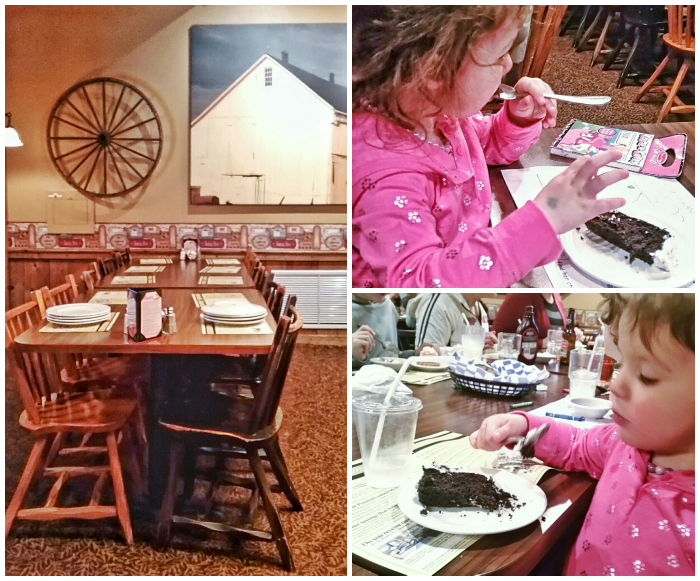 I was excited to try Plain and Fancy Restaurant because it has been featured on The Travel Channel for their amazing Amish Farm Feast. When I checked for options before we arrived I noticed we could call ahead for seating or make reservations so from the museum, I decided to call ahead which ended up being perfect. Even though there were two options for dining, either a la carte or family style dining, I decided that the Amish Farm Feast was the way to go.
Since the girls are under 4 years old they were free so it worked well trying out the Amish Farm Feast. We sat with 10 other families in a long table and we chatted and talked about where we each lived. The waitress came over and explained how the dinner would begin with appetizers, entrees, sides, breads, and desserts all served family style. Imagine being at a big family dinner passing food around during Thanksgiving, well this is how it was.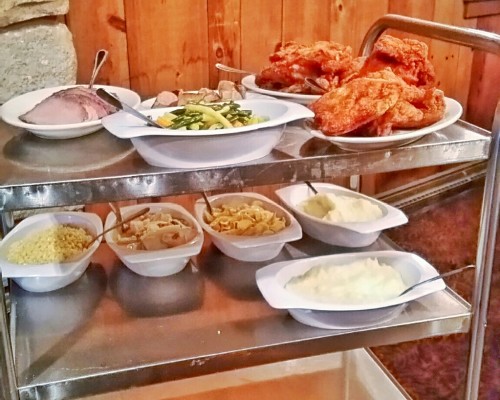 We started with a variety of salads, breads and beverages and then the entrees started coming out. The waitress always inquired if we needed refills of anything. The entrees were amazing! There were plates of delicious hot fried chicken, roast beef, sausages accompanied by fresh corn, green beans, mashed potatoes and gravy and buttered noodles. It was a crazy amount of food but all I could remember was HOW AMAZING the fried chicken was. I have never tasted anything so fresh and delectable in a long time. The girls even loved it too!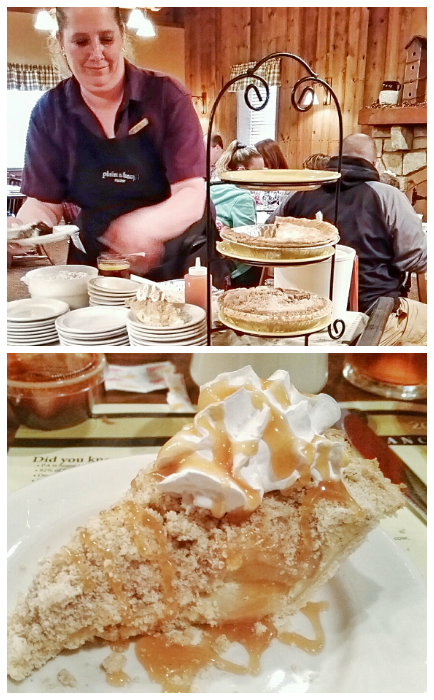 The desserts also ended up being a popular by the end of the meal. We had a chance to sample all the options they had which was a Shoo-fly pie, Sour cream Dutch apple pie, chocolate cake, and rice pudding. There was also a large bowl of vanilla ice cream passed around for everyone to enjoy. The girls of course asked for chocolate cake and ice cream and as you can imagine, it ended up being the girls' favorite part of the meal.
While I enjoyed the meal it felt a little rushed. I know dining with kids can be a little hectic but my girls actually love eating at restaurants. It just felt like everyone was eating so fast and the people with the kids were eating slowly due to distractions. I wish we could have taken more time so perhaps we will try dining a la carte next time. Either way, I did NOT have a bad experience at all. It was merely an observation for next time. If anything, go down and taste some of that fried chicken because I am still thinking of it.
I am happy to say that we had a great day in Lancaster country. I sometimes think we have exhausted our options but there is always something to discover in Amish country beside the food and the view. I can't wait to check something else in the future.
Disclosure: Thanks to PA Dutch Convention & Visitors Bureau for providing us with admission to the museum and a visit to the restaurant. All opinions are my own.
Related