This is a sponsored post with Rolemommy. All opinions are my own.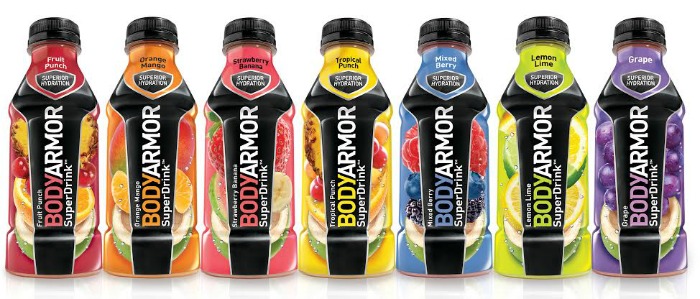 In the last few weeks we have been able to try a brand new natural sports drink that all of a sudden I have seen everywhere! Now that it is summer, the chance of getting dehydrated is super high especially with small kiddos. It is important to keep everyone in a family hydrated while playing or hanging out in the sun. I have noticed my girls get red faces after playing in the heat for a long time or even after a long day at HersheyPark like us a few weeks back. I know my youngest and I suffered from heat-related migraines due to being dehydrated and overheated.
Why is BODYARMOR different than any other sports drink out in the market? Well, it has more potassium-packed electrolytes than any other coconut water, and vitamins and is low in sodium and contains nothing artificial.  Many of the top professional athletes have chosen BODYARMOR over all other sports drinks, including Andrew Luck, Richard Sherman, Mike Trout and James Harden –and Kobe Bryant is a major investor in the brand.  We think that it's time to educate all athletes and their parents that there is a better for you sports drink out there, and we want you to give it a try and tell us what you think.
We took the drink on several outings even while we watched my husband play softball one evening. My girls definitely loved the flavors as did I. The only thing was the amount of sugar each serving included which only replaces what energy has been burned. I loved feeling rejuvenated after drinking one of these.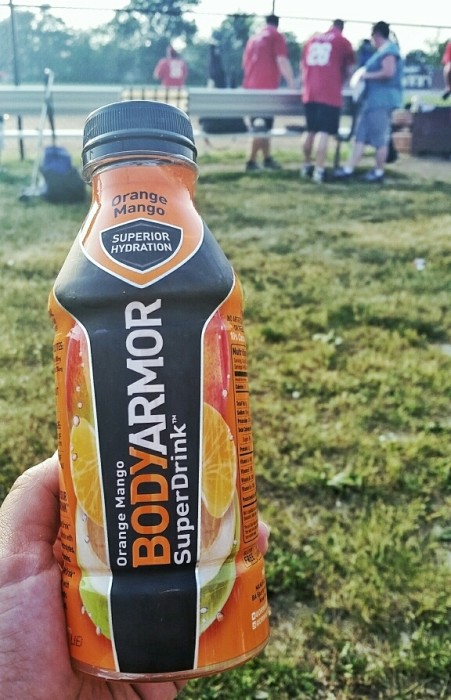 In fact, now that I am pregnant, I get overheated easily and while I walked 30 minutes after taking a break in Alexandria, Virginia a few weeks back, I found myself super thirsty and overheated. I stepped into a Walgreen's and lo and behold there was a fridge with choices of drink to choose from. There in front of me was BODYARMOR calling my name and yes, I purchased a bottle and consumed the whole bottle while waiting in line to pay for it. It was so nice and cold and refreshing.
BODYARMOR comes in 7-great tasting flavors: fruit punch, orange mango, strawberry banana, tropical punch, lemon lime, mixed berry and grape —> Tropical Punch was by far my favorite.
BODYARMOR is available at the following retailers:
New York Metro/Suburbs: Target, King Kullen, Fresh Direct and Food Emporium

Boston: Target, Shaw's, Market Basket, Wegmans, Roche Bros., Alltown, Tedeschi's 

DC/Baltimore: Target, Wegmans, Mars, Royal Farms 

Philly: Target, Wegmans, Wawa, Sunoco A Plus, Heritage's, Walgreens 

Atlanta: Target and Publix 

Detroit: Meijer and Target 

LA: Ralph's, Target, Stater Bros and Alberton's

SF: Raley's, Target, Lucky's

Seattle: Target, Fred Meyer, Albertsons

Cinci: Target and Meijer

Cleveland: Giant Eagle
Want to try this drink? Here is a coupon for you to print and use wherever you find BODYARMOR. ENJOY!
Related