This shop has been compensated by Collective Bias, Inc. and its advertiser. All opinions are mine alone. #KingOfFlavor #CollectiveBias
Football season is here and how can I tell? By the sound of my husband's cheering for his favorite teams. I truly enjoy hearing my girls laughing or asking their daddy questions about his excitement over his team scoring a touchdown. What better way for them to learn about sports!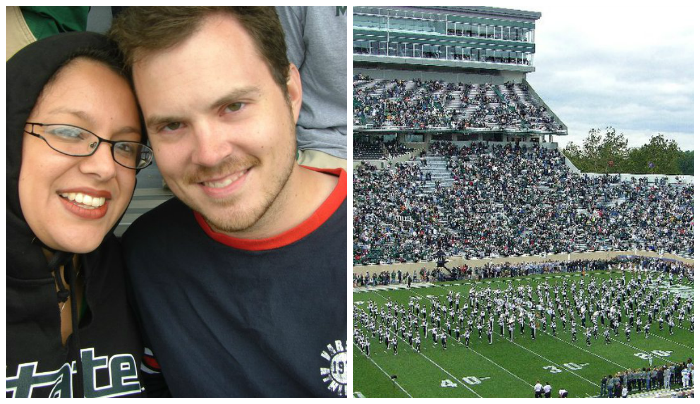 One of the things my husband and I enjoyed a few years back was attending football games. My husband attended Michigan State and he had the opportunity to buy season tickets. Since I went to a college that had no football team, I was interested in enjoying this new extracurricular activity. Growing up I would hear my dad enjoy watching sports, but I hardly ever heard or enjoyed a live game. I was interested in seeing what the hype was all about.
We went TWO years attending MSU games because we enjoyed them so much. We would hang out with other grad students and even sometimes we were invited to tailgating parties. I really miss those days. After the second year, I got pregnant and I opted not to go the third season due to the uncomfortable seating. Either way, we still hung out with friends and had amazing food that we all shared.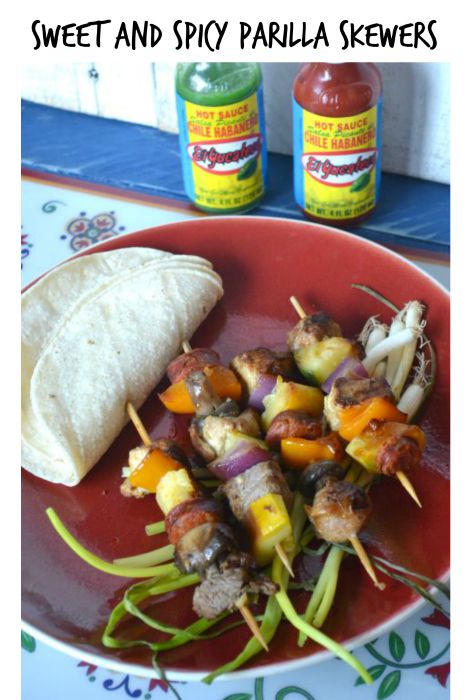 Food just brings everyone together. It really does, and even if someone is on a diet, those are put on hold until the next day because there is so much delicious food! Finger foods, chips, dips, and grill food. As the autumn approaches and cooler weather creeps in, it is still the most ideal time to grill and have friends over during game season. We love entertaining and having a big screen television is such a plus in addition to having a spacious yard. While we have not been invited anywhere yet for tailgating parties, we look forward to hosting our own soon. As I started brainstorming for recipes, I decided that grilling should be something different from the normal hot dog and hamburger options.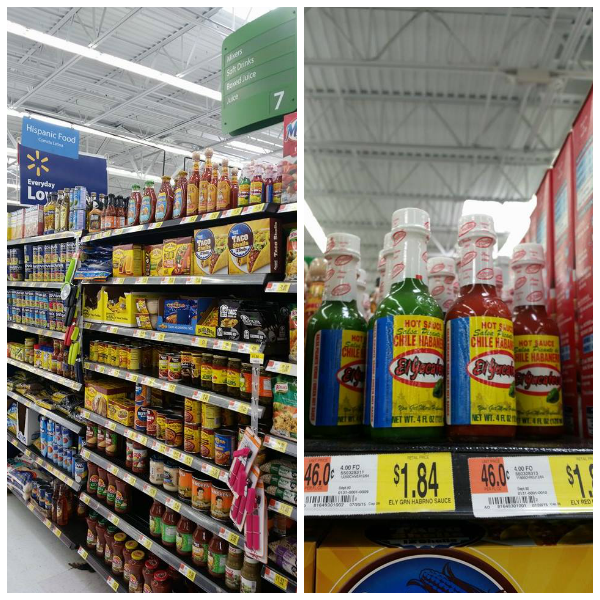 As I was perusing Walmart, I purchased a few bottles of El Yucateco red and hot sauce. While hot sauces are seen as condiments, I thought I would create a spin on a regular kebab and marinate the meat using El Yucateco Green Habanero Hot Sauce.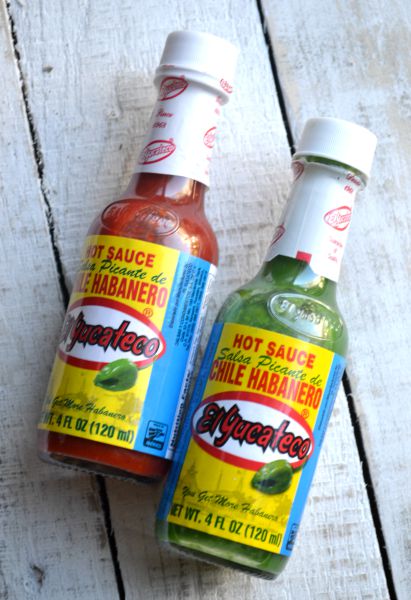 Sometimes even a little heat can create the best flavor in meats, so I made my own marinade using soy sauce, mustard, spices, garlic, and El Yucateco hot sauce.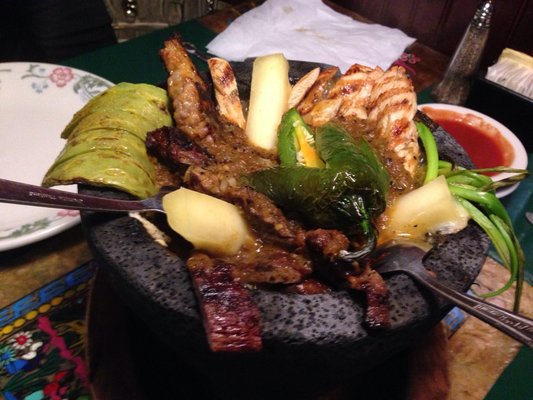 In Mexico, there is a dish that is served in a stone mortar carved out of volcanic rock called a molcajete. In restaurants, they serve a variety of grilled meats in the molcajete with different sauces making it a very eye-appealing meals. I would have to say that it is the Mexican version of how fajitas are served in the US.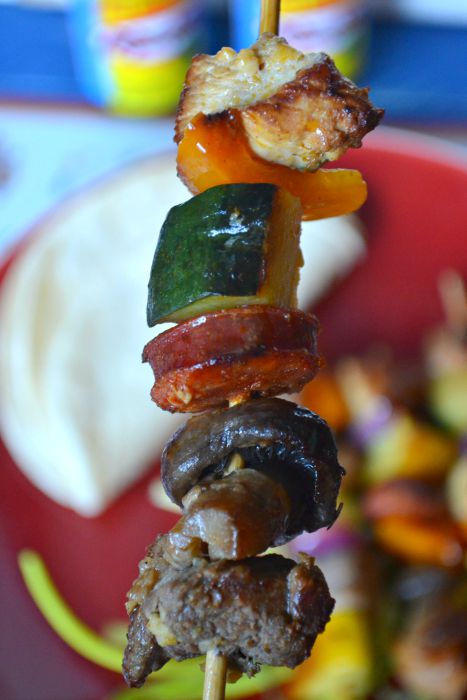 I decided to take that concept and turn it into a grilled meat skewer. Parilla means grill so these skewers are grilled outdoors OR indoors after the meat has been marinating over a few hours.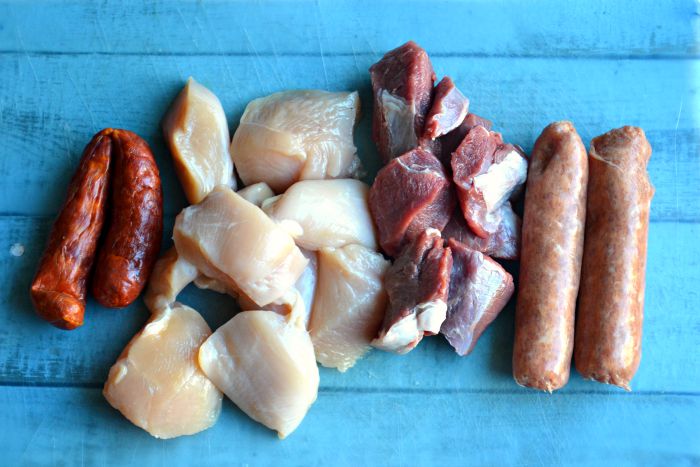 I diced turkey sausage, dry chorizo, chicken and lamb and placed the meat in a quart plastic bag.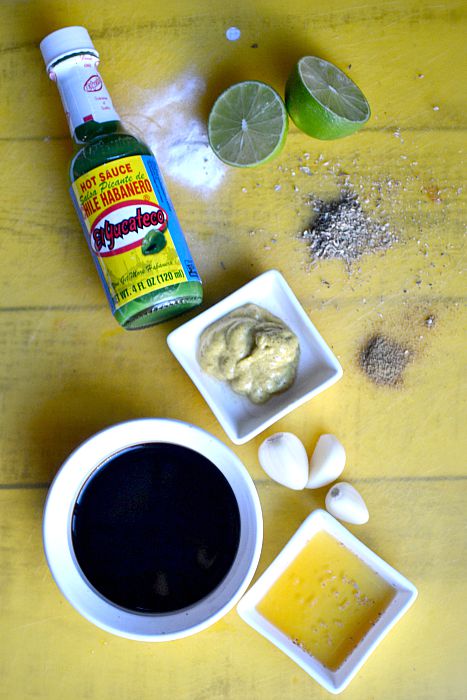 I mixed the ingredients for the marinade and let it sit for 5 minutes.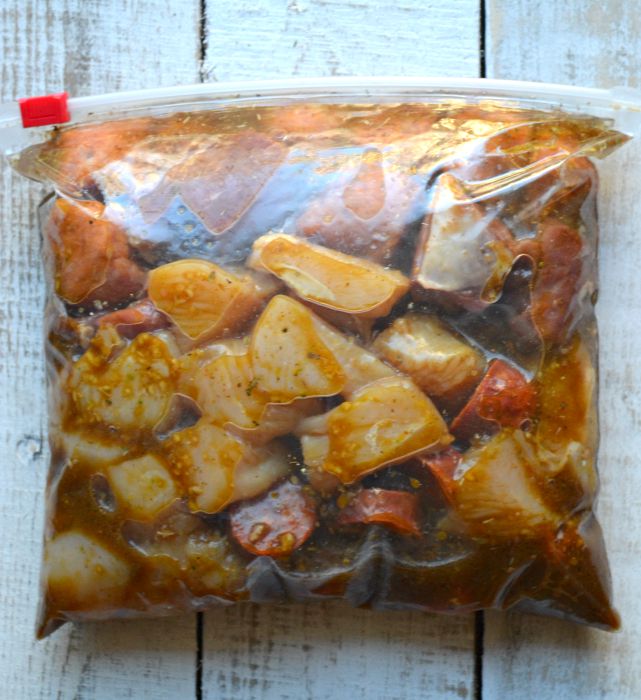 I then added the marinade to the meat bag and sealed it. I placed it in the refrigerator for 3 hours. I used 2 Tablespoons of El Yucateco Green Habanero Sauce which has less vinegar than the red sauce and is a little zestier. It packs a little more heat than the red sauce so even though used 2 Tablespoons of the sauce in the marinade it only gave it a slight bite. If you care for spicier foods, then add 1-2 teaspoons more.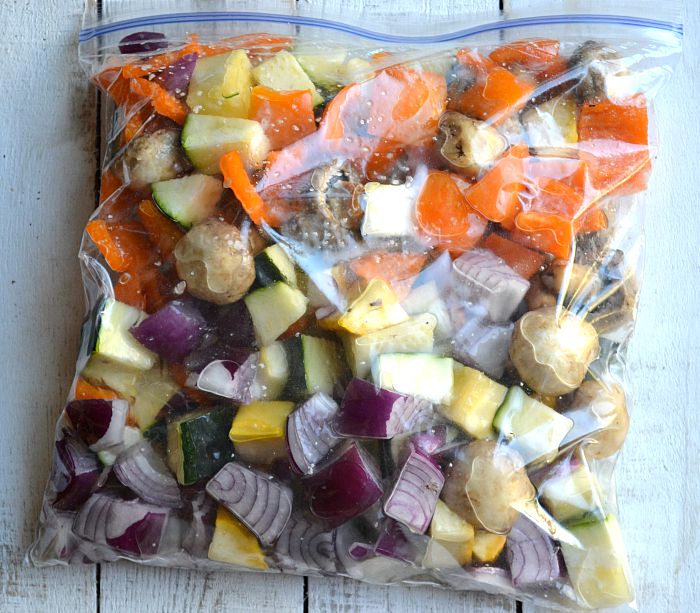 Since I wanted the skewers for a party and not for dinner, I bought smaller bamboo skewers and soaked them for 2 hours. I then chopped all the desired veggies. We like peppers, onions, squash, zucchini, and mushrooms so there was a little of everything on the skewer.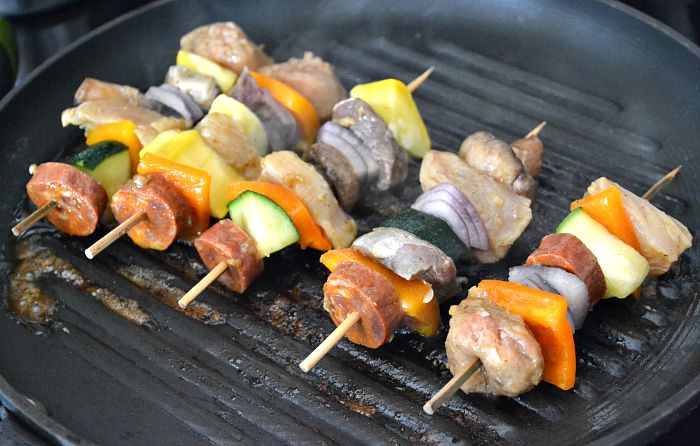 I made the skewers by alternating meats and veggies on the stick and then cooked indoors on my grill for 7 minutes, alternating halfway. I covered the meat at the halfway point as well to increase cooking. Once I had them all grilled I heated some corn tortillas that accompanies the meat and plated the food.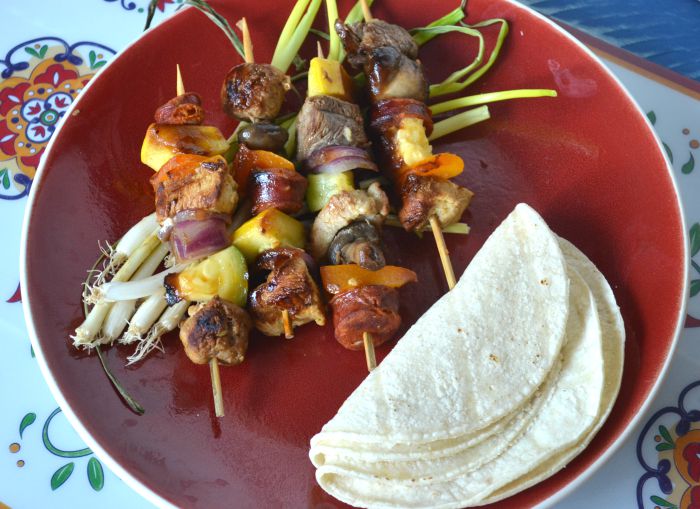 My husband enjoyed the skewers so much he could not stop talking about it. The meat was SO tender and the flavor was fantastic especially with the chorizo. When serving the skewers at a party, you can serve them with more hot sauce and some tortillas for instant taco goodness. My recipe makes about 30-40 mini skewers.
Are you ready to bring on the flavor for football season? What is your favorite recipe with El Yucateco Hot Sauce?
Related