Bath time used to be a fun event for me when I just had one child. Yes, really. Now that I have three little ones, trying to figure out the best time and how many to put in the bathtub at the same time is always my dilemma. The desire to have clean kids outweighs the exhaustion I feel just thinking of bath time with my kiddos. Let's just say that a glass of wine or two awaits after the whole process.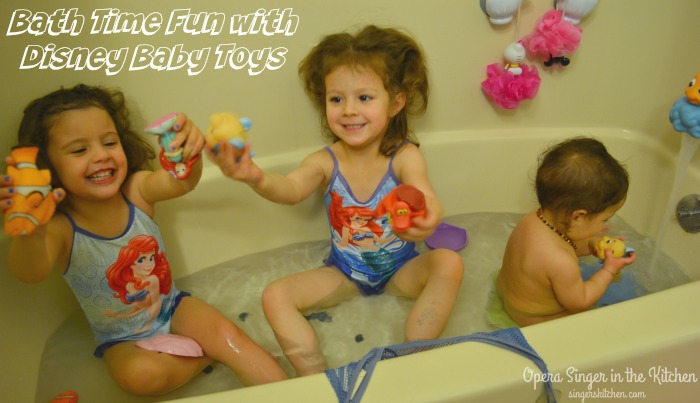 I am sure that my girls are no different from any young child. They love being in the water, playing, splashing and pretending to be characters from movies like my girls do. After watching The Little Mermaid, my girls are nonstop trying to be mermaids in a bathtub. 
Um, yeah. Imagine to my dismay when I turn my back and half the water is on the floor OUTSIDE the bathtub, but I guess it would not be fun if they were not able to splash, am I right. I have to overlook it sometimes and repeat to myself that this toddler stage will end some day, and then I will miss it. So then, I soak it up. Yep.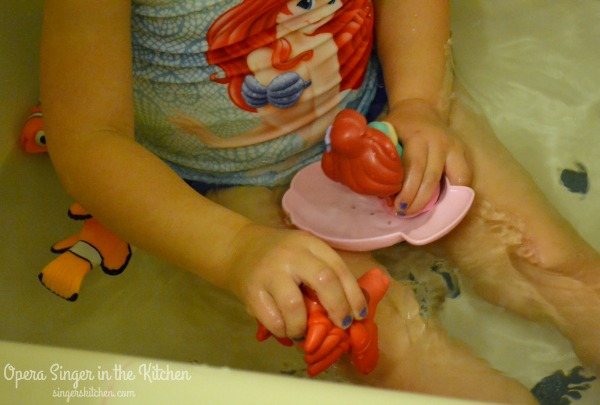 If you did not remember, or if this is your first time reading, I have three lovely girls. My oldest is 4 and my middle daughter is 3. Everyone thinks right off the bat that they are twins but they are not. My youngest is almost 9 months old and she is seriously trying to catch up and I am trying to enjoy my baby. Recently, I have been trying to bathe all three girls when I am alone home. Since my youngest is sitting up pretty well, I bathe her and then get the girls to play while I dry and clothe the baby.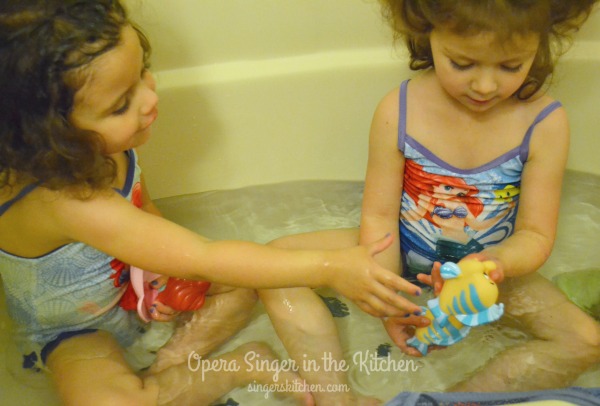 What keeps them distracted? Toys of course! Any toy that spews jets of water is hilarious to my girls and I love hearing them create stories just playing the water. Since both my girls are FANS of The Little Mermaid, the girls have been enjoying the newest First Years Disney Baby Little Mermaid bath toys. It was a little hard to get the girls to share Ariel, but with everything, it is a teaching moment or moments. I was most interested in seeing how my little baby would react to fun colorful toys.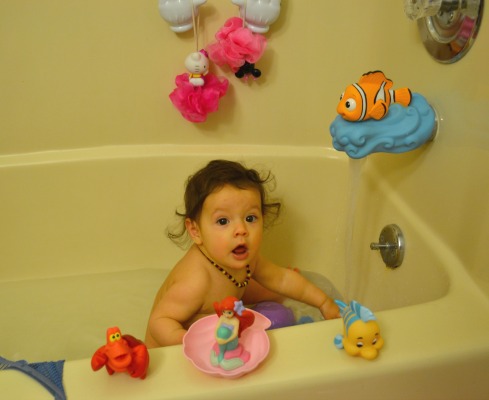 On another evening I was able to simply just bathe my youngest and she definitely like the plastic toys . It was fun seeing her gnaw at them instead of squeezing, especially since she is teething. She is also now able to scoot forward so I was happy that she would not bang her head on the spout. The First Years also came out with fun bath toys from Finding Nemo. We already had Nemo and his dad and Dory, so it was nice to add the spout cover with Nemo. It is a bright ocean colored cover and fun to have in our bath tub.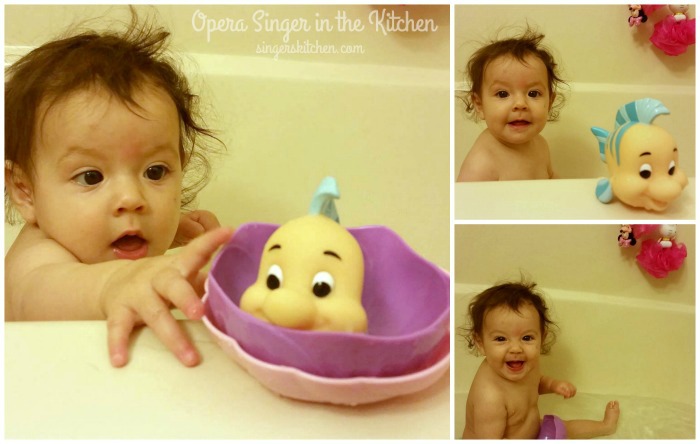 After the girls bathe, they each have responsibilities in order to help mommy. They each love playing with their bath towels so I help them ring it out and they hang them to dry on The First Years Helping Hands. Each hand has a suction cup that is attached to the shower wall and can hold small towels and bath sponges. I like having colorful toys to keep the girls entertained I just make sure we don't have too many because the clean up is a pain. 
Having these plus some swimsuits makes for a perfect rainy day activity too! Pretending to go to the beach is always a fun time to be had by all.
The First Years Disney Baby Bath Toys can be found at Toys 'R Us and on Amazon.
Disclosure: I was provided samples to test out with my girls. All opinions and reviews are my own. There are affiliate links in this post that give me a small percentage if you choose to purchase through my link. Thanks!
Related