I enjoy creating different meals for my family on a daily basis. As much as I try to stick to the same meals on particular days, like Taco Tuesday, I rarely ever do because I like variety. This year I have been focusing on different ways of serving fish to my kids and my husband and thankfully, the response has been well received. I have been very intentional not to make kid-specific meals but to create meals that my whole family will enjoy like my Citrus Herb Alaska Halibut with Red Pepper Hummus.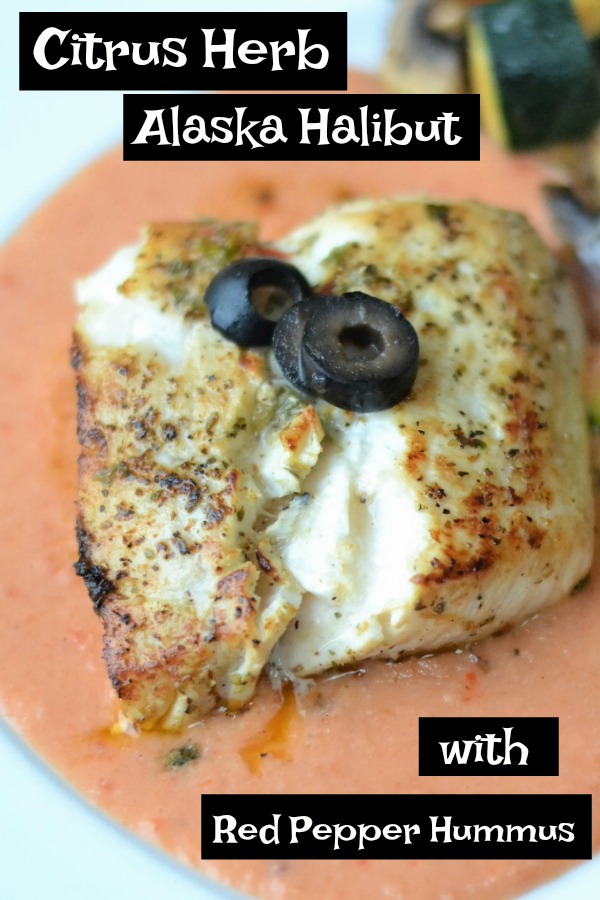 When I decided I wanted to include a lot more fish in our eating lifestyle I knew it was important for me to incorporate wild-caught whitefish such as Alaska halibut, sablefish (black cod), sole, Alaska pollock and cod. I found that the whitefish varieties were heartier and flavorful especially when it came to marinating and grilling.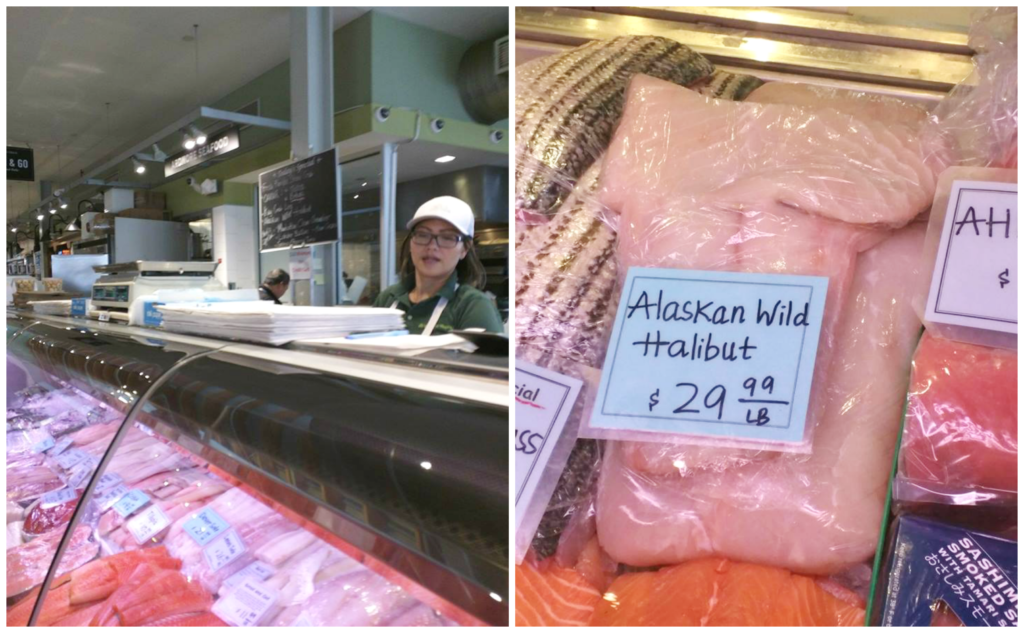 I quickly learned that Alaska's cold and pristine waters lead to the high-quality seafood that I consistently found in either the frozen section or at my local fish market. It is pretty incredible that Alaska's wild fisheries contribute 60% of all seafood harvested in the United States! Knowing where my food comes from makes a huge impact on how I prepare and present.
I have to admit that I have never cooked with Alaska halibut but I was excited to create a simple dish that our family could enjoy. Sometimes I get my kids to help in the kitchen but when it comes to raw food, I have them help with chopping or blending, like adding the ingredients in a food processor.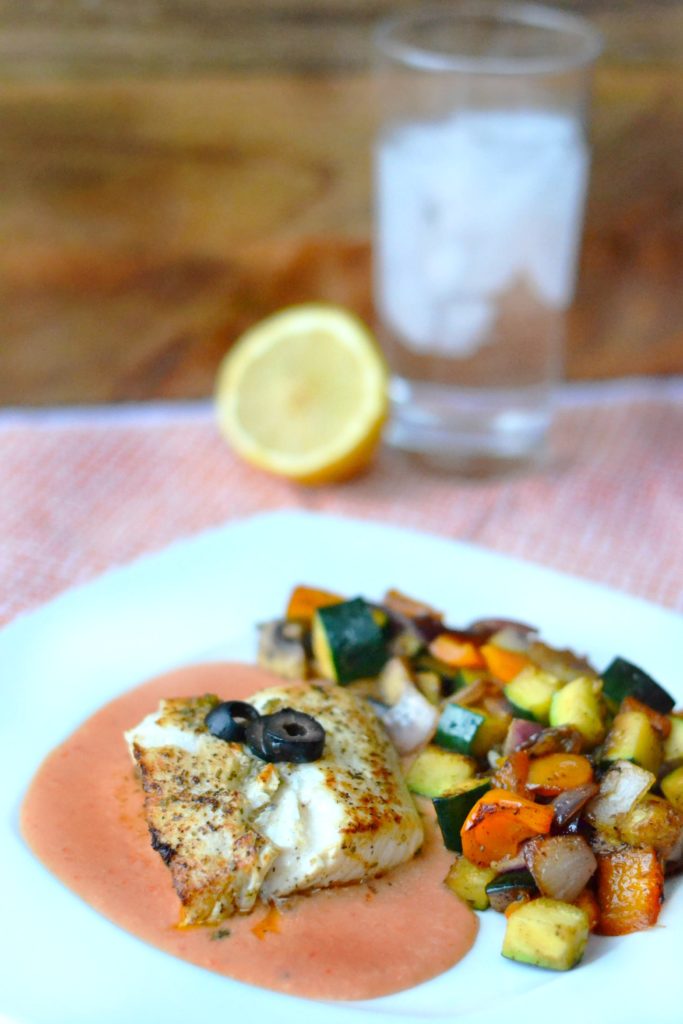 I marinated the Alaska halibut in a homemade marinade consisting of Meyer lemons, garlic, salt, pepper, oregano, parsley, cumin, and onion powder for about 30 minutes. Since there five people in our family, I prepared about 4 ounces of Alaska halibut. While the fish marinated, I prepared the red pepper hummus.
My girls love hummus so I love pairing two delicious proteins to make for a satisfying meal, especially when it comes to Mediterranean food. Once the Alaska halibut finished marinating, I removed and grilled on a pan with olive oil. The fish cooked very quickly but even so I used a meat thermometer to make sure I did not overcook.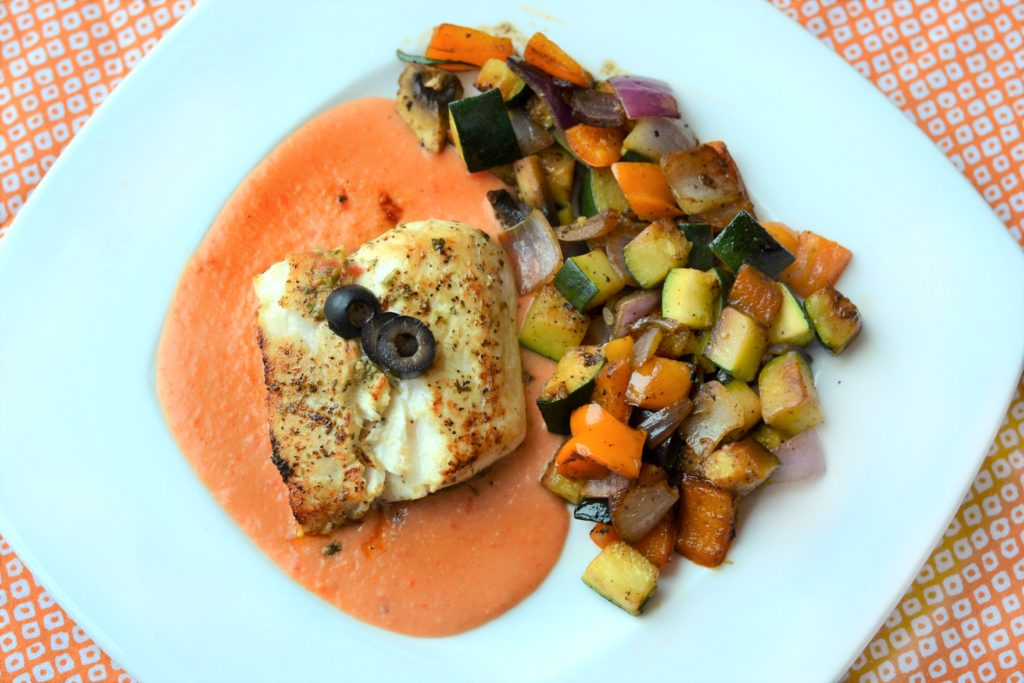 Once the internal temperature reached 145 degrees Fahrenheit, I removed to a separate plate and cooked the remaining fish. Each fish portion took about 5-7 minutes total on medium heat. My oven was on a low setting in order to keep the fish warm. In the same pan where I grilled the fish, I added cubed zucchini, orange peppers, red onions, mushrooms and sautéed the veggies with a little more olive oil for about 10 minutes.
I added about 1/4 cup of hummus to each plate and placed 4 ounces of grilled Alaska halibut on top of the hummus. Since we lead a low-carb lifestyle, my husband and I ate the fish with a side of sautéed vegetables but I added roasted potatoes to the girls plates.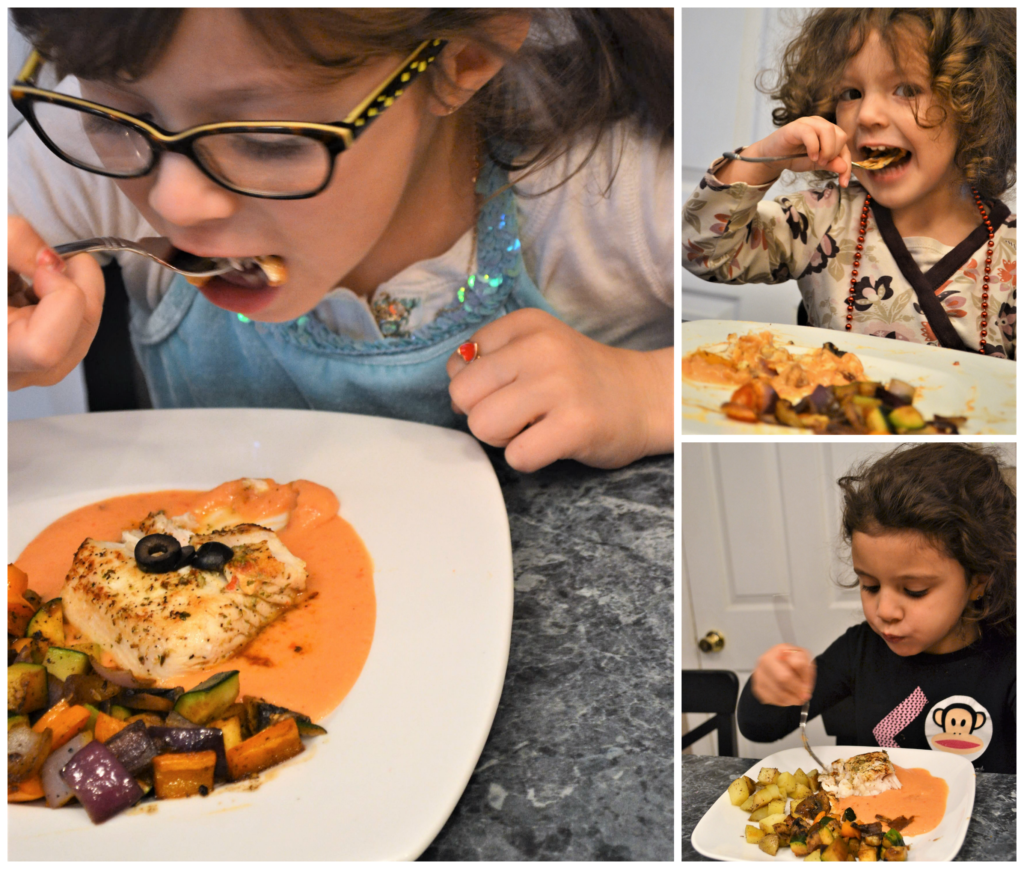 The response was unanimous. All three girls loved their meal especially my husband. Fish is definitely something we are making more around here and I love hearing the response and seeing clean plates! I like being adventurous even if it means creating something my kids might not eat but it really depends on the palate I am consistently creating by sharing all kinds of foods with my kids.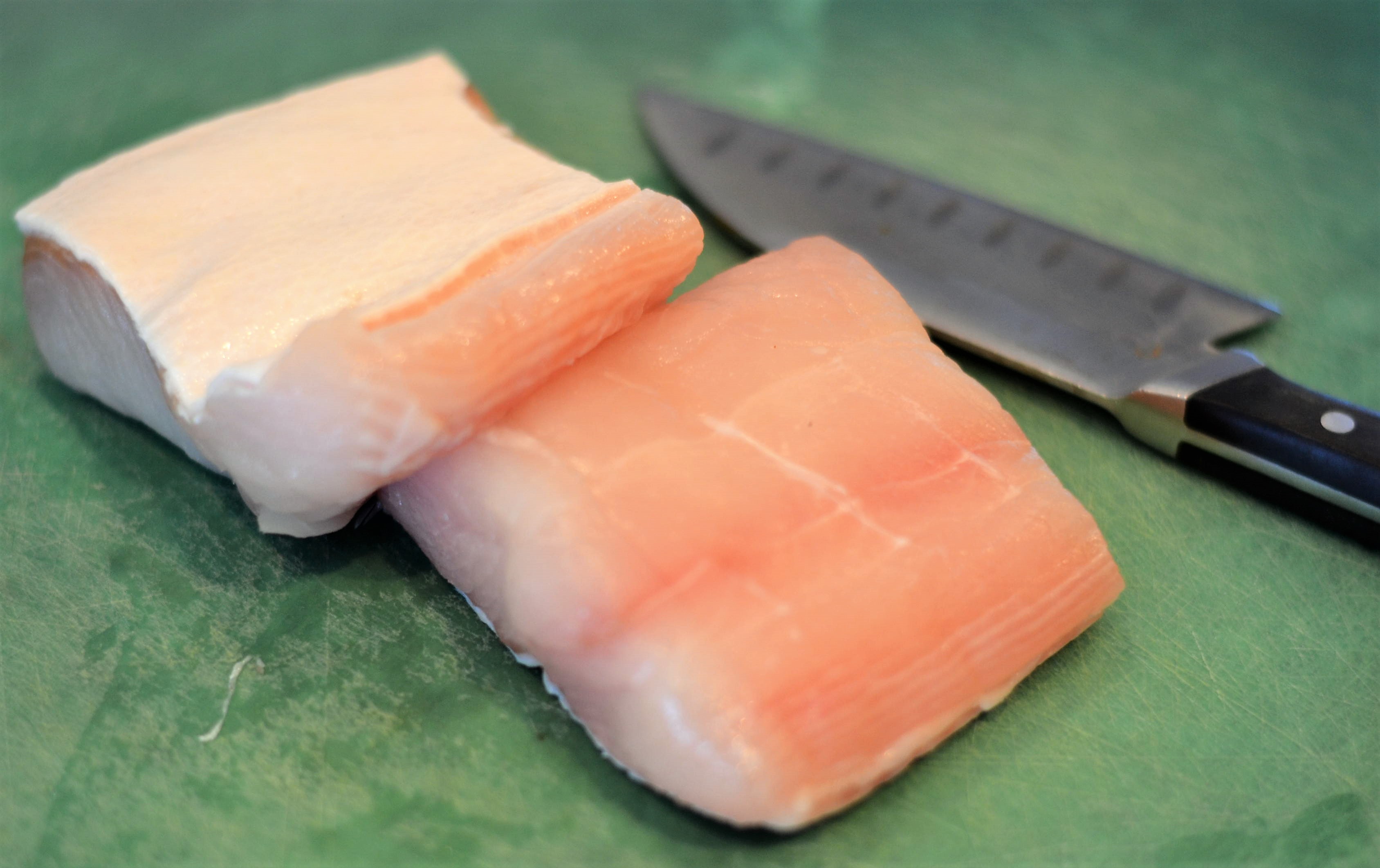 Having trouble finding Alaska whitefish? These varieties are sold fresh and frozen year-round making it possible for all home cooks to have a wide-range of seafood possibilities and healthful options.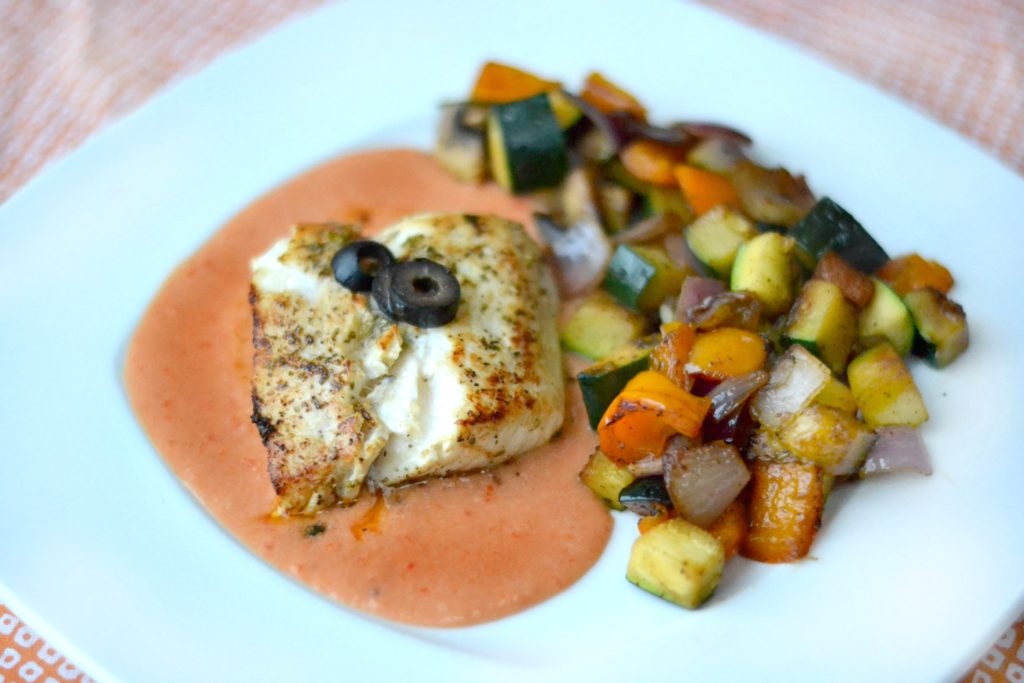 Visit www.wildalaskaseafood.com for hundreds of Alaska seafood recipes, cooking techniques and tips, and to learn why it is important to #AskForAlaska at the seafood counter and in restaurants. Here are a few recipes for inspiration:
Check out Alaska Seafood on social media for more information, ideas, and inspiration:
Related