 Posts by admin:
August 8th, 2018

This Savory Chicken Kebab Veggie Bowl is so easy to put together when you have all the ingredients prepped in the fridge especially with a big tub of Sabra hummus. It is such a balanced lunch for any busy individual, especially for moms like me.

I have come to learn and enjoy so many different types of cuisines. It definitely makes it easier not to get in a rut. There are some weekends where I feel like meal prep like a boss and then other weekends where I have no time to do anything.

On the weeks where I get things prepared, I grill a variety of proteins so I can have them readily available in the fridge. Sometimes I like cooking the meat fresh but with three little girls and a busy schedule, it makes it easier just prepping the veggies at the last-minute.

Since I love cooking, I tend to complicate my life sometimes, trying to make really fancy meals for my family but logically, making something quick, healthy and balanced is the right fit for a specific day. Add a variety of ingredients to a bowl makes everything seems a little more easier.

Instead of having a green salad, I grill a lot of veggies or leave a few items chopped so I can quickly throw them in a skillet. When it comes to lunch on most days, I only have time to make lunch for the girls. Then 2 pm rolls around and my lunch time has flown by leaving me to eat a late lunch or an early dinner.

Lately I have not felt as hungry at dinner time, so I have a salad with a protein. I have been making the same bowls for my kids so they can be exposed to a larger variety of vegetables. I find they do not eat as much because they get full quicker but that is okay because they are getting a balanced meal.

I love my Sabra hummus with everything. They offer so many different styles like Caramelized Onion, BBQ Hummus with Jackfruit and Smoked Paprika. I tend to pair those special ones with carrots, other raw veggies, pretzels and crackers for my kids snacks or for guests. 

I like the simpler Sabra dips, like the garlic, spicy, and roasted red pepper for pairing with meals. My kids will eat a whole tub by itself if I let them. It is THAT good!! You should try them! Here are some coupons for you to try!

Savory Chicken Kebab Veggie Bowl

More recipes using Sabra

Here are a few more recipes that I have created using Sabra.

August 7th, 2018

These Tutti Frutti Coconut Swirl Popsicles are a hit for the whole family. Not only is it healthy using Barleans Superfruit Greens, but when you use the Zoku popsicle molds will ensure everyone will have one to enjoy on a summer evening.

Summer is in full bloom here at out house. Despite all the rain and crazy weather, we have been making the most of it by going to the beach, visiting museums, and exploring new playgrounds. We have only been in our area for 8 months and there is still a lot to discover especially with kids. 

I love exploring and going out so we dedicate at least 2-3 days to go exploring for a day. Even so, there are some days we just stay home or go to local places in order to take care of every day tasks. When I do that, I make sure to have something fun or exciting for my girls.

Since it has been hot, we have not been turning on the oven very often so we have been enjoying making popsicles. Zoku popsicle molds have come in VERY handy and fit very well into my freezer, making 6 popsicles at a time. Sometimes we have leftover morning smoothies and I just add the rest to the molds to have as a breakfast popsicle or as a treat after a hot outing.

When it came to creating a popsicle on an afternoon with my girls, they each chose what fruit to have in their popsicles. They each chose their favorite fruit to add to the blender.
Mango

Orange

Kiwi
I then peeled and sliced 1 cup worth of mango and added it to the Vitamix, along with 1 kiwi, and one peeled and 1 orange that had been juiced. I added about 1/4 cup water and added 1 scoop of the Barleans Superfruit Greens to the mix.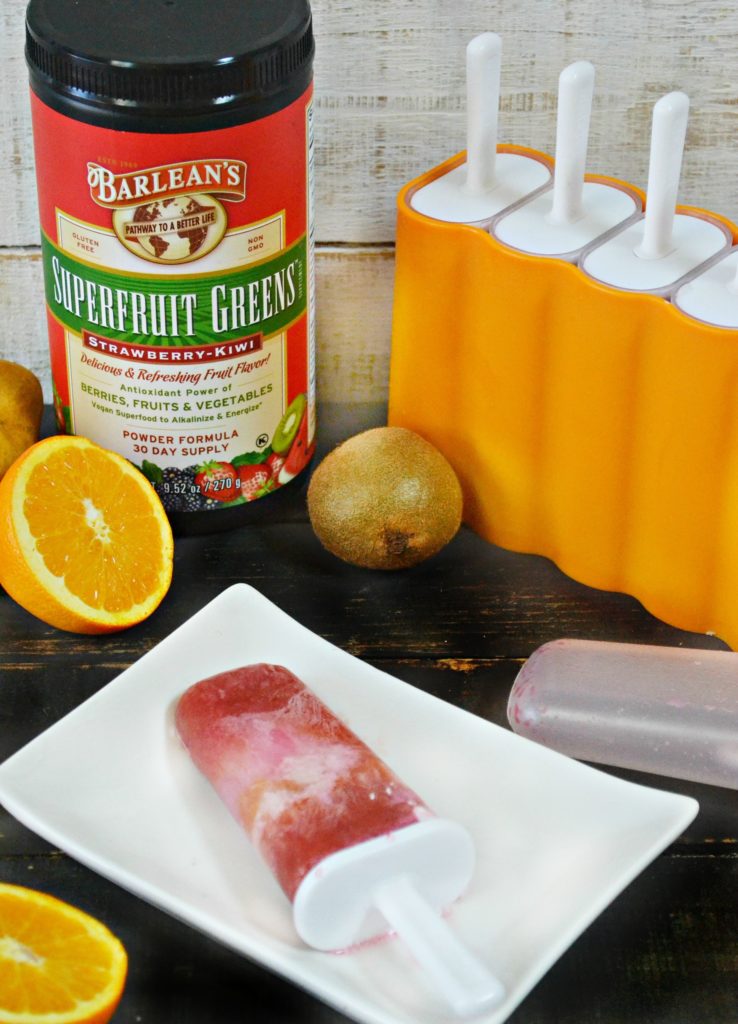 Barleans Superfruit Greens comes in different flavors but I used the Strawberry-Kiwi flavor. It is a vegan antioxidant powder consisting of the following:
Greens, Fruits and Vegetables Blend: spirulina, broccoli juice, parsley leaf, and more.
Fiber Blend: chicory inulin and flaxseed powder
Antioxidant Blend: acerola extract, milk thistle extract, matcha green tea, and more
When I added 1 scoop to the popsicle blended fruit, it made it a vibrant red color. After I blended everything in the blender I filled the popsicle molds 3/4 of the way. I then blended lite coconut milk with Barleans Culinary coconut oil and stevia drops. I then divided the milk between the popsicle molds. I froze the molds over 6 hours and the popsicles were ready to eat.
How delicious do they look?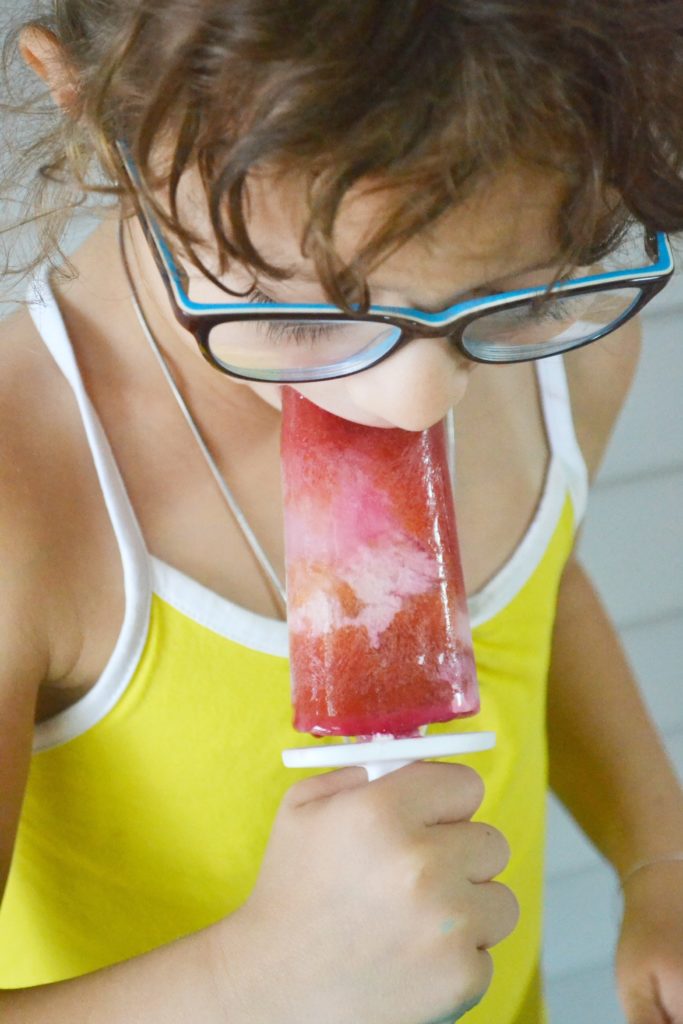 Giveaway
Want to try a tub of the Barleans Superfruit Greens? Leave a comment here or on any of my social media posts sharing this popsicle recipe. Winner will be announced August 14th. Thanks!
Tutti Frutti Coconut Swirl Popsicles
Prep Time: 10 min and 6 hours for freezing time.
Ingredients (6 popsicles)
Tutti Frutti blend
1 large mango, peeled and sliced (1 cup worth)
1 kiwi, quartered
1 orange, juiced
1/4 cup water
1 scoop Barleans Superfruit Greens Strawberry-Kiwi Blend
10 drops stevia ( I use NuNaturals)
Coconut Milk Blend
1/2 cup light coconut milk
10 stevia drops
1 teaspoon vanilla extract
Instructions
Add the peeled and sliced mango into a Vitamix or high-powered blender.
Add the kiwi and orange juice and the rest of the ingredients. Blend for 45-60 seconds until completely smooth.
Divide the blended fruit into the 6 molds, making sure it only reaches 3/4 of the way.
Wash the blender and add 1/2 cup light coconut milk, stevia and coconut oil and blend well.
Add the blended coconut to each popsicle mold until it reaches the fill line.
Using a long skewer or knife, slowly swirl the coconut milk with the tutti frutti.
Seal the popsicle molds according to directions. Place in freezer for 6 hours.
Remove and thaw slightly according to mold directions. Enjoy.
July 28th, 2018

Thanks to Moms Meet for reminding me that Choices Matter when it comes to pain management. It reminds me that it is important to help others see the safety and benefits of non-opioid, pain-relieving options for C-sections.
My youngest daughter just turned 3 this weekend and it made me realize how quickly time passes. My oldest daughter, who is 6, asked me to share all my pregnancy stories for each daughter which took me down memory lane. Looking back, I would not do too much differently. In fact, now that I know what steps I took to handle childbirth, I feel like I need to share my experiences more so that more women are encouraged.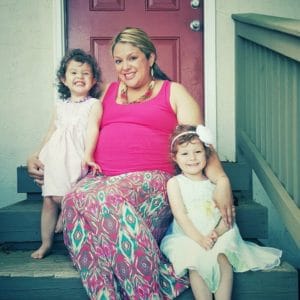 Birth Experience
How could women be encouraged? At one point, I wanted to have my girls at home, but knowing that I was nervous being a first time mom, I decided to have a midwife. The support I received and encouragement to read and educate myself on the type of birth I wanted was empowering. Of course there is always the matter when childbirth does not come out the way you expected.
I never really thought that I had a high tolerance for pain, BUT, I decided I wanted to make the choice to experience childbirth without an epidural and without any pain management in case I had an emergency C-section. I made a birth plan and I talked to my husband about all my plans especially since he was going to be in the same room with me.
After having 3 babies, I can thankfully say that while all of them were very different, I did not receive any pain medication or management during, before, or after childbirth. Well, you might be shrugging your shoulders at the fact that since I did not have a C-section I might not really know what PAIN might be, but let me share with you my friend's experience.
My friend had her daughter almost 3 years ago, and while she planned on having her naturally, she ended up having a C-section. Knowing she was going to have a C-section, she knew first that she had a high pain tolerance. She really did not think she needed more than the high dose NSAIDS. She was hesitant about side effects as well, namely constipation and drowsiness. A the end of her experience, she only decided on using NSAIDS, with no regrets.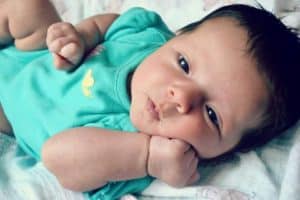 Choices Matter in Childbirth
I was made aware of Plan Against Pain, a resource that gave me so much information about how, as women, we need to know more about pain. Knowing about our pain tolerance makes a difference in preparing before, during and after pregnancy. Not only that, but having an educated discussion with a physician on how to prepare and what options are available can help with managing pain.
Did you know that women are prescribed nearly TWICE as many prescription opioids as men after surgery??
There have been discoveries based on a new research that proves women become more persistent opioid users following surgery!  Wow.
Here are a few more statistics:
More than 1 in 3 women had C-section deliveries; overall, 1 in 5 C-sections were unplanned

More than 1 in 3 (36%) women did not have a birth plan, which is an opportune time for a patient to speak with their doctor about pain management options, including non-opioids

38% of women are open to pain management options, but think some kinds of pain medications are or could be harmful to them or their baby
Opioids and childbirth:
19% believe they are fine for other procedures, but not childbirth

25% believe they will be able to handle the pain without opioids

21% have no issue taking opioids

35% prefer to let their doctors decide what is best

Nearly nine-in-ten (88%) of mothers have concerns about taking opioids during and after childbirth. Despite these concerns, more than half (51%) of C-section patients are prescribed an opioid

In Retrospect
Plan Against Pain is such a great resource and really educates every female dealing with any upcoming surgery. Thankfully I did not need opioids or even consider it when I had my hysterectomy but this website gives insight on what to ask your physician, as well as how to find the right medical help.
This was a shock to me from the website:
And, despite increased efforts to reduce opioid use for treating pain after surgery, overprescribing of postsurgical opioids resulted in 3.3 billion unused pills flooding into communities, making these drugs available for diversion and misuse.
With effective non-opioid options available, we can help control pain without the need for these harmful medications. In fact, a 10 percent reduction in opioid prescribing could result in 300,000 fewer people becoming at risk for opioid dependence or addiction.
I just took the pledge to join the movement against opioid prescribing. Join me in spreading the message of #onelesspill.
July 24th, 2018
I cannot believe that half the summer is over already but that only means we have been having lots of fun. Even though it has not been the hottest of summers, I am not complaining. Our family has gotten their share of sunshine. We have proof with our tanned bodies. Something that I like to do over the summer is make different beverages that make drinking water more fun. This Cranberry Basil Limeade using Cape Cod Select Frozen Cranberries quenches the thirst and is great for the body.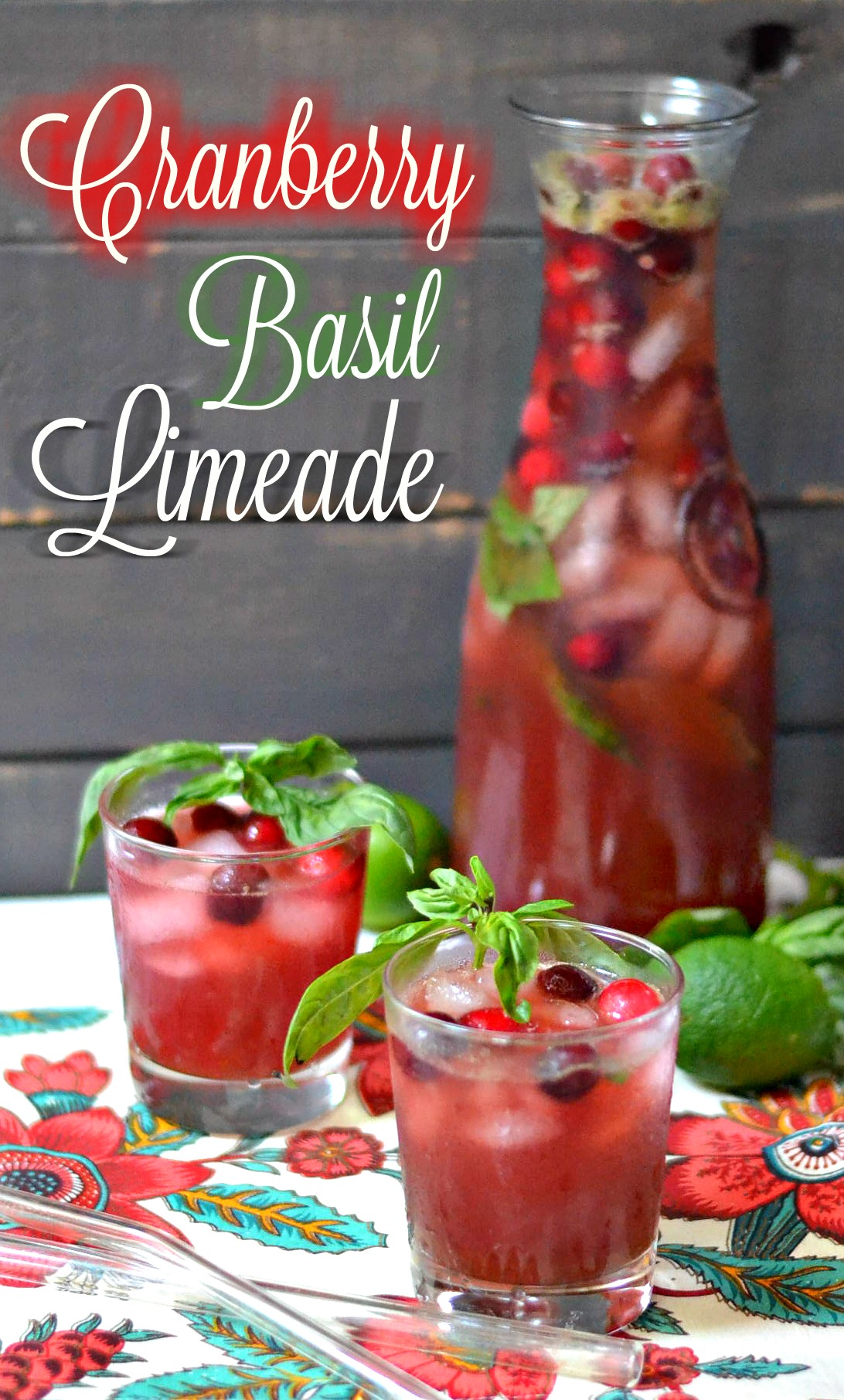 I am very much a fan of basil and not just as a potted plant. You might be familiar with it in a pesto or perhaps in a caprese salad, but I have used basil for beverages for a long time. Thai food incorporates basil in their dishes and also in beverages but many summers ago I uses Thai basil to make a limeade. Since then, I have won my family over to this aromatic and tasty drink.
This summer I decided to use regular basil and paired it with fresh cranberries and limes and it made for a lovely beverage. Not only was it colorful but I added more Vitamin C to the mix with the cranberries.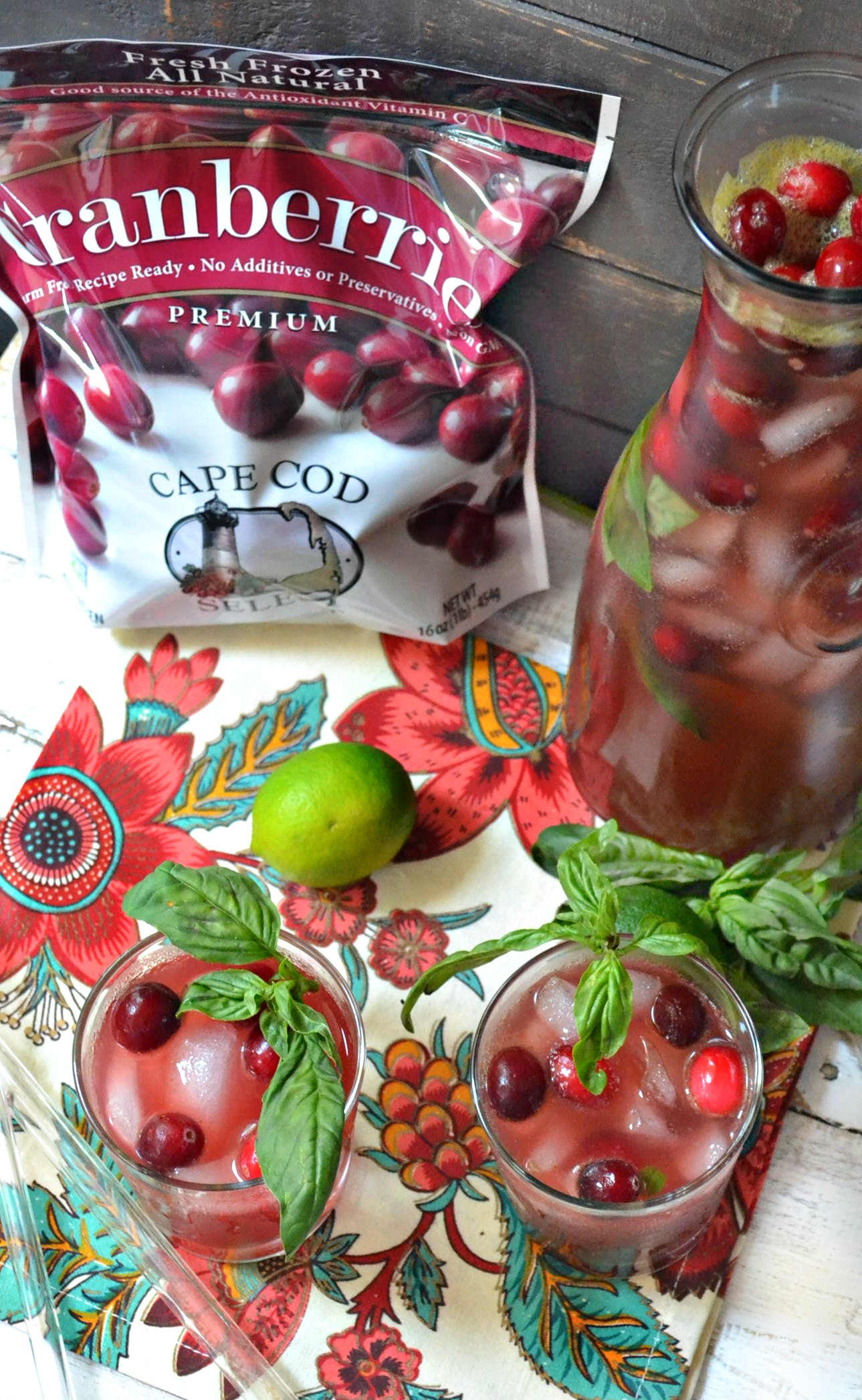 Cranberries on their own are very tart but I have love them so. My oldest daughter loves popping them in her mouth too! She loves sour foods so she was excited to have a handful for a snack. Cape Cod Select Cranberries are mainly used in this recipe. They are found in the freezer section in 16-ounce bags.
Cape Cod Select is a small women-owned family business located in Massachusetts. Their cranberries are grown to some of the industries highest standards and are Non-GMO verified and hold GLOBALG.A.P. Certification. G.A.P. means Good Agricultural Practice and is a business-to-business standard for safe and sustainable food production.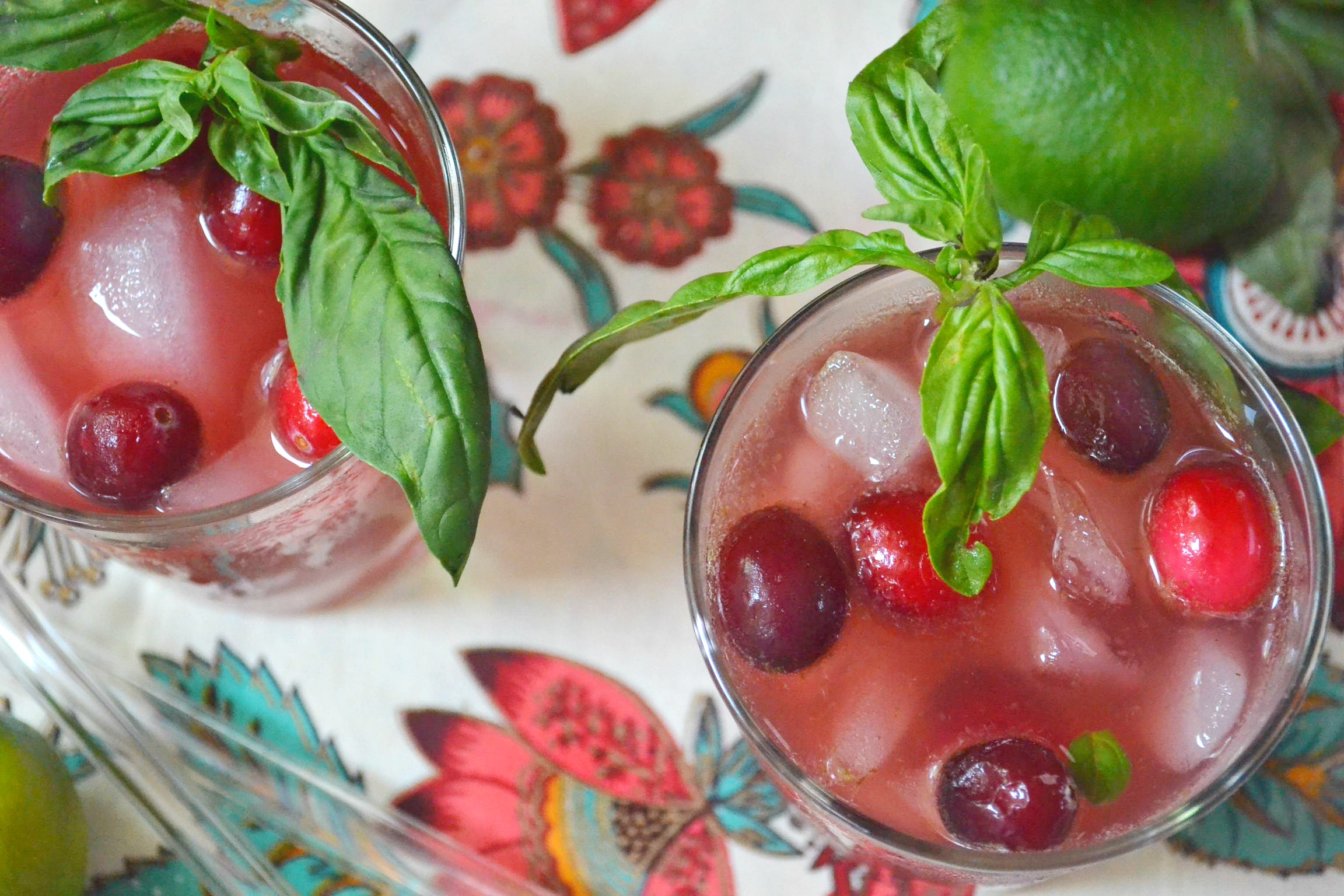 The Rhodes family has been growing cranberries on their 800-acre cranberry farm for more than 75 years and is now in its fourth generation. Knowing where and how food is farmed makes a difference because we know how it is being harvested.
My challenge was to create a tasty beverage recipe that would entice the every day mom to enjoy. My Cranberry Basil Limeade is definitely non-alcoholic but anyone can cut the water in half in the recipe and make it a base for a cocktail using vodka. In the meantime, I leave this as a mocktail and beverage for all families in order to quench thirst. The plus is that the recipe is also sugar-free using stevia in place of sugar.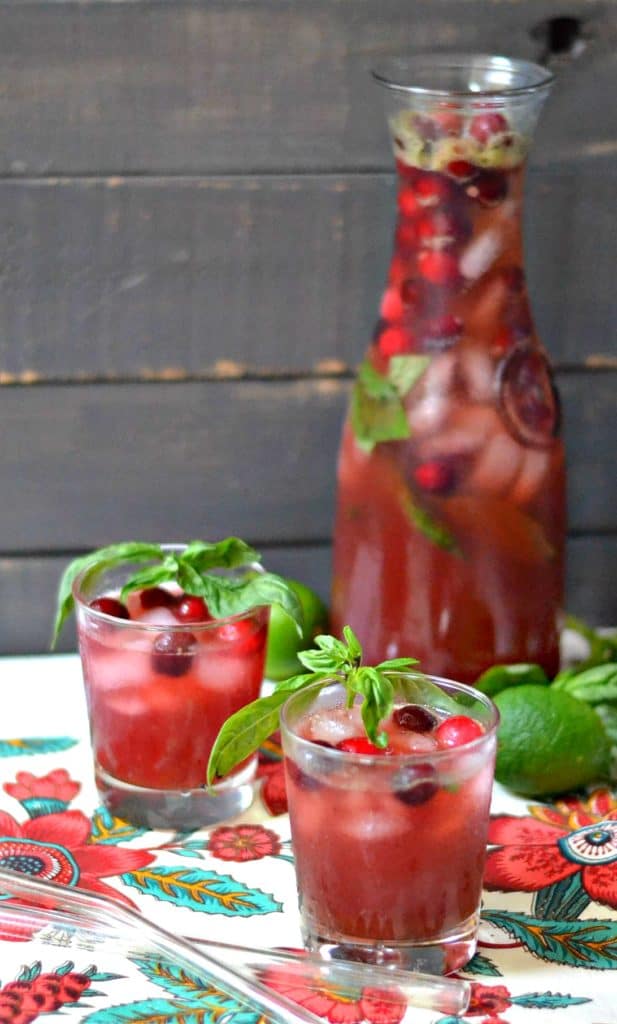 Where to But Cape Cod Select Cranberries
You might have already spied Cape Cod Select without knowing but there are several ways you can locate them.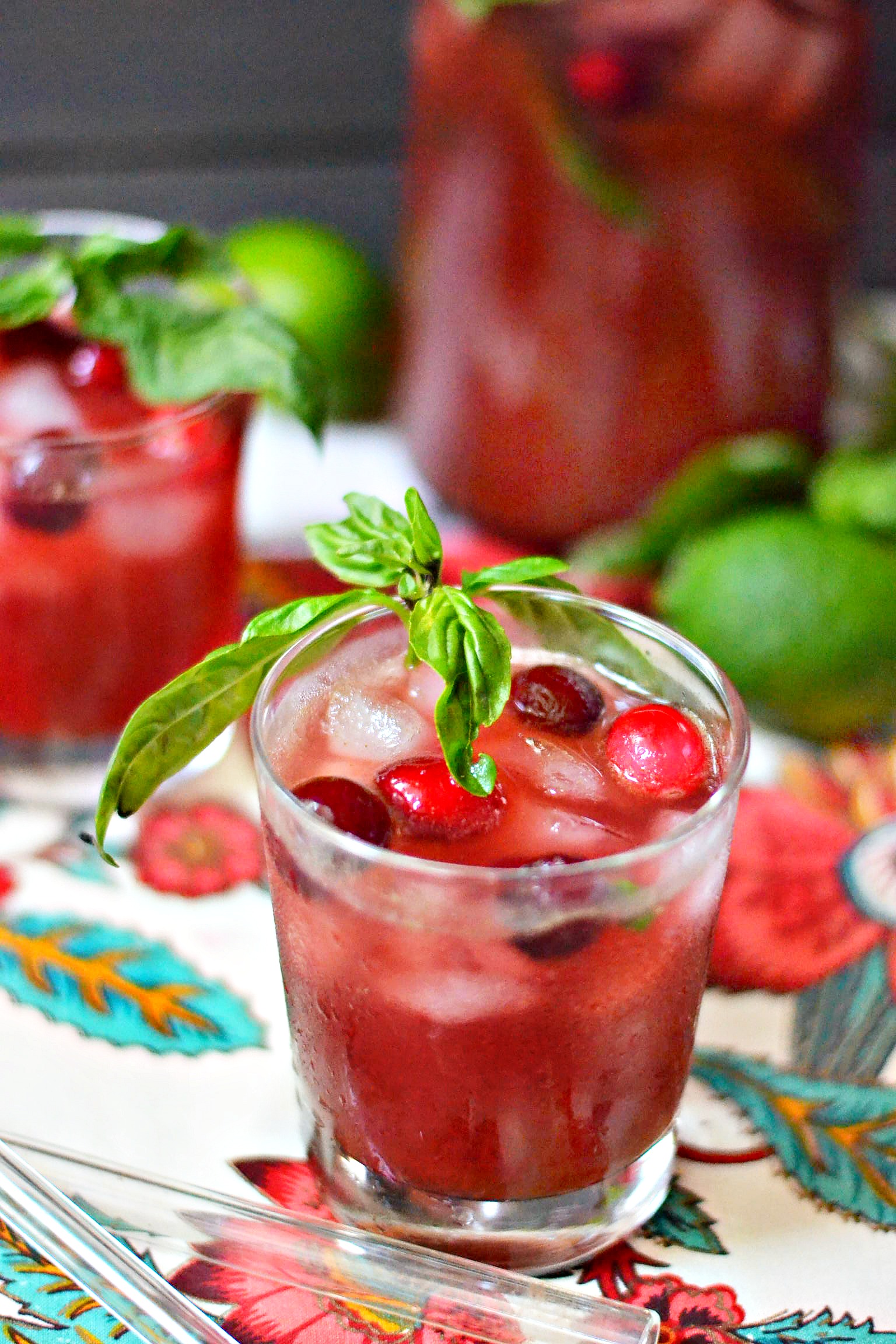 Cranberry Basil Limeade
Ingredients
1 cup Cape Cod Select premium frozen cranberries
1 cup fresh basil, packed
5 limes, peeled and white pitch removed
(each lime cut in fours)
10 cups water
20-25 drops stevia drops (depends on individual tastes)
If interested in NOT using stevia, use 1/2 cup honey
Instructions
Add ingredients to a high-powered blender like a Vitamix and blend until ingredients are smooth.
Pass limeade through a sieve and place in a pitcher. Add 1/3 cup frozen cranberries and a few fresh basil leaves to the pitcher to add color and decoration.
Serve over crushed ice.
The limeade is good for 3 days in the fridge. Can be frozen into Popsicle molds.
July 14th, 2018
You can't survive summer without grilling burgers at home. Even though we have a few spots where we like to have a tasty burger, there is nothing like having our favorite grill master make delicious burgers. These Mushroom Onion Gouda Burgers are great on any meal plan and were a hit with friends we had over on a weekend.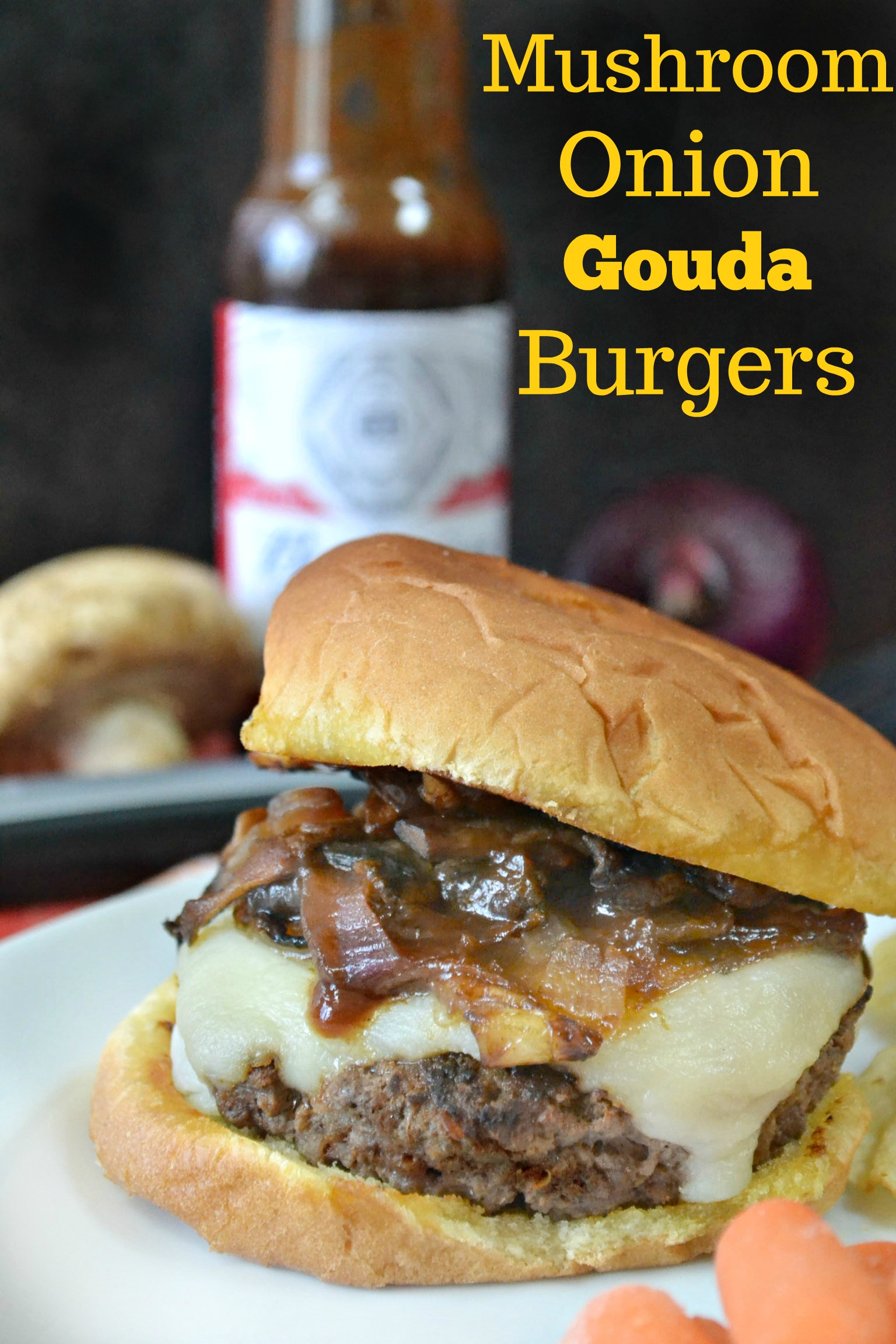 Meat was not my Friend
I did not grow up having a lot of meat. When we did have meat, it was usually overcooked, dry, or forgetful. I loved my mother's cooking but meat was not something she knew how to prepare.
So, what do you guess happened? I got married and I tried preparing meat like I knew. I overcooked every piece of meat and my husband was not going to have it. We bought a meat thermometer and since then, I am told that my meat skills are getting better. How could one single tool help so much! If you do not have one, you MUST get one.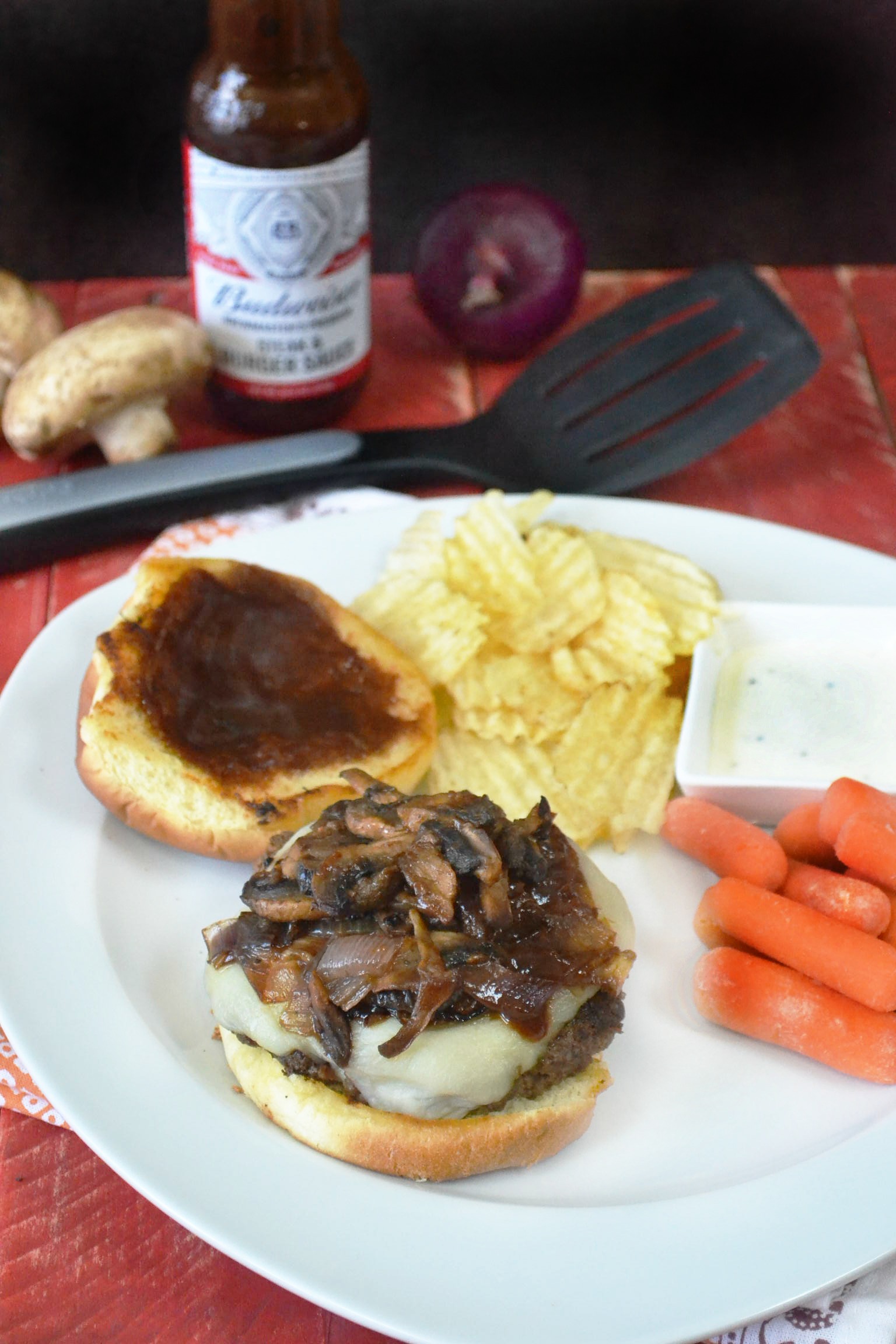 Needless to say, when it comes to grilling, I leave it to my husband. Between the two of us, we usually switch off seasoning the meat but he always cooks it on the grill. On this occasion, I chose to create a burger recipe where all my hubby needed to do was grill the burgers.
I also did not grow up with any type of sauces, so when I started using steak and burger sauces, my palate was amazed. Budweiser is not only known for their beer, but if you did not know, they also have a line of sauces and marinades.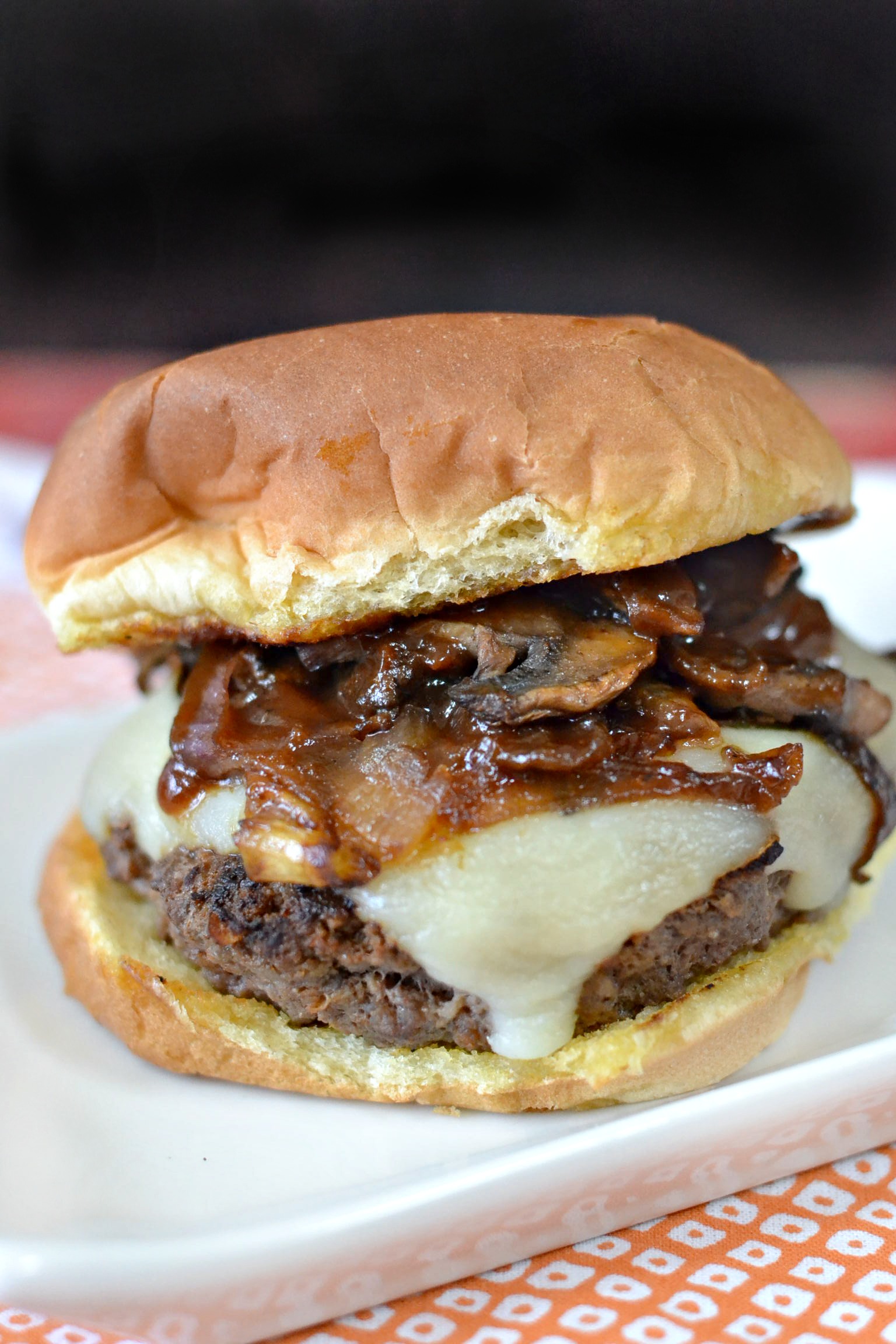 While my recipe makes 15 burgers, they keep very well for the next several days. My girls enjoyed having burgers over several lunches. If you want to have fewer burgers for small families, feel free to divide the recipe in HALF. You will love this recipe and it is a great way to cook with your spouse WITHOUT being in the kitchen at the SAME time. I know many of you moms know what I am talking about.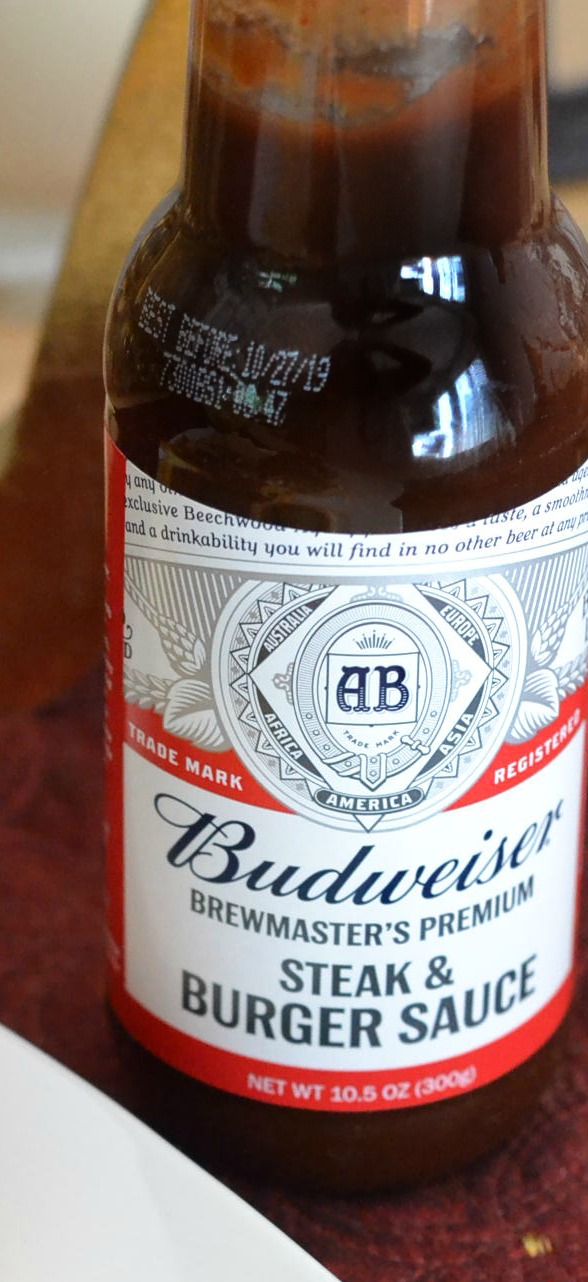 Budweiser Sauces and Marinades
Budweiser's Steak and Burger sauce is very flavorful. It contains their lager beer in addition to many other spices and ingredients. I added my burger sauce directly to my ground beef to create a most juicy burger. Not only that, but a little on a toasted bun really finished my burger recipe. It paired well with my caramelized mushrooms and onions.
Make sure to check Budweiser sauces and marinades on their website and social media platforms.
Website: https://www.budweisersauce.com/
Facebook: https://www.facebook.com/BudweiserUSA/
Twitter: https://twitter.com/budweiserusa
Instagram: https://www.instagram.com/budweiserusa/
Make sure that you get a chance to make burgers before the summer is over. Make my recipe and then tag me using @singerinkitchen or #singerinkitchen over social media. Make this with ground turkey or chicken for those who do not like eating beef.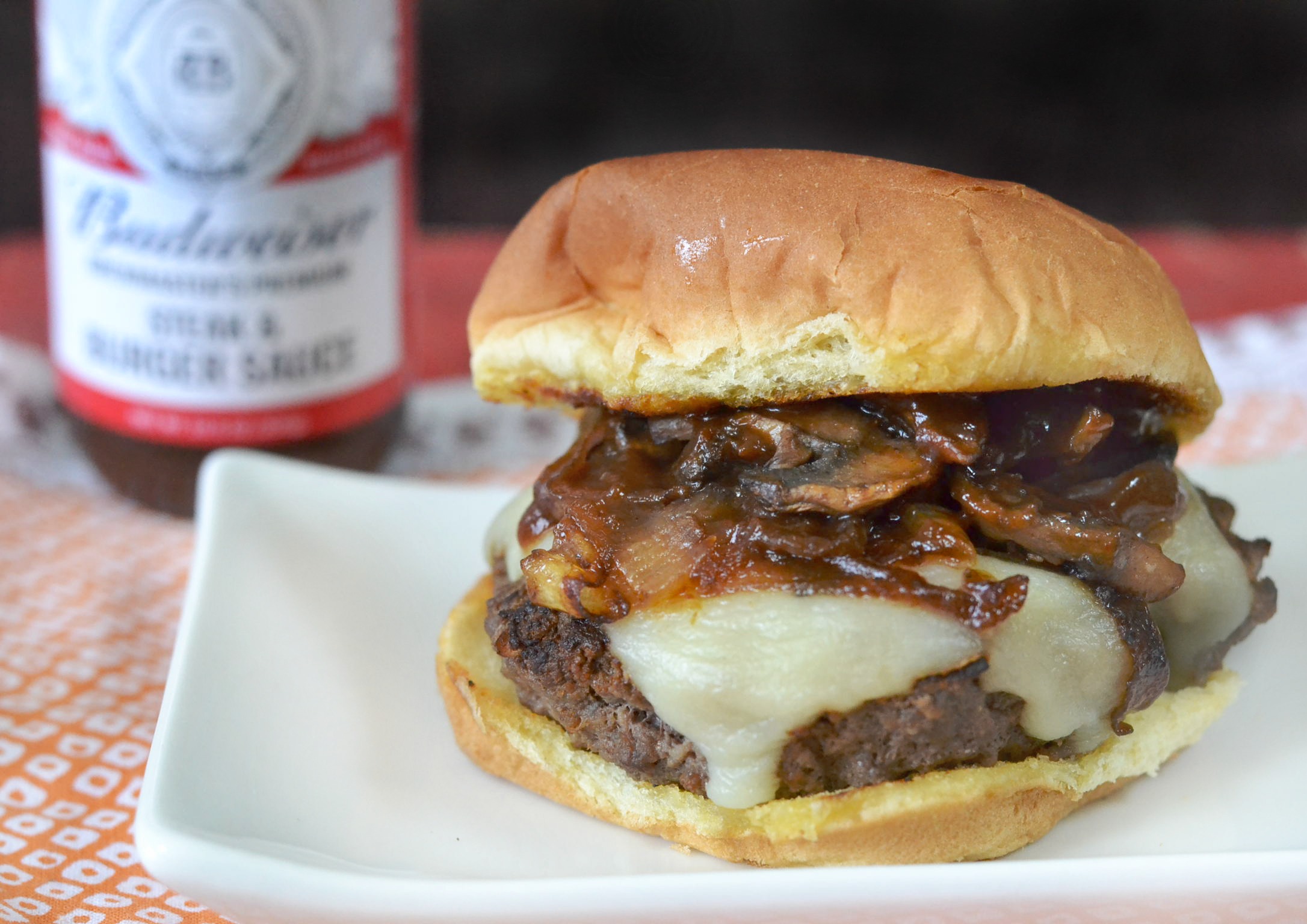 Mushroom Onion Gouda Burgers
Prep Time: 20 minutes
Cook Time: 20 minutes
Ingredients (15 burgers)
Burgers
5 pounds of 80% ground beef

2/3 cups Budweiser Burger and Steak Sauce

4 teaspoons salt

2 teaspoons ground pepper

3 teaspoons onion powder
Mushrooms and Onions
3 cups white button mushrooms, sliced

2 red onions, sliced

2 tablespoons olive oil

1 teaspoon salt

1 teaspoon ground black pepper
Additional ingredients
15 potato hamburger buns

Budweiser Burger and Steak Sauce

15 slices Gouda cheese
Instructions
Burgers
In a large bowl, place the ground beef with spices and Budweiser Burger and steak sauce. Mix really well and let the meat sit for about 30 minutes to an hour in the fridge. It is even better if done the night before to let all the flavors come together.
When ready to grill, form into 15 1/3-pound burgers. Set aside and get grill ready. Cook burgers for 5 minutes, flipping burgers in between. Add the Gouda slice of cheese to each burger allowing burger to cook an additional 2 minutes. Remove from heat.
Meanwhile, in the kitchen, heat a non-stick pan and add olive oil. Add sliced onions and cook on medium heat for 5 minutes. Add the sliced mushrooms next and lower heat to medium and cook mushrooms and onions for 10 minutes allowing the onions to caramelize.
Add 1/2 Tablespoon of mayonnaise to the ea h slice of bread and grill for a minute to get a little toasty.
Assembly
Add a burger patty to the bottom half of the hamburger bun then add 1/4 cup of the caramelized mushrooms and onion. Then add 1 Tablespoon of Budweiser Burger and Steak Sauce on top of the mushroom and onions and top with the top half of the hamburger bun.