 Posts by admin:
September 24th, 2018

As musicians, my husband and I love to expose our girls to the arts in various ways. Their appreciation for different musical genres is definitely growing and we love seeing them enjoy music. This past Saturday we had the opportunity to check out a local production of Aladdin Jr. at the Walnut Street Theatre in Philadelphia geared for kids. Thanks to PR for getting us tickets to enjoy such a colorful and fun production.

Walnut Street Theatre press photo

Disney's Aladdin Jr. is different than movie?

My husband and I really did not know the difference between the movie and the stage production of Aladdin but we soon found out through the HOUR-long show that was geared for families with kids, especially of all ages. Admittedly, even though my husband and I enjoy Broadway, we do not always keep up with the news and trends. 

Aladdin Jr. is a one-act, eleven scene theatre musical adapted from the 1992 film version of Aladdin. Since it was an hour, there was no intermission and families were quickly spared from meltdowns by their little ones. There are additional songs included as well that are not in the movie. We loved seeing the small cast also perform as the chorus throughout the whole production. It is pretty amazing to see how versatile these young performers can be.

The Production

We loved the performance at Walnut Street Theatre. We sat in the President's Box in the theatre that allowed for more space and privacy. The girls were able to find a seat that was comfortable even though they did need boosters, which the theatre did provide. 

The performers were very fun to watch. It seemed that they were all high school students who have a love for musical theater. The costumes were colorful and the production set was simple, colorful and easy to work with. It was very obvious that each student seemed to enjoy their roles and it definitely brought memories of being on stage.

The actors portraying the princess, villains, and heroes of Agraba are local to the tristate area, and members of the Walnut Street Theatre School. Immanuel Rimmer of Wyncote, PA will take the stage as the title role of Aladdin with Domenica Passio of Philadelphia, PA playing the strong-willed Princess Jasmine. Melina Cruz of Philadelphia, PA will portray the all-powerful Genie with McKenna Rulan of Williamstown, NJ as the dastardly Jafar. Jafar's sidekick, Iago, will be played by Delilah Figueroa of Southampton, PA. Bringing to life Aladdin's three best friends, Babkak, Omar, and Kassim will be Nathan Esser of Bluebell, PA, Rachel Gopalani of Merion Station, PA, and Fionnaula Meister of Philadelphia, PA. The Sultan will be played by Andre Brockenbrough, Jr. of Philadelphia, PA

High School Students as Performers

We had a chance to meet some of the performers at the Meet and Greet outside in the lobby. The girls were able to get their Playbills signed with Jasmine and Aladdin. It was so cool to see my girls see these young singers up close and personal. We had a chance to speak to Melina Cruz (Genie) and to Domenica Passio (Jasmine) after the show and it was fun to hear where they attend school, what their favorite musicals are, and what they love about performing. Thanks for sharing ladies! 

Their show favorites are Wicked and they both started singing when they were young especially Ms. Cruz. Miss Passio surprisingly started singing in 7th grade and is now a Senior. When music takes a hold of your life you go with it. The girls make their studies a priority with a degree in musical theater being their goal. It was great to see the passion in these young ladies eyes especially with my young girls watching.

Walnut Street Theatre In Philadelphia

We loved visiting Walnut Street Theatre because it was our first time. There is a lot of history to the building, going as far back as 1809. It is America's oldest season and they are currently in their 210th season! How incredible is that? They have a big season subscription including productions geared for families with young children. As we left the theatre this weekend, they had just finished their 3rd production of Aladdin Jr. and were doing a quick turnaround for Irving Berlin's Holiday Inn. I forget how quick things move in theater.

Aladdin Jr. will be showing again this coming weekend, Saturday, September 29th at 11am and on Sunday, September 30th at 11am. Make sure to make plans to check it out with your family. We love going to the city so then you can hang around and walk Indpendence Hall and see Liberty Bell after. 

Do not know where to park in the city? Use the SpotHero app, and get a discount on your first reservation. It find the closest parking to your destination which you can reserve and book. It is so easy. Use my referral promo code: FRKDVQWXL

September 19th, 2018

September 5th, 2018


Nothing starts the first day of school like a good hearty lunch. These balanced bento boxes were a hit with my girls and were a perfect way to enjoy a new day as a student.

First Day of School

Happy First Week of School! Many might have already started but we started this week and the girls have been really anticipating going back. As of this year, I will have 2 in school and I do not know how to process it. I looked at the clock multiple times in the day thinking of my oldest daughter in 1st grade! One thing I did not have to worry was the fact that she might be eating junk. I was so excited to pack her a healthy lunch.

When she came home, and after sharing about her day, I asked my daughter how she enjoyed her lunch. She liked it a lot! I always dreamed of getting my girls ready for school and I officially get to do it.

Inspiration

One thing is for sure. The excitement will wine down and inspiration will wane but luckily I have my friends over at Produce for Kids who have an awesome resource for recipes and tips. Not only that but every Produce for Kids recipes are approves by their registered dietitian Katie of Mom to Mom Nutrition.

Not only are there many lunch ideas, but there are also amazing after-school snack ideas and easy weeknight dinner recipes to look through. Make sure you check it out so you can have your meal plan all set.

Power Your Lunchbox Promise®

I have partnered with Produce for Kids for many years in their amazing campaign called The Power Your Lunchbox Promise®. It was created to empower families with expert advice and tips from fellow parents on how to make and enjoy eating healthy.  Won't you be encouraged to eat healthier lunches with your family this year?

What happens when you make a promise? Every promise equals $1 (10 meals) to help families in need through Feeding America. Classrooms can pledge too and access lesson plans and activities for a healthy classroom. When you also sign up you get a chance to win some awesome products and have access to some money-saving coupons.

Two Balanced Bento Lunches and Sponsors

We have probably had our share of carbs this summer but one thing I made sure to give the girls was a good amount of fruit, veggies, fats, and carbs. I know a lot of energy can be used throughout the day for small kids so ensuring that there is enough in each category to hold them over until the end of school is important.

Thankfully I was introduced to the campaign sponsors for the Power Your Lunchbox Promise that helped with making delicious and fun bento boxes for my kids. They also made for healthier snacks for mom too!

Here are TWO balanced bento lunches that I created for my girls that make me want to steal them for myself.
Baby Carrots and Grape tomatoes

Bee Sweet Citrus mandarin with a Nut Free Rice Milk Chocolate piece
Wholly Guacamole Minis with plantain chips
Cheese, turkey, and Pero small sweet pepper skewers with a side of mustard for dipping
Plantain chips

Sun-maid Sour Lemon Golden Raisins ( amazing!) and Enjoy Life Rice Milk Chocolate piece

Pero sweet mini peppers and carrots with Opadipity (Lifehouse product)

Turkey and cheese roll ups with green olives and mustard.

Crispy Green All Pear crispy fruit
I hope these were an inspiration as you start the school year. Kids will have fun with these lunch bento boxes and have a balanced meal the whole year.
Go and make your promise to make and eat healthy lunches this year!
During the 2017-2018 school year, Produce for Kids were able to donate nearly 450,000 meals* to families in need through Feeding America® thanks to you.
Be sure to follow Produce for Kids on Facebook, Instagram, Twitter and Pinterest for year-round healthy eating inspiration and updates on the Power Your Lunchbox Promise.
August 29th, 2018
I love entertaining a lot so when it comes to creating a dish, I usually try something new with my guests. I know it is not the general rule, but sometimes I like taking risks. These Cranberry Corn Fritters with guacamole will have your guests asking for more.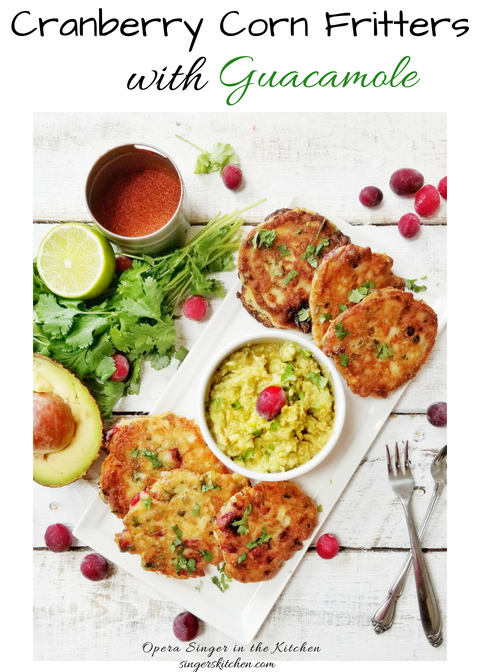 Cranberries: Not just a Fall ingredient
Cranberries can mistakenly be thought of only as an ingredient to be consumed during the fall and winter season but cranberries are really versatile in drinks, salads and even savory dishes. We love eating them dry and sweetened or even in muffins or squares.
Cranberries can also be very intimidating since they tend to be very sour. With the help of a couple of ingredients, you can have a delicious recipe in no time.  I made these fritters with corn kernels, Cape Cod Select frozen premium cranberries, jalapenos and corn flour. They whip up pretty quickly and fry in delicious coconut oil.
A simple guacamole adds as the dip that pairs well with these delicious savory fritters.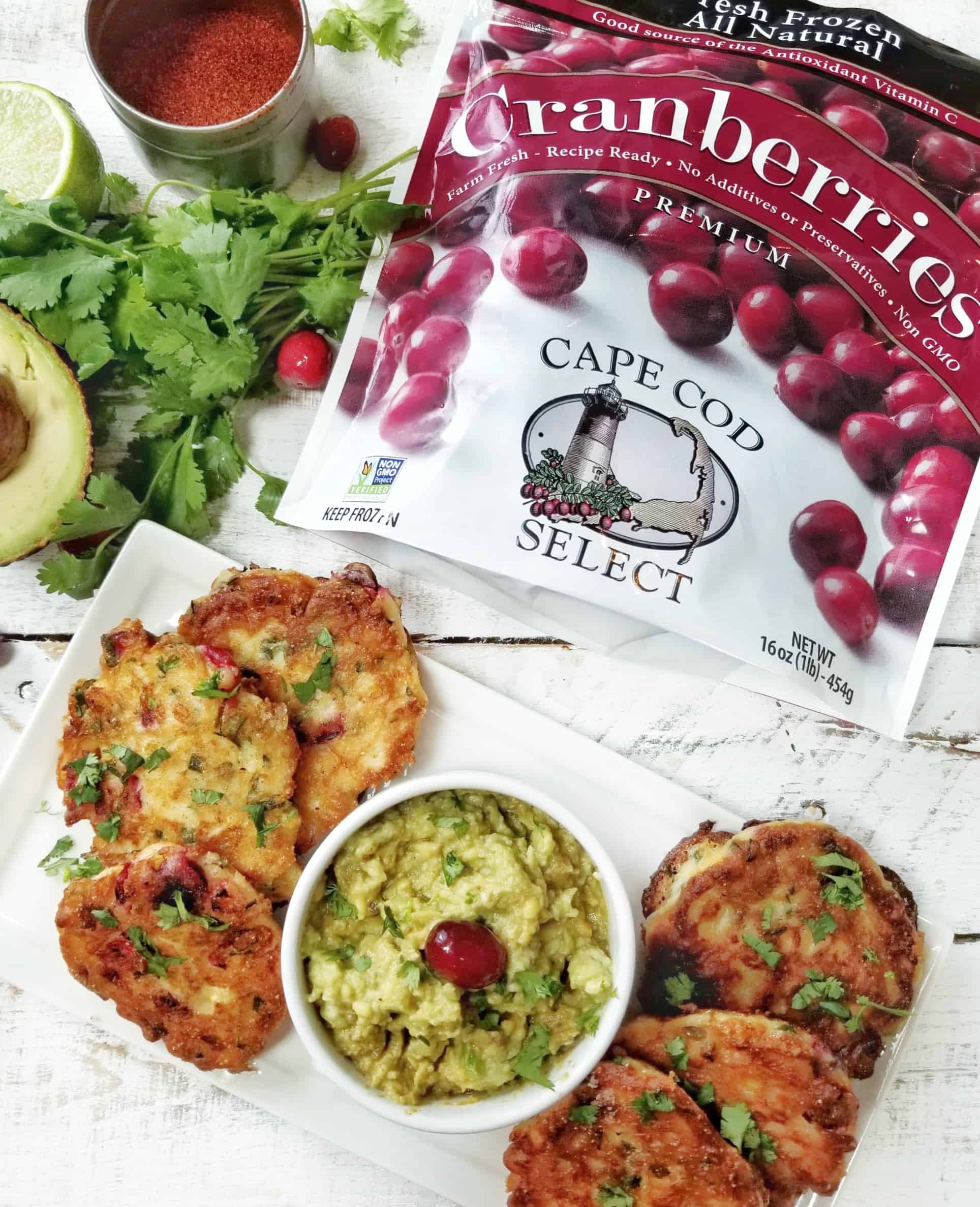 Cape Cod Select Cranberries
Cape Cod Select is a small women-owned family business where they have been growing cranberries on their 800 acre cranberry farm for more than 75 years. It is now in its fourth generation. The cranberries are grown to some of the industries highest standards and are Non-GMO verified and hold GLOBALG.A.P. Certification (https://www.globalgap.org/uk_en/for-consumers/)
The lovely thing about Cape Cod is that you can buy fresh cranberries from them seasonally or you can buy them all year long in frozen bags. Check out their store locator online to find where you can purchase them. I see them all the time at Giant Food Stores near me so I love having them available. You can also order online.
I received frozen cranberries in order to create a few recipes for a recipe contest, so I was happy to create this yummy recipe. It pairs well on a cheeseboard too!
Check out Cape Cod Select on social for info and inspiration.

Cranberry Corn Fritters with Guacamole
A simple guacamole makes for great dipping with these Cranberry Corn Fritters. They were a hit with my little girls as well.
Prep Time: 15 minutes
Cook Time: 6 minutes
Ingredients (12 fritters)
Cranberry Corn Fritters
2/3 cup corn flour (masa harina)
1/3 cup cornmeal
1/2 teaspoon baking powder
3/4 teaspoon salt
1/2 teaspoon onion powder
1/2 teaspoon garlic powder
2 tablespoons cilantro, chopped
2 eggs
1 cup milk
2 small jalapenos, deveined and deseeded, chopped
2/3 cup Cape Cod Select premium frozen cranberries
1/3 cup cheddar cheese, shredded
2/3 cup corn kernels, fresh or canned
Coconut oil for frying
Guacamole
2 avocados, pitted and peeled
1 lemon, juiced
1 teaspoon salt
1/2 teaspoon black pepper
1/4 cup red onion, diced
Instructions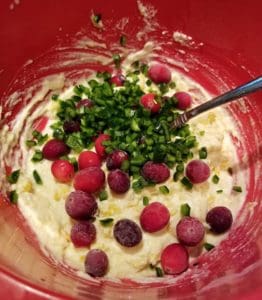 Cranberry Corn batter
In a small bowl, add the corn flour,cornmeal, salt, spices, cilantro.
In another bowl, add the milk, eggs and mix until the eggs are whipped.
Add the wet to dry ingredients and mix well.
Add the diced jalapenos, cheese, cranberries, and corn kernels.
Mix well and set aside.
Guacamole
Mash the avocados in a small bowl. Add the lemon juice, salt, black pepper and onions and mix well.
Frying
Add 1/3 cup coconut oil to a cast iron pan and heat on medium. Allow oil to heat up, about a few minutes.
Add 1-2 Tablespoons of batter into the hot oil and flatten. Repeat 3 other times in the pan and fry for about 3 minutes. Flip the fritters and cook another 3 minutes or until golden brown.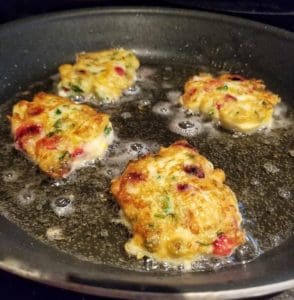 Repeat with the rest of the batter. Makes 12 fritters. Serve with guacamole.
August 8th, 2018
This Savory Chicken Kebab Veggie Bowl is so easy to put together when you have all the ingredients prepped in the fridge especially with a big tub of Sabra hummus. It is such a balanced lunch for any busy individual, especially for moms like me.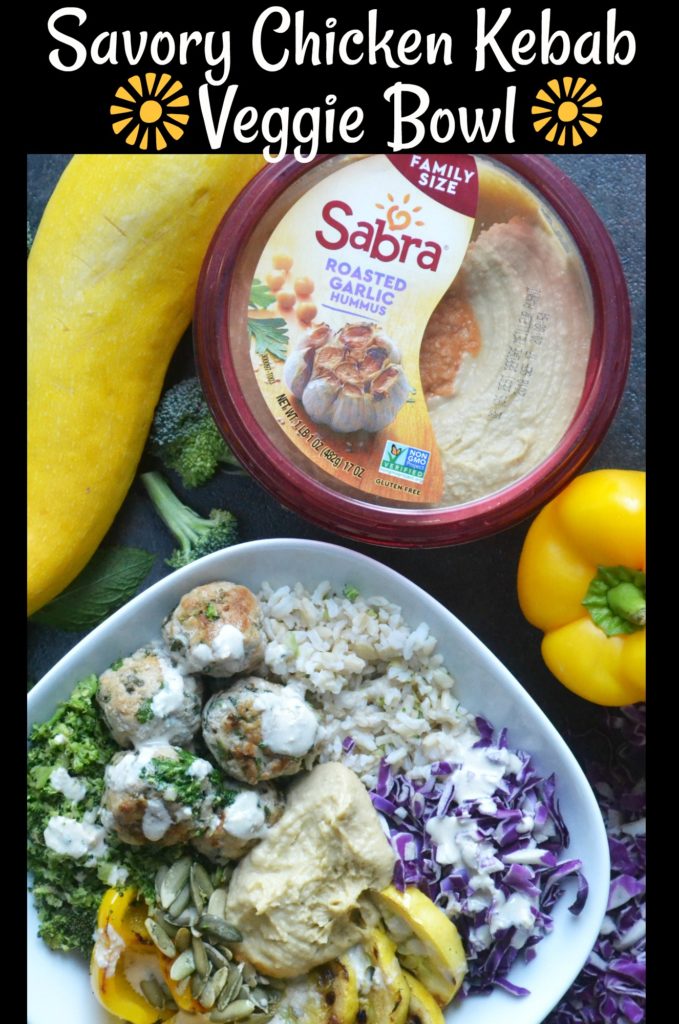 I have come to learn and enjoy so many different types of cuisines. It definitely makes it easier not to get in a rut. There are some weekends where I feel like meal prep like a boss and then other weekends where I have no time to do anything.
On the weeks where I get things prepared, I grill a variety of proteins so I can have them readily available in the fridge. Sometimes I like cooking the meat fresh but with three little girls and a busy schedule, it makes it easier just prepping the veggies at the last-minute.
Since I love cooking, I tend to complicate my life sometimes, trying to make really fancy meals for my family but logically, making something quick, healthy and balanced is the right fit for a specific day. Add a variety of ingredients to a bowl makes everything seems a little more easier.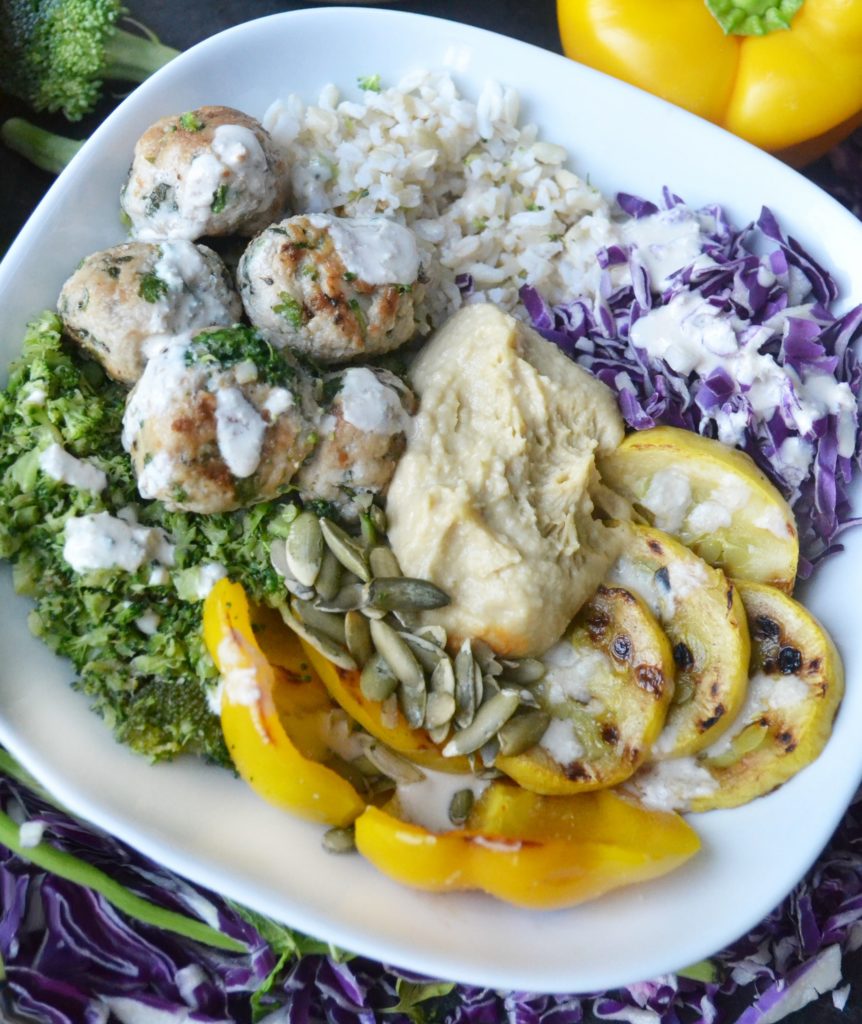 Instead of having a green salad, I grill a lot of veggies or leave a few items chopped so I can quickly throw them in a skillet. When it comes to lunch on most days, I only have time to make lunch for the girls. Then 2 pm rolls around and my lunch time has flown by leaving me to eat a late lunch or an early dinner.
Lately I have not felt as hungry at dinner time, so I have a salad with a protein. I have been making the same bowls for my kids so they can be exposed to a larger variety of vegetables. I find they do not eat as much because they get full quicker but that is okay because they are getting a balanced meal.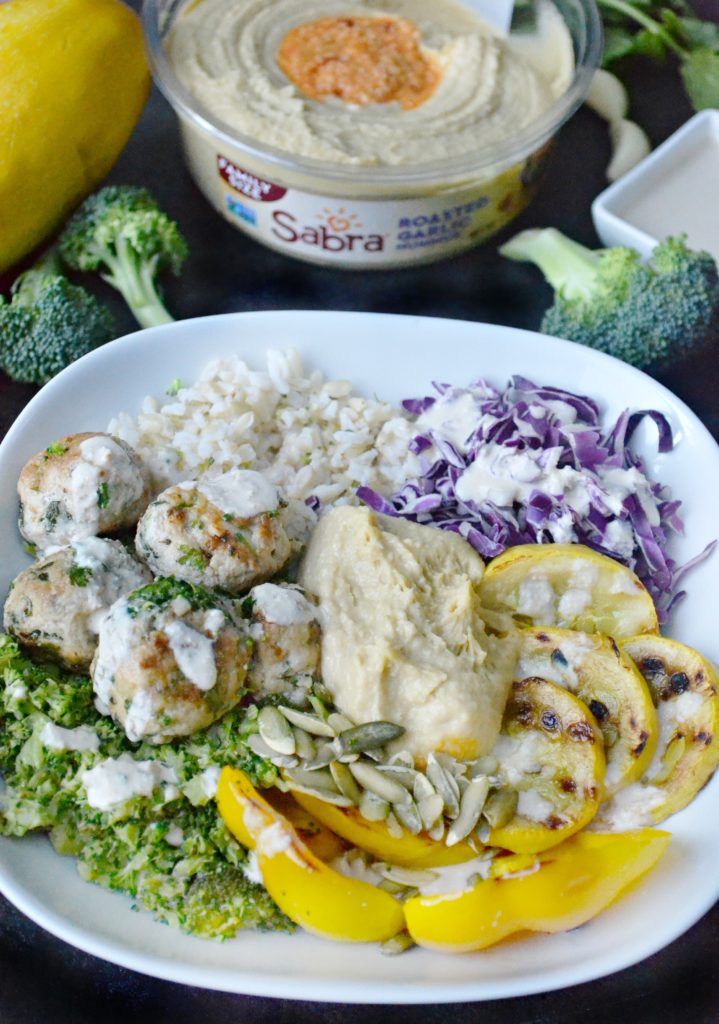 I love my Sabra hummus with everything. They offer so many different styles like Caramelized Onion, BBQ Hummus with Jackfruit and Smoked Paprika. I tend to pair those special ones with carrots, other raw veggies, pretzels and crackers for my kids snacks or for guests. 
I like the simpler Sabra dips, like the garlic, spicy, and roasted red pepper for pairing with meals. My kids will eat a whole tub by itself if I let them. It is THAT good!! You should try them! Here are some coupons for you to try!
Savory Chicken Kebab Veggie Bowl
Prep Time: 20 minutes
Cook Time: 20 minutes
Ingredients (4 bowls)
Chicken Kebab
1 pound 98% ground chicken

1/4 cup fresh mint, chopped

1/4 cup parsley. chopped

2 garlic cloves, minced

1 teaspoon cumin

1 teaspoon smoked paprika

1 teaspoon sea salt

1 teaspoon black pepper, chopped
Grilled Veggies
2 small yellow squash, sliced

2 small yellow bell peppers, chopped in large pieces
Broccoli Rice
2 cups broccoli florets

1 tsbp coconut aminos

2 teaspoons olive oil

pinch of salt
Tahini Sauce
3 Tablespoons tahini paste

1 1/2 Tablespoons lemon juice

1/3 cup water

1 garlic clove
Additional ingredients
1 1/3 cups cooked brown rice

4 Tablespoons raw pepitas

1/2 cup raw purple cabbage, chopped

1 cup Sabra Garlic Hummus
Instructions
Grilled Veggies
Spray a large non-stick skillet with olive oil spray. Add yellow squash slices and yellow pepper and cook on medium heat for about 8 minutes, rotating every 3 minutes. Remove from heat and place in a bowl and cover.
Chicken Kebab
Mix all the ingredients in a medium bowl and form into 16 balls.
Heat the same large non-stick skillet and spray with olive oil spray.
Heat on medium heat and chicken for 10 minutes, rotating every few minutes until cooked, 165 degrees Fahrenheit. Set aside.
Broccoli Rice
Place 2 cups of broccoli florets in a food processor and pulse until the broccoli is broken down, resembling small pieces.
Cook in the same skillet, spray with a little more olive oil spray. Add the coarse broccoli and cook on medium heat for 5 minutes. Add the coconut aminos.
You can use more broccoli rice instead of brown rice.
Tahini Sauce
Wash the processor and add the tahini sauce ingredients and blend until smooth. Set aside in a small bowl. This is the dressing for the bowl.
Assembly
Add 1/3 cup warmed cooked brown rice to a bowl. Then add another 1/3 cup of broccoli rice. Next, add a few slices of the yellow squash and yellow bell pepper. Add 2 Tablespoons of purple cabbage on the side. Add 4 chicken kebabs and add 1/4 cup of the Sabra garlic hummus in the middle of the bowl. Sprinkle with 1 Tablespoon of pumpkin seeds and drizzle with 1-2 Tablespoons of tahini sauce.
Enjoy!

More recipes using Sabra
Here are a few more recipes that I have created using Sabra.