Need ideas for your next brunch? This Sour Cream Coffee Cake is one I grew up with. My grandmother made it all the time and is now a traditional breakfast or brunch treat.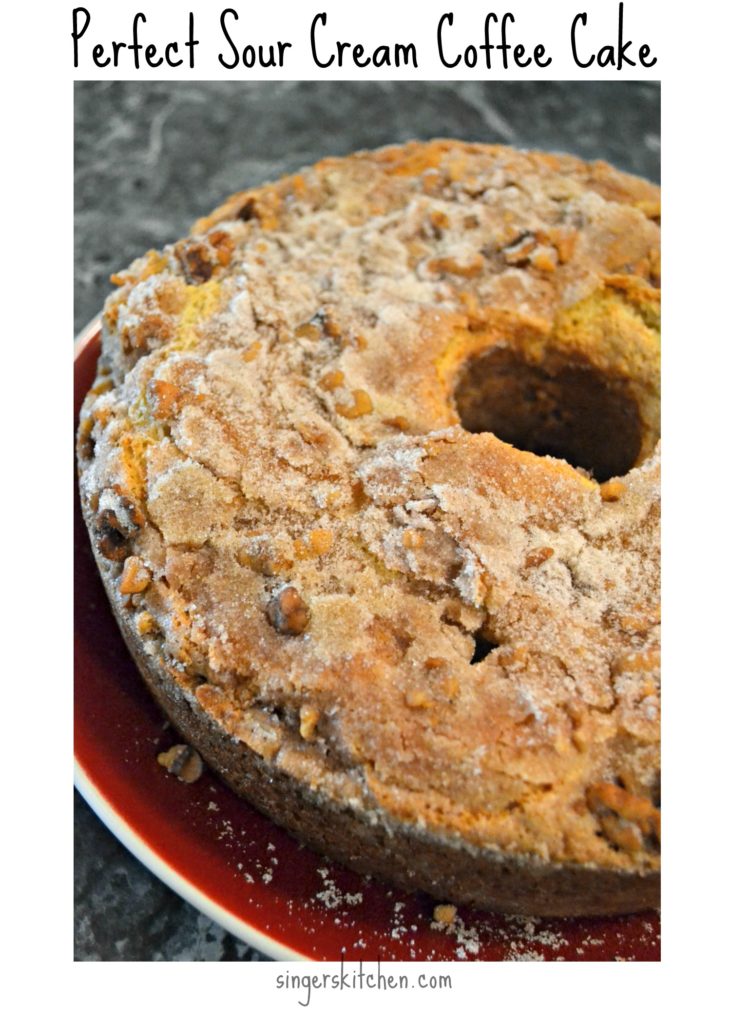 Last weekend I was able to enjoy the time at my grandparent's 50th anniversary in Blue Bell country. It is amazing to see a marriage for such a long time and it was a beautiful time. My grandmother had everything planned from the flowers to dinner reservations at the town's best Italian restaurant. We had such a great time and the grandparents were pleased!
Many of the recipes that I have in my recipe index are my grandmother's and I love remembering the good days byt making them in my own home.
On Saturday, the day of the celebration, my grandmother planned a lovely brunch. The recipes she picked out are family favorites and my grandmother knowingly plans to prepare these yummy recipes when family is around. I ventured in the kitchen with her and made the Sour Cream Coffee Cake while she prepared the casserole. This recipe might sound old fashioned but they are GREAT tasting!
Do you have a family favorite that you make often? Share it with me. I would love to know!
Sour Cream Coffee Cake
by Noelle Kelly
Prep Time: 15 minutes
Cook Time: 40 minutes
Ingredients (10-12 servings)
Batter
1/4 pound butter
1 cup sugar
2 large eggs or 3 small eggs
1 tsp vanilla
2 cups flour
1 tsp soda
1 1/2 tsp baking powder
1 cup sour cream
Filling
1/2 chopped pecans
1/2 cup sugar
1 tsp cinnamon
Instructions
Preheat oven to 375 degrees F. Cream butter and add sugar, eggs and vanilla. Mix dry ingredients together and add egg mixture alternately with sour cream.
Pour half the batter in well-buttered tube pan. Add half the batter and sprinkle with half the filling. Cover with remaining batter and sprinkle with the rest of the sugar mixture. Bake for 40 minutes.
Related