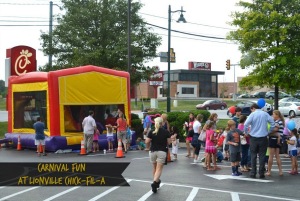 Here's what you missed this week at the Chick-fil-A in Lionville. It was an amazing time with local families and kids having fun with various games, prizes and the moon bounce. It was the most crowded I have ever seen it which in my opinion deems it a success.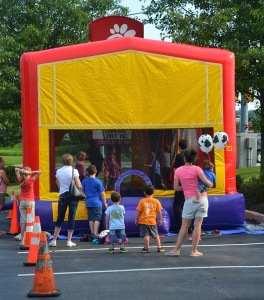 The moon bounce was popular with the kids and it was well managed by staff allowing for kids of all ages to bounce.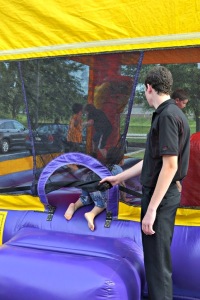 It was fun seeing my toddler enjoying the bounce time.
As soon as the kids received their kids meal, they had tickets for games outside and time with the sand art. It was all very organized for sure.
The lines were lightly packed allowing for the kids to play with all the activities planned. They had a chance to win many prizes which included kids meals, cookies, ice cream and more!
The sand art table was well-laid out with different colors. Although the sand art was geared more to older kids my toddler was able to make her own when the table was set up indoors later in the evening.
There was a lot of time to pose with the cow, which by the way, my toddler loves. She wanted to hug the cow, hold the cow, and carry a conversation with the moo-cow. Oh yes, but it was sad that my youngest toddler was actually super scared of it.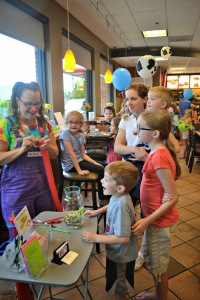 When the kids ventured inside, they had the option to get balloon animals or get their face painted. There was a consistent long line for these activities that never made anyone to leave it.
The face painting was super professional and the kids left happy. These girls were so cute!
Despite the storm that came 2 hours after the event started, the games, sand art, and prizes were moved inside. The moon bounce had to be deflated for safety reasons but the fun was still active indoors until the end of the event. I was impressed with how quick everyone managed the weather changes.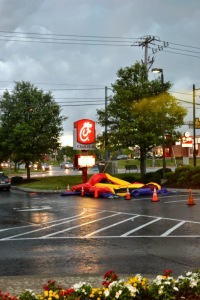 Related