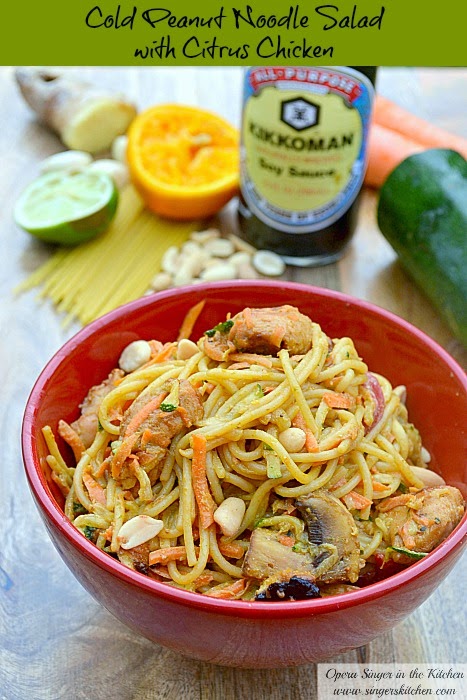 I've come to a point where I think I can make meals for my little family that are savory and full of flavor. I like trying new foods, products and cuisines but I am definitely the most adventurous. Asian food is one cuisine that my husband and I enjoy a lot but I was not quite sure that my girls would like it quite yet. Recipes could be too spicy or to bold in flavor that could be off-putting for young children.

Soy sauce is one condiment that I find would be too salty for toddlers but when I was asked to create a meal using Kikkoman soy sauce I was excited to see how my kiddos would respond. I knew that Kikkoman was perfectly balanced to naturally enhance favorite recipes so even though I knew there were days or even meals that my kids would not eat, I knew I was not going to be discouraged if my kids did not like my meal. My intentions are always to broaden their taste buds.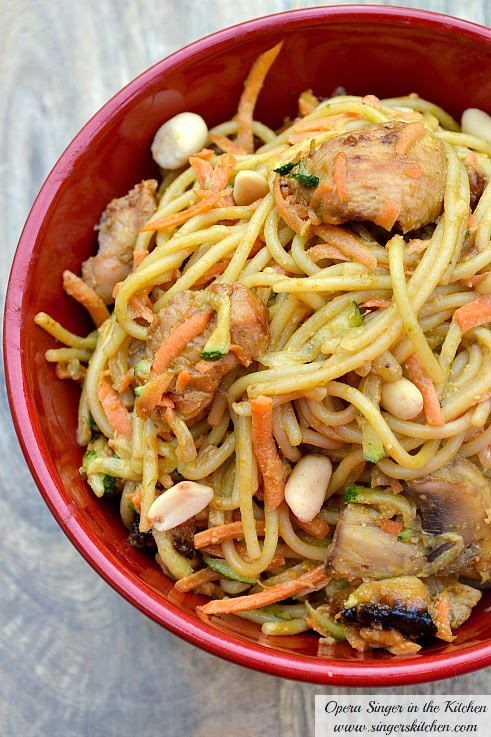 My girls and my husband like noodles and meat so I knew that my dish had to include these two staples. I know they also like peanut butter so what better to create than a sweet and savory dish? Even though I like spicy Asian food, I knew I could leave that out and still add it later if I wanted.

Our family probably has the same dilemmas that others do when it comes to feeding little ones veggies so I focused on how to sneak in some essential veggies for my girls to enjoy. I have to say that I also find ways to sneak in veggies that my husband normally would not eat so I shred zucchini, carrots, and julienne red peppers and I am pretty much set.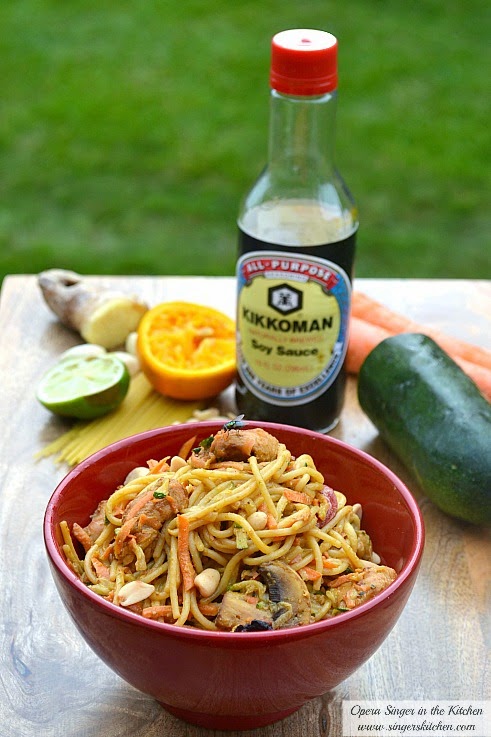 While I have made a noodle salad with peanut sauce before I decided to add chicken this time, marinated with orange, lime, and lemon juices and Kikkoman soy sauce. I usually warm my peanut butter to soften but I used peanut butter powder for an easier peanut sauce.




Here are a few facts I learned and that I have used in the past with Kikkoman soy sauce:


Kikkoman soy sauce is a versatile ingredient that can be used to cook many

different types of cuisines.

Kikkoman soy sauce is naturally brewed.

Consider using Kikkoman soy sauce as a natural browning sauce in your meal

preparation.

A splash of soy sauce can give anything from salsa fresca to carnitas an added

boost of flavor.

Kikkoman lime or lemon ponzu act as all in one grilling marinades.

Brush Kikkoman Teriyaki on your meat before cooking to enhance flavor and add

a tangy, savory flavor.

Kikkoman Sriracha Hot Chili Sauce features Asian spices and chili peppers, a

hot sauce that adds a kick when used as a marinade for meat or as a condiment.

Kikkoman rice vinegar is ideal for emboldening flavor in salads, paella and soups.

By using 1/2 tsp. Kikkoman Soy Sauce in place of 1/2 tsp. table salt, the sodium

content of the recipe is cut by 1000 mg.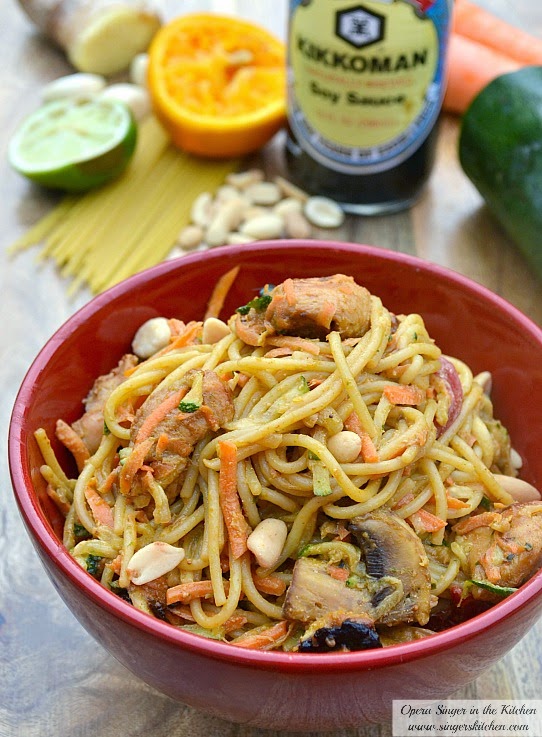 So, let's go back to the reactions I had at dinner time. After the meal was completed, everyone sat down to eat. My toddler asked me what I had been doing. I made sure she was hungry still since she had been asking for snacks only an hour before dinner. Once I set the plates down in front on my family, my oldest toddler thanked me for dinner, which made my heart melt. I only hoped she would enjoy it. I had been telling her I was making a favorite meal with noodles and peanut butter which sparked her interested.


I waited. I did not even take a bit myself until I saw my family's reaction. Yummy. By the time my daughter finished her serving, her mouth was messy with peanut sauce. It was such a nice site to see. She ate every bite and thanked me again for dinner. My husband let me know that I was to make this dish more often seeing that I had not made it in a while. It was a plus since it had chicken this time and even more of a plsu when the hubby recognizes the shredded zucchini and shrugs it off.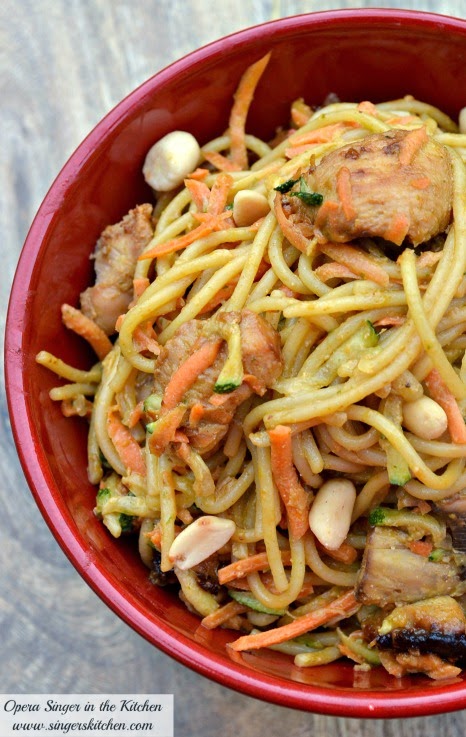 Even though my youngest toddler, who is only a year and a half, did not like it, I attribute it to her teething since she is usually my eater. It did not dissuade me but convinced me to make it again. We are definitely not the types to make separate meals for our kids. I will continue to venture forth!
What is your favorite meal to prepare using soy sauce. Have you used Kikkoman Soy Sauce before?
Cold Peanut Noodle Salad with Orange Chicken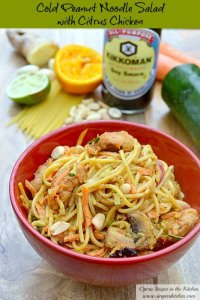 Ingredients

(4-6 servings)
Citrus Chicken
3 large chicken breasts (about 12 ounces), sliced

3 garlic cloves, minced

4 Tablespoons Kikkoman soy sauce

2 Tablespoons sesame oil

1/2 teaspoon fresh ginger, minced

1 navel orange, juiced

1 lime juice, minced
Veggies
1 large zucchini, shredded

3 carrots, shredded

1 cup button mushrooms, sliced

1 large bell pepper, julienned

1/4 cup cilantro, chopped

1/2 cup sliced peanuts
Peanut Sauce
1/2 cup peanut butter powder

2 Tablespoons sesame oil

3 Tablespoons agave nectar or honey

1/3 cup lime juice

1/4 cup soy sauce

3 teaspoons fresh ginger, minced

1/2 pound dry spaghetti
Instructions
Place sliced chicken in a medium ziplock bag and place the rest of the ingredients inside and marinate for 1-2 hours. Discard marinade and cook chicken on a non-stick skillet and cook on medium heat for 15 minutes.
Prepare the veggies and set aside. Cook the spaghetti according to packages directions and once pasta cooks, drain water and place pasta in a large glass bowl and drizzle 1-2 Tablespoons sesame oil and allow pasta to cool.
Prepare the peanut sauce and pour over the pasta and toss well. Add the veggies and toss well again. Sprinkle peanuts over salad. Refrigerate salad until ready to eat or eat immediately.

Related