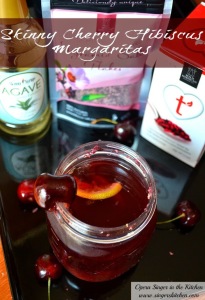 It's National Tequila Day and I have a delicious and quick recipe for you. Since it is still cherry season, I decided to pair two of my favorite flavors to create a fun drink for you to make for your family or for guests coming over for dinner, brunch, or lunch!
I am a big fan of cherries, but somehow I do not get to post as many recipes using them because by the time I am done pitting them, I am tired and uninspired. What a sad excuse right? I just end up eating them. Anyone relate? Anyway, I brewed a whole pitcher of hibiscus tea and added natural cherry juice and mixed in the rest of the ingredients to make a refreshing and fun drink. 
I still need help consuming. Anyone want to come over?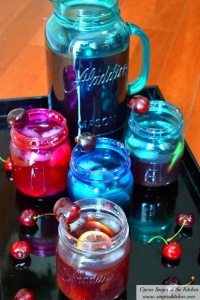 While this drink is simple to make it can be easily turned into a sangria too! Add your favorite summer fruits, switch out the alcohols to brandy and red wine and your ready. I used a skinny syrup that is 0 calories and has 0 sugar and it was just as tasty as a regular margarita. I also have many fruit juices in the drink so why not save some calories and use a skinny sweetener? Enjoy the recipe!
Skinny Cherry Hibiscus Margaritas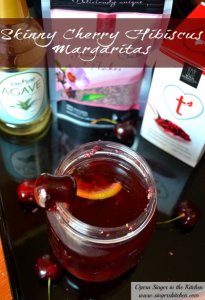 Ingredients

(12 (6-ounce) glasses)
8 cups hot water

1/2 quart black cherry juice (all-natural juice, not concentrate)

1/4 cup orange juice

1/4 cup lemon juice

1/4 cup lime juice

1 cup tequila

1 cup triple sec

1/3 cup skinny syrup (stevia based), or any other simple syrup
Wild Hibiscus Flower Pyramid Salt Flakes (to rim glasses)
Brew the hibiscus tea according to instructions. Allow the tea to cool to room temperature or place in fridge for over an hour.
In a 2-quart pitcher, add the cherry, orange, lime, and lemon juices plus the sweetener. Adjust sweetener according to taste. Add the cooled hibiscus tea and refrigerate until you need the mix.
Add crushed ice to each 6-ounce glass or 4-5 cubes of regular ice and pour margarita mix.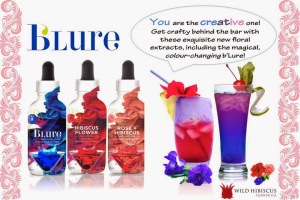 Interested in these hibiscus products? I really like them a lot and I was a hibiscus flower lover even before I came across Wild Hibiscus Flower Company. Want a chance to try some of their new products?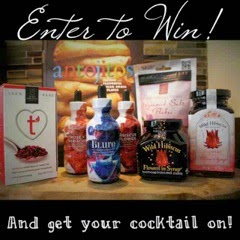 Giveaway
 – Win a complete set of Wild Hibiscus products – Original, Rose, Heart-Tee, Hibiscus Pyramid Salt Flakes and NEW Floral Extracts, along with a signed copy of Chef Barbara Sibley's beautifully photographed cookbook, Antojitos, Festive and Flavorful Mexican Small Plates, a collection La Palapa's best-loved recipes. (Continental USA – excluding Alaska – Only).  $100 value.
Guidelines– 
A purchase is not necessary to enter, and will not improve the chances of winning. Must be at least 18 years and older to enter. Void where prohibited. Eligible entrants – Continental USA only  (excluding Alaska). Winner will be chosen randomly from all eligible entries, notified by email and given 48 hours to respond. If no response within that time, another winner will be chosen randomly. Deadline to enter: 

August 6th, 2014 11:59PM ET

.  Odds of winning are determined by number of entries received.
Disclaimer: Opera Singer in the Kitchen is a participant in the Amazon Services LLC Associates Program, an affiliate advertising program designed to provide a means for sites to earn advertising fees by advertising and linking to Amazon.com

Disclosure: I received product to review and create my recipe. All opinions are my own.

Related