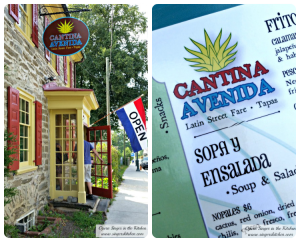 During our staycation in Chestnut Hill, we dined at Cantina Avenida which is located in Mt. Airy. The restaurant is located just minutes from Chestnull Hill and announces its presence with the beautiful colors on the stone-built home. I was excited to try new Latin-American fare with unique twists and flavors that I had heard from articles.
We arrived around 6pm in order to prevent any fussy behavior by our girls. We loved the fact that we were able to sit in the patio where we quickly noticed there was another large family with kids. I always can be assured that my kids will be distracted by other kids and that they will love sitting outside. There are just plenty of distractions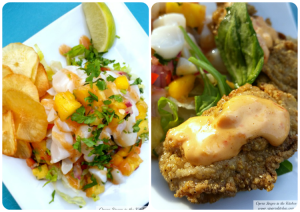 We were given a beautiful one-sided menu where the waitress to let us know that every item on the menu would be served as small plates or bites otherwise known as tapas. I was really excited to see what was available for our whole family and even more so when the waitress explained that our kids could be accommodated with kid-friendly dishes like quesadillas.
It was a gorgeous evening so we hoped to really enjoy a relaxed dinner with the kids so we ordered black beans and rice and a slaw for the girls while we waited for our starters. We were warned that each place we ordered would come as prepared so we loved the fact we did not know what we would get first.
Scallop & Mango Ceviche – We learned that the ceviche changed every several days depending on the seafood and fruit. The scallops were so fresh and the citrus flavors combined with the sweet mango was amazing. Each bite had a perfectly balance of citrus, cilantro and seafood. I was a huge fan of the fried yucca chips on the side and vowed to make my own.
Fried Oysters with Red Pepper Aioli – Even though I do not eat raw oysters I was intrigued by the fried aspect but then I found out they are lightly fried so the oysters were not cooked all the way through. The light breading on the outside was crisp and paired nicely with the creamy aioli sauce but it was not a favorite of mine.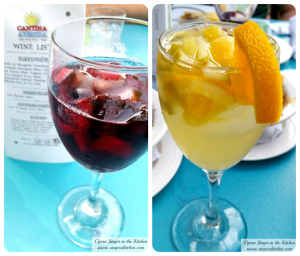 Red and White Sangria – I usually favor the red sangria because it reminds me of the many I've tried in Spain. I love the fruit that has been soaking in the brandy and red wine which was like the one at Cantina Avenida. While it was initially sweet I enjoyed the glass even more when combined with my tapas. The white sangria was delicious and went well with the tacos we had later on in the evening.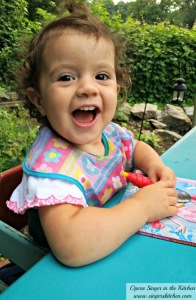 The girls enjoyed their black beans and rice and even tasted everything we had for them to enjoy. Our waitress made sure we knew the beans had bacon but we assured her that our girls enjoyed bacon occasionally. I like for my kids to experience flavors so we were just a bit surprised that the black beans and rice had the least amount of flavor or seasoning than any dish we tasted that evening, Even so, the girls consumed it pretty well.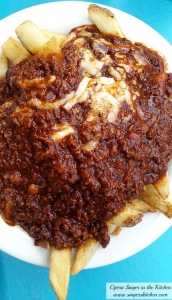 Mole Fries – I think this dish alone would bring me back again and again. I liked the fact that if I were wanting to eat mostly vegetarian that this dish would be a great meal option. It was enough to share between me and my husband. My husband did not even know that the chorizo was a veggie chorizo but it did not matter. The sauce was not too spicy and the smoky flavors kept bringing us back to the dish.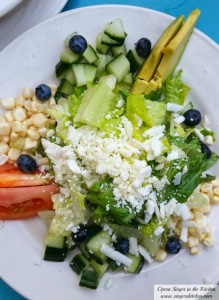 Chopped Salad – I am a sucker when it comes to chopped salads. I simply have to taste one at every restaurant I go to because they each have their own interpretation. The fresh ingredients in this salad made it a delicious summer salad. The blueberries combined with the fresh corn kernels gave the salad a delicious crunch while the ques fresco combined with the lime vinaigrette made it a great palate cleanser before the next dishes.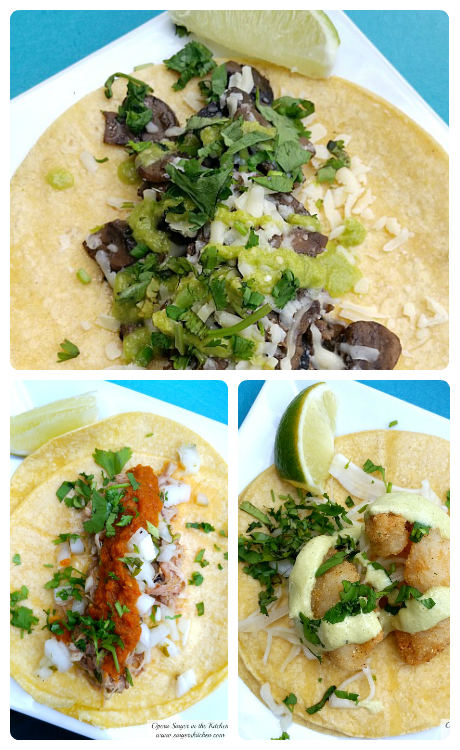 Each taco was served with 2 corn tortillas and a lime slice.
Mushroom & Huitlacoche Taco – Another veggie alternative is this mushroom taco that was probably my favorite. The salsa verde was an amazing topping with the creamy mushroom mixture and the pockets of garlic that were enjoyed with each bite.
Carnitas Taco – The grilled pineapple guajillo salsa on top of these carnitas made this taco complete. Even though there was not a lot of seasoning in the meat, the cilantro mint onion salsa and the guajillo salsa brought the taco to life.
Fish Taco – The fish taco is a dish we like making at home, but somehow this summer I have not been as dedicated to fish. This light-fried fish was simple and light in flavor and was enhanced in flavor with a little lime juice and the poblano ginger sauce. The slaw was not overwhelming but perfect for the taco.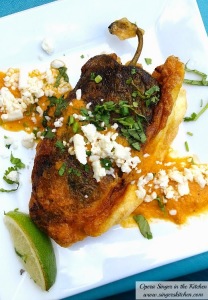 Chile Relleno – This is one dish I wish I could make at home. My Mexican grandmother makes them so well and while I hardly ever get to see her it is not something I know how to make well at all. A chile relleno is a poblano pepper that has been roasted and stuffed with ground beef, cheese, or vegetables and is dipped in an egg wash and then pan fried and served with a tomato sauce. Chef Edgar Alvarez makes an elegant recreation with ground beef and vegetables, topped with a warm tomato sauce and queso fresco. Mexico came to my table. Yum.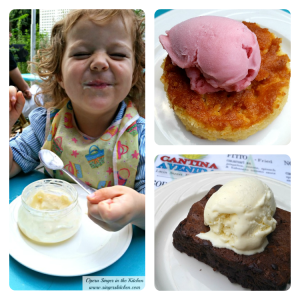 Nothing completes dinner than dessert. If I could eat dessert first, or actually eat it first, then I would at Cantina Avenida. My girls love treats and desserts because they come on occasion. They each split an rice pudding and devoured it plus they had bites of our desserts too. It was a pretty amazing finish to our dinner.

Horchata Rice Pudding – The pudding arrived with a dried cherry compote which I promptly snagged from my kids dish which is bad of me, but I am a cherry lover, what can I say? The pudding had a nice cinnamon flavor and an even sweetness that was not overwhelming at all. It was a perfect kid-friendly dessert even though my oldest toddler would have preferred the chocolate brownie.

Chocolate Chile Brownie – This brownie was the most decadent and heavenly brownie we have ever had. My husband is picky about his brownie and he deemed this one as his favorite. The chile in the brownie gave it a depth of flavor but was not at all spicy. The ice cream on top made it an instant favorite for our kids.

Vanilla Quatro Leches – I usually chose the tres leches cake when I go to Mexican restaurants because I like comparing and adding them to my list of favorites. At Cantina Avenida, the Quatro Leches (or Four Milks Cake) makes its name by having the almond milk added in the mix of regular milk additions. It was not a wet cake but a moist cake served with a flavorful raspberry sorbet. It was really stupendous.

Our experience at Catina Avenida was pretty marvelous. Our kids survived a whole hour and a half by the grace of God and the activities we brought the kids. They of course were entertained by the food but we definitely could not have asked for anything more. Our waitress was attentive and very professional, always enticing us with tidbits of information about the establishment.

Disclosure: Our dinner was provided compliments of VisitPhilly.com. All opinions are my own.

Related