Disclaimer: I received this product for free from the manufacturer. I agreed to use this product and post my opinion on my blog. My opinions do not necessarily reflect the opinions of the manufacturer of the product.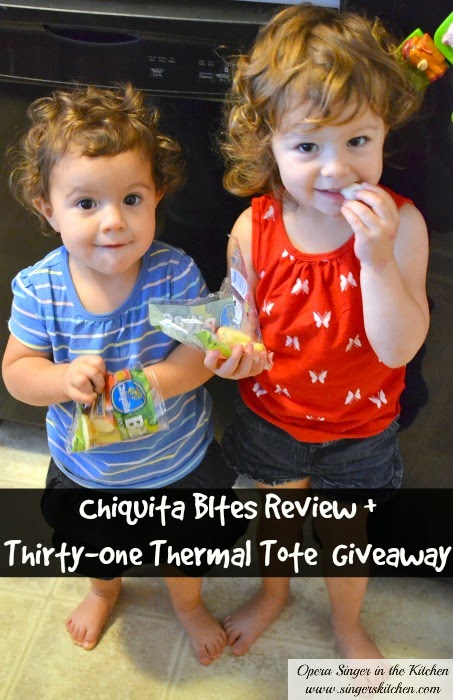 I am always looking for new snacks or snacks that are healthy and quick to pick up. There are just some days I just want to grab and go when we are heading to the park or to a play date.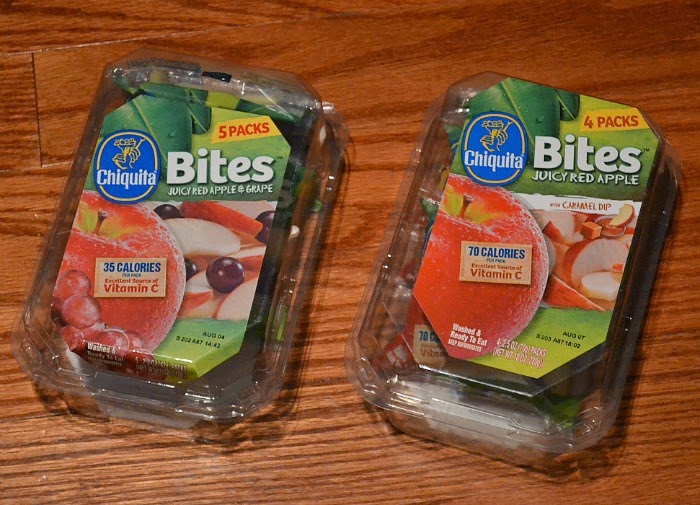 My girls are always asking for a snack and so these apple snacks were a delightful surprise ready to give to my girls after their naps or when on outings. One of the favorite bags were the apple slices with the caramel sauce. It was definitely considered a special treat for my girls.

My youngest liked the small bags of apple slices and grapes combination just for the grapes but I explained that it was the full combo! Chiquita snacks also packages larger bags of apples for separate recipes. I dipped some in peanut butter or chocolate tahini butter, making them a perfect afternoon snack. Here is an example of a fun recipe: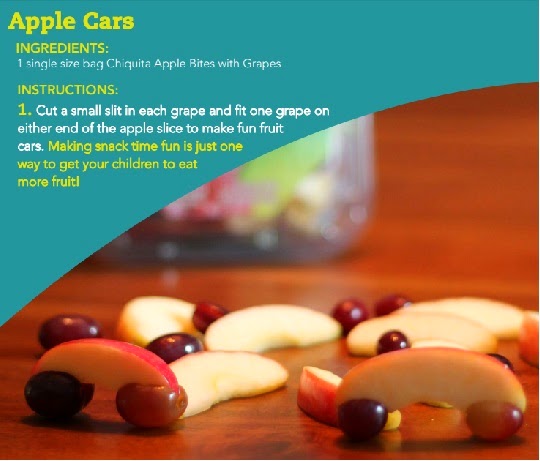 These would be good for any kid! Of course, these would not last in my home at all! I am just glad I get to try the carrots with ranch next! Why not have healthy treats for your kids? I am glad we have the option to have these in our fridge.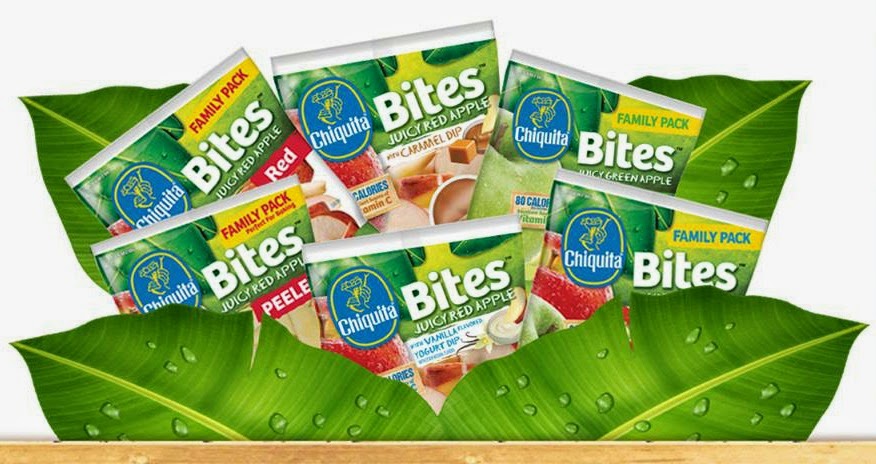 Chiquita Bites are available in convenient sizes, including single-serve bags, multipacks and family packs. They're great for lunches, salads, recipes and sharing!
Washed and ready to eat

30-80 calories per serving

A half-cup of fruit or vegetables per serving

A great source of nutrition
For more nutritional information visit us at:
http://www.chiquita.com/Products/Healthy-Snacks/Chiquita-Bites.aspx

How about helpful tips for making the process of going back to school easier? Here are some tips for getting back to school:
1. Reintroduce a school year bedtime now to help make mornings easier when school starts again. Each night have your kids go to bed 15 minutes earlier until you've reached their school year bedtime.

2. Promote healthy snacking by keeping pre-portioned snacks easily accessible for your little one – keep fruits, veggies and lunch meat in snack portion baggies on a low shelf in the fridge.

3. Get organized for the school year by clearing out a small space to dedicate to backpacks, jackets and other school gear.

4. Cookie cutters are a simple way to spice up lunch or snack time!

5. Prepare your kids for the mental demands of the school year by incorporating "pop quizzes" throughout the day. Have them spell "banana" as they eat their snack!

6. Toothpicks make perfect bite-size skewers – they're easy to eat and your kids will love them! Stack various fruits, cheeses and veggies for a convenient, fun lunch.

7. Beat homework blues by designating a special area for homework, make sure it's quite and stocked with all the supplies your little students may need.

8. Take a minute to surprise your son or daughter with a fun note in their lunch. They're great for lunches, salads, recipes and sharing!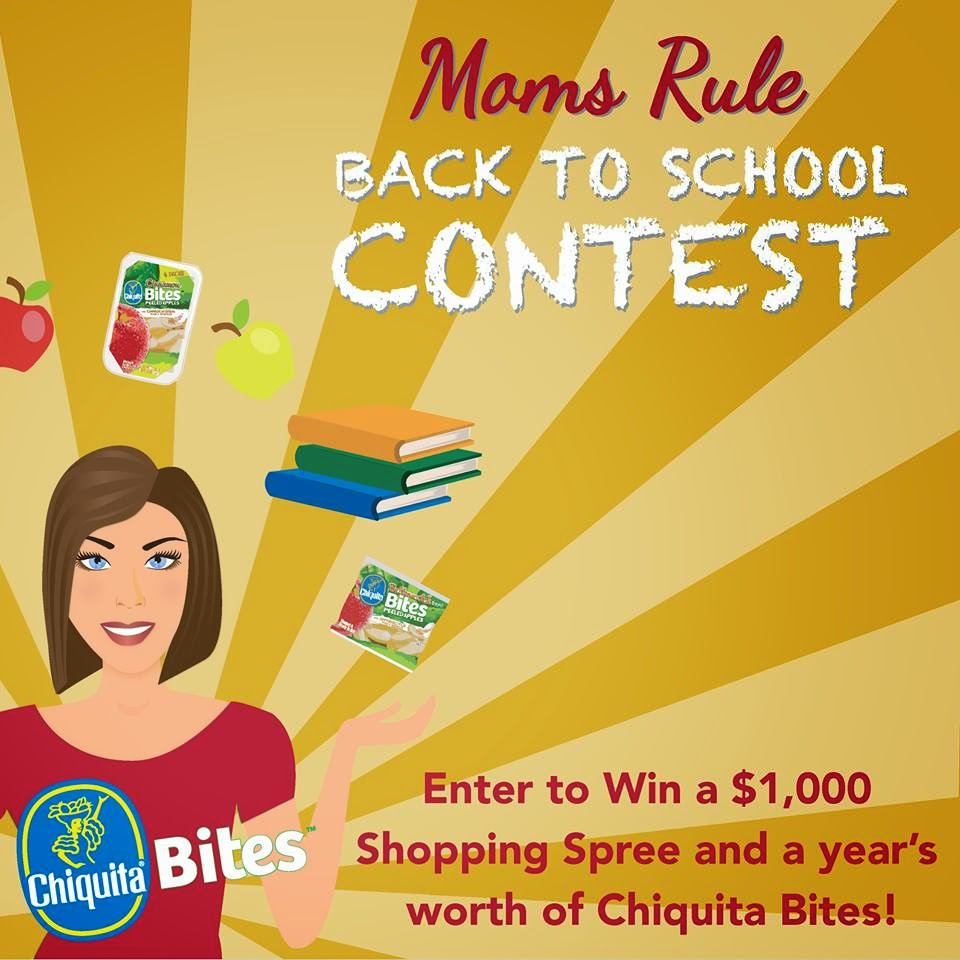 Chiquita is running a Moms Rule Back to School Contest currently running on Facebook. Participants may enter for a chance to win a $1,000 shopping spree and a year's worth of Chiquita Bites by commenting on the page with a tip or trick that has made getting ready for school easier. For official contest rules, click here.

And in addition to the giveaway on Facebook there is a giveaway for all my readers. There is a Thirty One bag available to one US reader thanks to Chiquita. Enter below!



Related