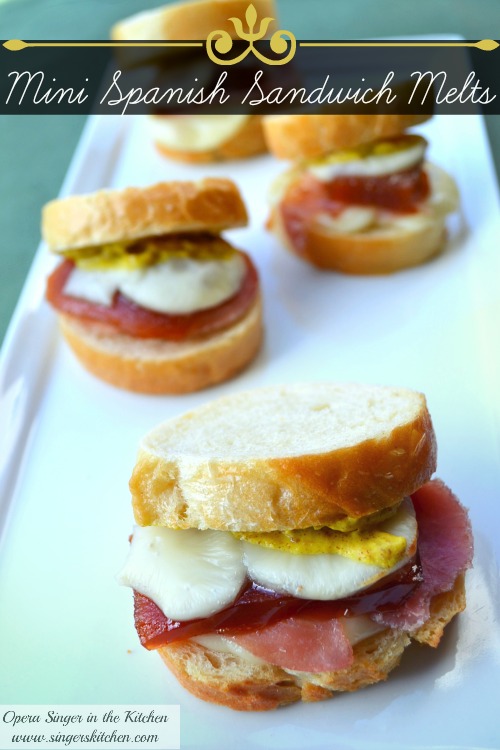 The weekends are usually really low-key for us and are focused on us having family time. I usually try to make more exciting meals or I get my family more involved in the kitchen. Sometimes, I am just plain tired and not even up to any cooking after a whole week of meals. Anyone feel the same? While my kids are not in school yet, my husband is back to school, as a professor, which means more prepared meals for my husband and easier meals for our family at home. The monotony of peanut butter and cold cut sandwiches are easily forgotten with fresher meals that make for memorable and satisfying meals.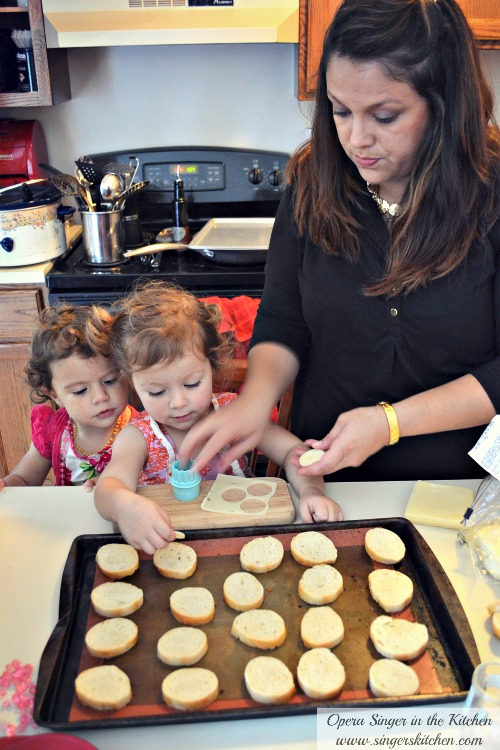 Are you looking for a light lunch to send to your kids or even something light for a lunch on the weekends? Sometimes, cooking or baking is not even desirable but with a few ingredients you can have a pretty spectacular lunch that will have your family thanking you.
My kids love being the kitchen while my husband and I are cooking so I have been slowly involving our daughters more in our meal preparation.  Even though we have 2 stools my youngest sits in the high chair closer to the kitchen counter and my oldest daughter uses a dining room chair to stand next to me. I am quickly learning that meal preparation does not work best when we are desperately hungry because no one will listen to directions and then start eating the food on the counter. Haha. Yes. I know. I hope I have given you a visual, because it has happened.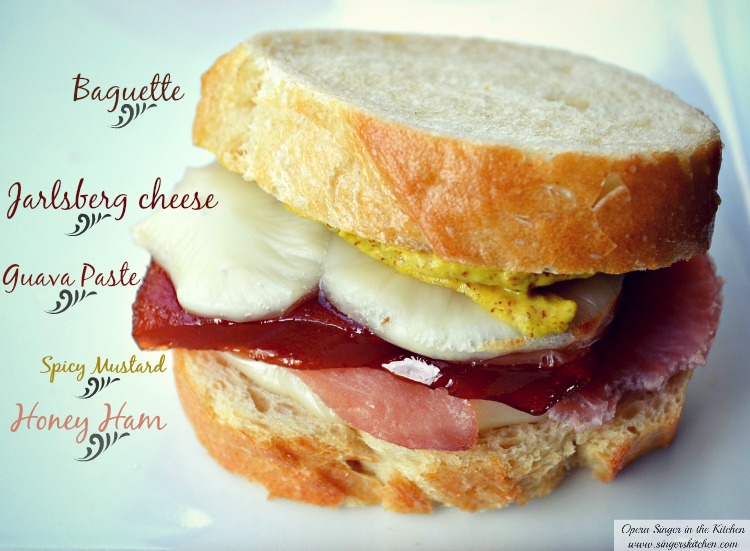 Let me tell you a story. On Sunday evenings, we would go to my Chilean grandparents home and have English tea with a huge spread of spreads, Chilean biscuits, dulce de leche, cheese, cold cuts, and more. It was considered a LIGHT dinner but it felt so satisfying and very much a dinner. It was spectacular and something I wish I were doing every Sunday evening. When I was thinking of a unique lunch to introduce to my family I decided to create a sandwich with the same flavors. I wish I could share it with my now deceased grandmother, because, I know I have inherited a part of her creative cooking skills.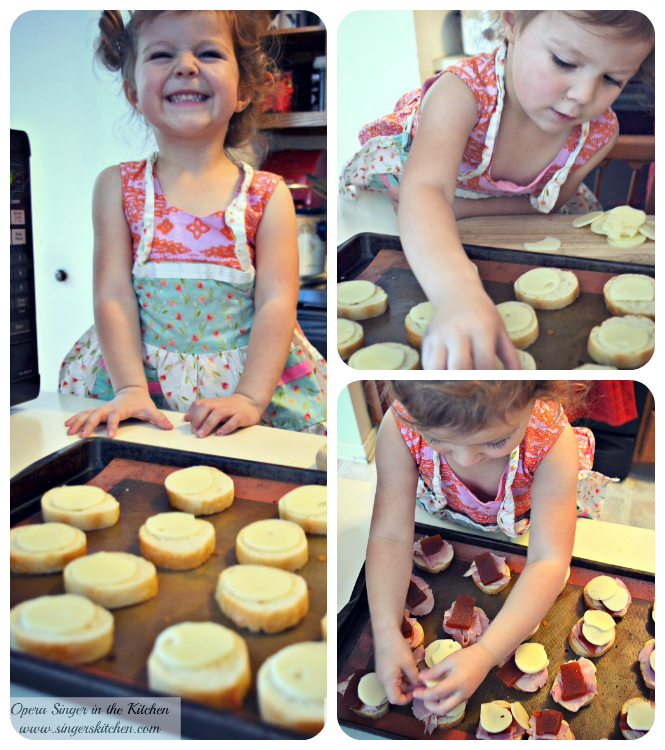 When we got in the kitchen, I gave my oldest daughter, Julianne, instructions on her duties. Even though she wanted to taste everything she saw, telling her she was my helper made a huge difference.  She was a huge helper loading up the layers as I cut the cheese, ham, and the guava paste. My youngest, who is only 20 months, wants to do everything her sister is doing. She feels left out so I really try to get her to be close to us so she feels included.  As we are preparing our lunch, daddy is taste-testing ingredients as my girls are asking for samples. I love hearing Julianne tasting the guava paste and telling me "yum! I've never tasted before!"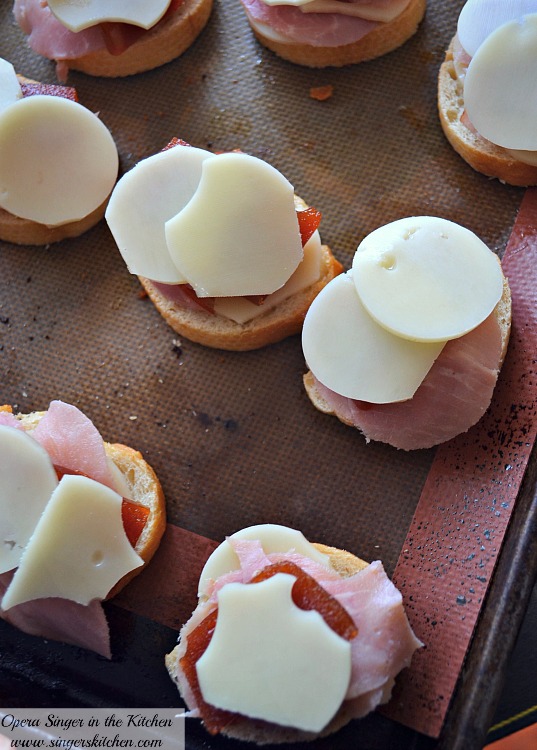 This mini sandwich has starts with a baguette slice of bread with a layers of Jarlsberg cheese, honey ham, a slice of guava paste, and topped with another layer of cheese. The slice is broiled on low in the oven enough for the cheese to slightly toast. A little spicy mustard is added to another slice of bread and covers the mini sandwich. The sandwich was a sweet and savory hit! The spicy mustard gave a pop of flavor to the  sweet guava paste melted between the ham and cheese. This was also very reminiscent of Spanish flavors that usually include Serrano ham. It was just so good and so hard to stop eating.
This post is part of a series of sponsored posts for Jarlsberg cheese. All opinions and recipes are my own.
Mini Spanish Sandwich Melts
Rating: 41
Prep Time: 15 minutes
Cook Time: 7 minutes
Total Time: 22 minutes
Yield: 24 mini sandwiches
Ingredients
1 1/2 large baguettes, sliced in 1/2 inch slices
3/4 pound Jarlsberg cheese slices
1/2 pound honey ham slices
10 ounces guava paste, sliced 1/4 inch slices
spicy mustard
Instructions
Turn on broiler to low and position rack closer to broiler.
Slice the baguette into 1/2 inch slices.
Add the slices to a baking sheet.
Using a mini biscuit cutter, about 2 inches wide, cut out cheese slices circles.
Add 2 slices to each baguette slice.
Add about 2 Tbsp of honey ham slices.
Add a slice of guava paste and top with 2 cheese circles.
Place the baking sheet in oven and broil for 5-7 minutes.
Cheese will bubble slightly and bread will toast slightly.
Remove from oven.
Add a small dollop of spicy mustard and top with another baguette slice.
https://singerskitchen.com/2014/09/mini-spanish-sandwich-melts.html/
This would easily classify your kiddos as foodies since it has a combination of unique flavors. Your family will love the sweetness mixed with cheese. What a great way to surprise your kids lunch boxes with these mini sandwiches. Add them this week!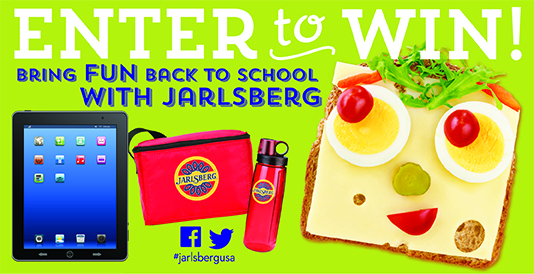 Jarlsberg is having a fun Back to School Giveaway which includes a branded lunchbox, water bottle, or even a tablet computer. Check out their giveaway on Facebook.
Related