Disclosure: This is a sponsored post through Cone Communications who represents Food Should Taste Good. All opinions are my own.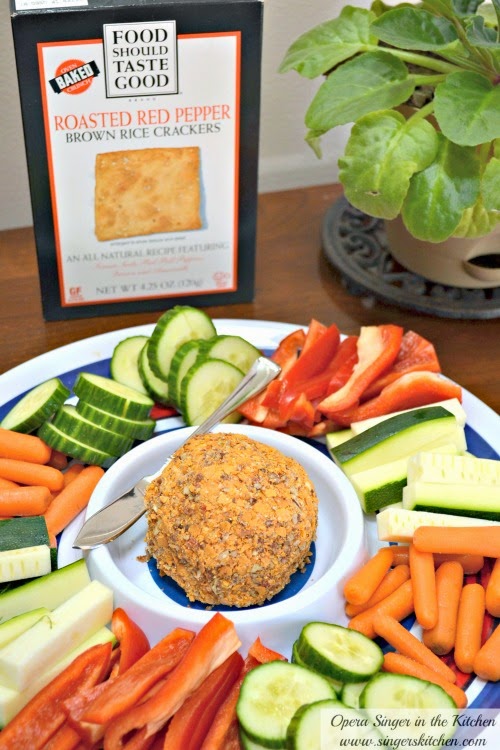 The form for a party makes its round and you see that no one has signed up for an appetizer or you see that every appetizer is about the same. You want to bring a unique dish, something that people will remember you by, but you just do not know. The art of the cheese ball has gone out of style in my opinion, so why not bring your own version?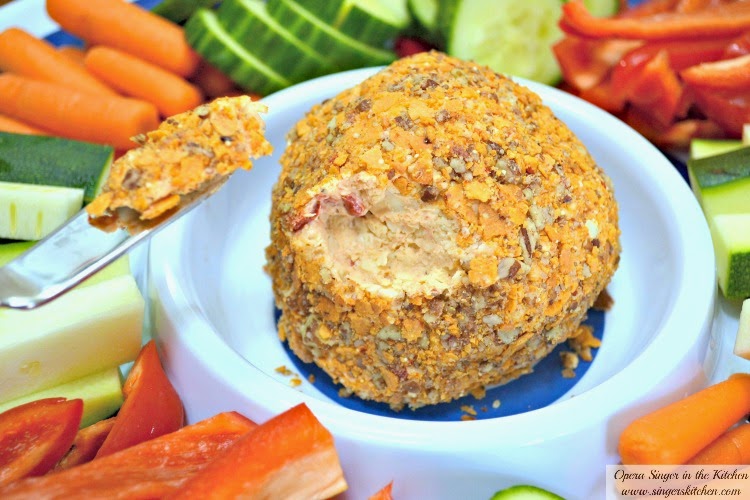 Growing up my mother would make her cheese ball recipe every year for the holidays. We would be in the kitchen with her and as we got older we would help with the mixing and the taste-testing. It was so delicious it was hard to wait for it to set in the fridge for all the flavors to come together, but at the end the results were worth the wait. Sharp cheddar cheeses mixed with spices, cream cheese, and more, made this a highly addictive snack and appetizer.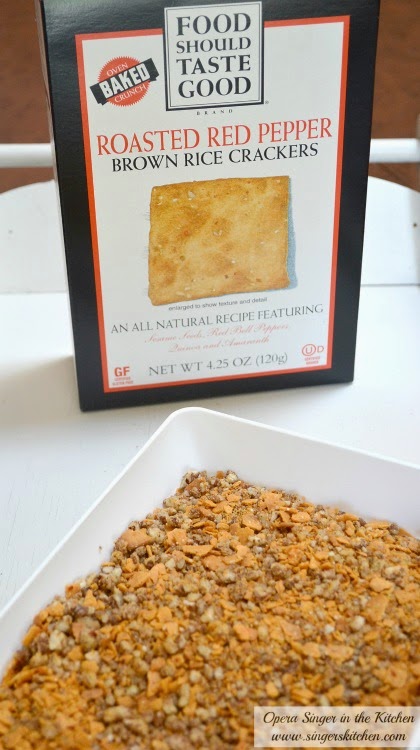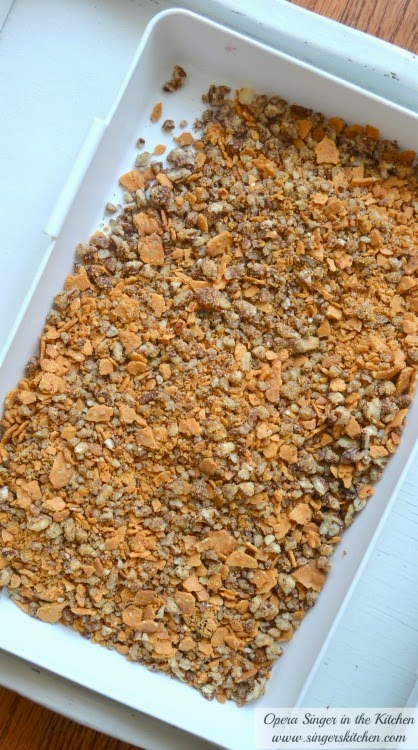 When I decided to make this a few weeks ago, I made my own version of my mother's recipe and have been snacking on it for a while. Instead of rolling the outside of the cheese ball with nuts, I rolled it in a mixture of Food Should Taste Good crushed red pepper brown rice crackers and pecans. Instead of serving the dish with crackers I decided to make the cheese ball only be accompanied by fresh veggies. Not only was this a great way for us to get our veggies throughout the day, but it made for the healthier and even better options for vegetarians at a party.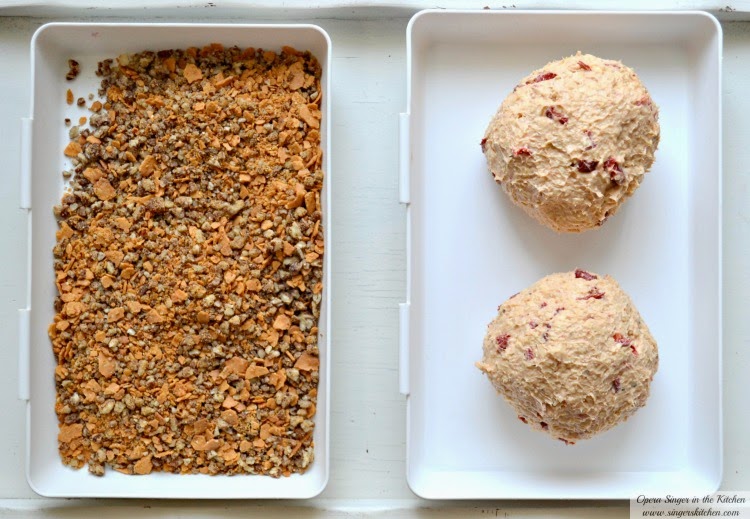 If you do not like veggies, start with picking out the veggies you DO like and add those to a tray. Little by little, start adding other veggies, liked sliced red peppers, raw zucchini slices, raw cauliflower and more. Even thought I really like my carbs and snacks, I decided to get a bit of that in the cheese ball through a crushed cracker experience. I processed some pecans and then added the crackers into the machine so they became coarse crumbles. The flavor of the crackers enhanced the cheese ball since I also had a roasted red pepper as on of the cheese ball's ingredient.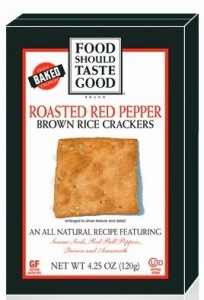 One of the things I enjoy about Food Should Taste Good Products is that they are gluten-free and they are not processed, making them the ideal snack for families. My kids like crackers and snacks like any other kids, so making sure I feed them with the right kind is important! Take a look at the ingredients in the Roasted Red Pepper crackers I used in this recipe: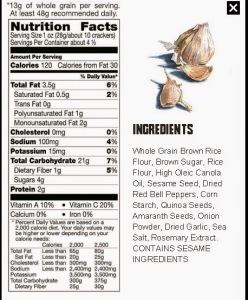 Food Should Taste Good™ Brown Rice Crackers

Available in Peppercorn Blend, Roasted Red Pepper, Sea Salt and Tomato & Basil, Food Should Taste Good Brown Rice Crackers are the latest offering from the brand. The crackers are delicious, natural snacks made with whole grains. Food Should Taste Good Brown Rice Crackers are gluten-free, not made with genetically modified ingredients and made with naturally simple ingredients that deliver great taste.



We loved taking these on our play dates and outings because they accompanied any cheese and turkey lunch or even black beans, which our girls love . We also had a chance to taste the FSTG Tortilla Chips in Blue Corn, Olive, Multigrain and the Kettle-Cooked Sweet Potato Chips in Barbeque, Original, and Salt and Vinegar.

We were pleased with all the flavors and the textures. These are definitely hearty in texture and the tortilla chips made for a great nacho plate that I prepared for my husband. I liked the fact he was getting his multi-grains with other delicious additions.

Check out Food Should Taste Good and give them a try in your home and for your kids' lunches. It really is the healthier alternative.


Which product would you try first? Tortilla, Sweet Potato, or Brown Rice Cracker?
Sharp Cheddar Cheese Ball and Veggie Tray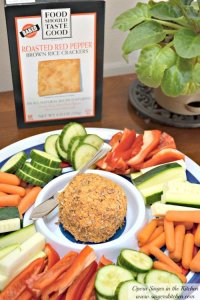 Keywords:

refrigerate appetizer lunch snack gluten-free low-carb vegetarian vegetarian recipes on recipage cheese cream cheese dairy
Ingredients

(2 Cheese balls)
Cheese ball
3 cups sharp cheddar cheese, shredded

1 8-ounce block cream cheese

1/4 cup roasted pimentos, chopped

2 teaspoons Worcestershire sauce

1 teaspoon hot sauce

2 teaspoons garlic powder

1 teaspoon paprika

1 teaspoon salt

1/2 teaspoon black pepper, crushed

1 teaspoon ground mustard

1 Tablespoon parsley, dried
Nut and Cracker Mixture
1/2 box Food Should Taste Good Roasted Red Pepper Brown Rice crackers

1/2 cup pecans

Cheese ball
In a large bowl, shred the cheese and add to a large bowl. Add the softened cream cheese and the rest of the ingredients. Mix with your hands or use a hand mixer to cream the cream cheese first and then use a spatula to mix in the rest of the ingredients.
Divide the mixture into two and roll into two balls and place on a dish and cover. Should refrigerate overnight for flavors to come together.
Nut and Cracker Mixture
In a food processor, process the nuts first until coarsely ground. Place in a shallow dish. Add the crackers to the food processor and pulse until the cracker resemble coarse crumbs. Mix the nuts and cracker crumbs together.
Assembly
Remove cheese from fridge. Roll each cheese ball in the nut / cracker mixture making sure the cheese is completely packed with the mixture. Repeat with the second cheese ball.
Enjoy with raw veggies such as sliced zucchini, cucumbers, red peppers, carrots, and any other desired veggie.
Each cheese ball serves a party of 6 or it is good for the week.
Calling all bloggers:
ESSIO
is the greatest thing to happen to showers since running water itself. It clips onto any shower and diffuses 100% organic essential oils into the shower water at the perfect rate, rejuvenating the mind and body.
We are looking for awesome bloggers to review our product for our upcoming October giveaway. Simply click the button below to request your kit.
The first 100 bloggers to sign up and also promote this giveaway announcement on their blog will be sent a free sample!

Related