I received this product for free from the sponsor of the Moms MeetSM program, May Media Group LLC, who received it directly from the manufacturer. As a Moms MeetsSM blogger, I agree to use this product and post my opinion on my blog. My opinions do not necessarily reflect the opinions of May Media Group LLC or the manufacturer of this product.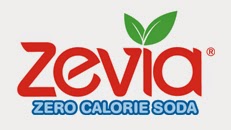 Since I have officially been sugar-free for about 2 months, I have still been able to enjoy sodas like any regular individual. I was able to try almost 15 different flavors made by Zevia Zero Calorie Soda, and I really could not get enough! Thanks to Moms Meet, I was able to get the great sampler.

What makes this soda sugar-free and natural? It is sweetened naturally with a unique blend of high purity Stevia (grown right here in the US!) and Monk Fruit. This soda contains no calories, sugar or artificial sweeteners and is totally kosher, vegan, and gluten-free! I had a whole month to try different flavors, work it in recipes and even get my husband to at least like ONE flavor. My husband is an avid diet consumer, so my goal for him to give up aspartame was my goal.


Growing up I only had a chance to try Orange Crush twice so I at least knew how the soda tasted so when I had the Zevia Orange Soda, it was amazingly close to the high sugar soda. I had a new favorite!
I am an occasional mixed drinks gal so I taste-tested the Cola soda and made a rum and coke. It was quite tasty and I knew I could have this drink with a fraction of the calories. There is even a caffeine-free version too!
One of my favorite sodas that did not have caffeine or even during pregnancy for nausea was ginger ale. I am glad that I no longer had to rely on the high-fructose sugar in the regular sodas in stores. I made a lime, mint, and ginger concentrate which I then added Zevia ginger ale soda. It was super bubbly and refreshing.
One of things I noticed that was different about Zevia was the amount of carbonation. The carbonation lessened as each soda was poured over ice but when I stuck to drinking it out of the can, I knew I was going to receive plenty of bubbles. Refrigerating the cans was actually ideal because it kept Zevia cold with the carbonation.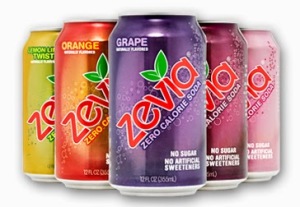 Zevia was hard to before but now I have seen the soda at Wegmans, Giant Food Stores, and the regular health food stores. It is great the see the sugar-free alternatives at regular food stores. The retail price for a 6-pack of Zevia ranges from $3.99 to $5.99.
How about a chance to try your own? 

Related
About
Noelle
I'm an opera singer, full-time mom, pharmacy technician, food and mom blogger, recipe developer, and wife to a super talented choral director living in the awesome outskirts of Philly.