I am a member of the Collective Bias® Social Fabric® Community. This shop has been compensated as part of a social shopper amplification for Collective Bias. #AmazonWishList #AmazonHasIt #CollectiveBias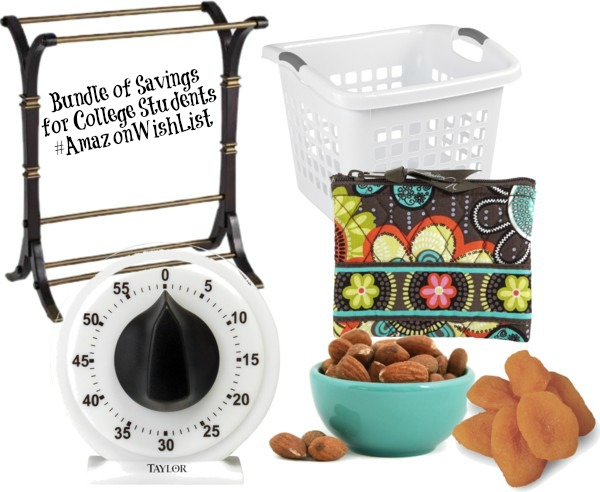 It has been a while since I was a college student but what I do remember is that keeping organized and clean was the biggest thing in my life.  As I chatted with both of my sisters-in-law who live on college campuses, it was nice to know what challenges they faced while living with roommates. Doing laundry is probably the last thing a college student wants to think about. As I talked to my family I found out a few necessities they might need or even a few items they would enjoy as  they did laundry.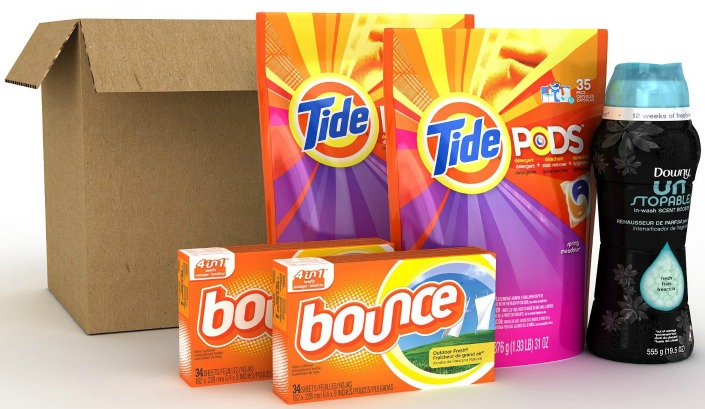 One of the easiest ways to order items for folks or even for our family is ordering from Amazon.com. It is so simple to find the item needed or desired, putting it cart and either saving it for later or even just leaving it in the cart. As I brainstormed for items that youngest sister-in-law might need detergent and fabric softener would be the more obvious needs. One of the options that Amazon has the Laundry Care Bundle Pack that includes Tide Pods, Downy Unstoppables, & Bounce sheets in order get fresh, clean clothes. Even better is the subscribe and save option which would allow me or even my mother-in-law to schedule deliveries without the student to run out!
One of the things we like to do as a family is letting each other know what we need or what we would like, thus making Amazon Wish Lists super ideal. Seeing that my youngest sister-in-law is living on campus for the first time this semester, I asked her a few questions about her basic needs and even what she would love to receive. Good thing I can keep the list private so I know what I can send and what others would not see.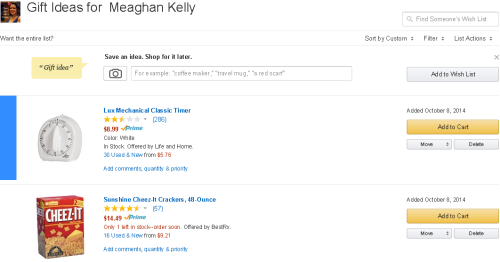 In addition to the wish lists are the other available features:
NEW Save-A-Photo:With the new Save-A-Photo feature, customers can snap a picture of anything from anywhere and save it to their Amazon WishList.
UniversalWish List Add-on: The Amazon WishList is truly universal. Customers can add anything from any online site to their Amazon Wish List with a simple add-on available for any browser.
Don't SpoilMy Surprises: This feature does not reveal to the Wish List creator which items have been purchased, so every gift is truly a surprise.  However, once an item is purchased from anAmazon Wish List, other shoppers will see only what remains on the Wish List –avoiding duplicate gifts.
Virtual Notes: Customers can save and idea and search for it later by adding a virtual note to an AmazonWish List and jot down anything, giving friends and family a little gifting inspiration.
My newest favorite feature is the #AmazonWishList that allows me to play items from Amazon links found on Twitter. Now I can shop, add items to my wish lists or even add items to my cart so I can just check out when I am ready. How awesome is that? See something for Christmas or a birthday? Here is what it would look like: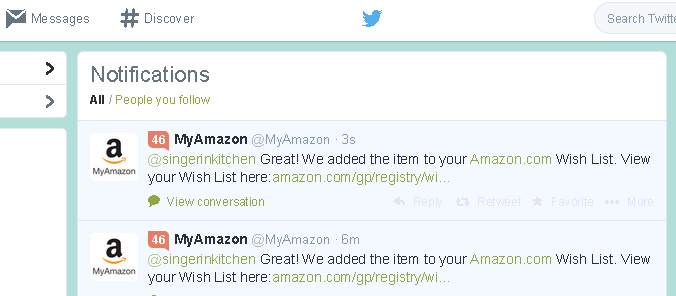 So I used the hashtag #AmazonWishList when I replied to the item I found and I received a notification indicating the item is in my cart in Amazon: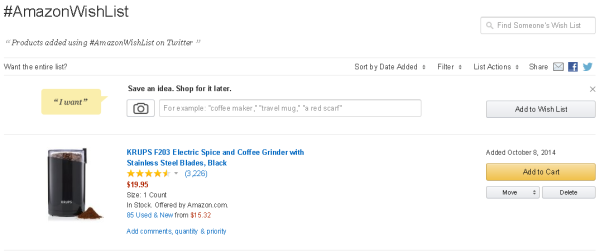 How about joining in the first ever #AmazonWishList Social Shopping Party?
Make sure to join me and others on Wednesday, October 15th from 11-12pm EST.  Amazon will be offering special promotions during the hour on the featured products purchased using the #AmazonWishList feature. This includes $1 off all featured products that are purchased during the party using #AmazonWishList and #AmazonHasIt.
The biggest excitement are the prizes! How about winning 1 of the 10 Kindles that Amazon is giving away as prizes during the part? Mark it on your calendar and save the hashtags on your Twitter list NOW!
Related