Disclosure: I received product for testing purposes and used in my every day activities. All opinions are my own.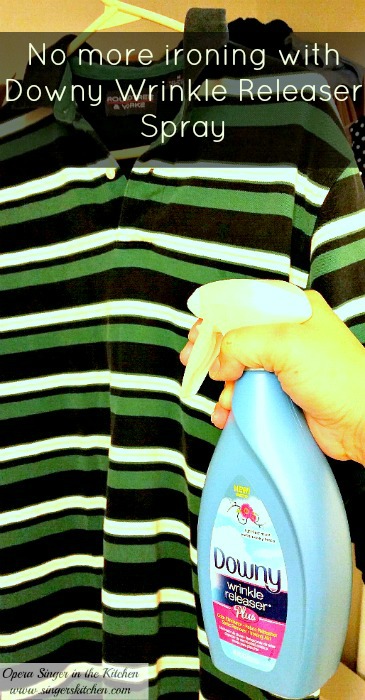 Remember those days when you used to iron? Yes, I do not either. Wait. I do, but it was when I was still single and I only needed to take care of myself and on occasion my mother's laundry. Of any task or house work needed to be completed, ironing has been the last on my list. The rule in our home was that if we were watching a movie, we would take advantage of all the ironing that needed to be done. Do I do that still? NO!
When I married my husband I was super relieved that he told me that he would iron his shirts. I loved the fact I did not have to be in charge of so many tasks than the ones I already had. When I did laundry I made sure I would grab it straight out from the dryer so that there would not be any wrinkles. The shirts would go on the hangers after a timer alerted me of the finished cycle. DO you think I do that now with 2 little girls?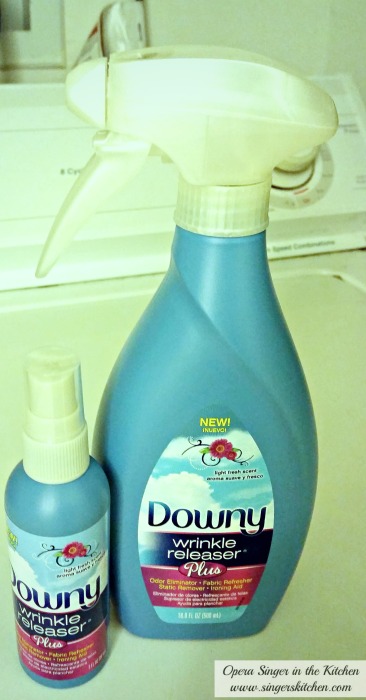 I am sure you have the same stories, but laundry is a huge feat. Finding time to wash it easier than drying and folding at this point in my life. We have washed loads multiple times because I have forgotten the wet clothes or all the clothes had wrinkled in the dryer. The last few months we have been using a new Downy Wrinkle Releaser Spray. I have successful been able to use this spray to release wrinkles from forgotten shirts and blouses. It has been such a help in the laundry duties. 
When I handle my husband's shirts, I hang them up, spray them with the Downy Wrinkle Releaser Spray, and tug on the shirt and it does not look at that bad. I even received a few travel bottles to take with me which we took over our summer trip to visit family. The scent in the spray is pretty pleasant as well. With each spritz comes a fine mist that spread over clothes easily. The clothes do not get soak but are slightly dampened to help release the wrinkles.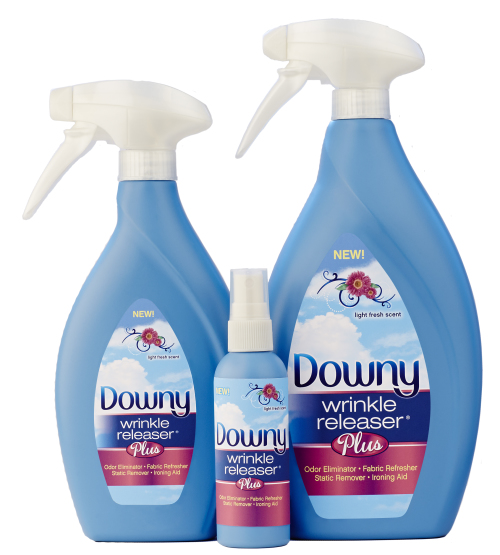 Does it sounds like a time saver? Yes! It also helps eliminate STATIC! The winter is approaching and it will be perfect for that.
Here are some other ways that it helps:
A quick-fix solution to remove creases from pillowcases, bed sheets, drapery, tablecloths, cloth napkins, ribbons on holiday decorations and many other household items.

A quick spritz from the WonderBottle can also remove odors and freshen up furniture, pet beds and infant car seats just to name a few.

For those who still want to iron, it serves as a better ironing aid than water without the residue of starch.
I look forward using the spray for the upcoming dinners when I forget to iron my tablecloths. I am glad to have a multi-purpose spray on hand and one that even my husband can take with him on trips or even for him to use at home.
Downy Wrinkle Releaser Plus is sold at Walmart, Target, Walgreens, Kroger, Publix and many other grocery, drug, and mass retailers. It is sold in a 1-liter bottle for $6.99 and a 500 mL bottle for $4.19. It is also available in a travel-friendly 3-ounce size for $1.99. For more information visit www.downywrinklereleaserplus.com
Related