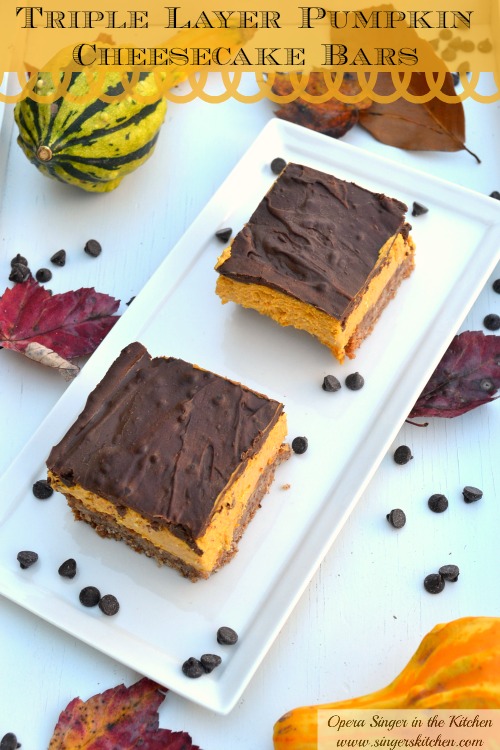 October is near the end which I am sure you are not the only ones that cannot believe that it has completely flown by.  This season has to be my ultimate favorite since we hardly ever saw seasons change in Texas.  There is something about the transition between summer and fall that makes for it exciting perhaps because the temperature changes and the leaves change colors. The Fall festivals are in full swing with apple cider donuts and apple cider readily available. My daughters already know that there is always some sort of treat or snack to partake at a festival. It really is cute!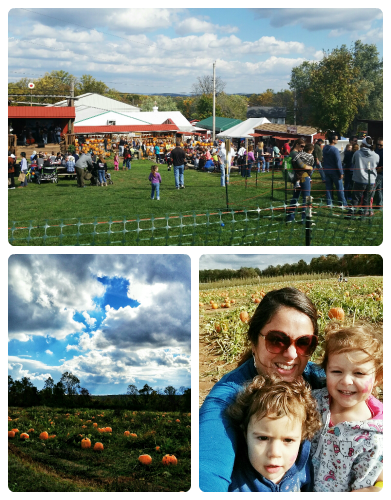 Last weekend, even though my husband was out of town, I took the girls to a local farm called Weaver's Orchards. They advertised a great Fall Family Fun Days with hay rides, inflatable obstacle courses, pumpkin painting, face painting and more. While it was a little challenging with two girls under the age of three, we managed, with God's strength.
We loved the time because it was a gorgeous sunny day and we were able to enjoy apple cider and donuts. My girls could not think of anything but these yummy treats. After the games and activities we walked through a real pumpkin patch. The girls were enchanted by checking out some Cinderella pumpkins and they loved being able to grab a few mini pumpkins to take home. We could have stayed longer but only if I had my husband with me.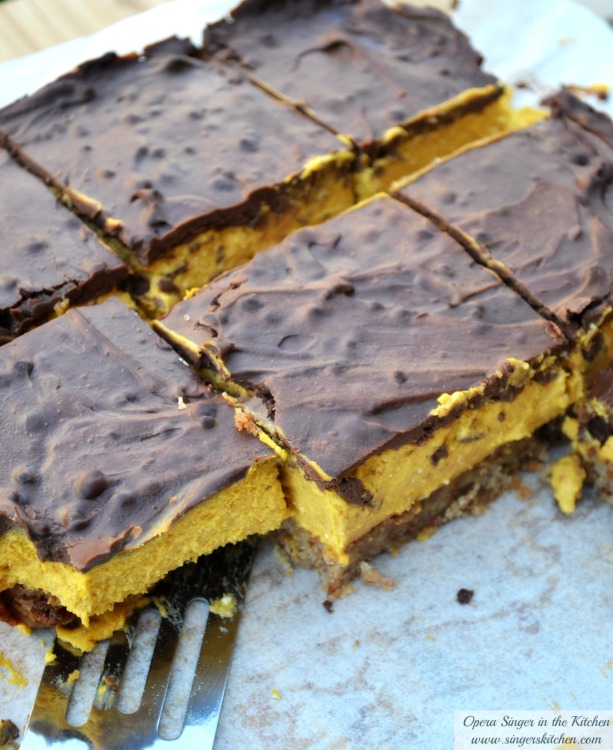 Something else I cannot get enough of during this season are pumpkins and squash. While I tend to migrate to creating pumpkin recipes that are sweet, I also like making savory recipes too! While they are so hard to open, I am glad that I can have access to canned pumpkin puree. I remember one year in Michigan when there was a pumpkin shortage and all stores were nearly empty of canned pumpkin. It was a sad fall season and a strange one at that!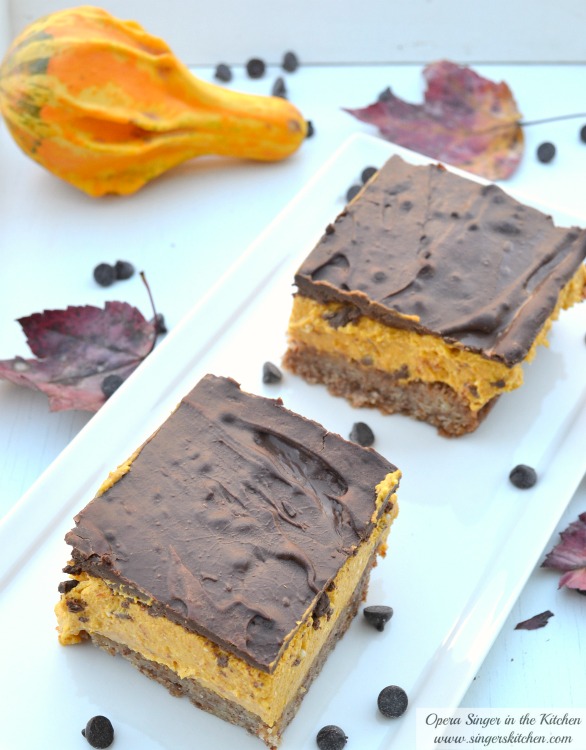 When I found out that October was National Dessert / Cookie Month, I knew I had to create something that was seasonal but then a dessert that could still be made during November and December. I had lots of fun creating a three layer pumpkin bar recipe that would only require baking once. While I was thinking of a traditional Nainamo bar and its concept, I decided to make a grain-free, sugar-free, vegan bar that anyone would be able to enjoy made with pumpkin, chocolate, and almonds.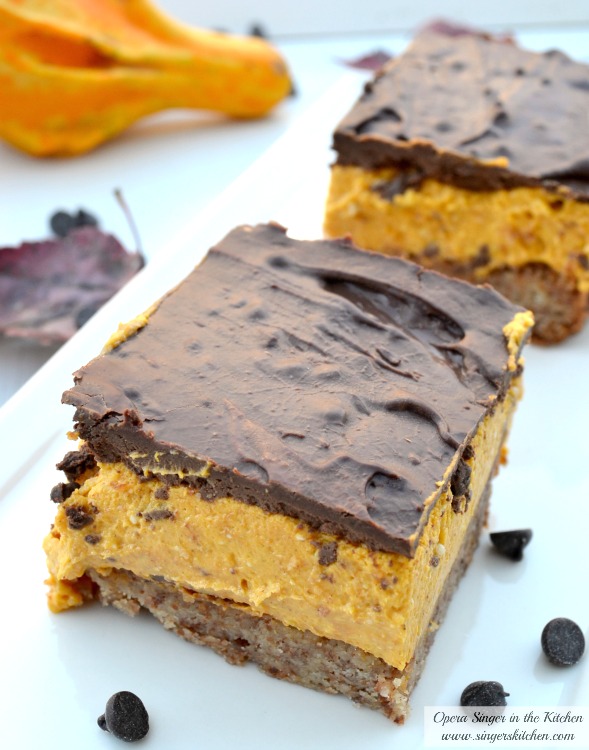 This delicious pumpkin cheesecake bar is dense and super easy to make and require refrigeration. When I am asked how a dessert can be made sugar-free, I share that there are natural sugar substitutes that can make a decadent possible even with chocolate. Lily's Sweets makes premium all-natural chocolate bars and dark chocolate chips that are sweetened with stevia. They also use non-GMO ingredients and are considered gluten-free too. While I only used their dark chocolate chips, which are vegan, Lily's Sweets also makes dark chocolate and milk chocolate bars that do contain milk fat that is yBST free. While these products are not vegan, they do use Fair-Trade products and are gluten-free and sugar- free which means these products have 20-25% fewer calories than normal chocolate bars.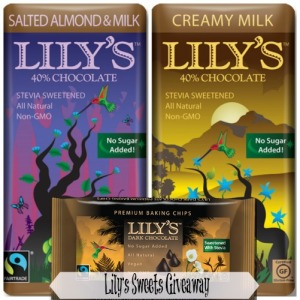 While these bars are not calorie-free they are sugar-free and super delicious and perfect for this season. Make a pan for your next party and I am sure you will be pretty popular. They probably won't know that they are free of grains, sugars, and animal products. Enjoy.
Triple Layer Pumpkin Cheesecake Bars
Prep Time: 30 minutes
Cook Time: 25 minutes
Total Time: 55 minutes
Ingredients
Bottom Layer

1 1/2 cups almond flour
1 1/2 sticks Earth Balance margarine or butter, melted
1/2 teaspoon cinnamon
1/2 cup xylitol (sugar-free substitute) or sugar

Pumpkin Cheesecake Layer

10-ounce pumpkin puree
8-ounce vegan or regular cream cheese, softened
1 teaspoon pumpkin pie spices
1 teaspoon vanilla extract
20 drops stevia
1/2 cup xylitol, ground
1/2 cup cashew butter
(or instead of sugar substitute use 2/3 cup powdered sugar)

Chocolate layer

9-ounces Lily's Sweets dark chocolate chips
1/4 cup coconut creamer or regular creamer
Instructions
Bottom Layer

Preheat oven to 350 degrees F.
In a small bowl, mix the almond flour, cinnamon, and xylitol with the melted butter.
Press dough evenly on a parchment-lined 9x9 glass pan.
Bake for 20-25 minutes or until lightly browned. Allow to completely cool.

Pumpkin Cheesecake Layer

In a mixer, add the pumpkin puree with the cream cheese and cashew butter and whip until mixed well. (You are welcome to substitute smooth peanut butter or almond butter)
Add the spices, stevia, xylitol, and vanilla extract and mix well.
Spread the pumpkin cheesecake mixture evenly over the almond crust.

Chocolate layer

In a small bowl, empty the chocolate chips and melt in microwave in 30-second increments for a total of 90 seconds.
Add the creamer and mix well to make the ganache.
If the chocolate seizes, just heat it another 30 seconds and whip using a hand blender.
Spread the chocolate evenly over the pumpkin layer.
Refrigerate for 1-2 hours and cut into 16 bars.
https://singerskitchen.com/2014/10/triple-layer-pumpkin-cheesecake-bars-giveaway.html/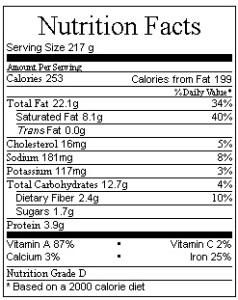 ---
  Make sure to enter the giveaway for a chance to try these yummy sugar-free chocolates.
Related