I received this product for free from the sponsor of the Moms MeetSM program, May Media Group LLC, who received it directly from the manufacturer. As a Moms MeetSM blogger, I agreed to use this product and post my opinion on my blog. My opinions do not necessarily reflect the opinions the product.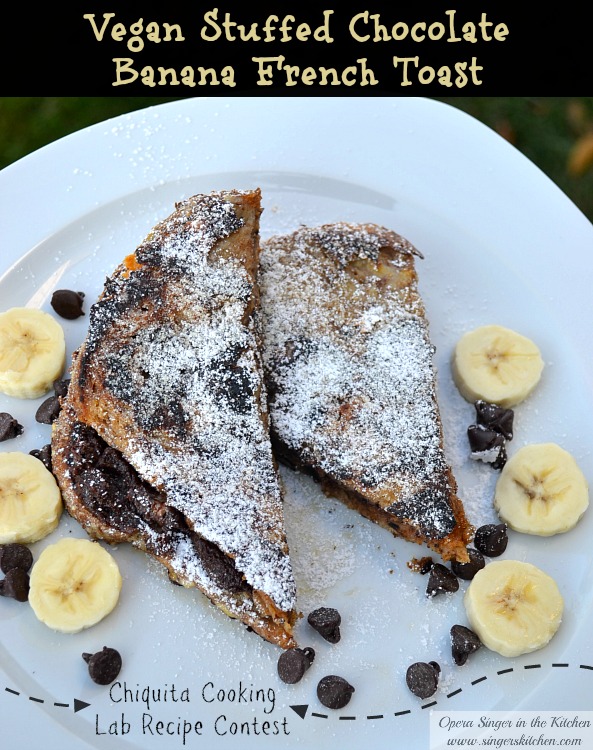 When I married my husband I knew he liked eating bananas, but not just any kind. They had to be perfectly ripe, with no black dots, a tiny hint of green and almost firm. For me, that tasted a little unripe for me which is why I always have enjoyed eating bananas with lots of black dots.  Once my daughters came into the scene, they enjoyed eating bananas like no one's business.

While I traditionally like baking and using bananas for bread, I was intrigued with The Chiquita Cooking Lab Recipe Contest. They are currently holding a series of eight weekly recipe contests that ends on November 24, 2104.  Every week, three featured ingredients have been revealed and participants are asked to create a unique recipe that incorporates those three ingredients. We are even encouraged to use our own ingredients in addition to the three to develop even more of a unique recipe.  The consistent part of the contest is that bananas will always be one of the ingredients.
 Here is how the ingredients are revealed. Simple use your mouse to reveal the three ingredients for the week.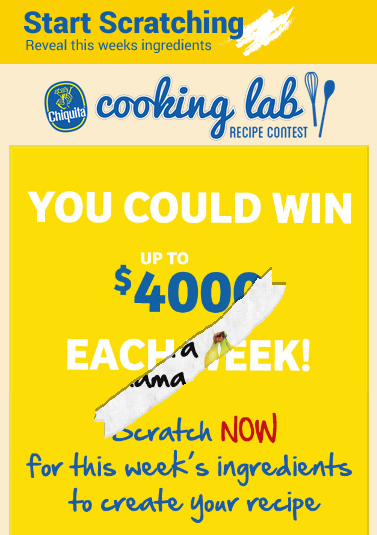 Each week there will be one winner who will be chosen to win a $4,000 cash prize and will have their recipe turned into a stop motion video and promoted on Chiquita's digital and social channels.  Four random winners will also be chosen weekly to receive a Chiquita gift bag.  Contest entry is easy! Simply submit your recipe on the contest website (Chiquitabananas.com/cookinglab) or through the official Chiquita FanFun app. You can enter a new recipe every week, if desired!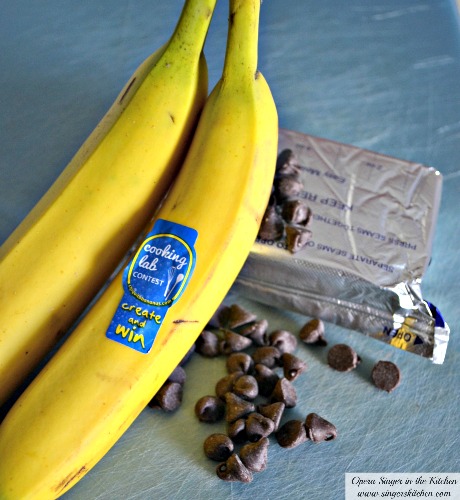 So what were MY three ingredients? I had bananas, chocolate chips and cream cheese. Immediately I thought of the recipe my mother would make for us as we were growing up. She would mix peanut butter with bananas, cream cheese and raisins and spread it on bread and we would eat it all nice and warm. I decided to make a nice breakfast option for a fancy brunch that can be made over the holidays. It is super fast and VEGAN! The kids will like it too.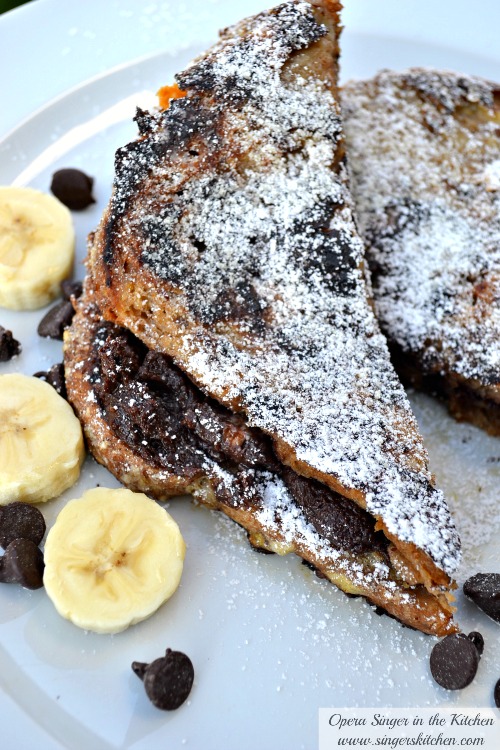 French toast does not really need eggs. I used bananas, flax seed meal, and almond milk to substitute for the egg mixture. I dipped the bread into the pan and cooked on the griddle with coconut oil for about 3-5 minutes on each side on medium high heat. I then melted bittersweet chocolate and mixed in some cream cheese. I spread 3 Tablespoons of the chocolate cream cheese spread in between two slices of french toast, cut it in half and sprinkled with powdered sugar. So good!
Make sure YOU go and enter for a chance to win something even the $4000. Good luck!
Vegan Stuffed Chocolate Banana French Toast
Ingredients
French Toast

8 slices whole wheat bread
3 bananas
3/4 cup almond milk or regular milk
6 Tablespoons flax seed meal
1/2 teaspoon cinnamon

Chocolate Cream Cheese

1 1/2 cups bittersweet chocolate
8 ounces vegan cream cheese or regular cream cheese
powdered sugar
Instructions
French Toast

Mash the bananas in a large shallow dish until smooth. Mix in the flax seed meal, cinnamon, and almond milk. Let the mixture sit for 5 minutes.
Heat some coconut oil on a griddle on medium heat.
Dip both sides of each bread slice into the banana mixture. Place on the hot griddle and cook for 3-5 minutes on each side.
Repeat the process for the rest of the bread.

Chocolate Cream Cheese

Melt the chocolate in the microwave for 60-90 seconds in 30 second increments. Once it is melted, add the cream cheese and mix well until blended. You can hand mix or use a mixer to whip.

Assembly

Add about 2-3 Tablespoons of chocolate cream cheese spread to one slice of french toast and cover with another slice. Sprinkle with powdered sugar and serve with more banana slices.
https://singerskitchen.com/2014/11/vegan-stuffed-chocolate-banana-french-toast-chiquitacookinglab.html/
Related