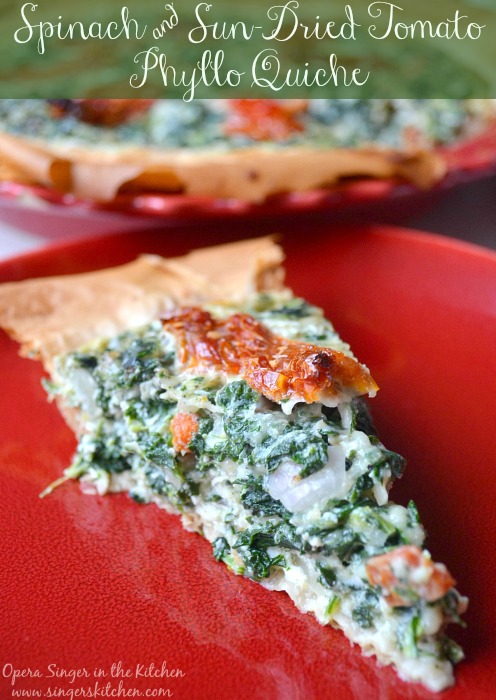 Christmas is my favorite holiday of the year because it is when we get to see most of our family. This year things are a little different and we get to stay home for the holidays and have both our families come spend time with us. It has been a while since I have hosted family in my home but I am looking forward seeing and serving them.
One of the things we enjoy doing during this time of the year is preparing a menu for the Christmas and New Year's festivities. Sometimes we plan on recipes we have prepared years past and some are brand new that we have been saving over the year. Either way, there is never a moment where food is lacking.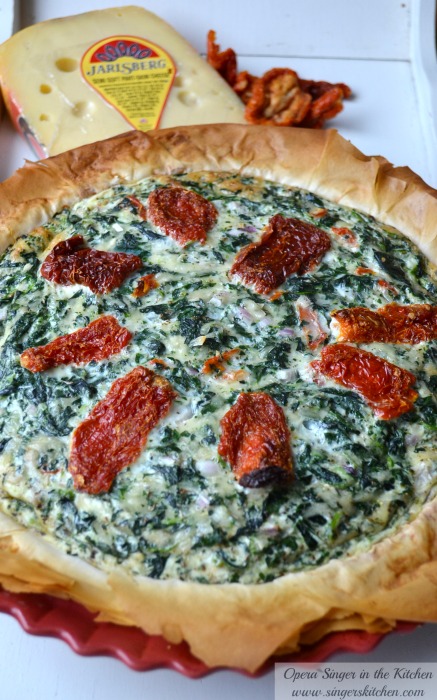 This year I planned to have a Christmas brunch for my family since everyone will be awake, ready to open presents, I am prepared to have an array of delicious breakfast foods to enjoy with my family and my in-laws. Depending on how the morning goes, it will be more like a brunch, since it seems there is always a need to have food around to enjoy during the holidays.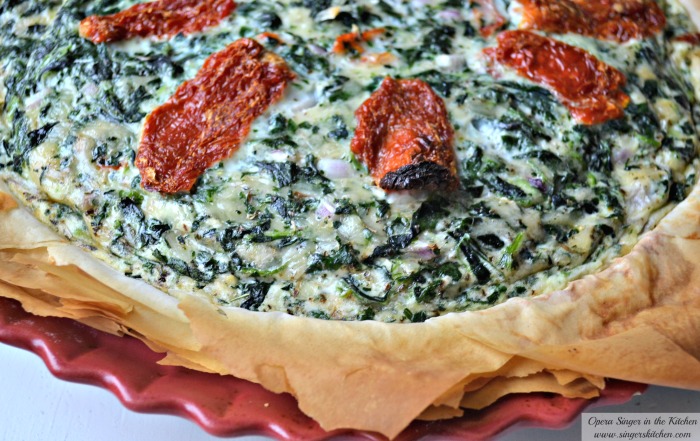 Growing up, my grandmother would very often make quiches for brunch with a nice crisp green salad, tapioca fruit salad, and a moist coffee cake that is my go-to recipe. I plan on making her coffee cake and the quiche because it is so quick and east to mix up and it is also a great pairing of something savory and sweet for all those partaking.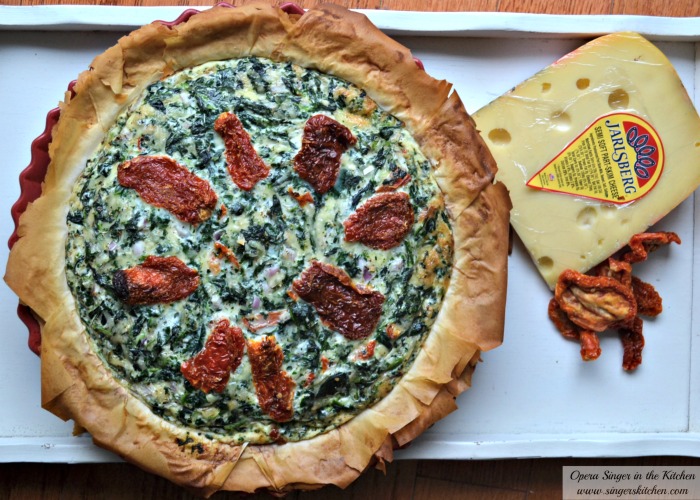 My Spinach and Sun-Dried Phyllo Quiche is a lighter version of what I am used to eating. Since there is always an array of food I thought I would make a dish that would not be too heavy even though the options for add-ins are numerous. The quiche is a take on one of my favorite Greek dishes called Spanakopita, a savory spinach pie in a pastry shell. I decided to mix in Jarlsberg cheese with spinach and egg whites with some finely chopped red onions. The phyllo dough was layered over a pie shell and was ready to bake with the cheesy spinach filling.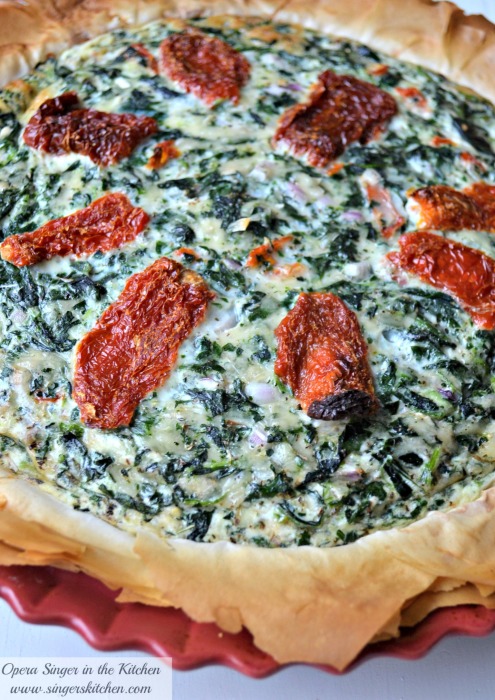 I love the fact that I can make this dish again and add whatever extra fillings I want especially if the need for more protein is required. Chopped ham would be an excellent addition as would be some breakfast sausage. Sharing crisp, fluffy quiche is the way I want to enjoy brunch with my family and I cannot wait to share this dish with them on Christmas morning.
Spinach & Sun-Dried Tomato Phyllo Quiche
by Noelle Kelly
Prep Time: 15 minutes
Cook Time: 45 minutes
Keywords: bake breakfast brunch lunch entree low-carb oil free vegetarian recipes on recipage vegetarian eggs spinach Christmas
Ingredients (8 servings)
6 ounces Jarlsberg Part Skim Semi-firm Cheese, shredded
6 ounces frozen spinach, thawed
1/2 cup light sour cream
8 egg whites or 2 cups of carton egg whites
1/2 teaspoon salt
1/2 teaspoon pepper
1/2 Tablespoon Italian seasonings
1/2 cup sun-dried tomatoes, chopped
1/2 cup red onion, chopped
4 Phyllo Dough Pastry Sheets, divided
2 tablespoons butter, melted
olive oil spray
Instructions
Preheat oven to 350 degree Fahrenheit.
Use a 9-inch pie dish and spray with olive oil spray. Take 4 phyllo sheets at room temperature and cut eat sheet in half. These will overlap over the pie dish. Place one half phyllo sheet onto pie plate and press gently. Brush some melted butter over the sheet. Repeat by overlapping the rest of the phyllo sheets alternating each direction and brushing with butter.
In a medium bowl, shred the Jarlsberg cheese. Thaw the spinach according to packaged directions and make sure all the liquid is drained from the spinach. Add it to the cheese. Next, add the egg whites, spices, onions, and tomatoes, and mix well.
Pour the egg mixture into the pie plate. Bake for 45 minutes on middle rack. Remove from oven and let quiche sit for 10 minutes.
What do you like preparing for your family during the holidays?
Since I paired my Jarlsberg cheese with spinach and sun-dried tomatoes, what do you like pairing with our cheese? Submit your favorite Jarlsberg Cheese pairing for a chance to win on Facebook and visit www.JarlsbergUSA.com.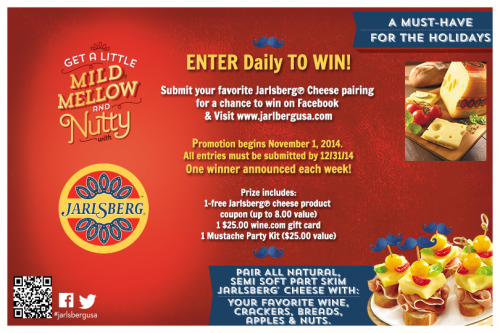 This is a sponsored post with Jarlsberg. All opinions, recipes and reviews are my own.
Related