This is a compensated campaign in collaboration with Cacique and Latina Bloggers Connect.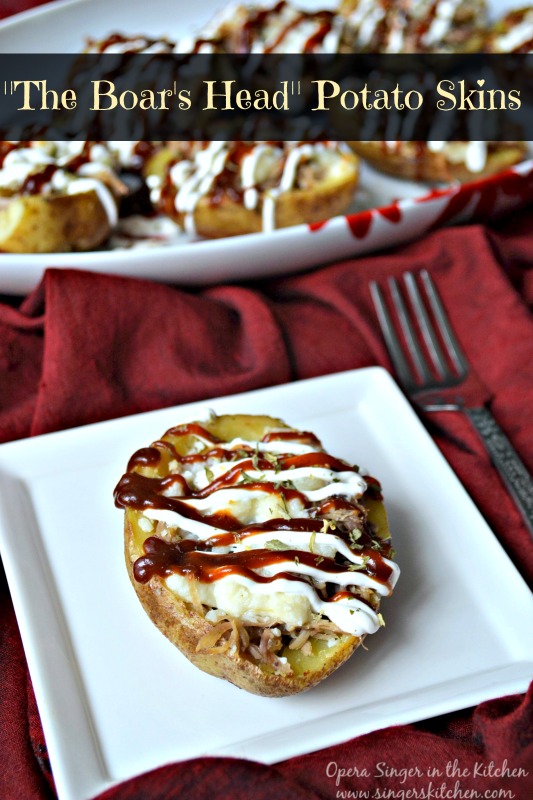 If it is one thing I am learning quickly but surely is that our family enjoys food. Our oldest frequently asks us to go to a restaurant or both our girls ask to know what I am preparing in the kitchen and are very eager to help. Yes. They are only 2 and 3 and I already have them helping. It is sometimes fun and stressful but I figure they have to learn sometime, right? One of the things we have not delved into yet are movie nights with our girls. While we cherish their bed times, the Christmas season is always an exception. We really have not scouted the late night movies for families but I am sure this weekend and the next week, there will be plenty of opportunities for those evenings.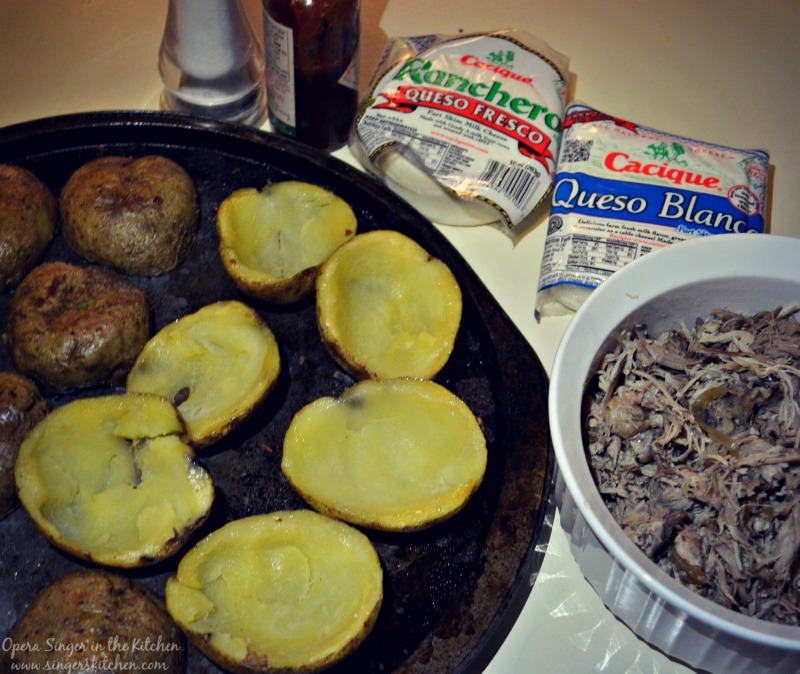 Several nights ago, I prepared a delicious kid-friendly appetizer that we deemed would be perfect for any movie night. The inspiration came when I talked to my husband about creating a certain recipe for pulled pork. Since we love Christmas carols  and singing them quite often, my husband starts singing an old English traditional carol called The Boar's Head Carol. It goes as such:
1. The boar's head in hand bring I,
Bedeck'd with bays and rosemary.
I pray you, my masters, be merry
2. The boar's head, as I understand,
Is the rarest dish in all this land,
Which thus bedeck'd with a gay garland
3. Our steward hath provided this
In honor of the King of Bliss;
Which, on this day to be served is
Have you ever been inspired by a carol when you prepared something in your kitchen? I can't say it has happened often but this was fun to do especially when it was an idea sparked by my hubby. Everyone knows that potato skins are great snacks and great finger foods. I actually have never made them for our family until now and I was not quite sure our girls would go for them but as I prepared them and assembled them, our girls kept asking what I was making.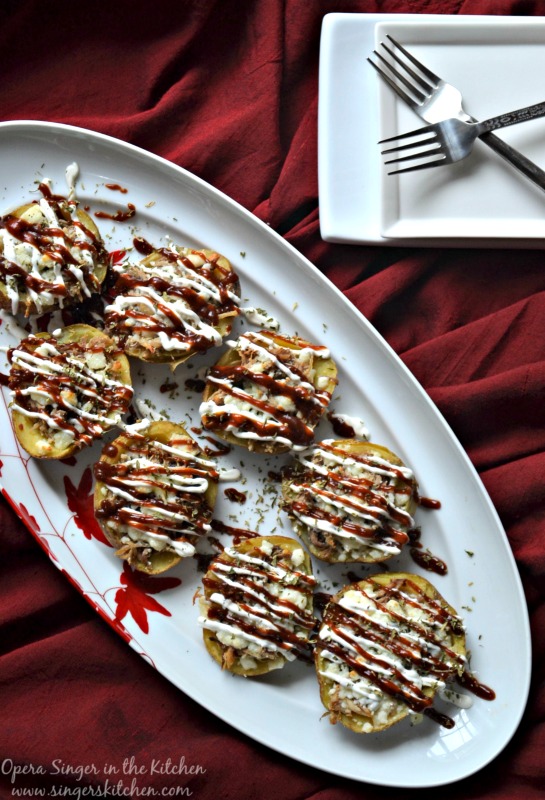 While my potato skins are not typical recipe, they are still tasty. I cooked a 4 pound pork shoulder with bay leaves, rosemary, salt and pepper and it came out so savory and tender. I cooked potatoes in the oven, cut them in half and continued cooking them until crispy. I left a little more potato in them and added some kosher salt and Mexican cheeses to broil in the oven. While this recipe is simple it is delicious and savory and great for snacking while watching a movie. My oldest toddler asked to taste one and grabbed one with her hand and chomped away. I was proud of my foodie kid. She was officially a pro at eating.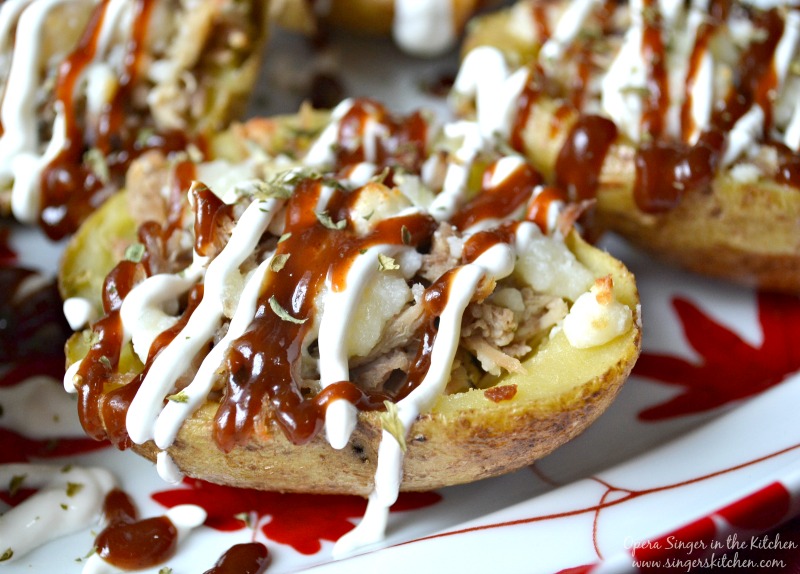 The finishing touches on this appetizer was the crema and BBQ sauce. I love the fact that I was full after 2 halves of potatoes. These are filling and satisfy the craving for any snack food. Enjoy with your next movie night!
Enter Cacique's "Dinner and a Movie Sweepstakes" for a chance to win a VIP movie experience in LA featuring a behind-the-scenes studio tour and private screening!

"The Boar's Head" Potato Skins
Prep Time: 15 minutes
Cook Time: 75 minutes
Keywords: bake slow-cooker appetizer lunch entree Parties
Ingredients (16 potato halves (8 servings))
Herbed Pulled Pork
4 pound pork shoulder
3 rosemary sprigs
4 large bay leaves
1 large yellow onion
2 cups chicken broth
4 garlic cloves
2 Tablespoons kosher salt
Potato Skins
Instructions
Herbed Pulled Pork
Make a paste with garlic, rosemary, salt and pepper. Remove fresh rosemary from one large stem. Add 4 cloves and make a paste with mortar and pestle. Add salt and 1/2 Tablespoon black pepper.
Pat pork shoulder dry. Rub herb paste all over the roast. Slice 1 onion and place in a large crock pot. Add the chicken broth and the bay leaves. Add 2 more rosemary sprigs on top of the broth. Place pork roast on top of the broth and cook on HIGH for 6-8 hours or LOW 8-10 hours.
When finished cooking, remove the rosemary sprigs and bay leaves and shred meat with two forks. Remove 2-3 cups of meat and freeze the rest.
Potato Skins
Turn oven to 400 degrees Fahrenheit. Clean 8 potatoes and gently pierce each potato with a sharp knife multiple times. Place on a large baking sheet. Cook for 50 minutes. Remove from oven and cool for 10-15 minutes. Afterwards, slice each potato lengthwise. Gently scoop more than half the potato from each half and reserve for another use. Spray potato skin and potato inside with olive oil and shake kosher salt over both sides. Turn heat up to 425 degrees. Cook potato skins for 5 minutes. Remove from oven.
Crumble Mexican cheeses and mix together. Add 1 Tablespoon to each potato inside. Place in oven and cook for 5 minutes. Remove from oven and add 2-3 Tablespoons heaps into each potato. Sprinkle with another 1-2 Tablespoons Mexican cheeses. Broil potatoes for 3-5 minutes until cheeses are melted. Remove from oven.
Drizzle with Mexican crema and BBQ sauce. Devour.
Related articles across the web
Related