This is a sponsored post with Twinings and Meredith (Family Fun). All recipes and opinions are my own.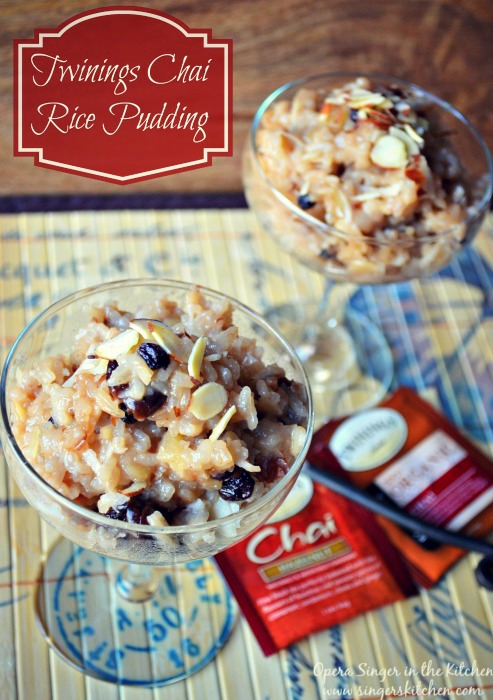 Hopefully everyone had a lovely Christmas! It has been a whirlwind of events with family in town and with all the cooking that has been going on in the kitchen, I am going to need a vacation from my vacation. This is always a special time of year because there is a lot of time with family we have not seen and also a lot of opportunity to enjoy meals and recipes we do not normally eat during the year.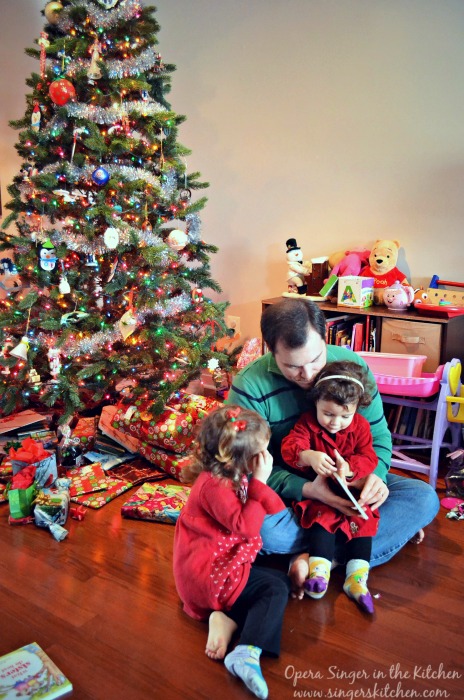 Another opportunity I had was to create some meals and recipes of my own. Even though there are a lot of family recipes I had in mind to introduce to my family and I was excited to try some recipes of my own. Breakfast is always a favorite meal of the day for me. It really determines what kind of day I am going to have, energy wise, so when I plan on meals, I have to make certain that they are protein-packed not only for me but for my family too. One of the dishes I like enjoying for either breakfast or for a snack is rice pudding. My mother would make it often growing up with condensed milk, cinnamon, raisins and rice and it was so delicious. I decided to try my own hand at making my own.
One of the things I decided to do differently was to make mine infused and cooked with tea. My husband is probably the only one who knows that I have an obsession for all kinds of tea. In fact, I am pretty much prohibited to buy any more tea since I have at least 3 storage boxes of tea. Is that sad? I just like tea a lot. One of the teas I decided to work with was Twinings Chai tea. As I am trying to limit my caffeine consumption, I always turn to tea to supplement some of my caffeine but otherwise, I enjoy tea because of its delicate and subtle flavors.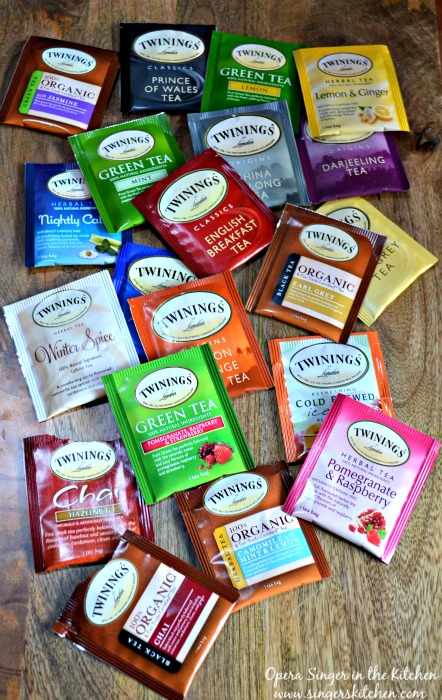 Twinings of London is provides a variety of teas for all tastes and no matter what mood anyone might be in there is definitely one or more options to fit the daily mood. Their teas have unbeatable taste because they are made by the world's utmost tea expert. It is quite amazing that this company has been around for more than 300 years with 50 plus more varieties of tea. Imagine my excitement when I had a chance to sample my own variety at home. From Earl Grey, Herbal and Green tea to an iced tea variety, I was so impressed by the flavor, body and experience I had with each tea bag.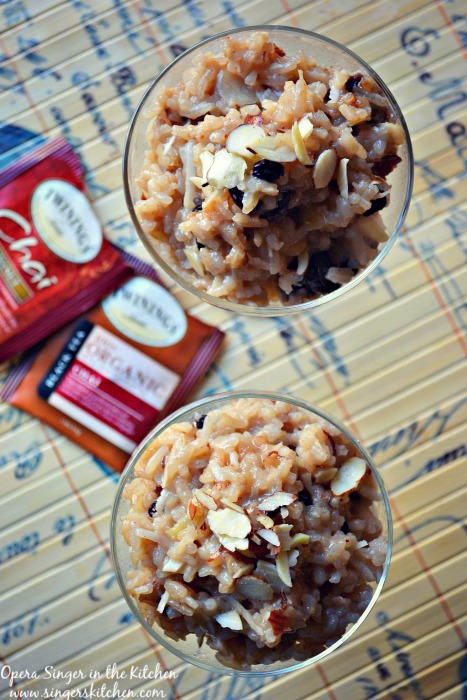 When I steeped my Twinings Chai tea bags, I poured the tea over one cup of jasmine tea overnight. When I checked it the next day, the rice smelled even more aromatic and I was excited to start my rice pudding process. I added almond milk to keep the recipe vegan or vegetarian and since I usually drink my chai with almond milk, I knew what the flavor was going to be like. I added currants, candied ginger, cherries, sliced almonds, shredded coconut and added a a little more cinnamon, ginger, and cardamon for a even depth of flavor. As I was taste testing my dish I had my girls constantly asking me what I was making because they could smell the aromas. I finally gave each of them a taste and they both exclaimed how they liked it.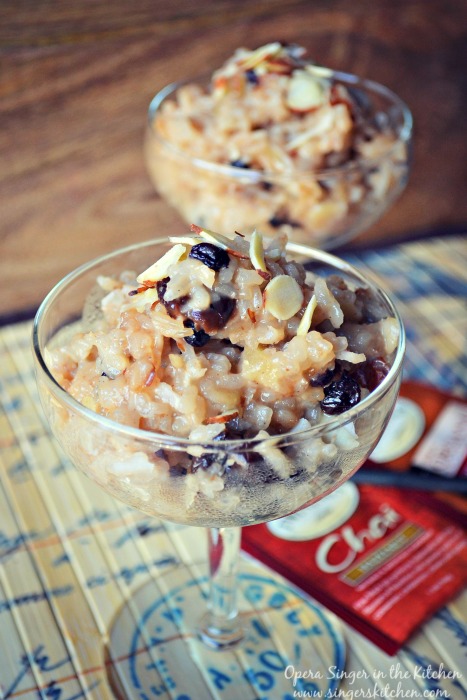 It is pretty amazing that tea not only can be enjoyed in a cup but it can also be enjoyed in many types of dishes. I was really pleased by the flavor of the chai tea and even made myself another cup of chai as I enjoyed a dish of my loaded chai rice pudding. This dish definitely would be a crowd favorite as Twinings tea has been for many years.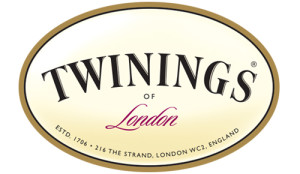 Want a chance to try Twinings of London? Twinings is offering a "Raid the Pantry" program allows users to opt in for three samples and select any brand they are most interested in trying.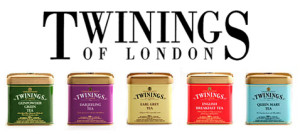 Here are several other reasons to try Twinings:
Experience and tradition since 1706

Nine master blenders that travel the world to find only the best teas, spices, herbs and fruit infusions available

Twinings teas are sourced and custom-blended to provide the perfect balance of tea taste, flavor and aroma

Available in over 50 distinct mouth-watering varieties of Black, Green and Herbal teas; Organic & Fair Trade™

Certified teas; Cold Brewed Iced Teas; K-Cup® Packs
Hope you try my recipe for my vegan / vegetarian Chai Rice Pudding and may you have a Happy New Year!

Twinings Chai Rice Pudding
by Noelle Kelly
Prep Time: 10 minutes
Cook Time: 30 minutes
Keywords: cook boil breakfast brunch dessert snack vegan vegan recipes on recipage vegetarian vegetarian recipes on recipage almond milk rice rice pudding
Ingredients (6 servings)
1 cup jasmine rice
2 Twinings of London Chai tea bags
1 1/2 cups hot water
3 cups almond milk, unsweetened
1/3 cup honey or agave nectar
1/4 cup currants
1/2 cup dried cherries
1/2 cup shredded sweetened coconut
1/2 cup sliced almonds
2 Tablespoons candied ginger, diced
1/2 teaspoon cinnamon, ground
1/4 teaspoon cardamon, ground
1/4 teaspoon ginger, ground
1 teaspoon vanilla extract
Instructions
The night before you make the recipe, brew 2 bags of chai tea in 1 1/2 cups of hot water according to packaged directions. Allow tea to cool and then add 1 cup of jasmine rice and cover and allow to soak overnight in fridge.
Next morning, place tea and rice in a medium pot with 3 cups almond milk and spices and vanilla extract. Start cooking over medium heat until the rice comes to a light boil. Stir the rice often and cook for 15 minutes. Add the dried fruits, nuts and coconut and cook for another 15 minutes, stirring often.
Remove rice from heat and allow to cool. Serve 3/4 cup to 1 cup servings person and sprinkle with almonds and sweetener. A delicious treat also refrigerated.
Related