This is a compensated campaign in collaboration with Farmland® and Latina Bloggers Connect.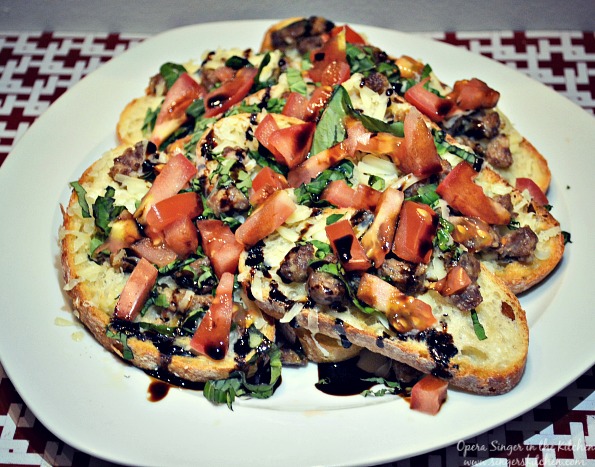 There is a lot of tension between fans all over the US anticipating the turnout and results of the two last teams to play the final big game? Do you have a prediction? I am quietly listening to my husband tell me all about the current teams playing and can only imagine what the environment will be like attending such a final game.  Nothing more can accompany watching football than a nice spread of delicious warm and cold appetizers for guests invited to the party. One of the dishes we would normally enjoy as a family would be nachos, because they are quick and easy and sometimes do not even require the meat.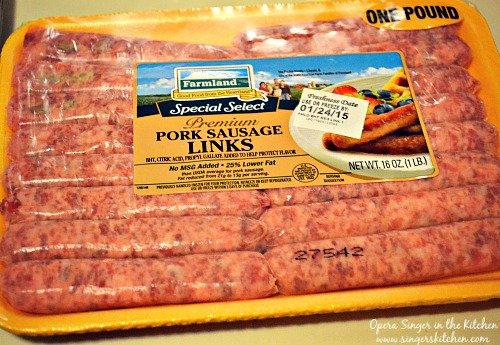 When I was concocting a plan for a new recipe, I realized that I wanted to use the Italian influences from my Chilean grandmother in a recipe, so I decided to fuse Tex-Mex nachos and create nachos made with ciabatta bread, mozzarella, sausage, fresh basil, and tomatoes. As I imagined, with the help of my hubby, to bring this dish together, it was a huge success.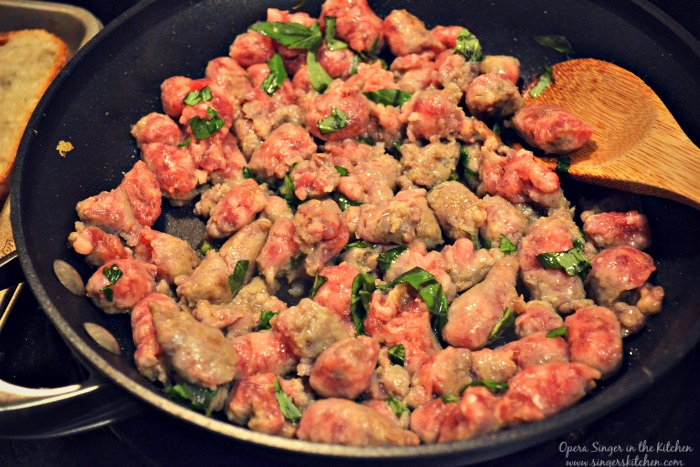 As I started bringing all my ingredients together, I started using a new-to-me sausage by Farmland® that is 25% lower in fat, gluten-free and contains no MSG. As I cooked the sausage, I realized that the fat content was indeed much less than other brands I normally use. I was intrigued by the flavor as I cooked the sausage.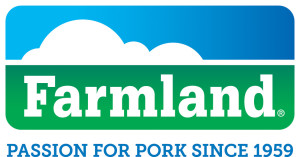 My grandmother loved cooking from scratch and used basil in some of her recipes but what I remember most of all is her use of FRESH tomatoes in a whole of her recipes. We would eat tomato salads like it was going out of business. I even made one the other night to accompany a chicken stew she normally made for us. As I assembled the nachos, I could only think of the fresh tomatoes sprinkled over the toasted ciabatta.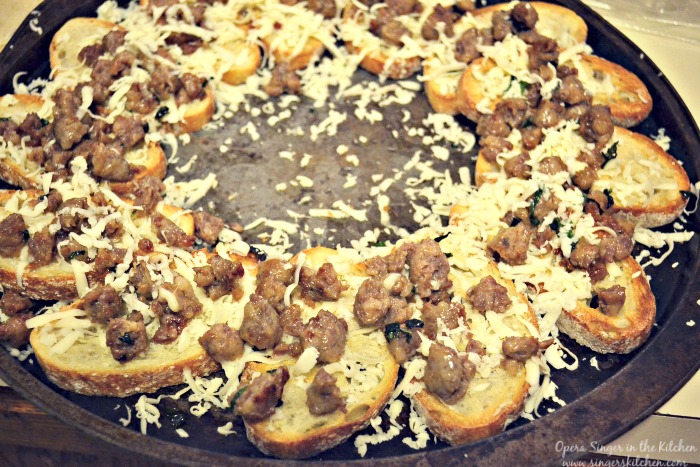 Tortillas are not used here but bruschetta nachos were sure to better for eating for larger parties gathering together. There is no worry of mushy tortillas but a toasty ciabatta bread with melted mozzarella and cooked sausage, mixed with fresh basil and garlic, would prove to be a crowd winner. My husband definitely liked them!
These nachos stack really easily and are hearty one to two bites for our guests, but make sure to have the balsamic glaze ready for drizzling because they bring the whole dish together. I am sad that my grandmother cannot be here today to see me develop dishes like this that have been inspired by her, but I thank God for the gift of cooking and the memories.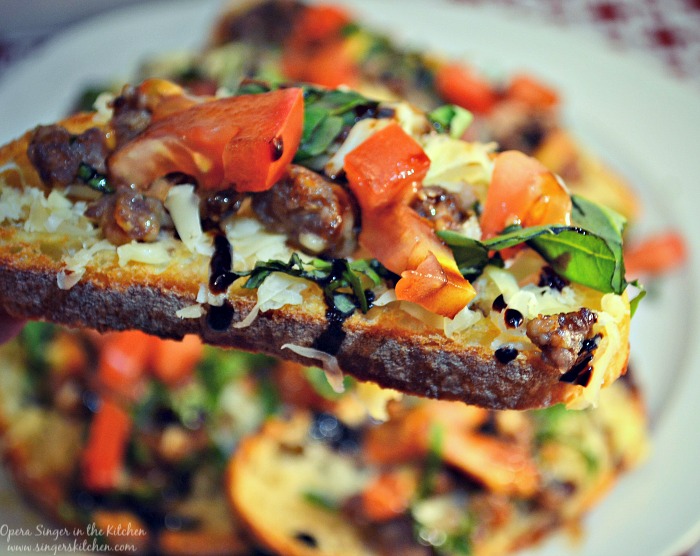 Sausage Bruschetta Nachos
by Noelle Kelly
Prep Time: 20 minutes
Cook Time: 10 minutes
Ingredients (24 nacho slices)
24 ciabatta slices, cut 1/2 inch thick (stores will slice for you)
1 pound Farmland® Homestyle Sausage
1/2 cup fresh basil, chopped and divided
2 garlic cloves, minced
1/2 teaspoon cayenne pepper
1/4 teaspoon salt
10 ounces part-skim mozzarella cheese, shredded
4 hothouse tomatoes, chopped
balsamic glaze for topping
Instructions
Preheat oven to 425 degrees Fahrenheit. Using a baking sheet, place ciabatta slices next to each other. When oven is preheated, place baking sheet in oven and bake for 5 minutes. Remove from oven and repeat process with the remaining bread.
Meanwhile, cook the sausage in a large non-stick skillet for 15 minutes. Make sure to break sausage apart to ensure smaller portions, preferable to a teaspoon size. Add 2 minced garlic cloves,1/4 of the fresh basil, salt and cayenne pepper as the sausage cooks.
Sprinkle 1/2 of the mozzarella cheese on the ciabatta slices and add cooked sausage over the cheese and bread until evenly spread on all 24 slices. Sprinkle the remaining mozzarella cheese over the sausage and cook for 5-7 minutes on 400 degrees.
Remove from oven. Serve on a large platter and layer ciabatta nachos over each other. Add the chopped tomatoes over the nachos, then the remaining basil ( add more if you want it), and drizzle with balsamic glaze.
Related