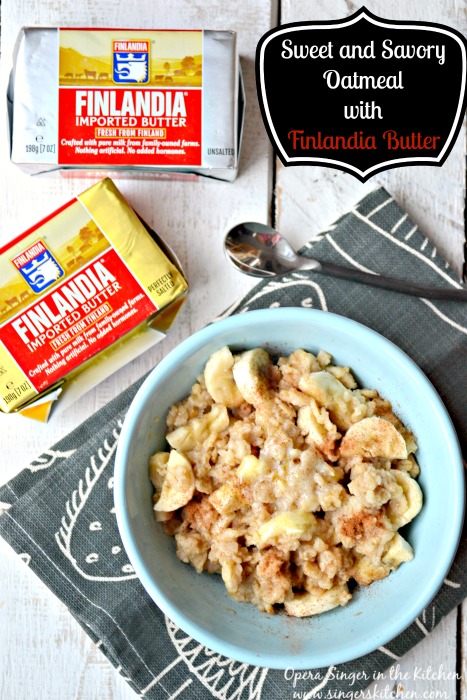 Butter is always on our shelves because it is totally a staple and used in most of all our morning recipes. When I think of butter I remember all my trips with my grandmother overseas in Switzerland, France, Germany and even Italy. Most of the time we spent at bed and breakfast places that served amazing breakfasts. It was so impressionable especially for a young foodie at the age of 14. I remember the European butter being so different and delicious and even more decadent that the butter we had back home.
This is what Finlandia Butter did for me. It transported me to my morning European breakfasts with my grandmother and made me super nostalgic for the sights and food we experienced. I am so glad that I was able to find this Finnish butter at my local ShopRite because now I know where I have my dose of imported butter daily.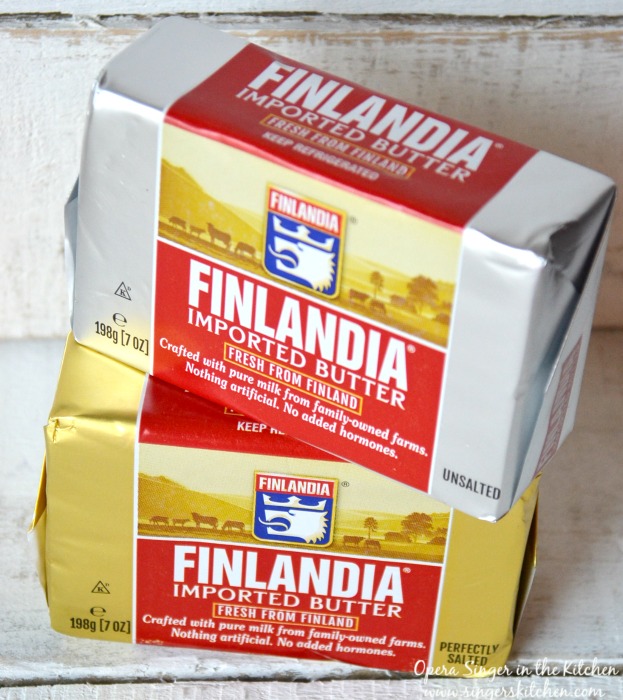 I do not know about you, but I like butter on anything and everything than just the traditional toast of bread. Several days ago I made blueberry muffins that were delicious and warm. I loved using the salty Finlandia Butter for each half because it countered the sweetness of the berries and the muffin. I am all about sweet and savory so I decided to give my oatmeal a twist one morning.
After I prepared 2 cups of oatmeal, I added some brown sugar, cinnamon, and vanilla to the cooking oats. When they finished cooking I scooped a cup of cooked oatmeal into a bowl and added diced bananas, with more cinnamon and added about a Tablespoon of butter. I thought of adding a second dollop but thought I would wait. My bowl of oatmeal was such a warm bowl of goodness.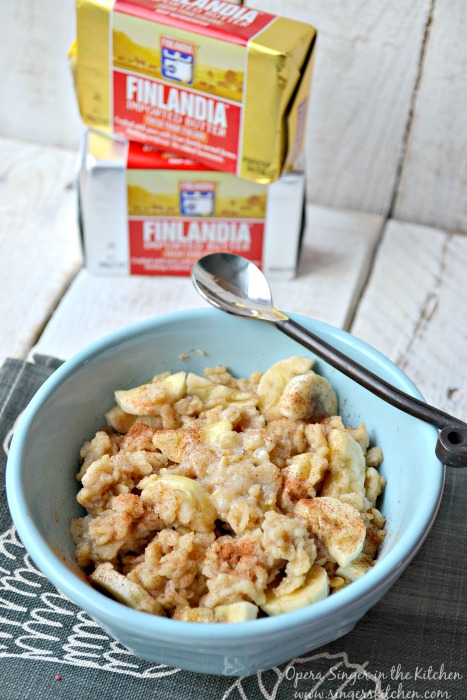 Why do I think Finlandia Butter tastes so creamy and delicious compared to our every day butter? I think it provides authentic flavor still made the old fashioned way which is made with pure fresh milk from cows cared for on small Finnish family-owned farms which means nothing is artificial and there are no added hormones. 
This creamy, delicious butter starts with the purest milk in Europe from small Finnish family-owned farms where the cows are treated humanely and not given rBST or any artificial hormones. The fresh milk is carefully churned and cooled to a perfect temperature that creates a delightfully creamy flavor and smooth texture.
What recipe would you use this gourmet butter? Have you ever had imported butter before?
I am looking forward using some of the unsalted butter in Bulletproof Coffee soon. Yum!
How about entering a giveaway for a chance to try your own Finlandia butter? One US reader will win a $25 Gift Card to ShopRite. Enter below: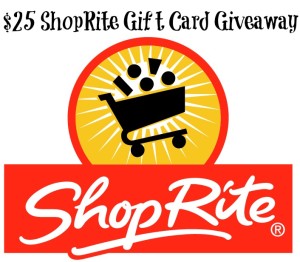 Related