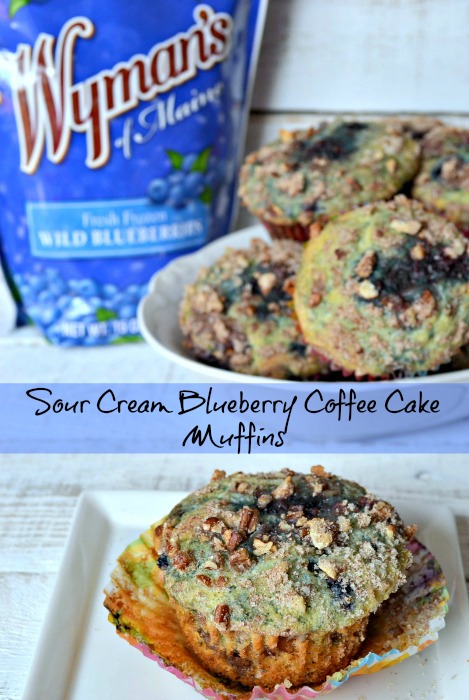 I am so excited that Spring is officially here! We could have spent the whole day outside with my girls. They actually cried when I told them they had to go home for a nap. Did they nap? Of course not! After all the sunshine and running around, I guess they love the fact that spring is in the air. One of things we love about spring are all the berries we get to eat. My girls LOVE berries and we usually alternate days eating a new berry.
Some mornings I alternate making smoothies for the girls using a berry of their choice with almond milk, spinach, bananas, chia seeds, and a probiotic. They enjoy it so much they guzzle it really fast. One of the combinations they like a lot is a blueberry banana green smoothie. My 2-year old loves being in the kitchen helping mommy add the ingredients into the blender even the spinach! She won't eat it on its own or steamed but she will eat it in a smoothie. GO figure.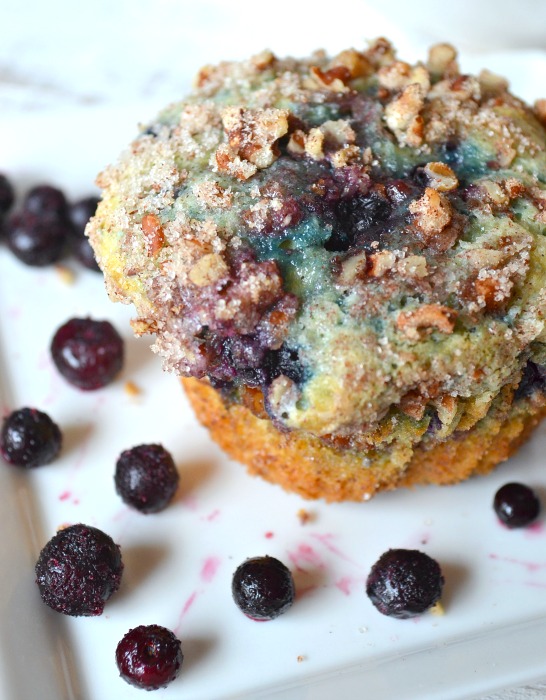 I recently discovered that wild blueberries are available in many grocery stores in the frozen section. I know I might have tasted them before at a restaurant but I had never purchased any on my own volition until I found out I could! A few tidbits I learned about wild blueberries is that they are quite different from the plump ole regular blueberries.
Check it out:
Wild Blueberries have a more intense flavor than regular blueberries. Wild Blueberry plants are more genetically diverse with thousands of interlocking plants spreading and interlocking naturally across fields over thousands of years. That diversity is what gives Wild Blueberries their complex and delicious flavor—an extraordinary mix of tart and sweet.
Wild Blueberries have two times the antioxidant capacity of the larger cultivated blueberries. A growing body of research shows the potential health benefits.
Wild Blueberries are called "Wild" because they are not planted— they have occurred naturally in barrens and fields in Maine and Eastern Canada for 10,000 years.
Not only did I learn about this little power fruit, but then I learned that the berry is immediately frozen fresh at harvest time which locks in the flavor and taste of each wild blueberry. YUM!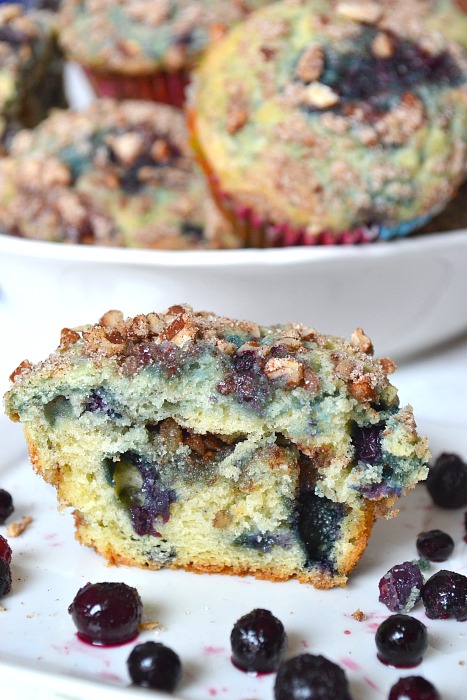 I could not wait to make something with these little delicious berries. Since I love breakfast I decided to take an original recipe and revamp it with these frozen wild blueberries. Take a traditional coffee cake and whip it with additional protein and sour cream and you have the most moist breakfast muffin you will ever taste. Every bite had a blueberry and about 2 dozen of them were consumed in 2 days. Oh yeah, I shared too. No worries.
The nutty crumble on top and in the middle of the muffin added a slight sweetness to the berry. I still lightly tossed the frozen wild blueberries in flour to allow for the berries to somewhat retain their shape.  Enjoy this recipe!
Prep Time: 20 minutes
Cook Time: 20 minutes
Total Time: 40 minutes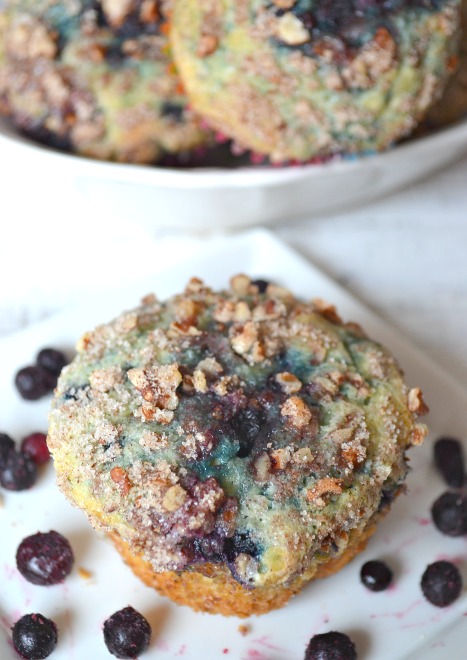 Ingredients
Batter:

1 stick of unsalted butter
1 cup sugar
2 large eggs
2 Tablespoons chia seeds (optional)
1 teaspoon vanilla
2 cups flour
1 teaspoon soda
1 1/2 teaspoon baking powder
1 cup sour cream
1 1/2 cups frozen wild blueberries

Filling / Topping:

1 cup chopped pecans
3/4 cup sugar
1 1/2 teaspoons cinnamon
Instructions
Batter:

Preheat oven to 375 degrees F.
Cream butter and add sugar, eggs, chia seeds and vanilla.
Mix dry ingredients together in a small bowl.
Alternate dry ingredients and sour cream into egg mixture and mix until well blended but do not over mix.
Add 2 Tablespoons into a bowl with the frozen wild blueberries and gently toss until berries are covered.
Gently fold into the batter.

Filling / Topping:

Mix the pecans, sugar, and cinnamon well.
Set aside.

Assembly:

Line 2 dozen muffin tins with liners of your choice.
Add 2 Tablespoons of batter to the bottom of each muffin and then sprinkle 2-3 teaspoons of filling.
Cover the filling with another 2 Tablespoons of batter and sprinkle with another 2-3 teaspoons of topping.
Repeat process.
Bake for 20 minutes.
Cool and serve with butter.
https://singerskitchen.com/2015/04/sour-cream-blueberry-coffee-cake-muffins.html/

Any bloggers interested in winning a great prize? Enter your own recipe for a chance to win either a Vitamix or Whole Foods Market gift cards.  Your challenge is to create a unique, original recipe using Wild Blueberries. Here's the catch—you're encouraged to think outside the box of traditional baked goods. Think appetizers, lunch ideas, side dishes, and smoothies—let your imagination run wild! Be sure to take great photos of the entire process and finished product to post on your blog, along with the complete recipe and instructions.
Good luck!
Check out Wild Blueberries on Facebook and Twitter
 Disclosure:  I received this product for free from the sponsor of the Moms Meet program, May Media Group LLC, who received it directly from the manufacturer. As a Moms Meet blogger, I agree to use this product and post my opinion on my blog. My opinions do not necessarily reflect the opinions of May Media Group LLC or the manufacturer of this product.
Related