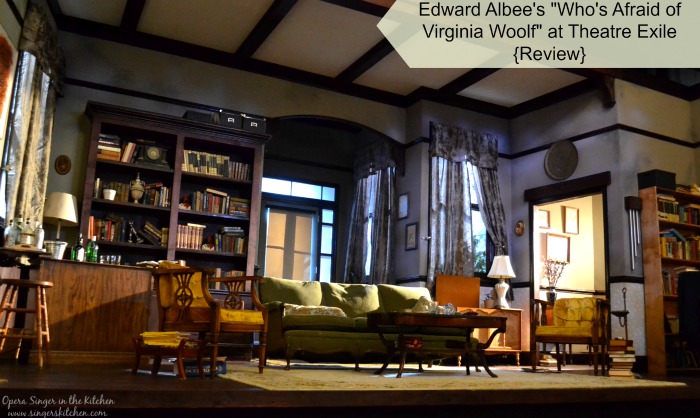 A week ago my husband and I were able to go on a nice date into the city. Although we usually stay local we love going into the city to listen and watch concerts and performances of all kinds. This time around, we planned it well and got a chance to get our girls' favorite sitter to come early so we could do dinner and a play at Plays and Players Theater. We were introduced to the Theatre Exile just recently and we were both excited to watch Edward Albee's Who's Afraid of Virginia Woolf  especially since my husband had watched the movie version.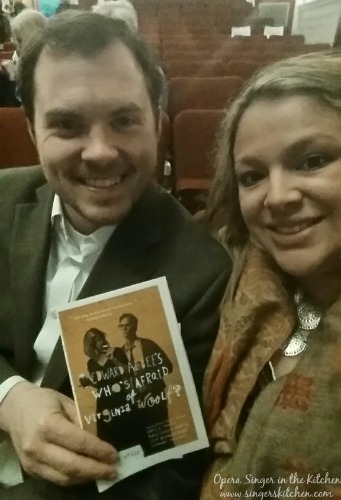 While many friends warned us that the subject matter was not ideally great for a date night, we were confident that we would enjoy the evening no matter what. The last few times we had been in the city we had taken the train in but never quite had enough time to get dinner before the performance or even AFTER a show. We were not happy campers. This time around we had a nice dinner at Monk's Cafe which came recommended by many.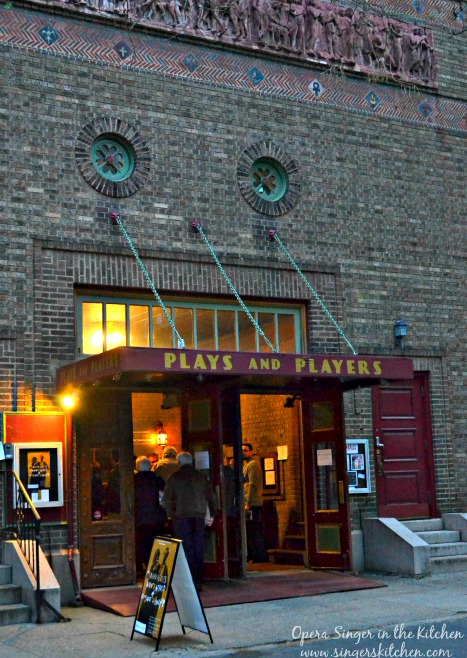 After dinner we walked over the the theater and grabbed the best seats in the house settled into our seats by reading the actors biographies. I had been able to read a little about what the play was all about and was even more intrigued that the main characters of the play, George and Martha, were being played by two actors who had recently been in another performance sold-out performances. I could NOT wait to see their performances. The duo last were paired together in Exile for last season's Barrymore Nominated production of Annapurna, where Canuso also directed.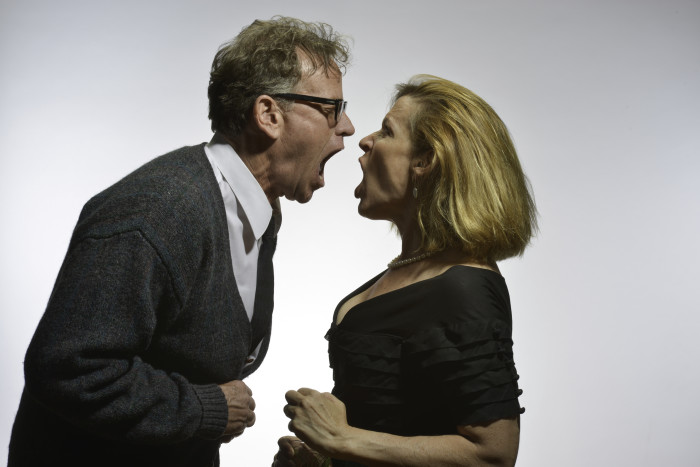 The three-act play starts up in a living room, after a faculty get-together, a middle-aged couple invite their younger counterparts over for a night-cap that spirals into an evening of wicked psychological games. The once loving but now embittered George and Martha invent new ways to get under the other's skin as they compete for the upper hand. As the drinks flow, unwitting young guests Nick and Honey are caught in the crosshairs of this marital warfare with no place to run. Humiliation, frustration and manipulation explode with every tip of the tongue as everyone's true self is brought to the surface and a marriage is left in shambles.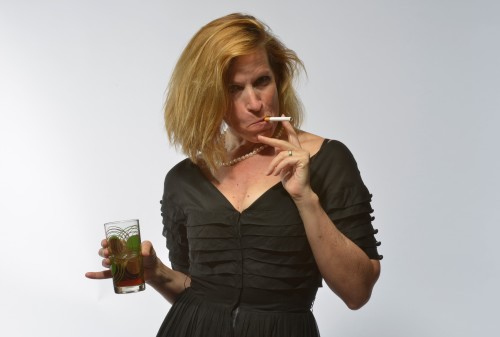 The acting was amazing and riveting every moment of the evening since there was a natural chemistry between the older married couple, the George and Martha characters, that certainly made me think there had been serious dysfunction for years. It was definitely believable! The younger couple in the older couple's life were pretty fun to watch as their characters developed over the evening. I kept wondering what would end up happening. I was in suspense for sure!

Here is a little information about the actors because it is obvious there is serious talent on this stage. Exile's production of Virginia Woolf is directed by Exile's Founding Artistic Director Joe Canuso. Pearce Bunting (Boardwalk Empire on HBO, Law & Order SVU on NBC, Mamma Mia on Broadway) and Catharine Slusar (Lady M by Live Arts Festival, Wanamaker's Pursuit by Arden Theater Co., A Dolls House by Lantern Theater) both return to Exile to play one of theater's most notoriously dysfunctional couples George and Martha. Emilie Krause (Two Gentlemen of Verona by Delaware Shakespeare Fest, My Romantic History  by Inis Nua Theatre Company) and Jake Blouch (Unnecessary Farce by Act II Playhouse, Arthur and the Red Dragon by People's Light and Theatre Co.)  play their younger counterparts Honey and Nick.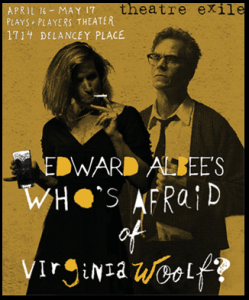 I highly recommend catching this play that is still running from May 10th until May 17th. There is pretty much a performance every evening and some matinees in between those dates. Go with a friend or your spouse and have a nice discussion afterwards.
Disclosure: We received complimentary tickets to the performance by Aversa PR. All thoughts are my own.
Related