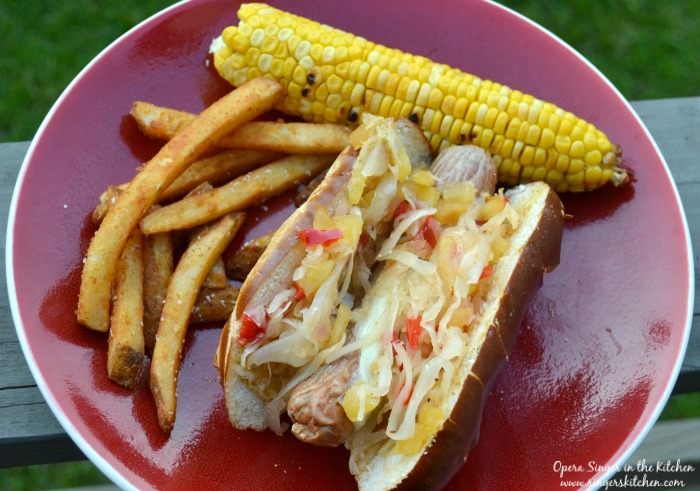 I love days that we can grill because then it is not WE cooking. When I say this I refer to my husband being in charge of dinner.On this instance, I had come up with an idea for him to make when it comes to grilling.  Grilled Brats were calling our names so then we had a chance to use them with delicious Pretzilla buns, a revolutionary take on soft pretzel buns.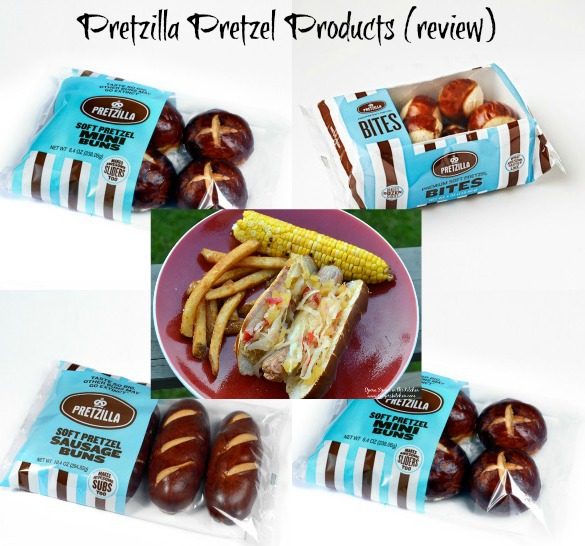 Our family really enjoys eating pretzels, especially here in Philly, so we were happy to see and taste what Pretzilla products were all about. We received Pretzilla Burger Buns, Sausage Buns, Mini Buns, and Pretzel Bites to work with and we have to admit that they went fast! We used many of the mini buns and burger buns for breakfast and lunch sandwiches that my husband made for us. I loved them both at room temperature or even toasted. As long as they were sealed, the bread did not get hard or crusty which was amazing.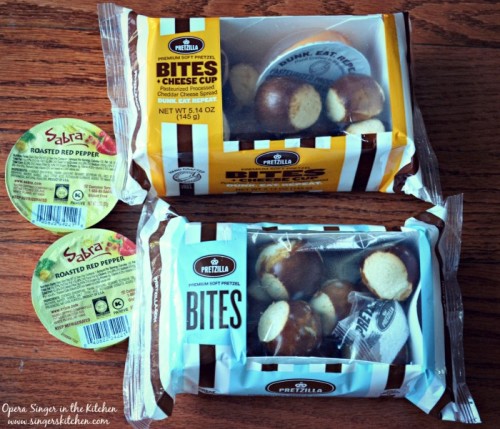 We took the Pretzilla Bites for snack and lunch times when we were on the go to eat with hummus or with cheese and turkey. They were great for dipping and the texture of the bites and every bread we tasted was amazingly light and airy. It was not obnoxiously airy but tasty with lots of flavor.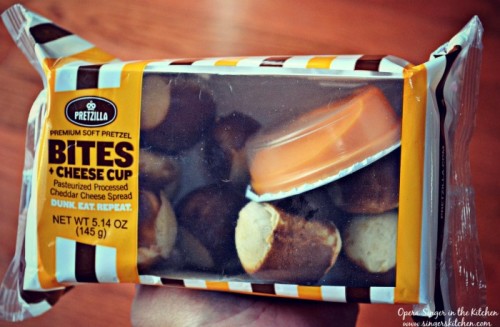 Each packaging gave the option to warm in the oven and then another option to add the salt on top. Some of the Pretzilla Bites packages came with processed cheesy dip that one would get at a sports events. We opted not to have that and enjoyed the bites with hummus or mustard which was really delicious!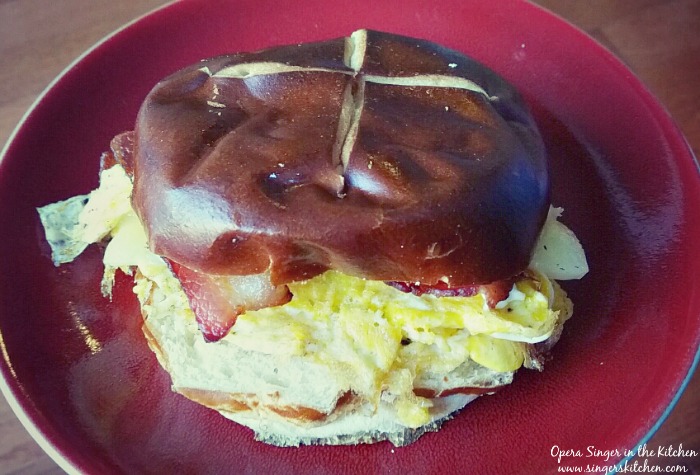 When I was coming up with a recipe, I decided to have my husband grills bratwursts on the grill so we could make hot dogs using the Pretzilla Sausage Buns. I made a Sauerkraut Apple Relish to go on top of the brats.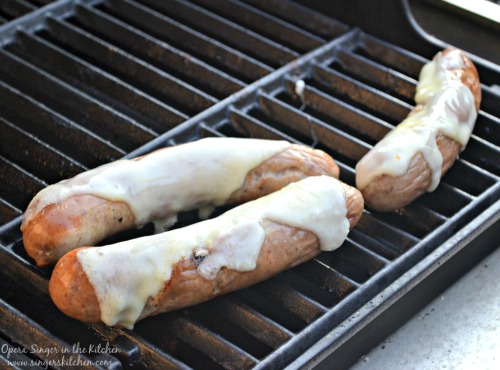 After the brats grilled we added a soft cheese on top, placed in the grilled sausage buns with some spicy brown mustard and topped with the relish. IT WAS AMAZING!!!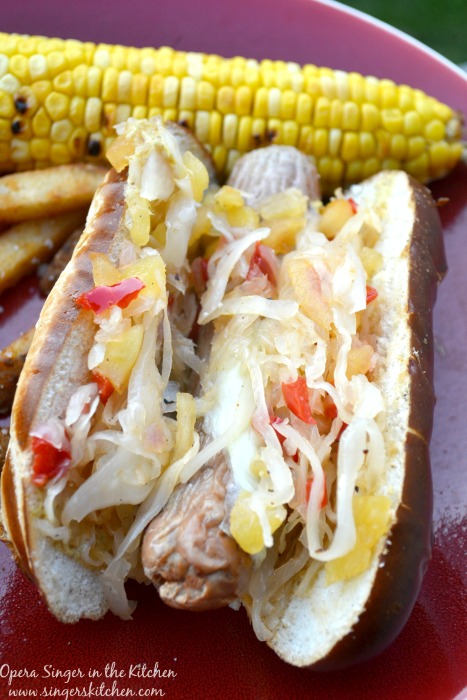 While these products are not available in Pennsylvania they are available in New Jersey and at all Whole Foods in most states. Check out their store locator, but they are really affordable to order online! Check out the prices because they are surprisingly at a great price. This product is definitely worth a try especially when you know the company has developing a recipe and producing a unique product since 1923. For any interested, these products are also ALL-NATURAL and VEGAN as well. Make sure you check out this company and see what they are all about!
Prep Time: 10 minutes
Cook Time: 20 minutes
Total Time: 30 minutes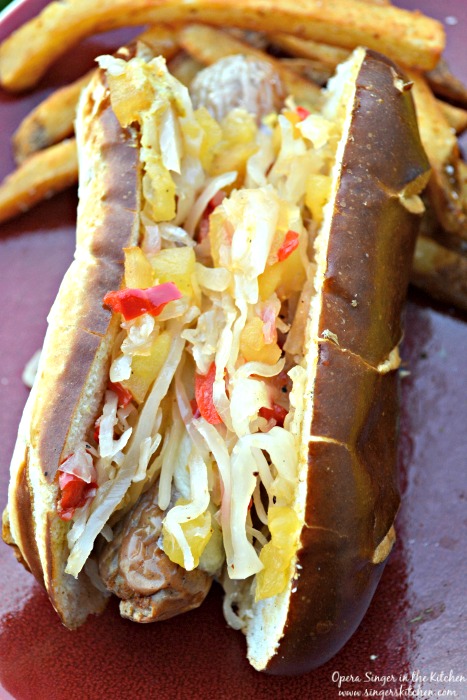 Ingredients
4 bratwursts
4 Pretzilla Sausage Buns
2 ounces semi-soft cheese
spicy mustard

Sauerkraut Apple Relish:

2 Tablespoons olive oil
1 red onion, diced
2 apples, peeled and diced
1/2 red bell pepper, diced
1/2 cup sugar
1/2 cup apple cider vinegar
2 cups bagged sauerkraut, drained and rinsed
salt and pepper to taste
Instructions
Sauerkraut Apple Relish:

Heat olive oil in a pan and cook onions, red peppers, and apples until softened for about 10 minutes on medium heat.
Add sugar and vinegar and bring to a boil until the mixture has somewhat evaporated, about another 10-15 minutes.
Drain 2 cups sauerkraut and rinse. Place in a glass bowl and add the apple mixture to kraut.
Mix well and add salt and pepper to taste. Allow to cool.
Refrigerate until ready to serve with bratwursts.

Grill:

Grill bratwursts for about 20 minutes.
Remove from heat and add cheese on top until melted.

Assembly:

Grill Pretzilla Sausage Buns on grill for a few minutes.
Add spicy mustard on each side of bread.
Add one grilled bratwurst and top with 1/2 cup of relish or more as desired.
https://singerskitchen.com/2015/06/grilled-brats-kraut-apple-relish.html/
Related