When I agreed to go on a business trip with my husband to Hershey, PA a month ago, I knew it was going to be a bit challenging being almost 8 months pregnant and keeping two toddlers busy during the day, but I forgot the amount of work it would be. I really made the best of our trip and enjoyed it truly but at the end of the week, I was ready for my own vacation, you know?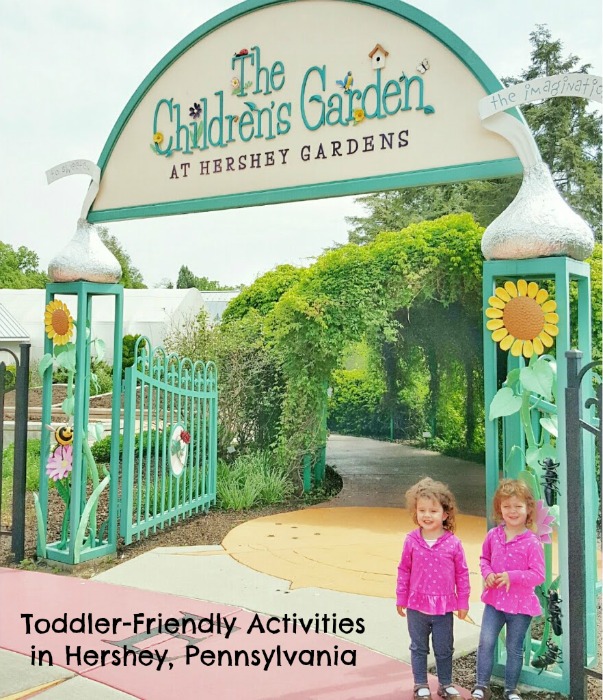 Almost every morning for 2-3 days I would drop off my husband at his music gig and I would go off with my girls to breakfast and then plan on an activity or attraction. We then would pick up my husband for lunch or depending on how much time he had off we would skip picking him up and go on with our day. There was ONE day my husband had off for us to do a family event together which ended up being wonderful because it required more work for two parents.
My hope is to share with moms out there that it is possible to have fun with your kids in a new city ALONE. While it would be ideal to do it with the whole family sometimes being on your own is so much better than staying home in the same routine. No regrets other than being tired which is the the most truthful things I can say.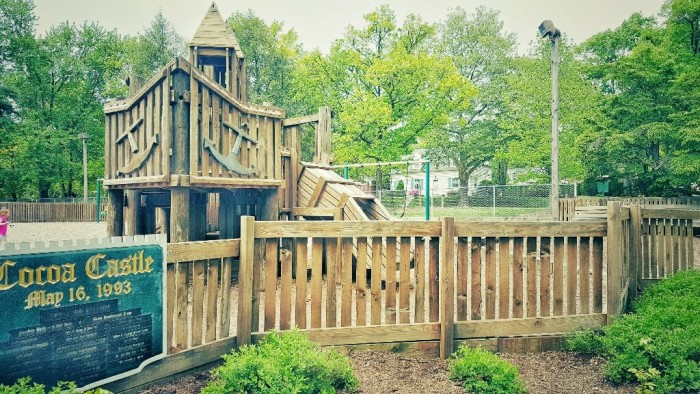 On one day, we had breakfast and visited the Cocoa Castle Playground which was a great place! From what I heard it is supposed to be replaced with a more modern playground, but I do not see why when this play space works for all kids. My girls chased each other around and took turns climbing different sections of the playground. We were there over 2 hours so I say that was a success.
On another day, I took the girls to the Hershey Gardens. If you stay at the Hershey Lodge, your family receives tickets to visit The Hershey Story and the Hershey Gardens. There is also a shuttle that leaves from Hershey Lodge as well to HersheyPark, Chocolate World and The Hershey Story.
Either way, we were at the Hershey Gardens for about 2 hours in the morning but I have to say it was a little of a disappointment since the roses were not in bloom. There were hardly any flowers blooming so it was not as exciting. We plan to go again to see the flowers but either way, the gardens are so broad and there is even a Children's Garden with a variety of sections for kids to explore like a butterfly house, a fountain, and more.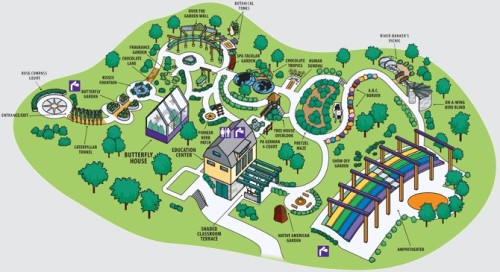 I loved the fact that my girls know that when we go to gardens they can easily just go running and exploring without limitations. They love seeing everything in nature with birds in the air, flowers in bloom and bridges to walk over.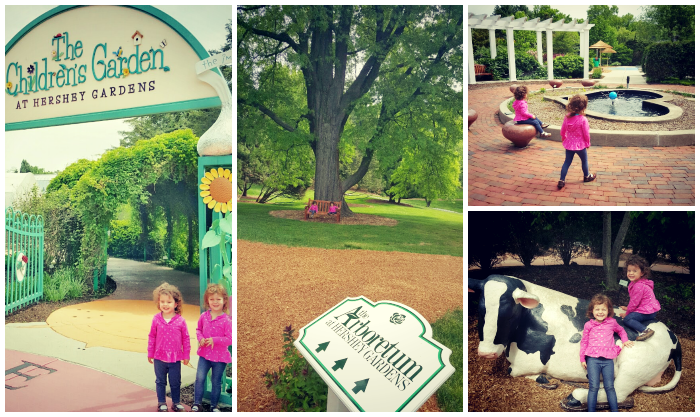 I can't forget to share one of our favorite meals. While Yelp  helped A LOT during our trip we took recommendations from local friends in our area. Since most mornings we would drop off my hubby 20-30 minutes away from Hershey, we could not wait to return back JUST for breakfast so I was charge of finding places in the area.
One of the places I found was called Brownstone Cafe in Middletown, PA which was about 20 minutes from Hershey. It is a quaint little town and the cafe used to be a bank from 1892 until 1997. The new owners decided to salvage as much of the decor as possible to create an ambiance for their cafe. We loved the inside and the food was so affordable!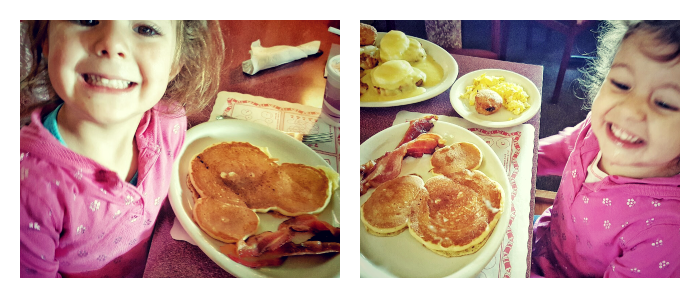 The girls ordered pancakes with an egg and the kitchen made them a Mickey Mouse pancake which made them super happy. I ordered the Eggs Benedict with hash browns which was so delicious and lots of food for the price. If you get a chance to check out the cafe, you should totally go there!
There was one day that my husband was gone all day and I was almost done trying to figure something to do with my girls because naps had not really happened the whole day. I checked in with the Hershey Lodge and made sure that going to Chocolate World with my girls AFTER dinner would be a good choice especially doing it all alone. When they assured me that it would be ideal, we took the shuttle from the lodge and were driven all the way to Chocolate World where we took the FREE chocolate tour.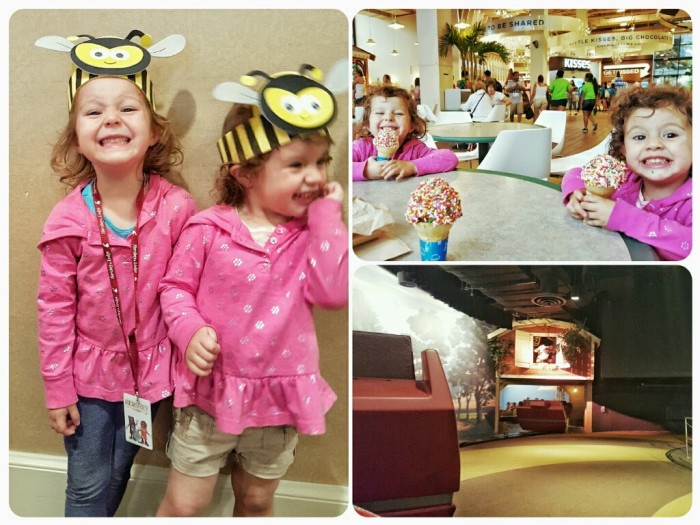 If it is one thing I do know about my girls is the fact that they love chocolate. We took the same tour THREE times because they wanted to see the process that chocolate went through and how it came out after all the process. I think we could have done the little tram tour another few times if I had not convinced the girls it was time for ice cream, which made them even more excited. After our tour, we received a sample of Hershey's newest chocolate which was a chocolate caramel. So much fun!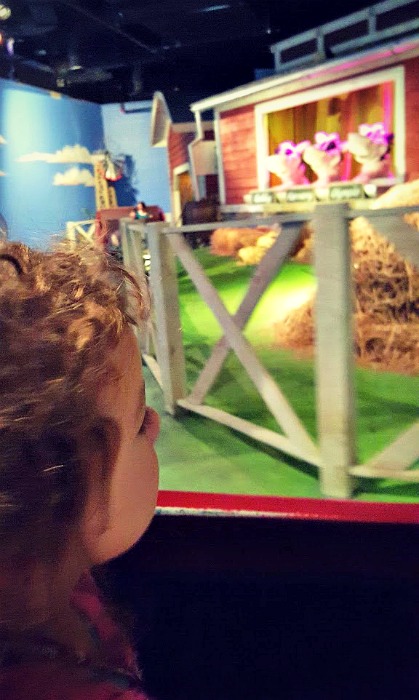 As we looked for the ice cream treat before heading back to the hotel we found a great ice cream parlor inside Chocolate World advertising ice cream sundaes and ice cream cones. I loved the fact that so many places offer baby cones because it is just ideal for little ones but you know, I ordered one myself when I noticed the size of the ice cream scoop. It was huge and only under 2 bucks! It was a major steal compared to everything on the menu. I definitely recommend asking for smaller portions everywhere you go.
All in all, it was a GREAT success and I thank God for guiding my steps and giving me energy and strength for the long days with my girls. We did have an awesome time and I think it would have been easier if I had not been pregnant but now I can tell our third child that she took trips in utero.
Stay tuned to the second part of our trip to Hersheypark.
Related