Disclosure: We received complimentary swim lessons in exchange for a post. All opinions and pictures are my own.
This is our first summer having the opportunity to be at the pool more often than usual. Our girls have been enjoying pretending to be mermaids while bathing every night since watching The Little Mermaid, so I was interested in seeing how well they would do taking swimming lessons. If anything, I was a little hesitant since I am pregnant with my third girl and would have to take both girls to class but I quickly learned that it would be an easy feat.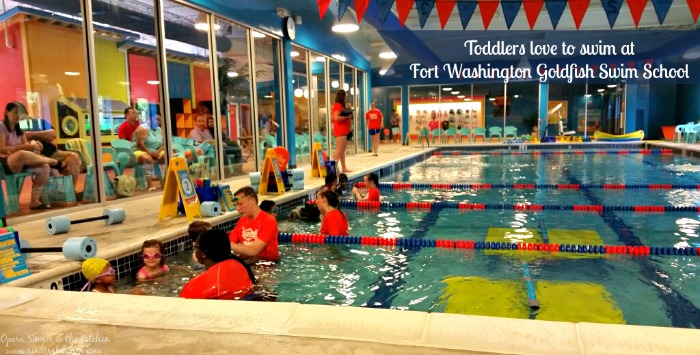 Goldfish Swim School opened its door recently in the Fort Washington area joining the two dozen locations across the country. It is the first swim school in the Philadelphia-area and offers swim instruction to children ages 4 months to 12 years-old in a unique setting with highly trained instructors, small class sizes (max 4:1 student to teacher ratio), warm 90-degree pools, and a state-of-the-art water purification system. I totally loved the whole half chlorine water and salt water combination the company uses because it did not leave us smelling like JUST chlorine water. In addition to swim lessons, Goldfish Swim School Fort Washington also offers weekly family swims (for both members and non-members) and birthday party packages.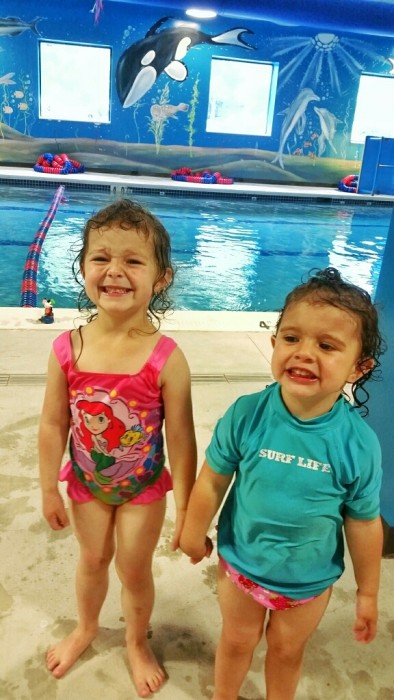 Since we were one of the few to start classes, my oldest daughter, age 3 1/2, was able to take classes one on one with an instructor. She arrived with her swimsuit and goggles and ready to work. Each of her lessons lasted 30 minutes ending with the instructor informing me of her progress. While I liked the positive feedback, I hardly heard the negative. What I did learn that my daughter refused to dunk her head, so while the lessons have provided a step stool for swimming introduction, I realized that it was going to take more than 6 lessons to get my daughter to be a guppy.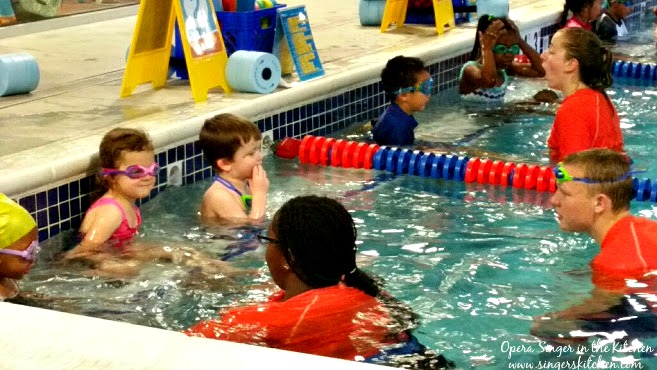 The classes have been a great stepping stool for my husband to work with my daughter at our local pool. While my daughter loves The Little Mermaid, she insisted that she did not have to be swimming underwater like her. Whoops. Well, we knew that dunking her head was going to be a work in progress, but at least we have been able to see her desire to kick her legs, use her arms and crab walk while in the pool which has been encouraging.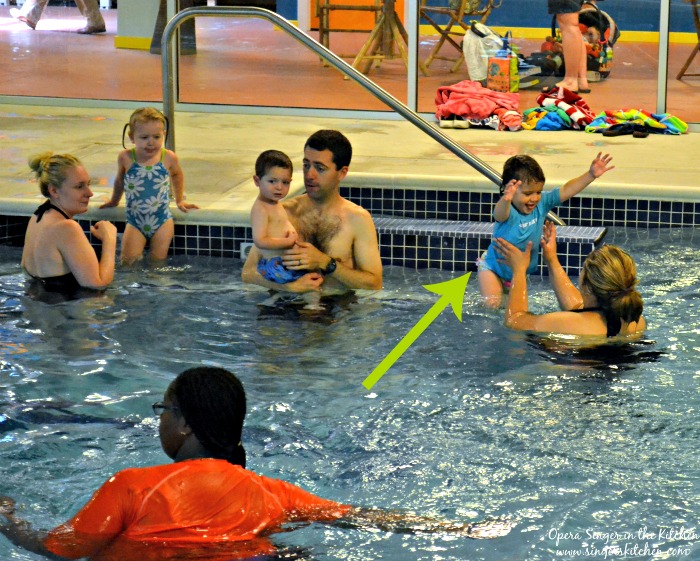 My youngest toddler, on the other hand, proved to be the biggest surprise. I attended a mommy and me class with my 2 year old and 4 other moms with their toddlers and I simply loved the atmosphere and my daughter's instructor, Cassie. Her encouragement and upbeat instruction kept the kids captivated and focused on learning. The first class proved to be a little challenging because my youngest was not so sure about the water, but when she saw I was with her and that there were toys included in the learning process, she relaxed so much that she almost just wanted to be on her own.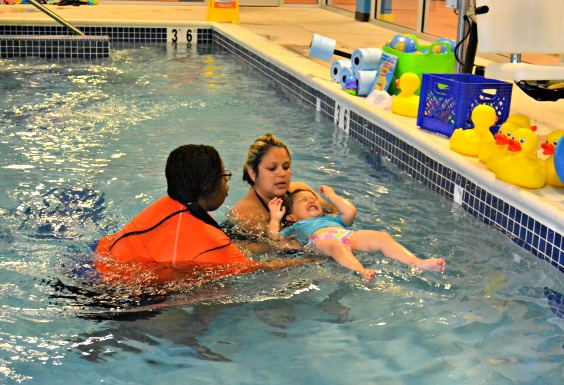 I was actually very happy that my daughter caught on so fast, kicking her legs and reaching her arms out. I loved the exercise Cassie used to help the kids learn how to reach out with their arms. My daughter even learned to love to jump into my arms right into the water with some slight dunking of her head. Well, at least I now know that going under water is not our daughter's favorite thing which I should have known since they don't love me rinsing their hair during bath time. Major fail!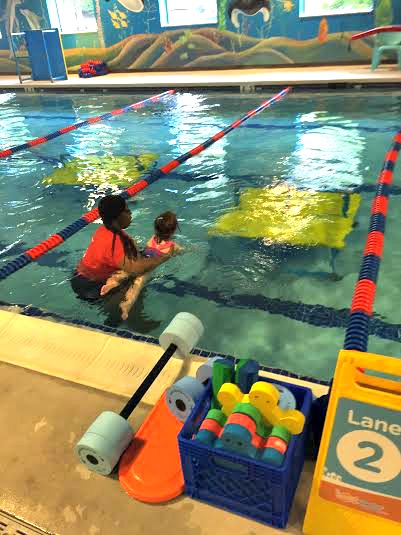 Well, how did I like the classes? First of all, I LOVED being in the water being pregnant and still being able to be with my daughters. It has been a rewarding experience. I love how new and clean the facilities are with multiple changing rooms, bathrooms, hair dryers, and places to sit and observe other classes.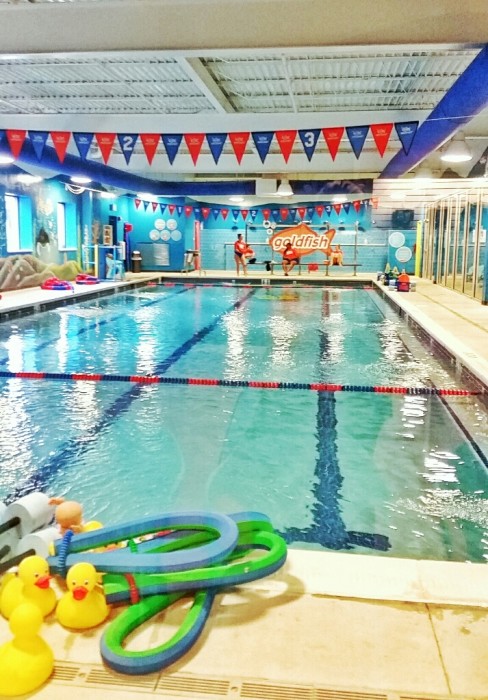 At the end of each lesson we were just able to get changed, buy a snack, and hang out in the kids activity area where the girls loved looking at the fish tank, playing with the chalkboard and decompressing.
Please, if you have a chance, go check out this awesome facility! See all that is happening on their Facebook and Twitter.
Related