The summer-inspired phyllo pockets are great for families and a quick weeknight meatless dinner or for any party. You can use any seasonal vegetable at your local farmer's market to vary this recipe.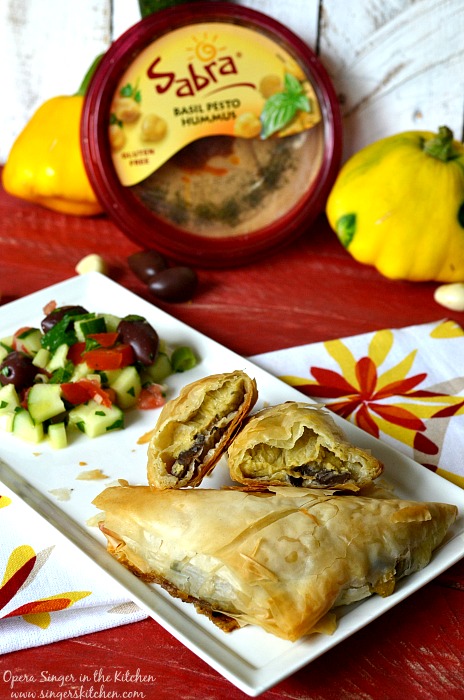 One thing I love about summer is having a variety of produce available especially since every month there is a new fruit or vegetable to pick and choose. I am guaranteed an amazing amount of flavor through fresh seasonal produce and it allows me to create unique recipes. Some of the vegetables I enjoy during the summer are squash. I always feel like I can do something with the great bounty of zucchini and yellow squash and even help friends realize that even desserts can be made with such vegetables! How exciting is that?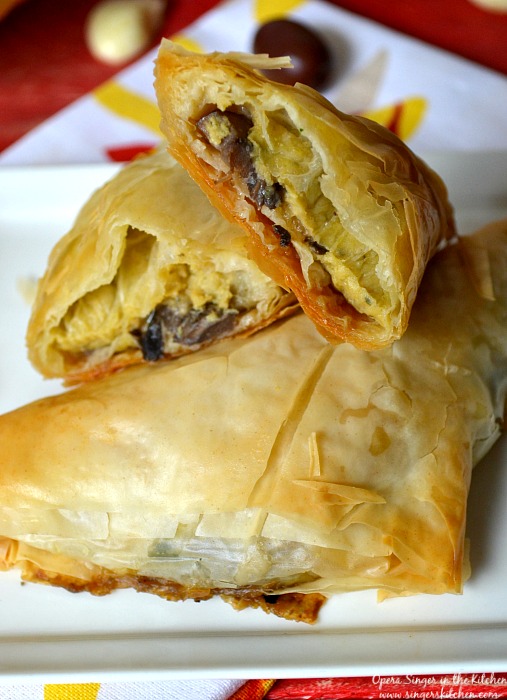 Now that I have been pregnant for the third time and hopefully for the last time, I realize what food aversions hit me all the time. I am not always as excited about consuming vegetables so I look for options to consume them especially if I can pair them other foods that I also love, like hummus. Hummus is not only an easy go-to protein and snack, it also is wonderful adding to meals, creating creamy, lower calorie dishes and even more savory, since hummus now comes in SO many flavors.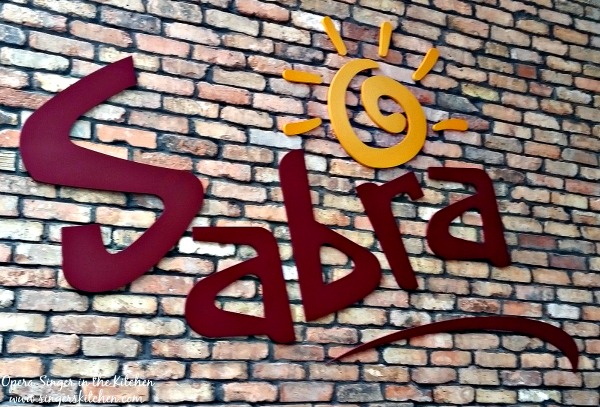 Last month I had the privilege of being invited along with an amazing group of bloggers to check out Sabra's factory in Richmond, Virginia where I was able to check out the production of my favorite creamy hummus. I was amazed by how clean, organized, methodical the whole production line looked from the company's receiving beans, cleaning, cooking, cooling to the creation of all the variety of hummus flavors Sabra offers.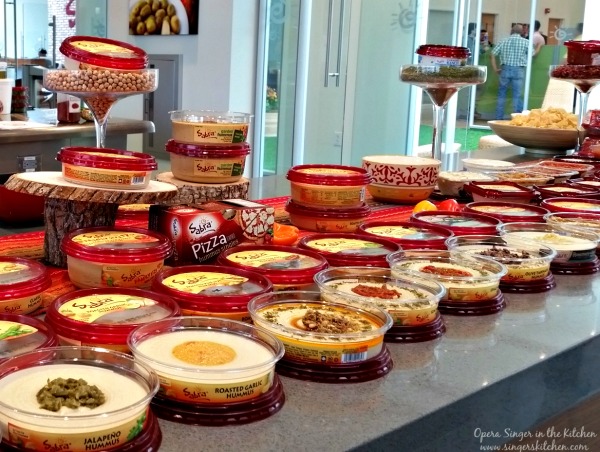 After we took our tour we heard from a nutritionist on how hummus was healthy for our bodies and how many people still do not know about it and how to eat it other than as dips. I've always learned that hummus was made from chickpeas, little protein-packed legumes that were super healthy buy I guess I did not realize that they are also a veggie as it was explained to us. Since having children, I knew that it was my go-to baby super food for them to enjoy and have they liked it!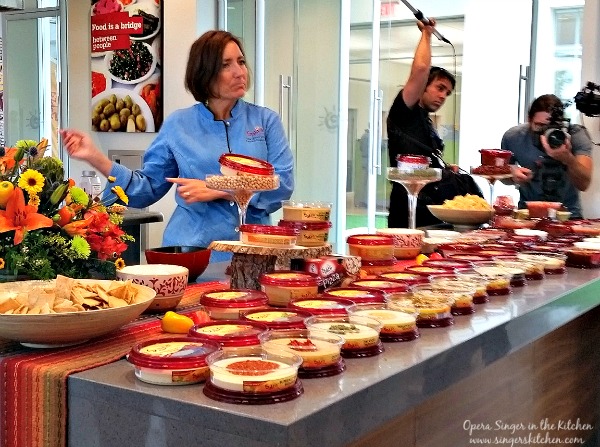 While I always knew that Sabra made a variety of hummus, I guess I never KNEW how many different types. Hummus is a blend of chickpeas, tahini, lemon juice and other simple ingredients creating an amazing creamy dip or spread. I was floored when we were introduced to the whole line of Sabra products. Imagine a foodie heaven because the spread that was prepared was pretty impressive. We met Sabra's in-house chef that is in charge of creating unique dishes and we learned how Sabra's hummus has been paired carefully to make unique flavors for consumers to enjoy.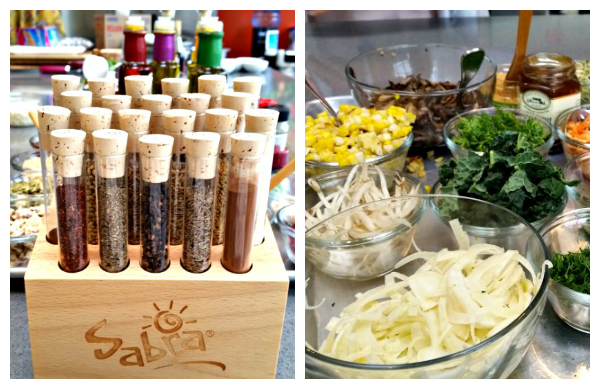 I only wish I could share each flavor with you because it was pretty mind-boggling. We also had a chance to make our own hummus flavor and topping like Sabra makes and then it was taste-tested by a panel of judges. It was fun to be able to have a variety of ingredients and spices, provided by Mr. Spiceologist himself, to create our own hummus flavor. I loved seeing creative foodie bloggers making their own creations.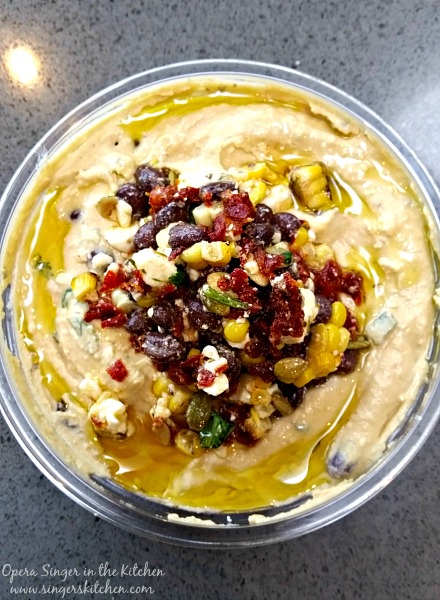 When I got home, it was hard to leave that experience behind but it was also inspiring to continue using hummus in unique ways since there are still many people that do not know what it is and how to eat it. When I talked earlier about summer vegetables I decided to cook yellow squash and zucchini with mushrooms and onions to create an Italian filling paired with Sabra's Basil Pesto Hummus. Both these ingredients served as a filling to place into phyllo where I folded into pockets and baked to a golden crispy pocket. Oh my!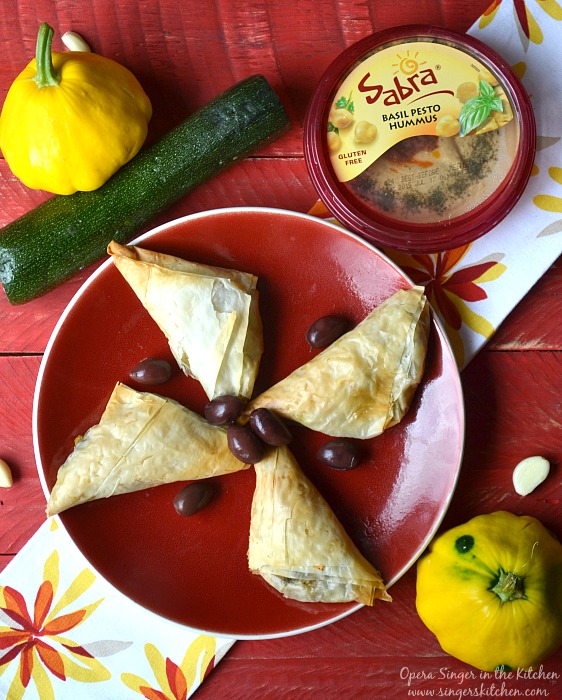 These work really well as an appetizer or as a meal paired with a delicious tomato and cucumber salad for a healthy vegetarian meal. I am so happy to be sharing this lovely recipe thanks to Sabra. I hope you make these for your family or friends. Hummus is not only healthy but amazingly delicious. Don't miss trying our the variety that Sabra offers.
If you do not know it already, our family enjoys hummus in so many ways so come and check out our recipe folder for the array of hummus recipes you can try.
Prep Time: 30 minutes
Cook Time: 25 minutes
Total Time: 55 minutes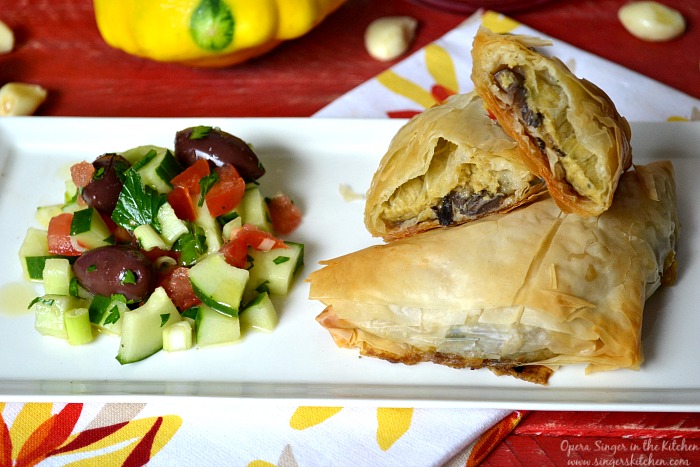 Ingredients
Summer Vegetable Medley:

1 large zucchini, diced ( about 2 cups)
1 large yellow squash, diced (about 1 1/2 cups)
1 1/2 cups baby bella mushrooms, diced
1 red onion, diced
3 garlic cloves, minced
2 Tablespoons fresh basil, chopped
2 Tablespoons olive oil
salt and pepper to taste

Phyllo:

Half a package of phyllo dough, thawed

Hummus:

10-ounce Sabra Basil Pesto Hummus
Instructions
Summer Vegetable Medley:

In a large non-stick pan add the olive oil and heat on medium heat.
Add the onions and cook for about 5 minutes.
Add the squash and mushrooms and cook for another 10 minutes.
Add the garlic, basil, and salt and pepper and cook another 5 minutes and remove from heat.

Phyllo:

Carefully roll out half a package of phyllo sheets, careful not to split the sheets since they are delicate.
Remove one sheet at a time placing on a cutting board.
Spray one sheet with olive oil spray and place a second phyllo sheet on top.
Spray with oil and place a third phyllo sheet. Cut the layers in half, lengthwise.
On one edge place about 1 Tablespoon of hummus and about 2 Tablespoons of the vegetable medley.
Fold over a corner of the phyllo dough creating a diagonal triangle and then continue folding over repeating the process, folding over the veggies and hummus with the remaining dough until it looks like a pocket.
Repeat with the remaining sheets of phyllo until you have about 16 pockets.
Bake at 350 degrees Fahrenheit for about 20-25 minutes.
https://singerskitchen.com/2015/07/summer-vegetable-and-basil-hummus-phyllo-pockets.html/
Try some other hummus recipes by fellow bloggers:
Chocolate Chipper Banana Bread by Treats With a Twist
Mediterranean Quinoa Hummus Bowls by Simply Quinoa
Spicy Hummus Deviled Eggs by Flanboyant Eats
Disclosure: This post is sponsored by the Sabra Dipping Co. As a Sabra Tastemaker I was asked to create recipes using their product. All opinions and creations are my own.
Related