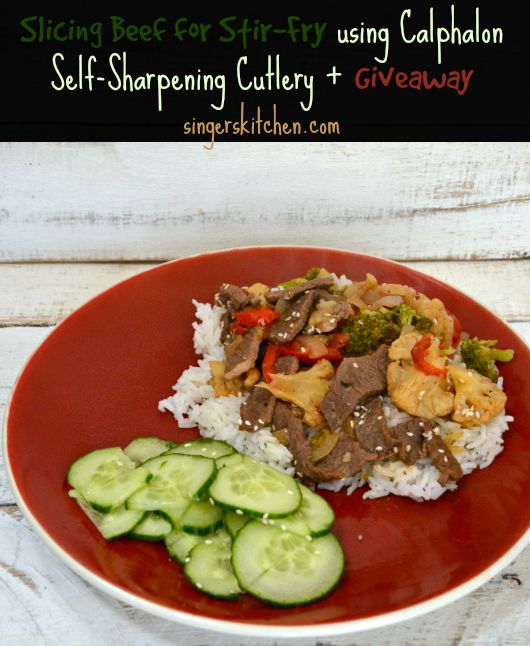 As we continue our journey to quick meals under 30 minutes now that we are in transition with a newborn, I've been reviewing the most popular meals that my husband and I have enjoyed and I have been bringing my husband to the kitchen in order for him to make the meals on evenings that I have had a busy day with the kiddos. While my husband likes cooking, he definitely requires a recipe to follow in order for the meal to come together. There is nothing wrong with that and I am glad to have a favorite meal readily available for my husband and even my readers.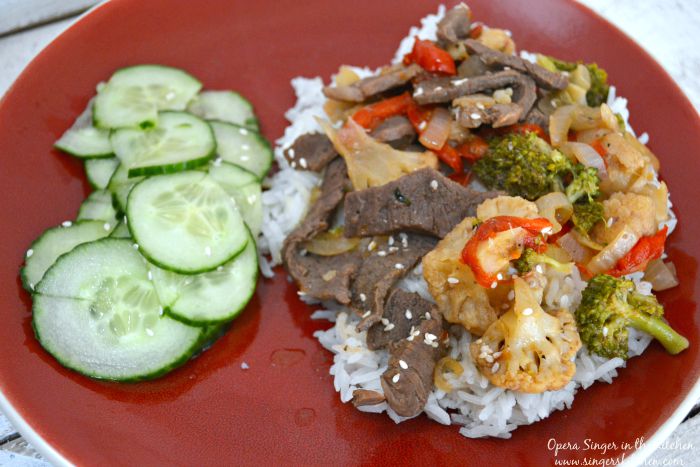 Stir-Fries are meals that I think are so quick to prepare and in the past 7 years I have learned to cut corners in order to have a meal on the table within 30 minutes. Once kids came into the picture, time became a lot more precious, so sometimes I did not cut my vegetables but used frozen stir-fry veggies to make the meal complete. On other occasions, I decided against my own marinade or homemade Asian sauce and went for store-bought sauces until I found my favorites.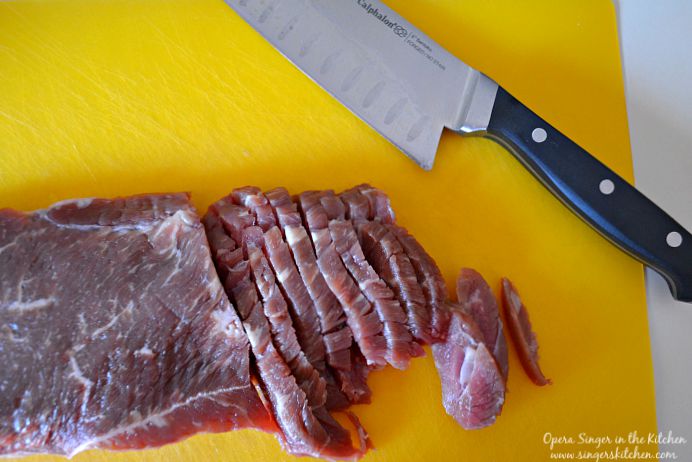 My husband already does a great job buying meat at a great discount from our local store, so this time around I defrosted a round steak and left it a little frozen in order to ensure I could slice the beef a lot more easier. I used a 5-inch Santoku knife from my Calphalon Self-Sharpening Knife Block and sliced a pound of beef into perfectly thin slices, ideal for stir-fries.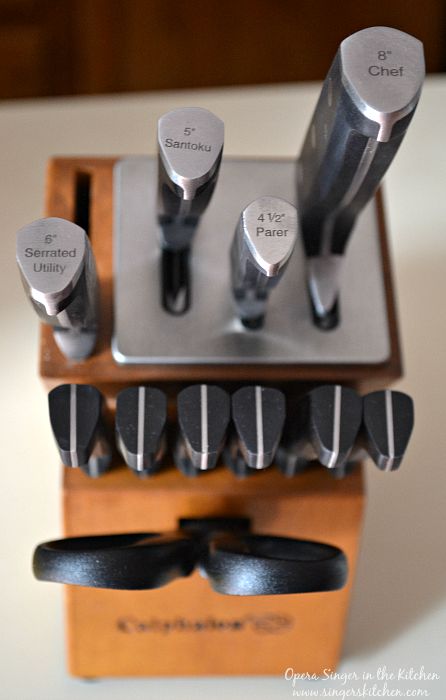 I was amazed by how sharp my knife was and realized that it was like I was using a newly sharpened knife. My husband agreed that it was the nicest knife he has used. We have always sharpened our own knifes but we have usually misplaced our sharpener, allowing our knives to get dull. With Calphalon Classic Self-Sharpening Cutlery featuring SharpIN™ Technology knives stay sharp for a lifetime.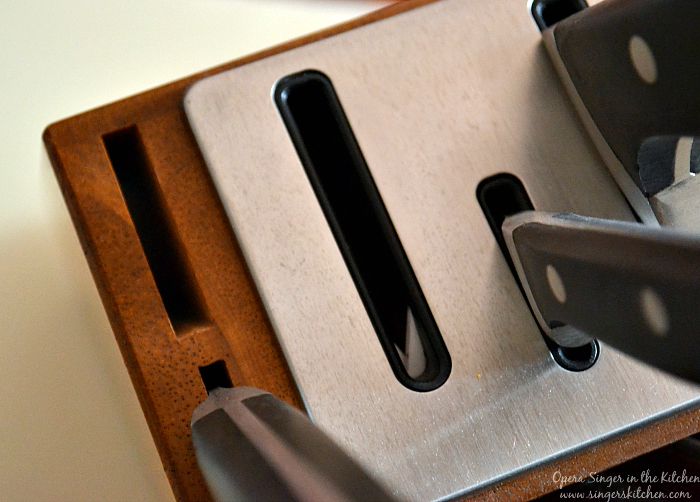 Sharpeners are built right into the block, automatically sharpening straight edge knives every time you remove them from the block to ensure peak sharpness at the start of every cutting task. The 12-pc. Cutlery Set includes a great selection of essential knives for dicing, chopping and more, plus six steak knives, too. Check out the knife block and notice the built-in ceramic sharpeners that automatically sharpen knives with every use. Each knife is forged, high-carbon, no-stain steel although the steak knives are made from stamped steel. We were definitely won over especially when we found out that there is Full Lifetime Warranty.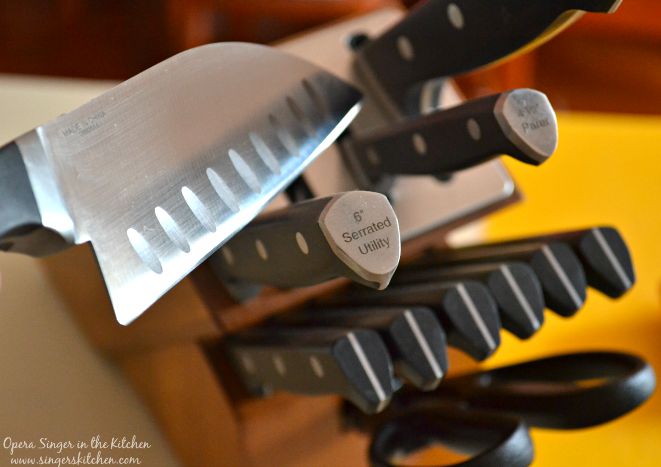 Check out the Calphalon website for this 12-piece set and make it a part of your kitchen. We definitely have used our steak knives in another meal and constantly use the kitchen shears for multiple kitchen tasks.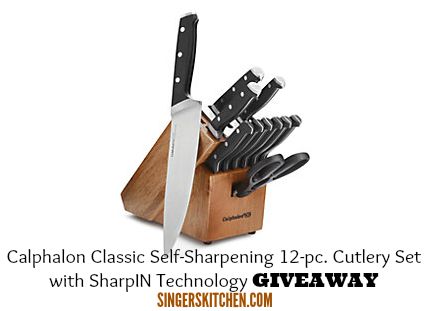 Want a chance to win your own set? If you are a US reader please enter the giveaway and try my recipe below. Good luck on winning!
Prep Time: 10 minutes
Cook Time: 25 minutes
Total Time: 35 minutes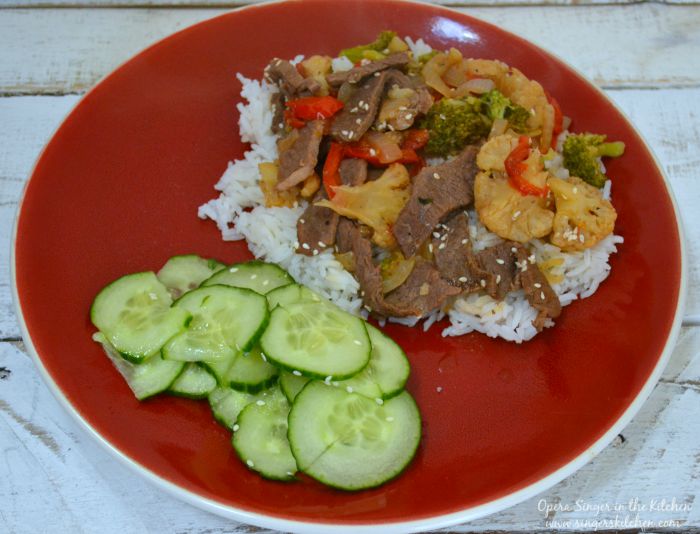 Ingredients
1 pound round steak, slightly frozen and sliced thinly
2 Tbsp sesame oil
1 packet Kikkoman Teriyaki sauce mix
3 cups frozen stir-fry veggies
sesame seeds
1 cup jasmine rice, uncooked
1 1/2 cups water
Instructions
Preparing rice:

Heat 1 tbsp oil on medium heat. Add the rice and fry for about 5 minutes.
Add 1 1/2 cups of water and bring to a boil.
Boil for 2 minutes and lower heat to low and cook for 25 minutes.
Turn off heat.
Slice the round steak in thin slices, not paper thin, but 1/2-inch thick.
Heat sesame oil in a large non-stick skillet and add the beef to the skillet.
Cook for 7 minutes.
Prepare the Kikkoman sauce mix according to package directions.
Steam the frozen veggies or microwave according to package directions and remove excess liquid.
Add the stir-fry sauce to the meat and bring to a simmer.
Add the veggies and cook another 5 minutes.
Serve meal. One cup of rice and 1 1/2 cups of beef stir-fry.
Garnish with sesame seeds.
Serve with a side salad.
https://singerskitchen.com/2015/08/slicing-beef-for-stir-fry-using-calphalon-sharp-in-technology-giveaway.html/
Disclosure: I received product to review from Calphalon. All opinions and photos are my own. Giveaway prize is being supplied by Calphalon.
Related articles across the web
Related