This shop has been compensated by Collective Bias, Inc. and its advertiser. All opinions are mine alone. #SipSmarter #CollectiveBias  – You should consult your physician before consuming Fre if you are pregnant or have any health concerns regarding alcohol.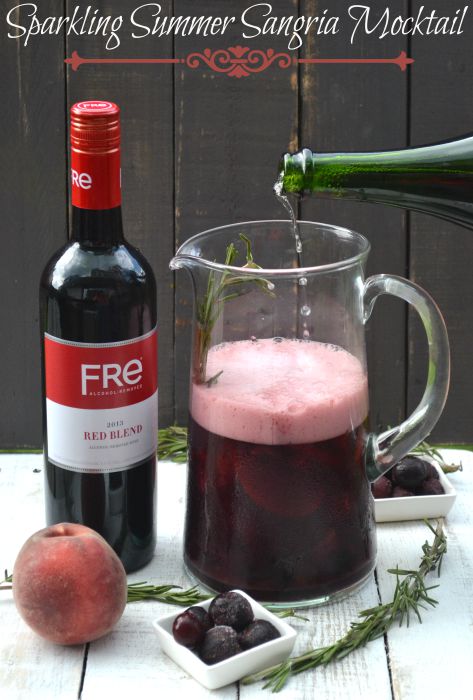 This summer has been such a blur and soon enough school will be in session and we will all be back in a busy schedule until Christmas arrives. Are you overwhelmed yet? I have a few weeks to enjoy the time off especially with my husband being home because then it will be back to business. Before that happens all I can think about is hanging out with friends or even enjoying a lovely dinner cooked by my husband over drinks. I recently was introduced to Fre Alcohol-Removed Wines that would make my mommy parties so much more exciting. Since I am taking care of what I am drinking and eating while nursing, I am also making sure that I wait until I can imbibe on real adult beverages.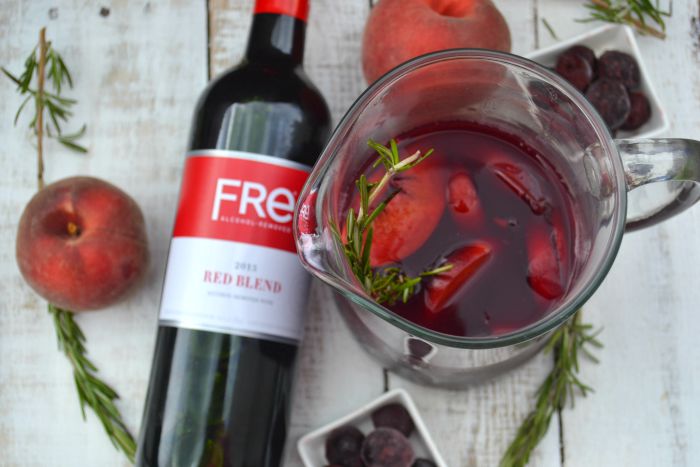 Every time I go to a restaurant I think about the beverages I enjoy the most and usually it involves wine and fruit. Yes. Sangria is probably one of the most exciting drinks that really is a party in a glass. There are so many variations, fruits, wines, and ingredients that can make the drink dull or exciting. My husband and I definitely like to compare and contrast our favorites from around town.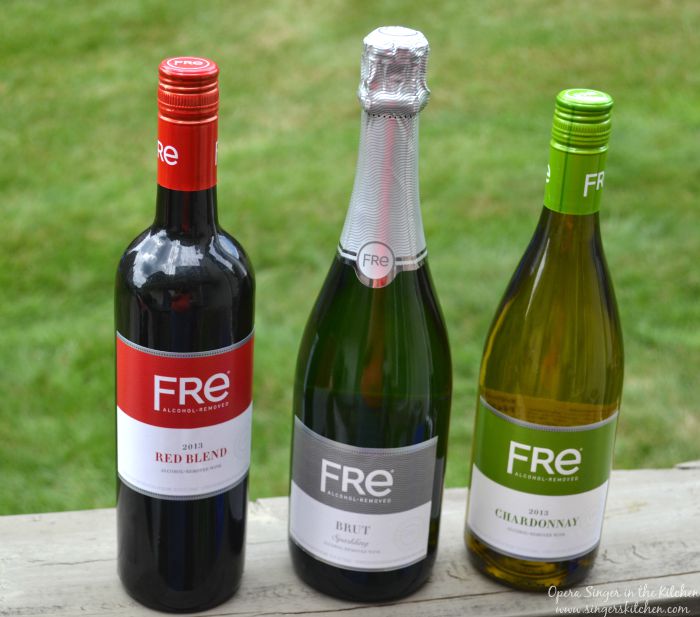 When I saw the options Fre wines offered, I was real excited to come up with a recipe that could be enjoyed by people who cannot or choose not to consume alcohol like myself. Fre Red blend became a quick favorite and was ideal for my sangria recipe but first, let me explain how the alcohol is removed for those who are curious as I was.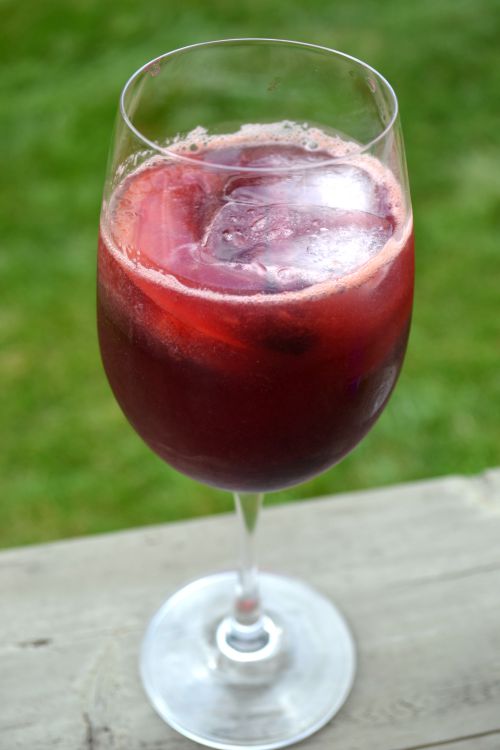 To make Fre, the winemakers use the revolutionary spinning cone column to remove alcohol while preserving the delicate fragrances and flavors of the wine.  As explained by the company, the spinning cone facilitates the removal and safeguarding of fragile wine aromas and flavors at low temperatures, then removes the alcohol at slightly higher temperatures. The wine essences are then reintroduced to the dealcoholized base wine and blended with unfermented grape juice. The finished product is a rich, delicious beverage with the characteristic aromas and flavors of premium wine. The finished product is a fresh, delicious beverage with all of the characteristic aromas and flavors of premium wine, but with less than 0.5% alcohol and half the calories of traditional wine. Who can argue with that?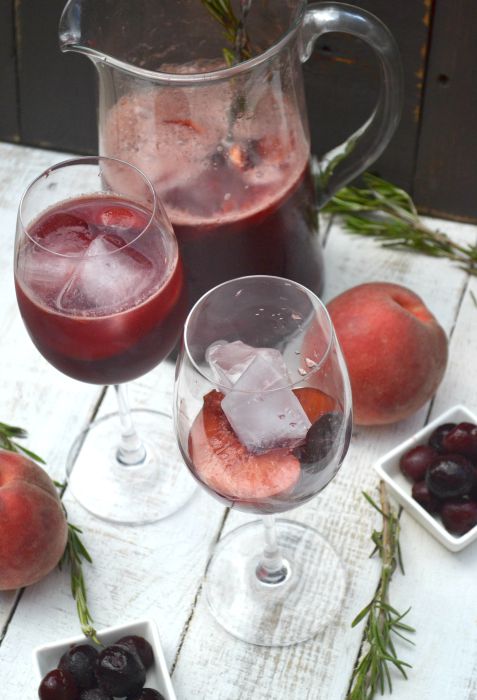 Fre Red Blend has a combination of fruit flavors that are my favorite like cherries so I knew I had to incorporate cherries in my sangria recipe along with some sweet peaches. I also made it sparkling with Fre Alcohol-Removed Brut to add fun bubbles. I was just excited to have a beverage FINALLY that I could enjoy without the guilt. As I made the beverage, my husband took care of our lunch consisting of pulled pork nachos.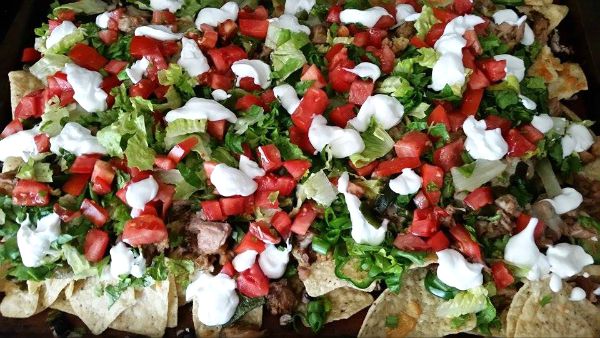 The combination of my drink and his meal made for a delicious pairing. I can't wait to create the same menu for a Mom's Night In when I can entertain here in the next couple of weeks.Make my Sparkling Summer Sangria Mocktail with Fre Wines or try the other wines they offer with friends and family and make it your favorite go-to non-guilty pleasure.
Who would you introduce Fre Wines to and what would you pair it with?
Yield: 6 glasses
Serving Size: 6 to 8 ounce glasses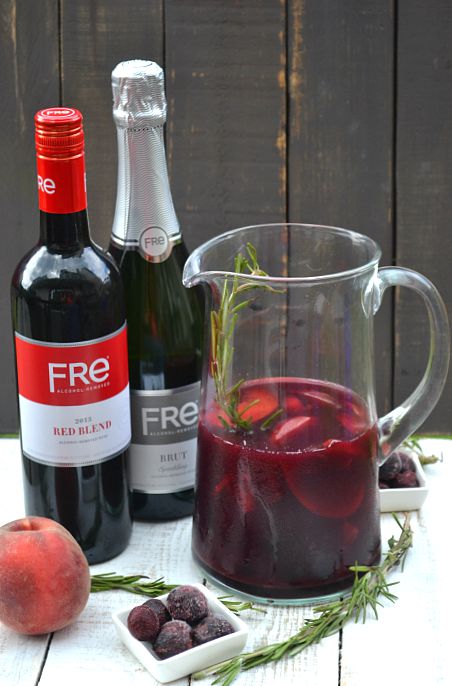 Ingredients
1 bottle Fre Red Blend Wine
1 bottle Fre Brut Sparkling Wine
1/2 cup orange juice
1 cup hibiscus tea, brewed and cooled
2 peaches, peeled, pitted, and sliced
1 cup frozen cherries, sliced in half
1 orange, peeled and diced
1 fresh rosemary sprig
ice
Instructions
Brew one hibiscus tea bag in 1 cup of hot water. Allow to cool and set aside.
In a glass pitcher, add the Fre Red Blend Wine and add the hibiscus tea, orange juice, peach slices, sliced cherries and diced oranges.
Add the rosemary sprig to the sangria.
Seal the pitcher with Saran wrap and place the pitcher in the fridge overnight.
Before serving, pour the Fre Brut Sparkling Wine in the Pitcher.
Add 2-3 cubes of ice to a 6 to 8-ounce wine glass and pour the sangria and serve.
https://singerskitchen.com/2015/08/sparkling-summer-sangria-mocktail.html/
Related articles across the web
Related