This shop has been compensated by Collective Bias, Inc. and its advertiser. All opinions are mine alone. #EffortlessMeals #CollectiveBias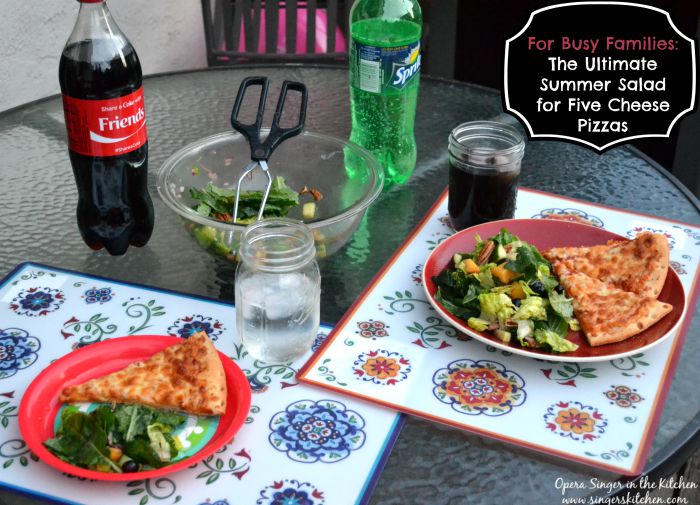 It has officially been 3 weeks since I had my third daughter and I simply cannot believe that it feels so long ago already. Now that we have an added a fifth member to our family, it only means that life is a little busier than usual. I'm blessed to have my husband for most of the summer since he works for a school but that has not always meant that I am not still busy. Since having our baby, meal planning and cooking has been a bit of a challenge. Once September comes along, my husband will be right back to work five days a week and I will be in charge of making meals again. I recently discovered that Walmart has effortless meals ready for families who are a little busier than usual.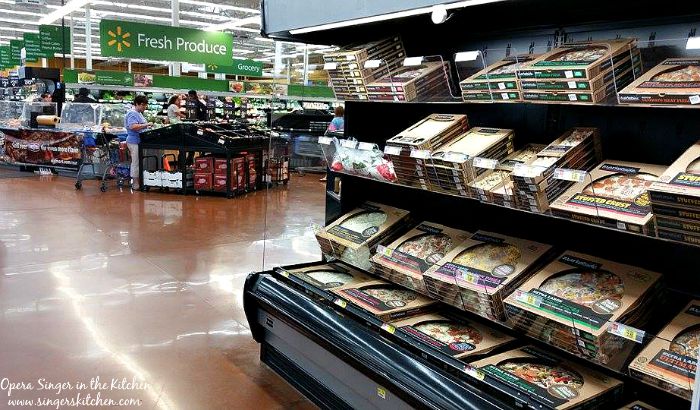 As I walked into the store I was happy to find meal options for my family. While I am usually the wife that loves making everything fresh, I have had to let go of that principle on occasions due to busier weeks. I remember growing up and having my mother pick up a rotisserie chicken and adding it to a green salad to make for a healthier dinner but one that would be ready very quickly. I never complained but looking back I realize how genius and awesome that stores like Walmart have ready-made meals for complicated times of the week.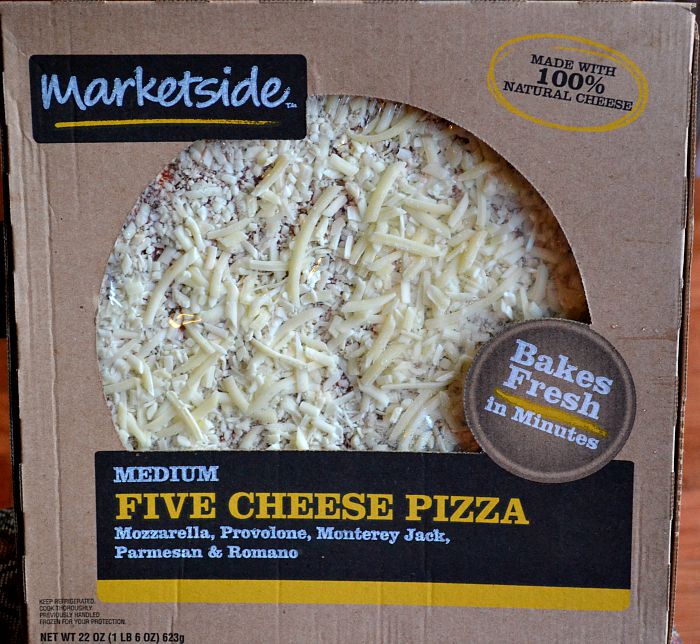 One of the meals my family enjoys eating during the week is pizza. While I like buying dough and the additional ingredients to MAKE the pizza, my life at this point does not allow me to do this, especially with a newborn and 2 toddlers. Walmart has Marketside pizzas for easy pick up to either grill or bake at home while adjusting to either a change in lifestyle like a baby or with other families getting back in the back-to school routine. We will have ONE toddler going to school and my husband, so I know we also will have some more challenges as the school year approaches.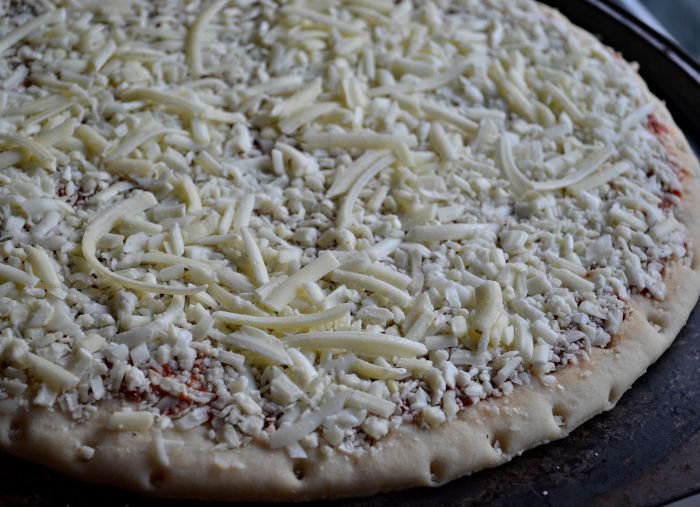 Effortless Meals are convenient to purchase, help provide healthy, fresh options for dinner during back-to-school, and create a positive mealtime experience for your family. While many might not think that pizza is such a healthy option, I think it is when one is enjoying it once a week with a huge salad. 
Something that my husband did not enjoy while growing up were salads when eating pizzas. We on the other hand always had a large salad to accompany or pizza nights while growing up because then we did not feel so guilty eating pizza, or it would even help not overeating. I also hold the same principle in our family when it comes to pizza night in our family, but how do you get even your toddlers to eat salad or adults to go for seconds?
I have found that when I vary the greens in my salads and then add a combination of mixings like fruits, nuts, and veggies that my family will not focus that they are eating baby kale or spinach. Yes, even you can make your pizza night healthy with the addition of a quick and healthy salad that will have your family asking for more. Include your kiddos in the salad making and it will definitely ensure them eating it.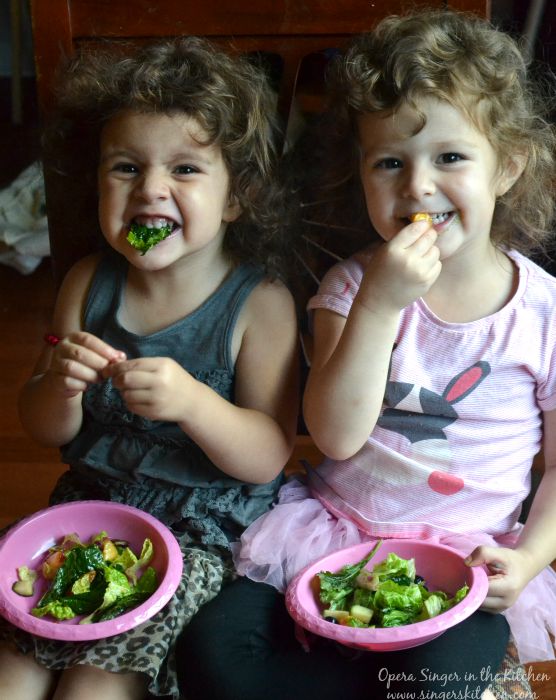 My girls helped me mix the whole salad and while they saw what I added into they were excited to eat it. Here is what you do:
Preheat your oven and get your Marketside pizza ready on a baking sheet. We chose to eat the 5 Cheese Pizza especially since I had a nice special salad that would accompany it well.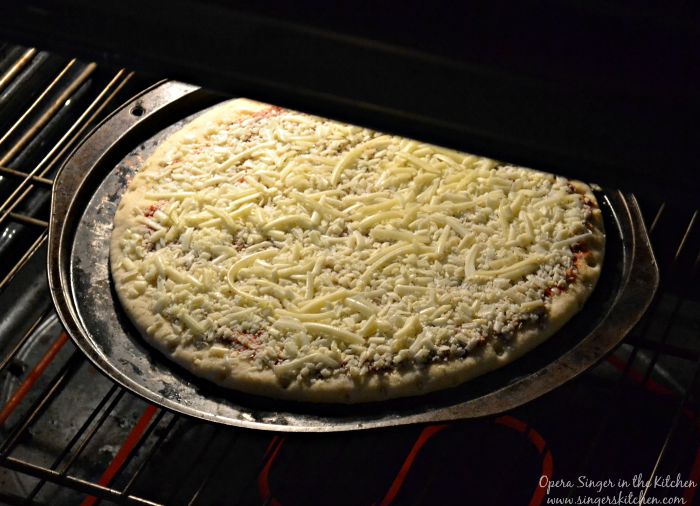 I mixed in two different kinds of greens for variety like romaine and baby kale.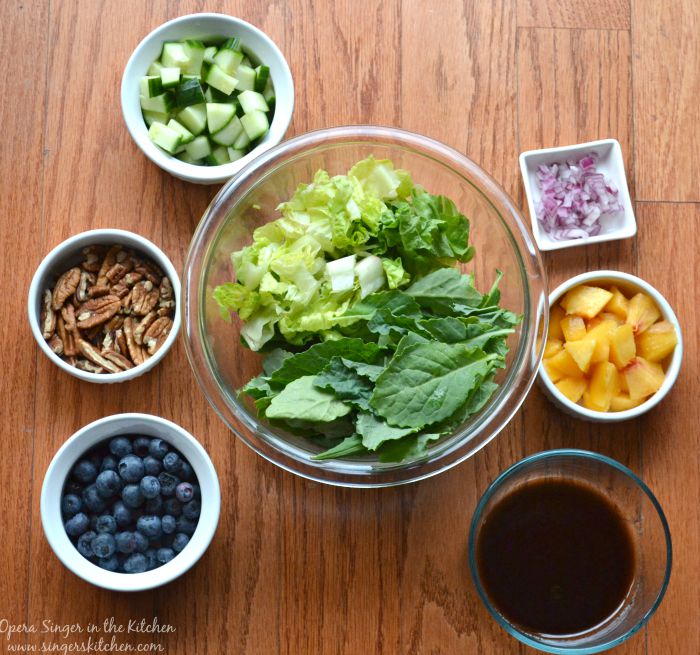 I then diced English cucumbers, fresh peaches, and red onions and set aside a few other ramekins with pecans and fresh blueberries.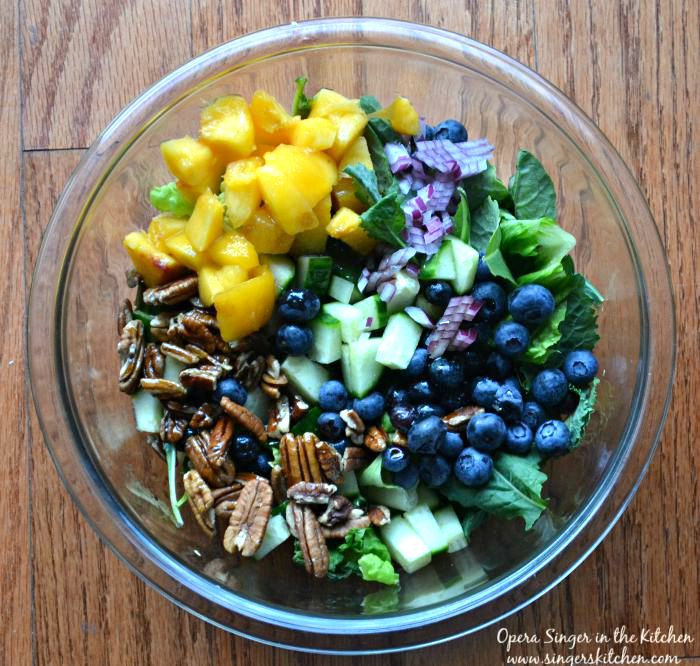 While I normally like creamy dressings when eating pizza I decided that a lighter dressing would be better enjoyed since we were having cheese pizza. My girls have not liked the creamy dressings so I went with a sweeter balsamic dressing made from honey that brought the salad together. The honey balsamic was not as tangy which made the girls enjoyed the salad a lot better.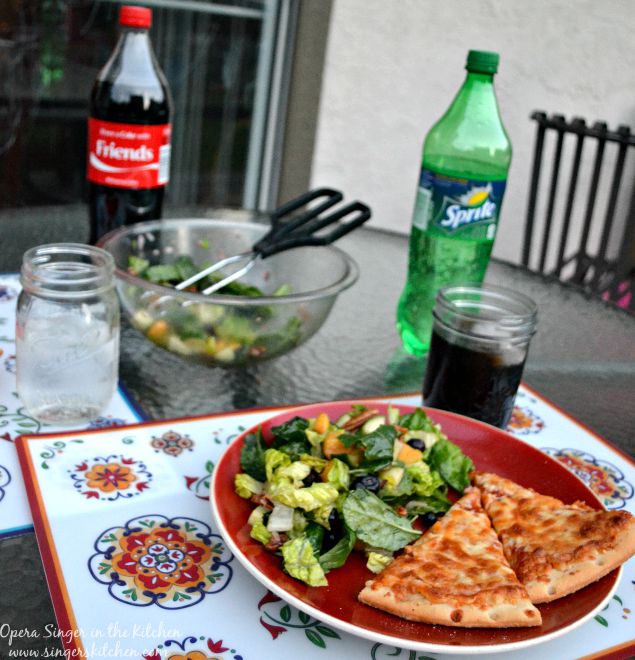 They were ready to dig in especially since there was fruit and nuts in the salad. I just reiterated that they were to eat it with the lettuce and guess what? They ate the salad. This salad allowed my husband and me to eat two servings of it and it helped me not to overindulge in pizza because it was just so delicious. It made for a balanced meal with the pizza.
The pizza was then ready once the salad was finished, just in time to get everyone to dinner. So now that I had not spent such a long time in the kitchen, the food was ready with little chaos. Everyone knows that kids get a little rambunctious during meal prep time but having help from them eases this and then our whole family sits together for a meal.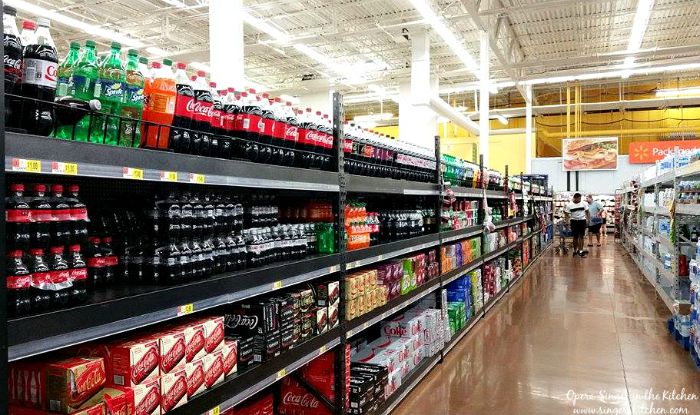 If sitting down with your whole family got meal time is important as it is for us, you will have to try these effortless meals available at Walmart. The signage at the store makes it easy for people to find what to make for dinner with little effort!  Not only are the Marketside Pizza Meals and 2-liter Coke products available at Walmart but they also have a Rotisserie Chicken Meal which includes the sides and the 2-liter Coke products.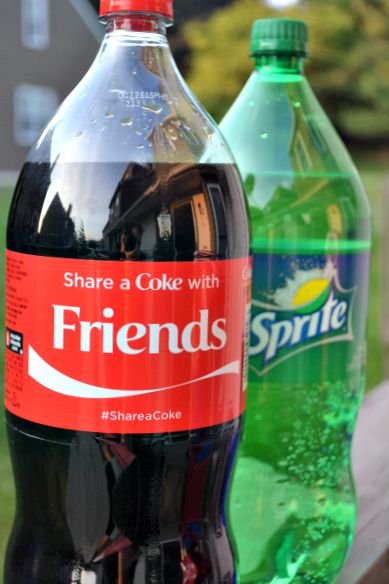 Be sure to check out more delicious effortless meal inspiration. How would you pair Marketside products with Coca-Cola?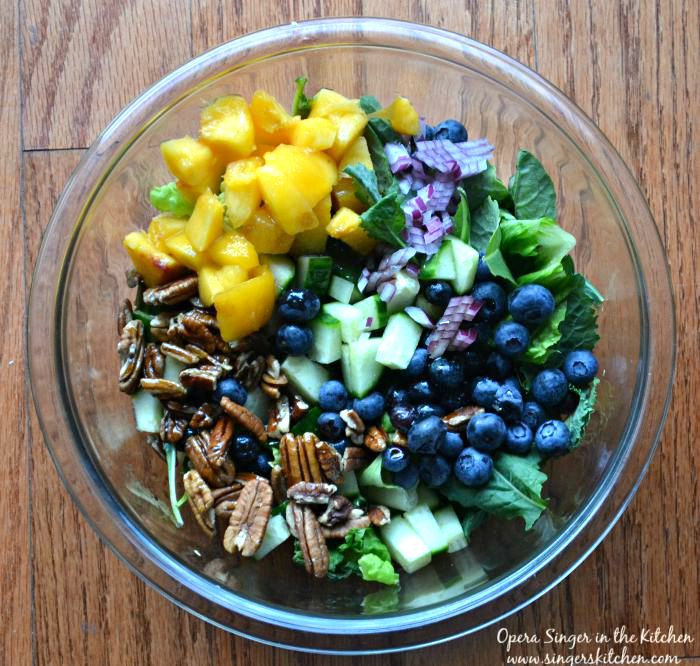 Ingredients
Salad:

2 cups romaine lettuce, chopped and packed
2 cups baby kale, packed
1 cup English cucumber, diced
3/4 cup pecans, chopped
1/2 cup fresh blueberries
3/4 cup fresh peaches, peeled and diced
1/4 cup red onion, diced

Dressing:

1/3 cup honey balsamic vinegar
1/2 teaspoon salt
1/4 teaspoon black pepper, crushed
Instructions
In a large bowl, add the lettuce and the rest of the ingredients.
Mix the ingredients for the dressing and add to the salad right before serving the baked pizza.
The dressing will wilt salad quickly so prepare before serving.
https://singerskitchen.com/2015/08/the-ultimate-summer-salad-for-a-five-cheese-pizza.html/
Related