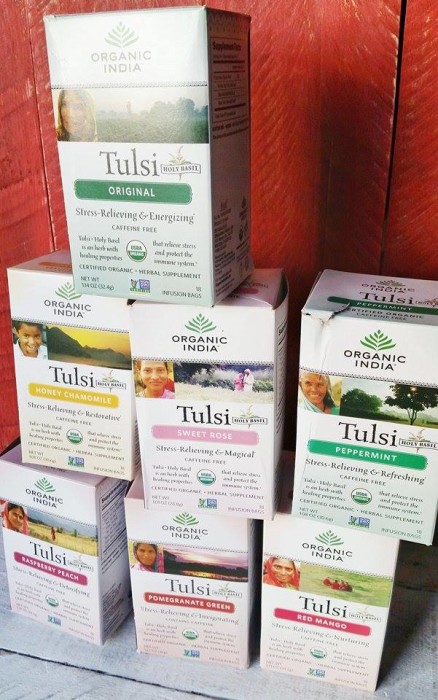 Now that fall has arrived it is time to bring in the warm beverages. If you looked at my pantry and excess stash you would immediately see that I am a tea and coffee fanatic. There is always some tea to try or a tea that sounds delightful. It does not matter if it is white, black, green, red or herbal, the box just needs to read tea and I am smitten. Although I am a collector of teas for enjoyment, I enjoy and love having teas for medicinal purposes.
Along with the nicer weather also comes cold season. I am always on the lookout for medicinal herbs, teas, syrups, tonics to give our family in order to prevent serious colds or ailments in our home. My husband is one to immediately seek pills and medicine to fix his ailments, but he knows that I will be bringing him some tea to help his colds and sore throats.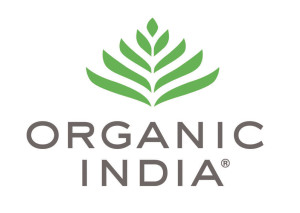 I recently was introduced to Organic India Tulsi tea as a Moms Meet Ambassador and as I learned about their product I found out that Tulsi tea is considered India's "Queen of Herbs" for more than 5,000 years and has been revered as one of the most sacred herbs in India which I never knew! Although they have over 20 delicious flavors, I received a eight of their teas that I thoroughly enjoyed. They are:
Original –>Stress- Relieving and Energizing
Peppermint –>Stress- Relieving and Refreshing
Sweet Rose –>Stress- Relieving and Magical
Honey Chamomile –>Stress- Relieving and Restorative
Raspberry Peach –>Stress- Relieving and Detoxifying
Pomegranate Green –>Stress- Relieving and Invigorating
Red Mango–>Stress- Relieving and Nurturing
Tulsi tea tastes great and offers stress relief, increased energy, and a boost to your natural immune system. Although I had heard of Tulsi or Holy Basil, I never knew it had three variety of leaves called Rama, Vana, and Krishna. Each variety has a slightly different look, taste, and smell and when combined, create a perfectly balanced herbal infusion with great health benefits.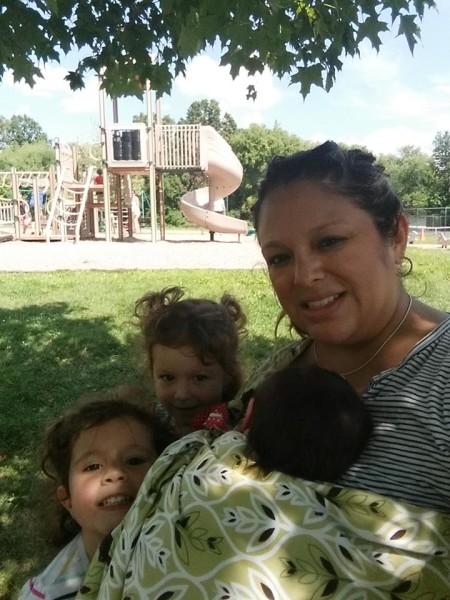 Now that I had THREE children in my home, the amount of stress has increased simply because I am trying to find a balance but this tea comes in perfect timing because what I learned even more is that modern research has classified Tulsi as an adaptogenic herb. Adaptogens have been shown to support the body's natural immune system while relieving the body's negative reaction to stress. Adaptogenic herbs have been used in traditional Ayurvedic and Chinese herbal medicines for thousands of years to promote and maintain wellness. Many adaptogenic herbs have been referred to by herbalists as rejuvenate herbs, qi tonic herbs, rasayanas or restorative herbs. They help the body adapt to environmental, physical and emotional stressors, support normal functions, and restore balance.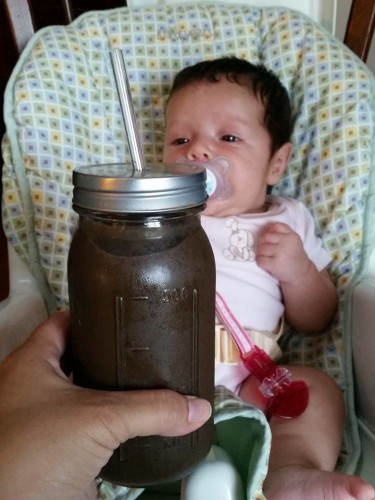 Okay moms, does this not sound like the most ideal tea for our stage in life? Each tea comes with specific details it benefits and aid. Since I am nursing, I still looked up herbs that would not inhibit milk production so I did not taste all the teas but I will be in the future. In the meantime, the teas I did enjoy like the Raspberry Peach was delightful and even great in my morning smoothie.
Organic India Tulsi Tea is USDA Certified Organic, Non-GMO Project Verified, Kosher and Halal certified, gluten-free, and vegan.  One box of Tulsi Tea retails for $5.99.  If you want more information check out Organic India's website or learn more online on Facebook and Twitter.
Save 20% on Organic India products by using the

codekiwi20

. This code is for one-time use only. Be sure to share this with your readers as well!
I received this product for free from the sponsor of the Moms Meet program, May Media Group LLC, who received it directly from the manufacturer. As a Moms Meet blogger, I agree to use this product and post my opinion on my blog. My opinions do not necessarily reflect the opinions of May Media Group LLC or the manufacturer of this product
Related