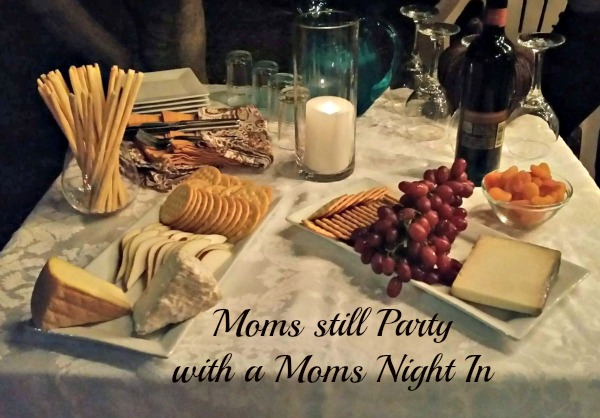 As my life changes with the addition of a third baby in our family, different responsibilities are added and my lifestyle changes. Since I started this blog, I originally intended it as a place to record my recipe creations and little by little it has become more than just a blog about recipes but a place where I record everything we do as a family including the recipes I create at home. While my passion is still what I cook and create for my family it is now about creating a balance between everything I enjoy doing and creating. I felt like I needed to explain why there were more posts about life than recipes.
One of the things I have enjoyed doing lately is hanging out with moms after the kids go to bed. Other than the activities I have during a weekly basis and church on Sundays, it is hard for a mom to actually HANG out with other moms. Our lives are so focused on our families, but in fact, I need friends, and in particular, moms who know the amount of stuff we deal on a daily basis. As I work on my fourth year living in Pennsylvania as a mom of three girls, I think it is safe to say that it is TIME to start hanging out with other moms over some wine. Am I right?
Thanks to my friend Leah F. she wrote the post below about our recent Moms Night IN where it only required moms to come to her house to hang, drink, and chat. It was the most amazing FOUR hours of my life as a mom. I loved hanging out and being real.
When you finish reading, tell me what you miss most as a mom.
Wine and Cheese Mom's Night
What do you do for a Mom's night out, a movie, the local restaurant, or bar? How often do you enjoy a Mom's night IN? I recently had a Mom's night in party at my home, but I wanted to make it a little more special than just hanging out in our comfy clothes, so I had a Wine and Cheese night. I invited three girlfriends and asked them to bring their favorite bottle of wine and I would provide the rest. I had so much fun planning and decorating the table, and since I was having this party in September I thought I would make it a fall theme. I have a small front yard with decorative lights hanging from our pretty tree, and I thought it would be nice to enjoy the cool fall evening outside, so with that in mind I went to HomeGoods to see what fun things I could get to decorate my table. I wanted to keep it simple, but pretty. I purchased a large glass votive with a white candle, I made sure the candle had no scent so as to not mix the cheese and wine flavors with a strong candle. I also purchased cloth napkins, a beautiful gold color and a patterned napkin with fall colors. I think it's fun to mix and match cloth napkins with a similar color scheme. The napkins and the candle were all I needed to get started, I had everything else I needed at home.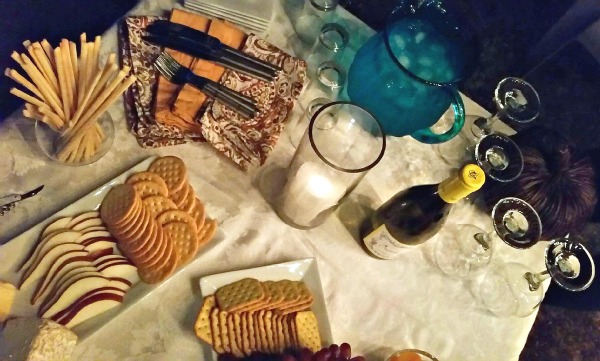 The day before the party, I went to Wegmans to pick out the cheese and additional food items. When serving cheese, I like to get three different kinds, I think that is a good variety and enough to serve four ladies. You can really choose any type of cheese you want, but I went with some basic flavors, triple creme blue cheese, a cheddar type cheese, and Chimay cheese. After you choose your cheeses, you are ready to add different accompanying items. I chose a big bunch of red grapes, a couple beautiful red pears and some dried apricots. Again, you can add to your table with anything from honey to jam to crusty bread. After I picked out the cheese and the fruit, I headed over to the cracker aisle. I found these bread sticks called "wine sticks", how perfect is that?! I grabbed two boxes and a large box of assorted water crackers. I like to use plain crackers because the cheese is so flavorful you don't want to ruin it with a strong flavored, really salty cracker. That's it, that's all you need to get your party started!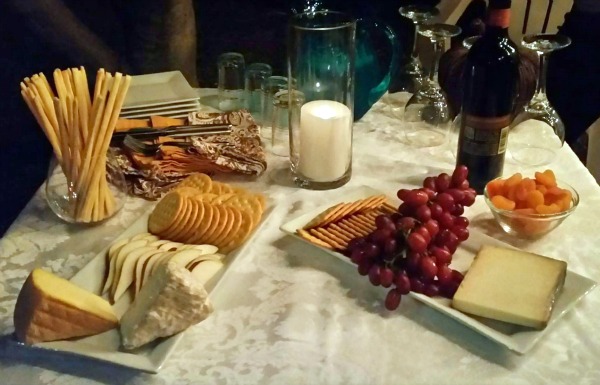 The evening of the party I began to get set up outside, I used a small square table, it helped provide a cozy place where we could all sit around the table and talk and easily reach all the food. I used a white table-cloth, since I had the colored cloth napkins. I put the votive and the candle in the center of the table, and laid the cloth napkins out neatly fanned out in the upper left corner with the silverware and small appetizer plates near by. To the right I used a wicker pumpkin as my set up area for the wine glasses and wine opener. I also set out a water pitcher with small glasses, it's always nice to have water available for those who might not be able to drink or who just need to quench a thirst. I used plain white appetizer plates and serving dishes, I think it looks elegant when you use plain white dishes, it helps to enhance the colors of the food and wine. I left the cheese whole and placed it on the plate with the crackers and grapes and thinly sliced pear. I put those wine sticks in a stemless wine glass, it was something different rather than just laying them out on a plate. I lit the candle and just like that our wine and cheese night was ready to go!
It really was very simple to put together and it was so fun decorating a pretty table for the ladies to enjoy! My girlfriends arrived with their wine and we opened the bottles and served ourselves some cheese and started talking and laughing the night away! One of my friends brought a delicious chocolate wine cake with whipped cream, which was a delightful way to end the evening! Enjoying a Mom's night out is always a much-needed reprieve to our busy lives, but a Mom's night IN can be just as fun and elegant!
Related