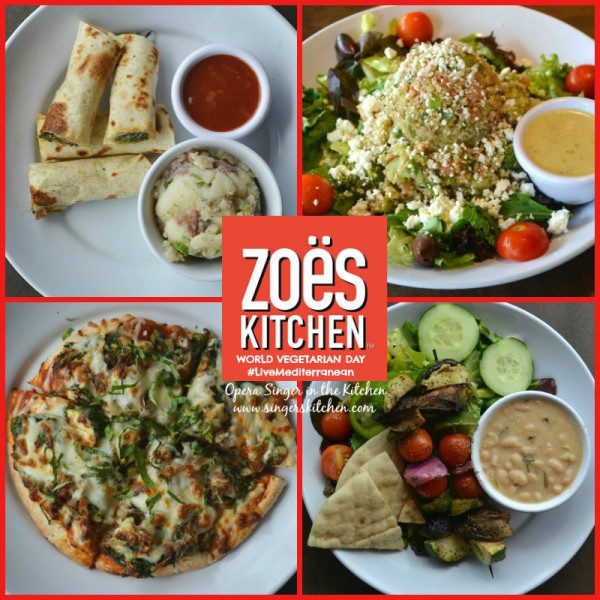 If you have been following my Instagram feed lately you can tell that I have been enjoying a little more vegetarian and Mediterranean fare. After having my third baby, I am ready to eat lighter and move the pounds out of the way. I know that when I eat more veggies I feel a lot better all around. One of the things I like towards the beginning of each pregnancy is Mediterranean fare and then it quickly goes out the window during the second trimester. Needless to say, when I regain my senses or have my baby, my palate is restored.

World Vegetarian Day is today, October 1st, and it is a kick-off to Vegetarian Awareness Month. Have you ever been vegetarian for one day? How about a whole month? You can easily take a pledge and make it happen especially if you have places to dine like Zoës Kitchen. Any place that offers a variety of dishes for vegetarians is good in my books. I actually was a vegetarian for a whole two years before eating meat again once I met my husband. I remember those years being amazing!
As part of the kick-off to World Vegetarian Day,  I was invited to try out the vegetarian dishes available at Zoës Kitchen. If you have never visited a Zoës Kitchen, it is a fast-casual Mediterranean restaurant with made-from-scratch recipes prepared daily. When the manager explained how every dish is prepared daily, I was really impressed because fast is not usually paired with fresh. Zoës Kitchen originated in the South and consists of recipes created by the owner's family recipes.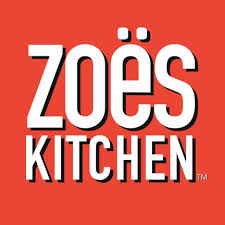 While I lived in Houston all my life, I never visisted a Zoës Kitchen until now and I was impressed by how fresh every dish we received to taste. I was smitten and was almost saddened there was not a location near where we lived but now we had an excuse to go the location closer to our church.
As we sat at the restaurant, Imani, the manager explained the menu to us, showing us where all the vegetarian options were located. Many of the menu items we found out could be made vegetarian if needed or desired but even so all menu items were very well labeled with a big yellow V indicating a vegetarian dish. It was really hard to chose which dish to try first but we started of with Zoës Kitchen newest appetizer offering: the Hummus trio.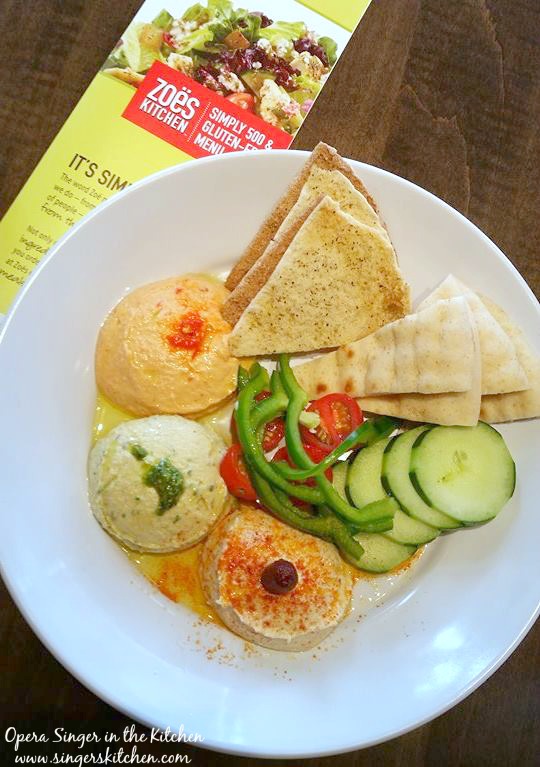 We received a regular hummus, pesto hummus, and red pepper hummus which was slightly spicy. It was served with cucumbers and pita triangles and drizzled with oil. My husband and I really like hummus so starting us with a variety is the way to go. The basil pesto was probably my favorite because of how savory it was but the original hummus was creamy that it could have eaily been a tie.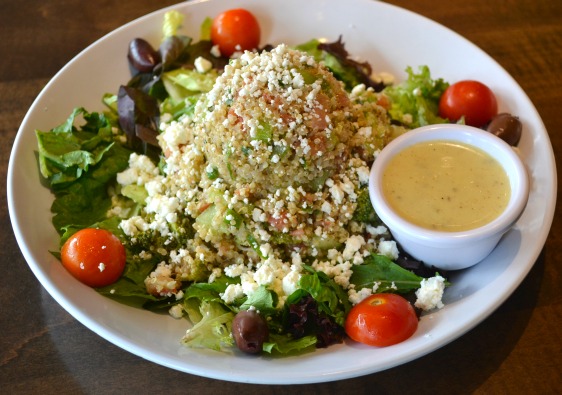 The next dish we received could have easily been a meal in itself. Even though I like quinoa, I have not embraced it as much as I should. Zoës Kitchen offers a unique Quinoa Salad that is packed with lots of veggies and presented so beautifully with a lemony vinaigrette. Even my husband thought it was tasty which says a lot coming from my meat-loving husband.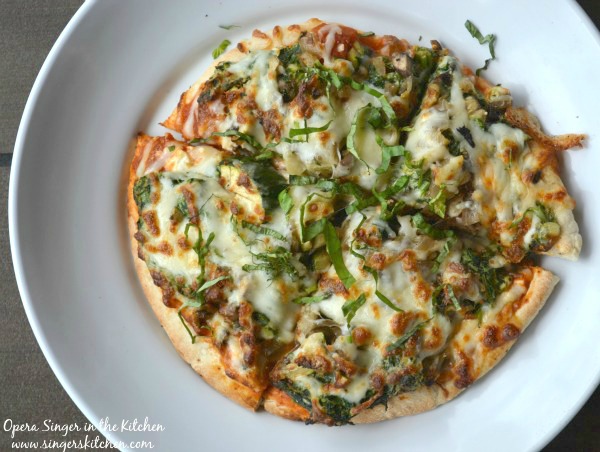 If you have a meat pizza lover in your family, the Veggie Pita Pizza could convince them to eat more veggies. There were hearty portions of spinach combined with mozzarella layered on top of marinara and a pita pocket, including caramelized onions and mushrooms as additional toppings. The flavor of the pizza was fresh with lots of basil and garlic. I was really surprised at how sturdy the pita pocket was and I made a mental note to place them on my grocery list.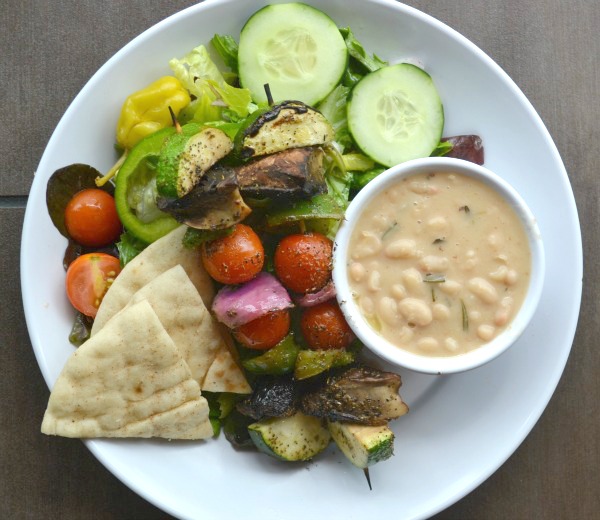 One of my favorite dishes I tried were the Veggie Kabobs which were probably the tastiest charbroiled veggies I have tasted in a while. The portabella mushrooms, zucchini, onions, and peppers were sprinkled with Zoës Kitchen's signature herb blend along with some lemon juice and olive oil. Everything was so juicy and savory especially paired with the braised white beans that accompanied the kabobs. Who says vegetarians don't get protein? The braised beans were probably some of the tastiest beans my husband and I have tasted. It was seasoned with rosemary and were so creamy despite there not being any cream included in the recipe.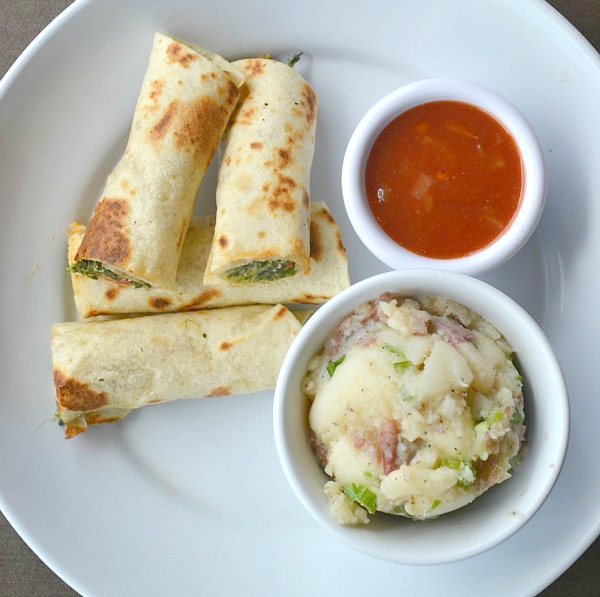 In addition to the starters, soups, sandwiches, and entrees, there were assortment of sides for any vegetarian to choose from and to have the option of interchanging with certain dishes that already came with sides. For example, we tried the Spinach Roll-ups which are basically tortillas filled with spinach, mushrooms, tomatoes and feta. I thought of my toddler girls when tasting these because they are easy to hold and eat especially with the dipping salsa. That dish had the option of having a side so we chose the potato salad that is not cream based.  There was also an option for fruit or a marinated slaw as well.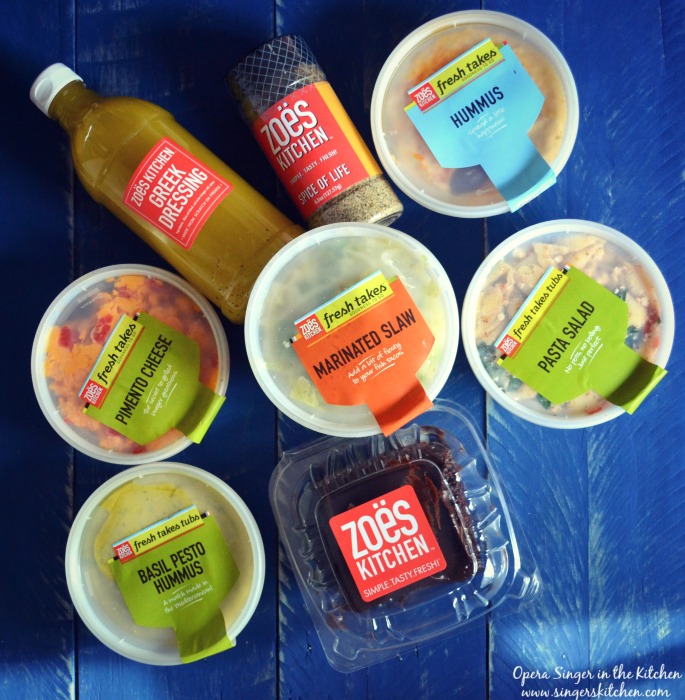 If we had a chance we could have stayed longer to go through the whole menu but we definitely had an idea of what Zoës Kitchen offers for vegetarians or even for anyone wanting to go vegetarian for just one day. Even so, the Mediterranean diet has been proven to be one of the healthiest so you can't go wrong.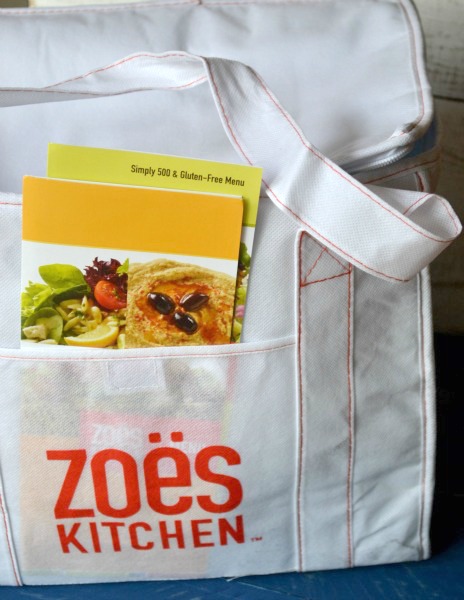 Need inspiration for going vegetarian? If you are active on social media, use the hashtag #vegetarian, #WorldVegetarianDay, #livemediterranean and take a glimpse of what others enjoy. It might just convince you to do it several days a week.  If you get a chance, try a local Zoës Kitchen and let me know what you think. I know my mom is a big fan.
Related articles across the web
Related