When December arrived I was very sure I would not be ready for Christmas but now that it is almost here, I am so excited. Part of that excitement and anticipation for the holidays has come from really dwelling on the real meaning and reason for Christmas. Establishing new traditions and teaching our children what the real meaning of Christmas has been really important for us as a family. The last thing I want for our little girls to know is that it is all about gift giving and them receiving gifts. Materialism is not the reason for Christmas but it is Christ being born in a manger, who would later grow up and die on the cross for our sins.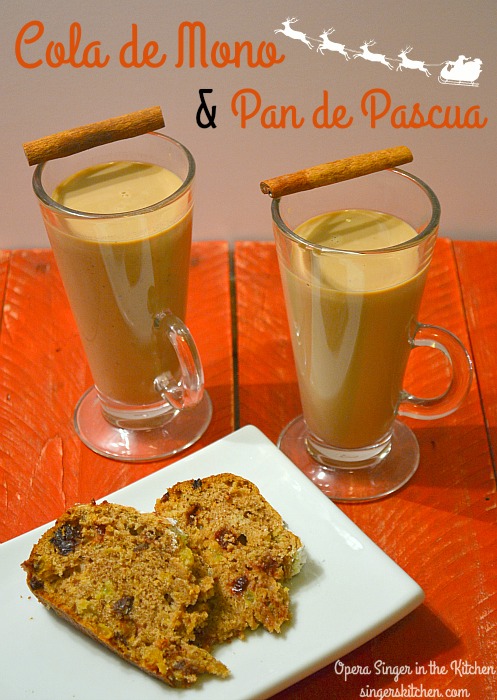 It has been exciting to read the Gospel story as a family and have our girls hear the sequence of events. I finally was able to use our Advent calendar and talk about each day as Christmas approaches. The good thing about consistency and doing something daily is knowing that your children will remember and remind you to do it. It is never too late to start traditions and reading about baby Jesus.
Another part of our tradition is one I really can't forget. Even though I do not have my family from Chile any where around me, I still want to continue on the traditions I grew up with as a child. After having a conversation with my grandfather, who lives in Chile, I was very nostalgic and happy that I was keeping up with certain traditions. I have not seen my grandfather in 15 or more years but I shared with him that I had made certain recipes that my grandmother would make during the season. He was real happy.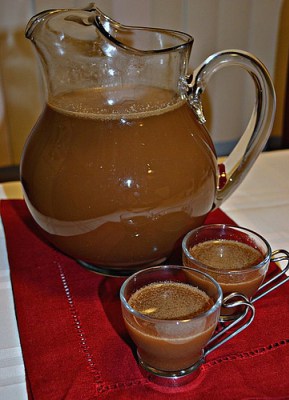 What made me happier was having my husband request one of the recipes for a party! Chileans have a spiked coffee cocktail called Cola de Mono, or Monkey's Tail. The base for the cocktail is milk and the mixings consist of spices, coffee, citrus, and pisco. Even though I have made this almost every year, I have only made it with pisco, which is a colorless brandy produced in Peru and Chile. My husband was able to purchase a bottle this year to make the cocktail. It is the most simple recipe and quite tasty! We took it to our party and a lot of people raved about it. It is served cold and usually with a Chilean fruitcake called pan de pascua.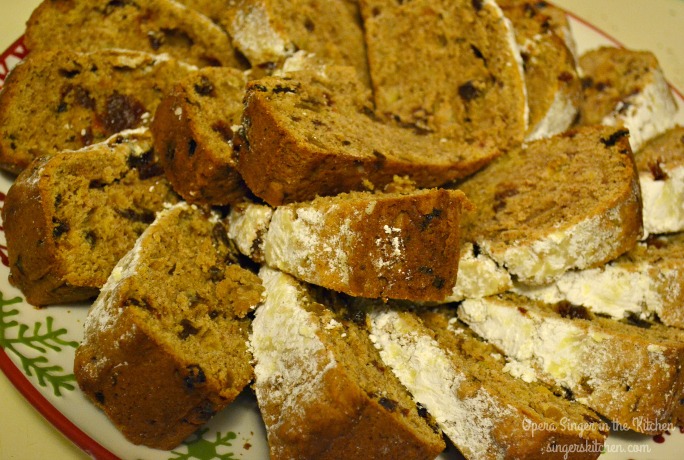 I have only made pan de pascua once and I was okay with it, so I decided to look up several recipes and compare. I remember my grandmother making it but then if I remember well, I was disappointed to know she had short cuts for her recipe which included cake mix. I do remember the recipe tasting good but now as a grown up, I have all the desire to make a true recipe for Chilean fruitcake.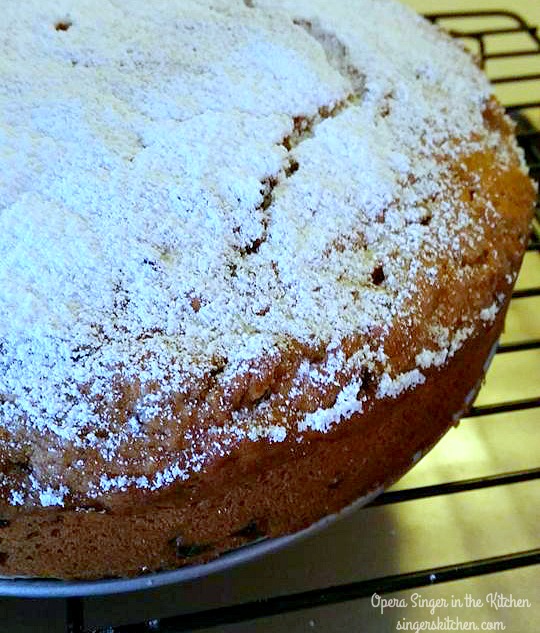 If you are looking for a MOIST fruitcake, the RECIPE I used is the one to try. It is so delicious and amazing. It is even better several days after when it is sliced, stored in the fridge and then warmed up with a little butter. Oh yes. SO good and paired nicely with Cola de Mono. If you can muster going to the grocery store, try making both these recipes. I have already been asked for the cocktail recipe. I do have a vegan version on the site that I will be making for myself since I cannot do dairy.
Prep Time: 5 minutes
Cook Time: 20 minutes
Total Time: 25 minutes
Original recipe comes from http://eatwineblog.com/2011/12/23/cola-de-mono-chile%E2%80%99s-version-of-eggnog/
I added a few modifications. Use coconut Milk for non-dairy options.
Ingredients
4 cups whole milk (for non-dairy, use coconut milk)
3/4 cup brown sugar
5 whole cloves
2 cinnamon stick, broken into pieces
1 teaspoon good Madagascar vanilla extract, or ¼ vanilla bean, scrapped
1/4 teaspoon freshly ground nutmeg
2 star anise
2 Tablespoons orange rind
2 Tablespoons lemon rind
1/2 cup espresso
1 cup Chilean pisco, white rum, brandy or vodka
Instructions
Combine the milk, water, sugar, cloves, cinnamon stick, vanilla, and nutmeg in medium saucepan.
Bring to a gentle boil over medium heat, stirring occasionally until sugar dissolves. Boil for 20 minutes.
Add espresso and stir to dissolve.
Remove from heat. Cool to room temperature. Strain the coffee milk mixture through sieve to remove spices.
•Add Pisco. We were able to find this in our liquor store so try to stay traditional by using traditional spirit. If you cannot find it then a brandy, rum or vodka works.
Chill for at least four hours, or ideally overnight. Pour into a glass pitcher and serve with Chilean fruitcake - pan de pascua. Drink lasts for 2-3 weeks.
Makes 6-8 portions.
Note: I made this for a party by using a gallon of milk. I then quadrupled the recipe.
https://singerskitchen.com/2015/12/chilean-cola-de-mono-pan-de-pascua.html/
Related