For every party there must be that special drink to enjoy with all the amazing snacks, dips, and food. This version of a Bloody Mary will have your guests enjoying a game day cocktail with a lighter savory snack made with hummus. A special cocktail for game day is a must especially when using Sabra Salsa.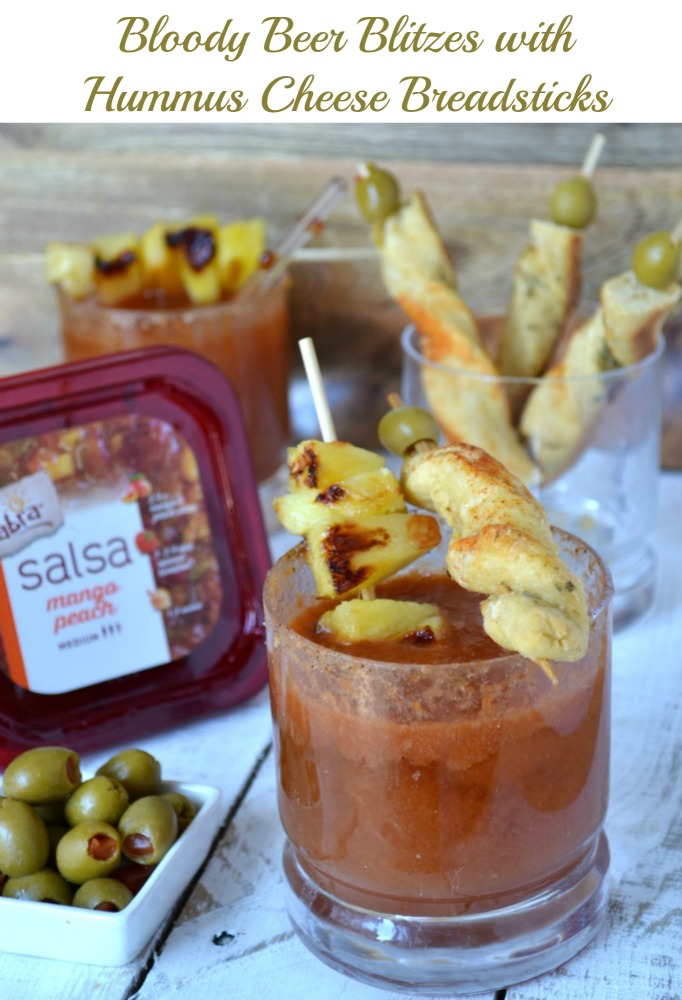 This post is sponsored by the lovely folks at Sabra. All opinions are my own. Make sure you check out the Buy, Snap, Score offer at the end of the post to find out how to score a $5 gift card.
When we were living in Michigan, we loved attending football games and meeting up with friends. Sometimes we would go for lunch afterwards at a local burger place that I would not normally go, but with urging was promised amazing fries and amazing beverages. Sometimes, going into a hole in the wall eatery is not so fun but once the food is experienced, opinions change. This burger place was known not only for their burgers and fries but also for the infamous long island tea. There was a LIMIT on the quantity one guest could have. Really. I had never heard of such a thing until I tried one.
Long island teas are my favorite but this version was almost too strong to enjoy. Many students were known to be found by a tree, taking a nap or passed out because of the drinks potency. I kid you not. When game day comes around, everyone just wants to have a little fun while enjoying the game. Some people go to parties to root for their favorite teams, others go to enjoy the delicious eats and beer. Food is just more enjoyable when shared with others and why not take advantage of it?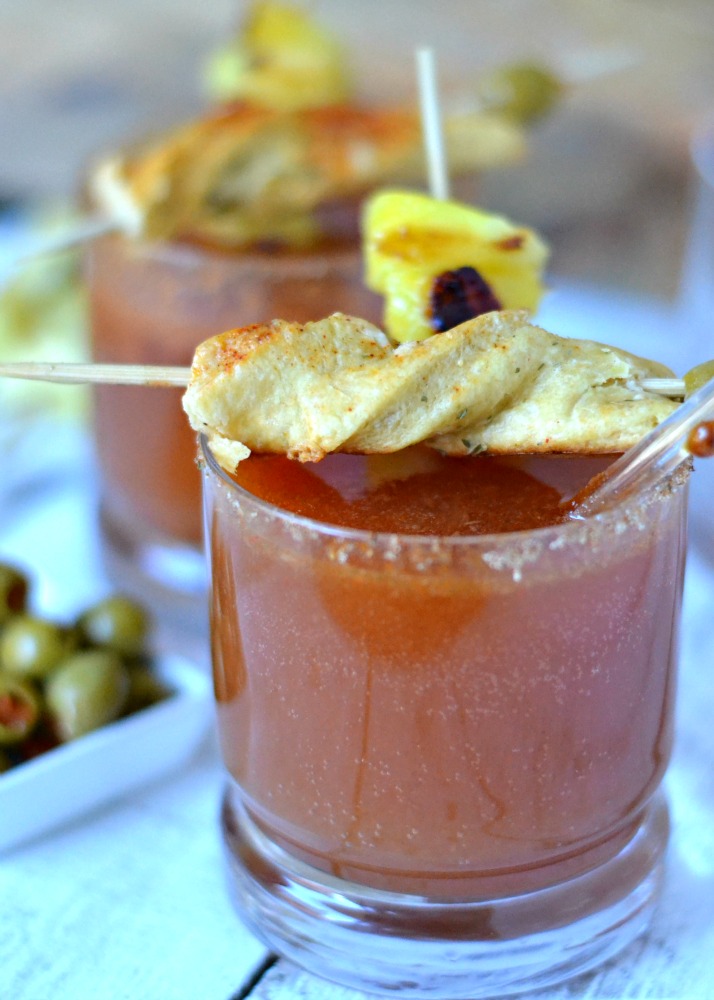 There is nothing like going into a kitchen and seeing the array of dips, appetizers, and snacks available for consumption. One of the things I make sure to have is a fun beverage to go along with my food. This year I decided to take my favorite seasonal beer and create a version of a Bloody Mary for my guests to enjoy.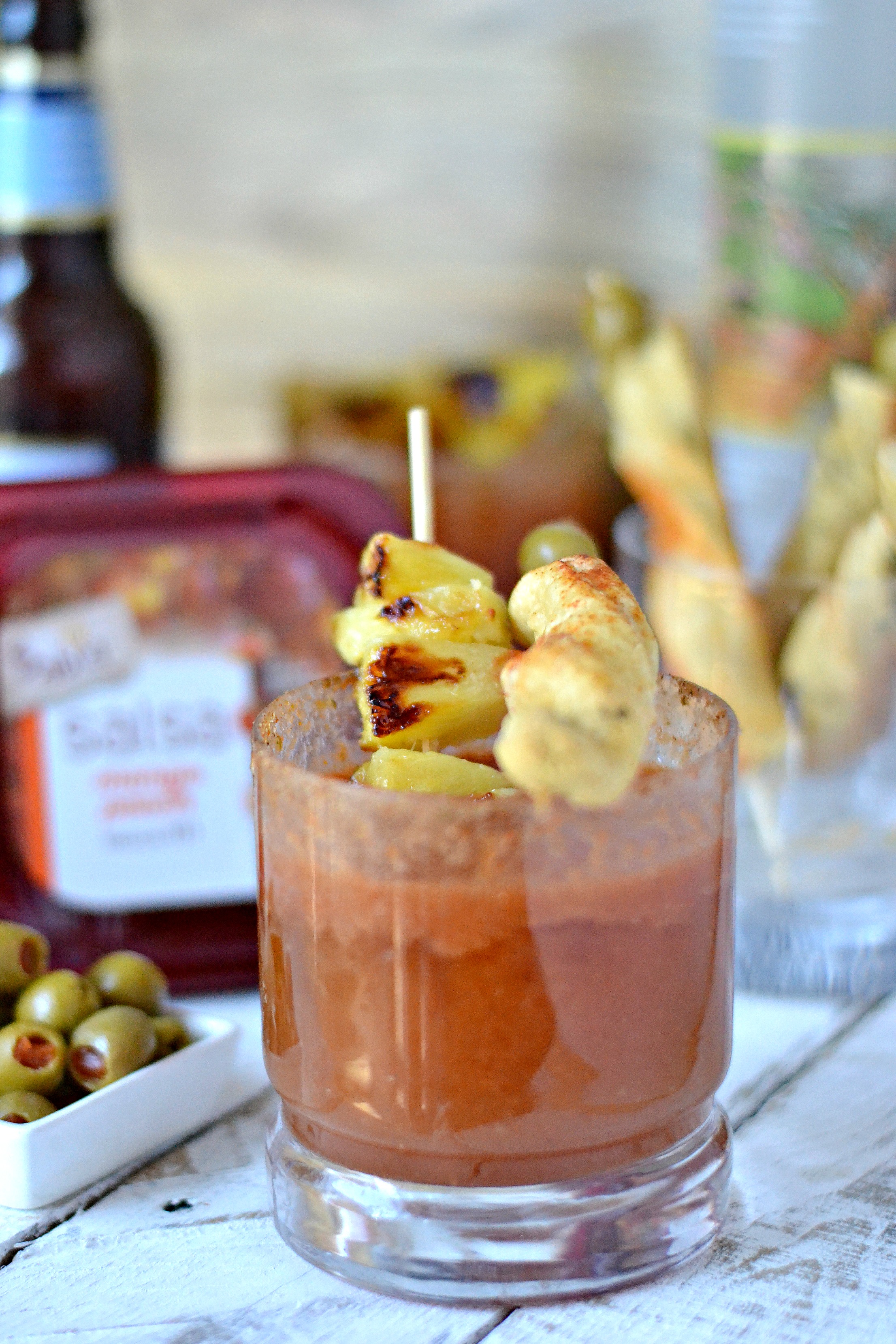 When hosting a party, it is important to make your drink station appealing with a variety of options for guests. While beer is usually the choice beverage at tailgating and game day parties, I thought I would spruce up the drink station with my Bloody Beer Blitzes. I love having themed beverages because then my guests can truly enjoy a drink in anticipation of the event.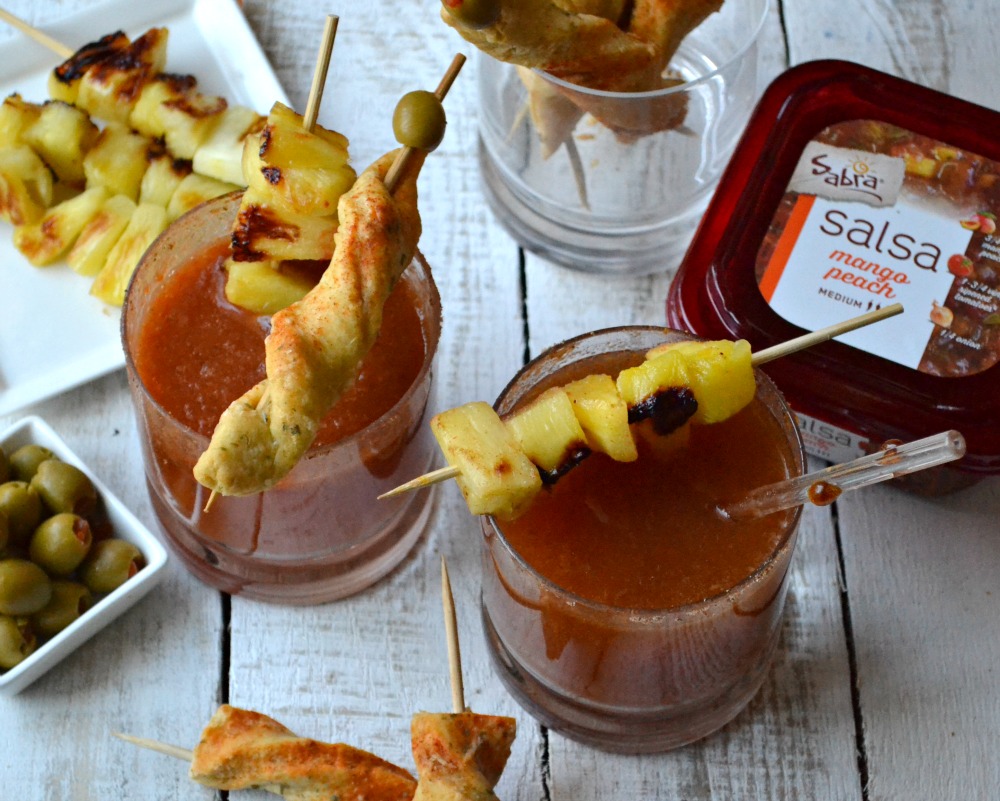 What is a blitz you ask? Well, in football it is when additional players are sent into a game to disrupt the quarterback's pass attempt or to tackle the quarterback. Thanks to Wiki, the Defense can bring all 11 players to blitz the Quarterback. This would leave no one to follow and try to stop a target of a pass. So the defense chooses to bring a certain number of players to try and sack the Quarterback, and leaves the rest to protect against a pass. Bringing 4 players or less is not considered a Blitz. It is only considered a Blitz when the defense rushes more than 4 players.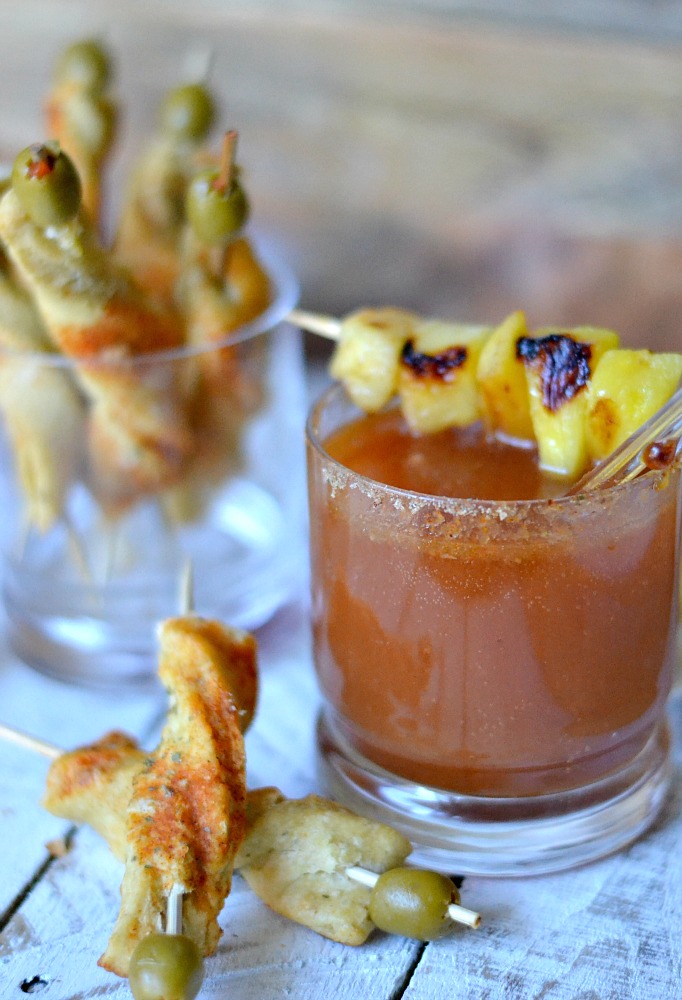 Thanks to Sabra for amazing salsas because they helped me make my Bloody Mary base for my drink. I love how fresh the salsas are especially the mango peach salsa. When I tried all eight varieties, this particular salsa was a winner in my books. Even so, I have created two variety of drinks that can be made for your party, one with a seasonal peach IPA or one with a lager.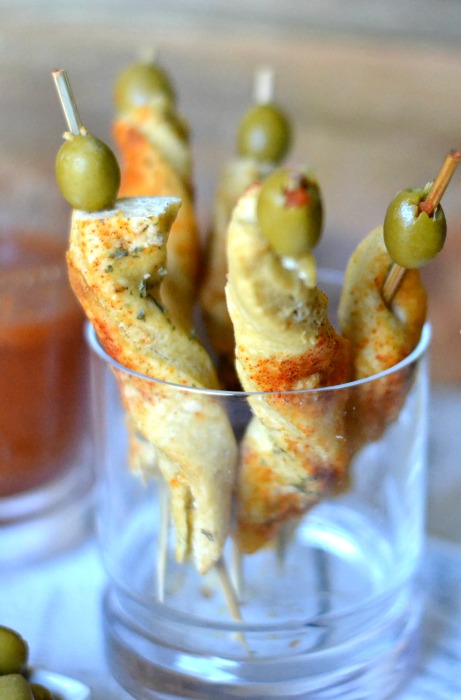 In addition to the drink, my guests will enjoy each drink with a pineapple skewer and a lighter version of breadsticks made with hummus instead of butter. I chose to use the Sabra garlic hummus because it is not only my favorite but it added so much flavor to this recipe. If you want a spicier version, try the Chipotle hummus for an extra kick. I think it would be great with this drink as well.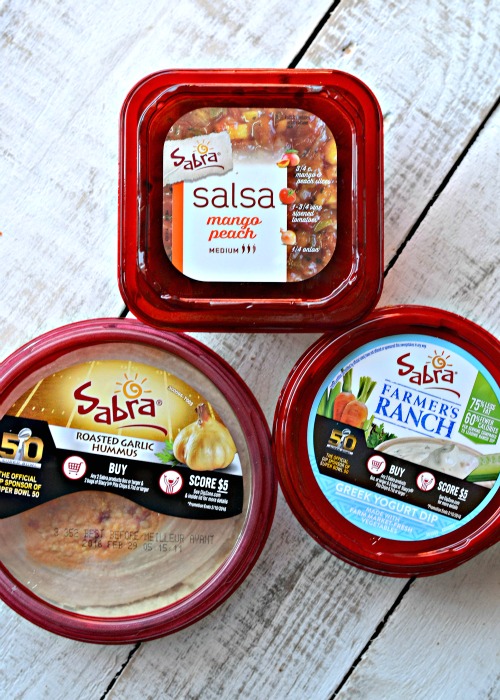 As you plan your parties, know that Sabra has a great promotion going on. When you buy Sabra products and Stacy's Pita Chips together
before 2/15/16

you can score a $5 gift card. Buy 2 of each product and follow instruction

HERE

how to redeem to receive your gift card. What a deal!

Prep Time: 20 minutes

Cook Time: 10 minutes

Total Time: 30 minutes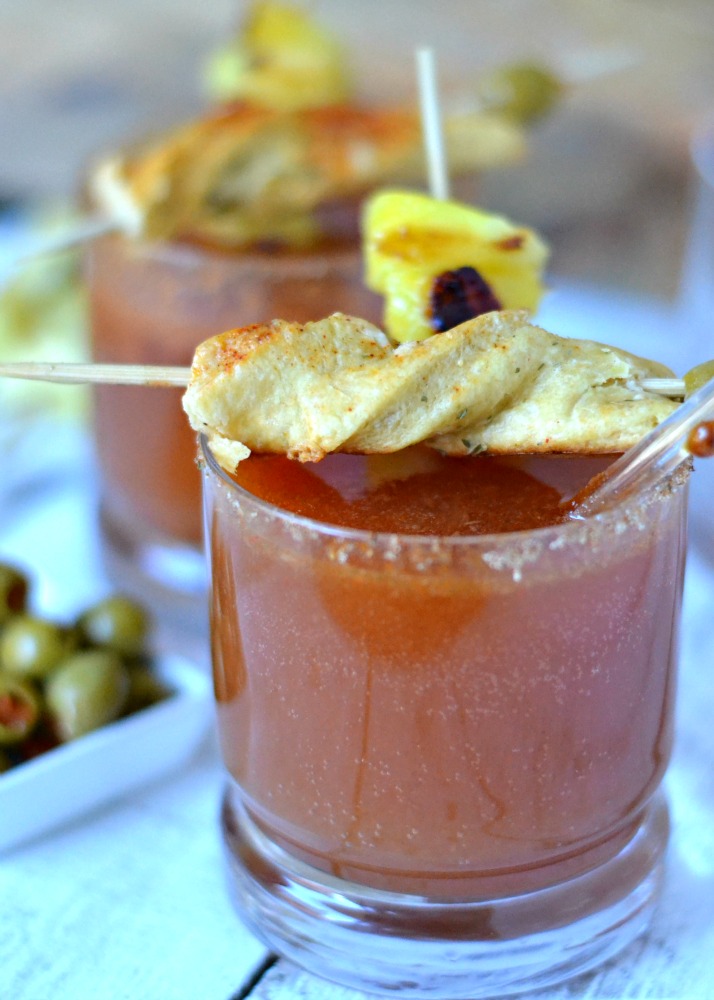 This is a tasty appetizer for guests as they arrive to continue to whet their appetites as the rest of the dips and finger foods arrive.
Ingredients
Bloody Mary mix:

1 14-ounce container Sabra mango peach salsa
1/3 cup tomato juice

Pineapple Skewers:

20 pineapple pieces, thawed
1 Tablespoon olive oil
small bamboo skewers

Hummus Cheese Breadsticks:

1/3 cup Sabra garlic hummus
1 cup flour
1 teaspoon baking powder
1/2 teaspoon salt
1/4 teaspoon garlic powder
1/2 teaspoon cayenne pepper
1 egg
1/3 cup sharp cheddar cheese
egg white wash
paprika
parsley
salt
1/4 cup cheese for sprinkling

Drink Add-ins per glass

2 ounces vodka
1/2 an IPA beer , preferably Blue Moon Peach IPA Beer

Lime Salt to rim glasses

Options for dark beer drinkers:

Sub lager for IPA
Use Sabra Homestyle Salsa
Grill cherry tomatoes instead
Instructions
Instructions for Bloody Mary mix:

Pour the salsa and tomato juice into a blender and blend until smooth, not chunky.
Chill while preparing pineapple skewers and breadsticks.

Pineapple Skewers:

Place 5 pineapple chunks on a small bamboo skewer, repeat with the rest of the fruit.
Heat a griddle and add olive oil on medium high heat.
Grill the pineapple for 10 minutes, alternating during that time, ensuring griddle marks.
Set aside to cool.

Hummus Cheese Breadsticks:

Preheat oven to 375 degrees Fahrenheit.
Line baking sheet with silpat or parchment paper.
In a food processor, add all the ingredients from hummus to cheddar cheese and blend well.
Dough will resemble wet sand.
Place on a lightly floured surface and knead dough until dough comes together.
Flatten dough to a rectangle about 1/4-inch thick and brush with egg white wash.
Using a knife, cut about 8 strips width-wise.
Twist each dough strip and place on cookie sheet.
Repeat with the rest of the dough.
Sprinkle with paprika, salt, parsley, and cheese over all breadsticks and bake for 12-14 minutes.
Cool and place in a long glass for snack time!

Drink Assembly:

In each 8-ounce tumbler:

Rim glasses with lime salt
4-ounces Bloody Mary mix
2-ounces vodka
1/2 a cold beer
Serve with a skewer of pineapple and 2 hummus cheese breadsticks.
https://singerskitchen.com/2016/01/bloody-beer-blitzs-with-sabra-hummus-breadsticks.html/
Follow Poet in the Pantry's board Game Day Eats #SabraTastemakers on Pinterest.
Related