I have joined a group of bloggers sharing recipes that are healthy and quick. Busy schedules do not mean take-out meals. Check out Veetee Rice USA as they introduce their ready-made rice in 2 minutes. Check out my recipe along with 6 other food bloggers.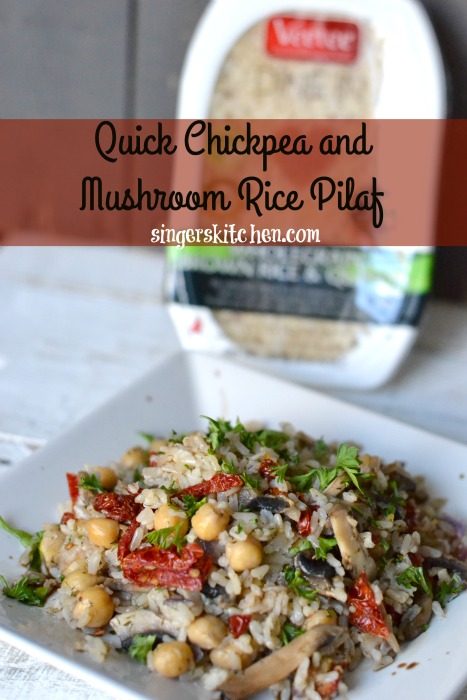 This post has been sponsored by Veetee Rice. All opinions, ideas, and recipes are my own.
Is everyone enjoying their new year? I certainly am but it is certainly different from any year. This year we celebrated a late Christmas in January which made it an interesting holiday. Actually, I cannot believe we are already halfway past January! We have now officially unpacked, washed clothes, and put away our Christmas decorations. I guess it is safe to say that we are READY to get into our new year.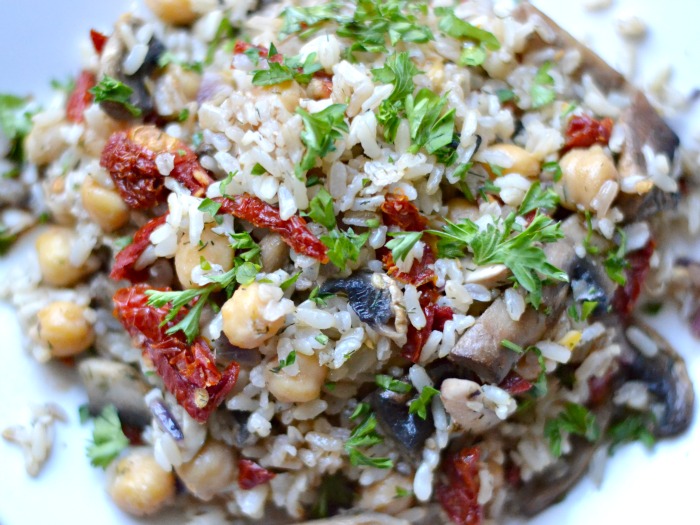 With the new year comes the enthusiasm and inspiration to get fit. I was never a person to stick to resolutions but I think it is safe to say that a resolution can be done anytime when really needed. our family has been resolved to get many things in order like our finances. Another that has been a long time coming has been our diets. My husband and I definitely are a match made in heaven when it comes to eating. We both enjoy eating but it has come time to make better choices and embrace portions.
One of the exciting things I am looking forward making are healthier meals on a consistent basis with minimal cheating. Mentally, I think we lie to ourselves when we say that healthy food is not tasty but it truly is. I have tried to share this with my husband and hopefully we can venture being resolved to change our eating habits.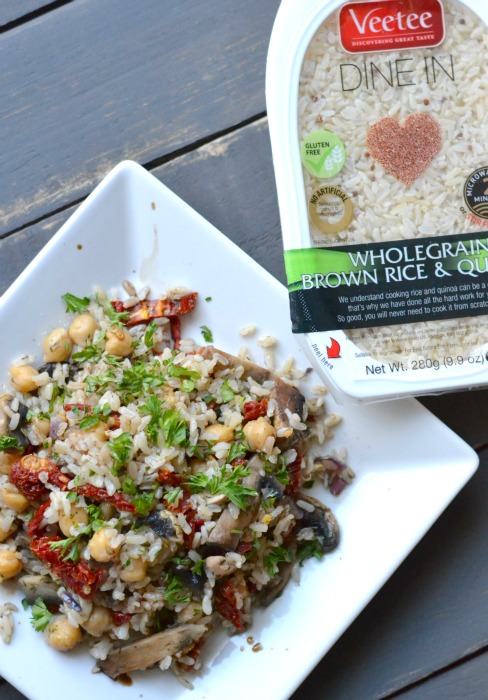 I have teamed up with Veetee Rice USA who provides a dine-in ready rice in 2 minutes that are GMO-free, with 8 varieties that are gluten-free, vegetarian and vegan friendly. It comes in a recyclable BPA-free plastic container with a see-through seal showing the kind of rice and is shelf stable for 12 months. It can be heated in a microwave or the rice can be stir-fried for 2 minutes.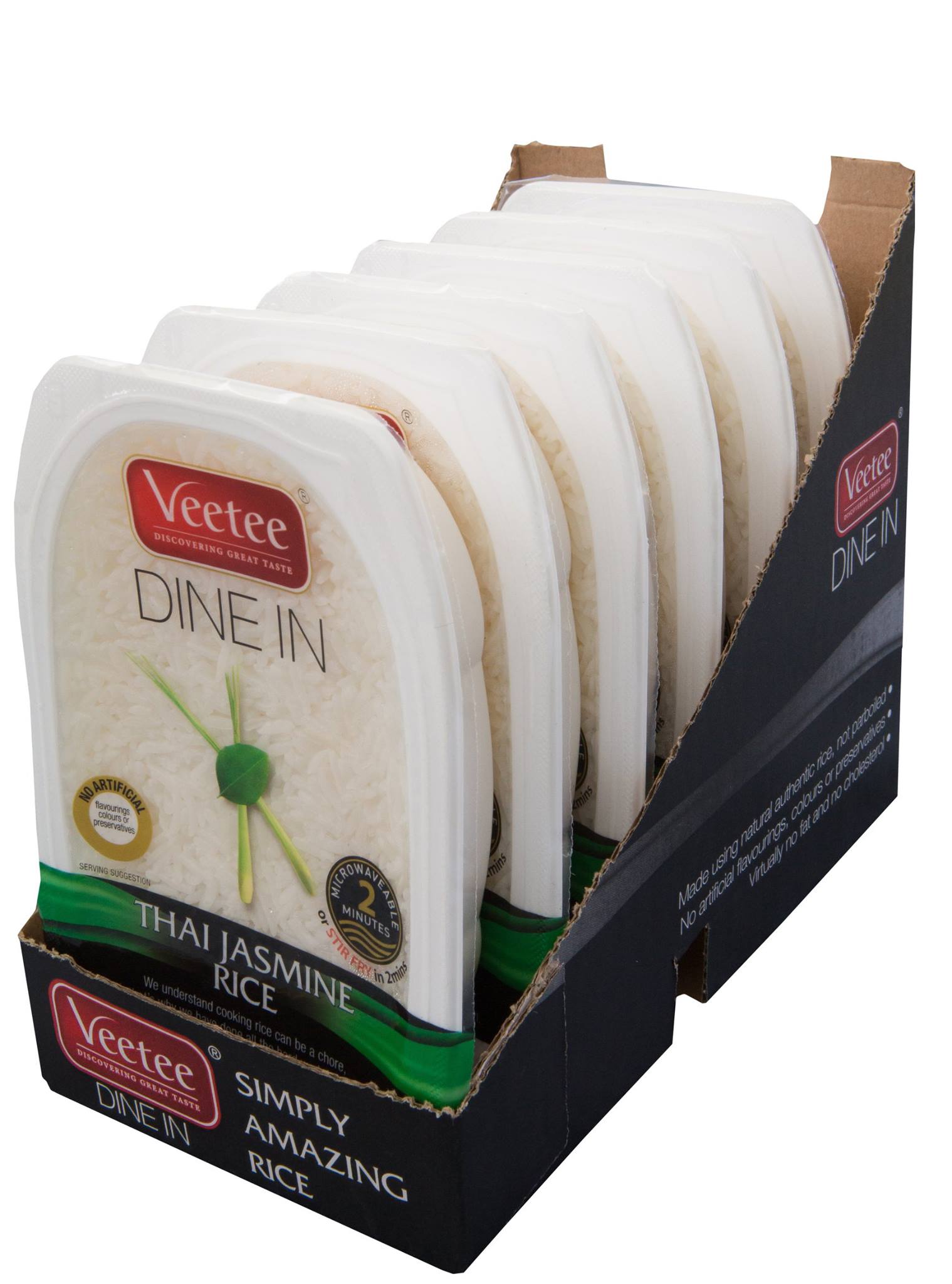 We are definitely rice consumers but I sometimes forget to cook my rice for my meals and end up waiting a full 45 minutes for my brown rice to be ready. Veetee Rice to the rescue folks! I have already used a variety of packages that the company has sent me. Here are the varieties I received. We have so much of it too!!
Whole Grain Brown Rice

Basmati and Wild Rice

Thai Jasmine Rice

Basmati Rice

Long Grain Rice

Whole Grain Rice and Quinoa
Red Beans and Rice New Orleans Style

Chicken Flavored Rice

Golden Vegetable Rice

Thai Lime and Herb Rice

Pilaf Rice

Spanish Style Rice
I have tried both methods to reheat the rice and I believe I like it better microwaved because the rice is not mushy but it you do a fried rice recipe, I bet it would be perfect. I look forward using different recipes to use this rice because our schedule is so busy now that the school season is in season. Quick meals are a must in my home with 3 kids under the age of 5. It is never a dull moment.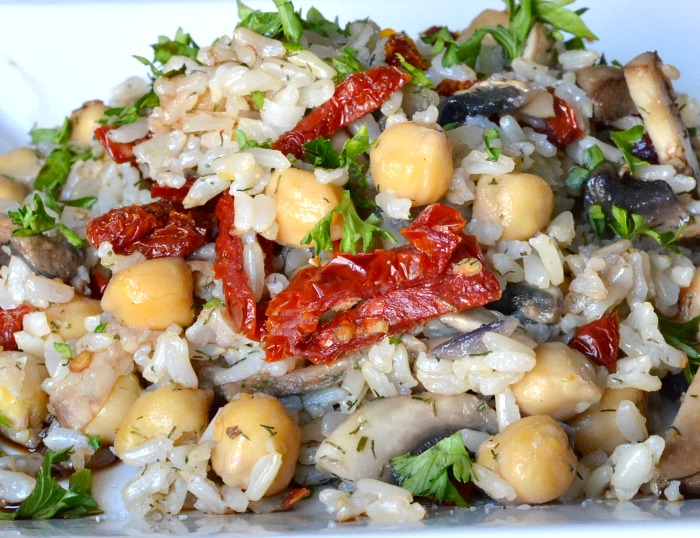 Since I am always on the go or pressed for time, I created a quick vegetarian lunch option that can easily be consumed for dinner with a side salad. I am a big Mediterranean fan so anything with chickpeas and rice excites me so I made a savory dish that only require heating the rice in the microwave while I sautéed mushrooms, red onions and chickpeas to mix in with the rice. I split the meal with my husband and we were satisfied until dinner.
What a great way to start the new year with healthier and lighter options to a new you. I am looking forward having Veetee Rice help me with this goal especially with this delicious rice dish. Try it! It takes less than 20 minutes to make.
Prep Time: 5 minutes
Cook Time: 12 minutes
Total Time: 17 minutes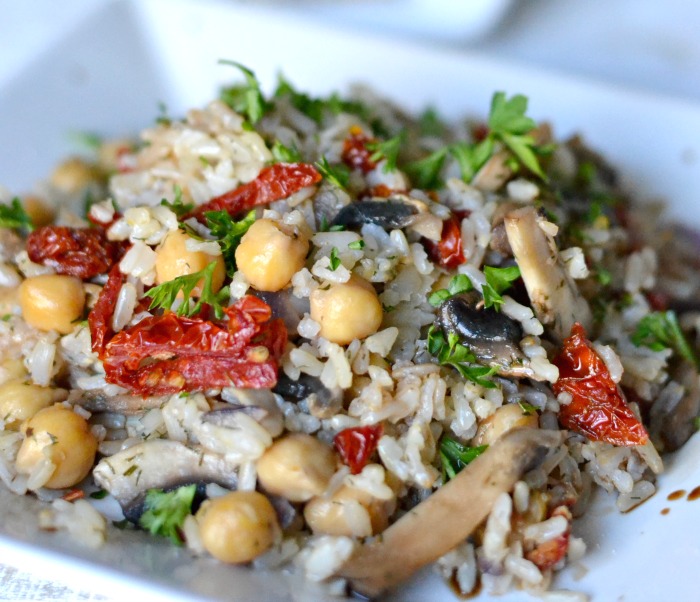 I am a mother of three girls under the age of 5. This is SUCH a quick meal and it is so filling. I also got my husband to enjoy it as well.
Ingredients
1 (9.9 ounce) container of Veetee Whole Grain Brown Rice & Quinoa
1 can chickpeas, drained
2 teaspoons olive oil
1/2 red onion, diced
3/4 cup mushrooms, roughly chopped
2 garlic cloves, minced
1 1/2 teaspoons dill
1/2 teaspoon mineral salt
1/2 cup sun-dried tomatoes, chopped
2 Tablespoons parsley, chopped
balsamic vinegar
Instructions
Heat a non-stick on medium heat and add oil.
Fry the red onions with the mushrooms for 5 minutes.
Add the chickpeas, garlic, dill, and salt and cook for another 5 minutes.
Meanwhile heat the rice in the microwave for 2 minutes and empty rice into a large glass bowl.
Add the sun-dried tomatoes to the rice.
Remove bean and mushroom mixture from stove top and add to the glass bowl with rice.
Toss ingredients together and serve immediately.
Sprinkle with parsley and drizzle with balsamic vinegar.
https://singerskitchen.com/2016/01/quick-chickpea-and-mushroom-rice-pilaf-veetee.html/
Social Accounts:
For more quick, easy and delicious recipes using Veetee Rice as well as additional chances to enter the giveaway (by leaving a comment on each one), visit:
Chicken Fried Rice  by We're Parents
Lime Shrimp, Corn & Rice Skillet  by Real The Kitchen & Beyond
Mediterranean Rice Pilaf  by Courtney's Sweets
Quick Chickpea & Mushroom Rice Pilaf  by Opera Singer In The Kitchen
Chicken & Pepper Stir Fry  by NEPA Mom
Mediterranean Rice Salad by The Farm Girl Gabs
Available at Shoprite, Walmart, Wegmans Kroger and other food markets across the USA. http://www.veetee.com/en-us/where-to-buy
GIVEAWAY ALERT
Want a chance to try Veetee rice in your own kitchen?
One lucky winner will receive ONE YEAR supply of Veetee Dine In Rice rice AND the winner will also have the opportunity to choose to donate the same amount of rice on their behalf to their local charity of choice.
Not only is this an awesome giveaway but Veetee donated roughly 80,000 trays (about 160,000 servings) of shelf stable, microwaveable rice to the Community Food Bank of NJ, part of Feeding America during the holidays. http://www.feedingamerica.org/ You have to love a brands that finds ways to give back.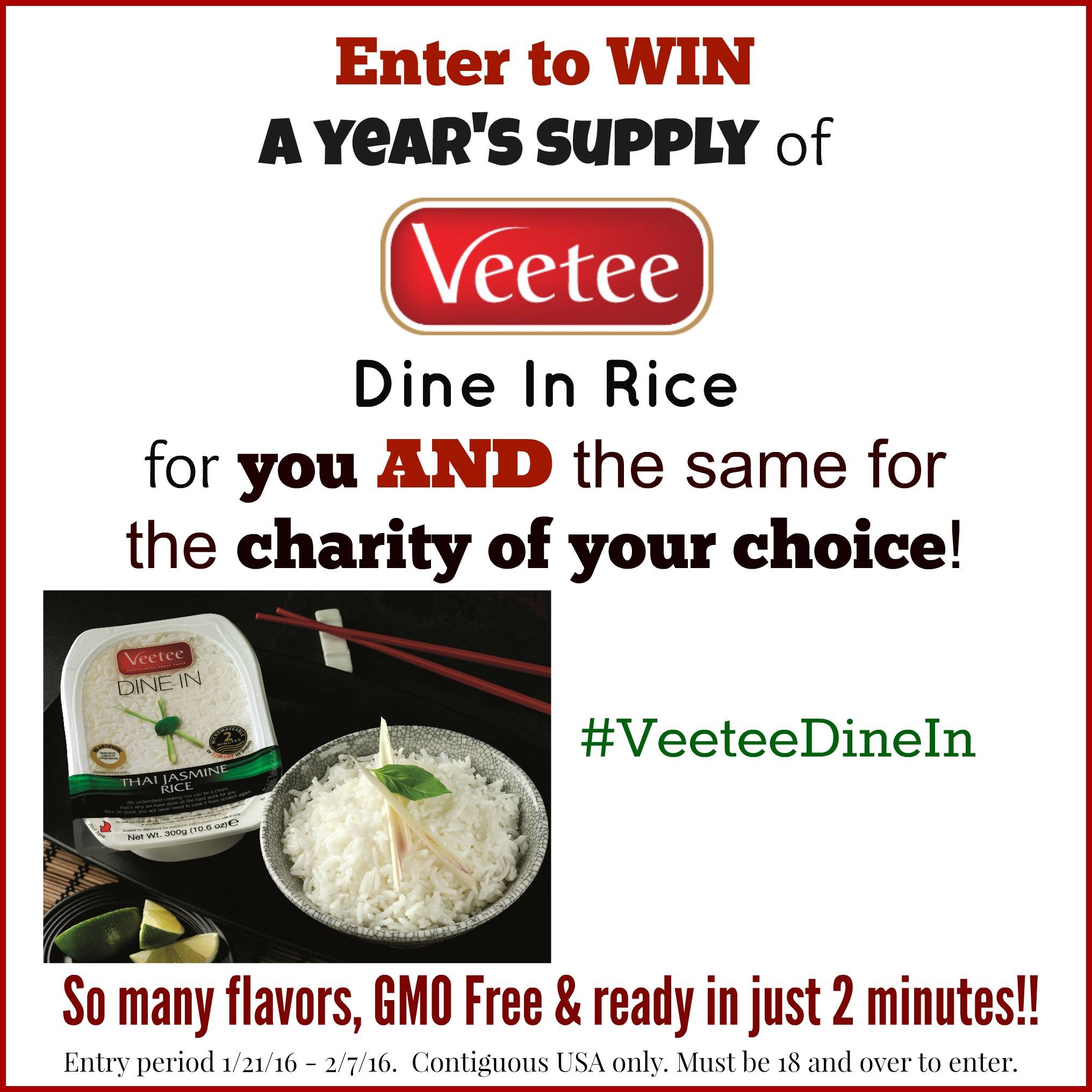 Related