Oats are great besides consuming in oatmeal. An oat crust can make a great substitution for those watching their carbs. We're working on our fourth week going sugar-free and gluten-free. In essence, we never decided to exactly go gluten-free but we decided my husband and I decided we needed to take action with our health. While I was cooking a lot of delicious foods using whole foods, the food combinations and food portions were not healthy.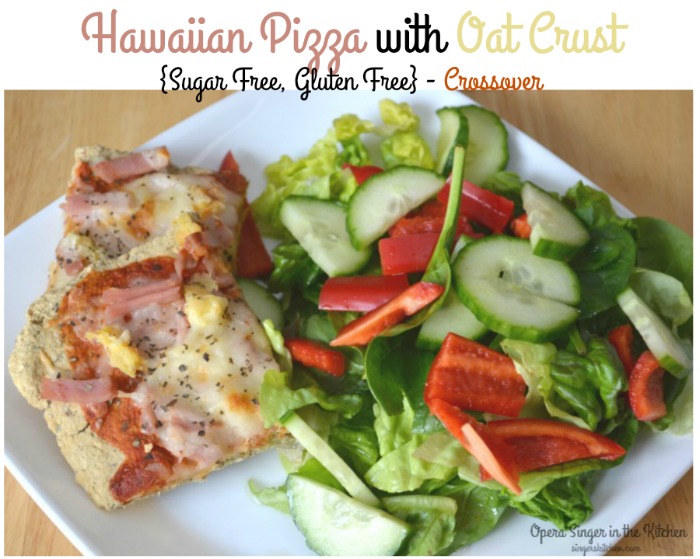 Lifestyle
When people think about cutting out foods, like my hubby, for example, it can seem so extreme and depressing to rid of the foods we most enjoy. While it has been a little tough, I personally have enjoyed the challenge to eat well while having fun at the same time. 
I am an artist. I am a performer. It is how God created me. 
I can make simple meals but I have to add my own flair, and I do not think it is an issue. I like the challenge.
As I have been learning again about food combining eating healthy carbs and fats, I also have been figuring what foods my hubby and I can enjoy in a healthier way.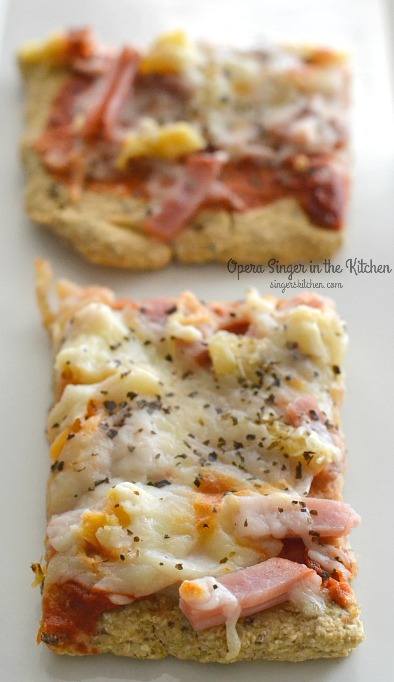 Pizza
In comes pizza. Pizza is definitely comfort food at its peak and it is one of my husband's favorite. Goodness, he is a true Midwesterner and has perfected a deep dish recipe. So how do we enjoy pizza in a healthy setting? 
I am not saying we can't have pizza ever but for someone who wants to focus on consistency in a healthy journey, I rather create something that will not have me falling off the bandwagon. So I created an oat crust full of protein and fiber topped with delicious ingredients.

I was recently was asked to create a pizza that is inspired by one of the Las Vegas Hotels. While it might seem random, it is not because the Annual International Pizza Expo is located in Vegas from March 8th to the 10th. How amazing would that be to attend? Either way, I was inspired by the Flamingo Hotel in Las Vegas because all of this cold weather made me imagine hanging by the pool, enjoying a cocktail and some sunshine. 
Flamingo Hotel is decorated pink with a pink flamingos being their decorative scheme. It has a tropical attitude and is themed as an island paradise. Seriously, does this not sound nice?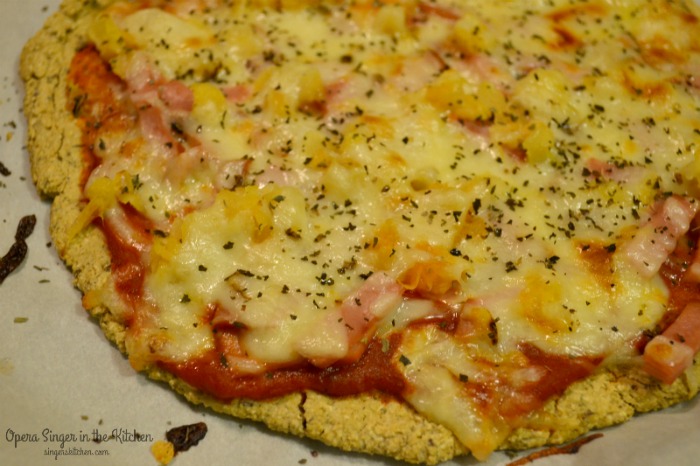 Hawaiian Pizza with an Oat Crust
I told you I am meant to be a Westerner. I can count on my hands the amount of times I've gotten to lounge. Either way, a girl can dream right? This is why I created the Hawaiian Pizza with an Oat Crust. For every 2 slices there are 28 net carbs and 9 grams of fat. The fat comes from the mozzarella and the flax-seed meal and the carbs from the oat flour and fiber. The beauty of this recipe is that it boasts 20 grams of protein.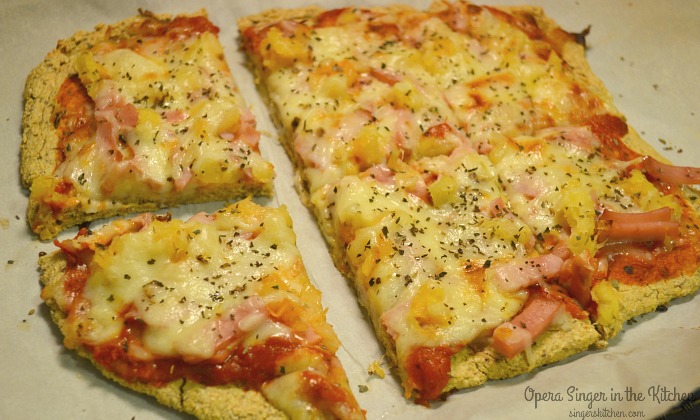 Enjoy Canadian bacon, pineapple and cheese on a hearty crust that is firm, crispy and thin without any crumbles! You have the best of both worlds. You can enjoy 2 slices with a large salad on the side and call it a complete meal while sipping a delicious sugar-free fizzy drink, like  Honest Orange Fizz or Zevia.
Prep Time: 15 minutes
Cook Time: 20 minutes
Total Time: 35 minutes
Yield: 6 slices
Serving Size: 2 slices
Calories per serving: 313
Fat per serving: 9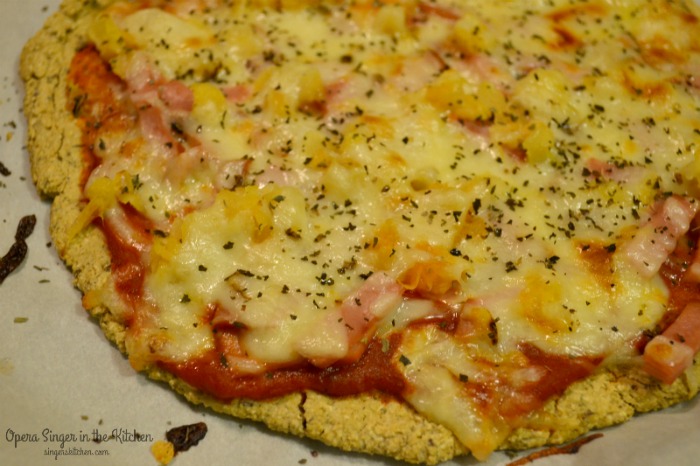 For more nutritional info visit my recipe on Fitness Pal: http://www.myfitnesspal.com/recipe/view/243822805118381
Ingredients
Pizza Crust:

1 cup, Oat Flour ( ground 1 1/2 cups of gluten-free oats to make flour)
2 Tablespoons NuNaturals Oat Fiber
1/2 teaspoon Celtic Sea Salt
1 tsp baking powder
1/2 teaspoon garlic powder
2 teaspoons Italian Seasonings
2 Tbsp Viva Labs Flax Seed Meal
2 Tablespoon Braggs Nutritional Yeast Seasoning
1/2 cup, Liquid Egg Whites
4 Tablespoons Water

Toppings:

4 slices, Canadian Bacon Sliced, chopped
1/2 cup, Pizza Sauce, sugar free
2/3 cups, Shredded Mozz. Part Skim
1/3 cup, Canned crushed Pineapple, juice drained
3 ounces Roasted Sweet Red Bell Peppers, in water, not oil
sprinkle with oregano
Instructions
Preheat oven to 400 degrees F. Line a baking sheet with parchment paper.
To make oat flour, simply grind your oats in a blender, food processor, or coffee grinder until the oats are all ground up.
In a medium bowl, add the oat flour and dry ingredients and mix well.
Add the egg whites and water and mix into the dry ingredients and mix until it resembles a combined dough.
Spread the dough on the parchment paper with a spatula and then with your fingers.
Dust some oat fiber on your fingers so the dough does not stick on your fingers.
Flatten dough until 1/2 inch thick.
Cook crust for 5 minutes in the oven.
Remove from oven and add pizza toppings.
Add pizza sauce, half the cheese, Canadian bacon, crushed pineapple, red bell pepper and then sprinkle the rest of the cheese on top.
Bake in the oven for 12 minutes on the middle rack.
Then raise rack in oven and broil on high for a 1 minute until the cheese is bubbly.
Remove from oven and sprinkle with oregano.
https://singerskitchen.com/2016/02/hawaiian-pizza-oat-crust-gluten-free.html/
Related