Winter is completely behind us despite it just snowing last week. Hopefully I am not jinxing us, but this only means that we are going to be outdoors a lot more!! I realized yesterday that my whole family has been a little stir crazy. We love being out and being active or just going places. Since I am pretty active, it has made my girls conditioned to be that way. I love knowing and seeing that we are an active family but it also means I need to make sure we have our essentials.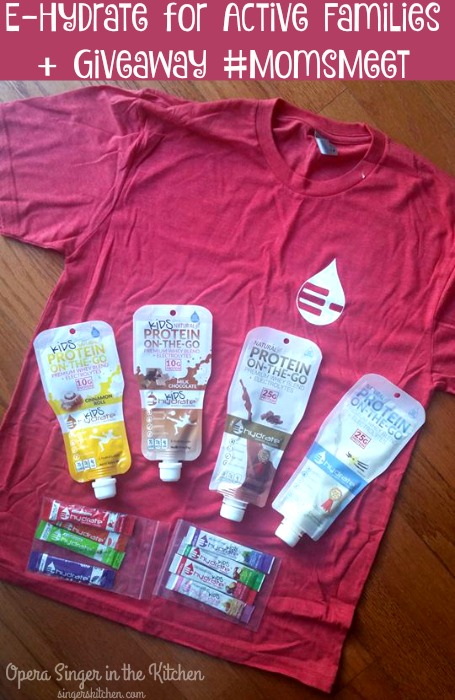 When we go out for the day or even just an afternoon, I really try to pack our lunches. I fill our water bottles, make sandwiches, bag some veggies and even some pretzels to make sure my girls are not hungry come lunch time or even snack time. Since my girls are burning energy running and climbing, I make sure they are getting enough protein. Sometimes I fall into a habit of giving them empty calories that only end in a sugar crash or with cranky kids.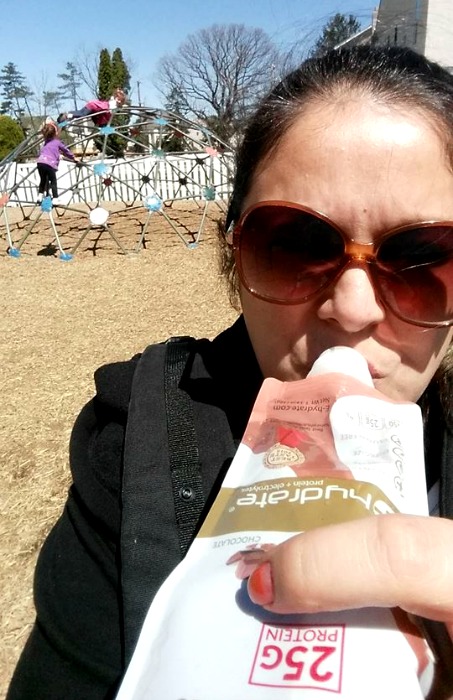 Moms, I assure you, make sure your kids, like us, have protein every 3-4 hours. Since January, my husband and I have followed the same routine of eating protein with some veggies, fruit, or grain to give us energy and we have seen some awesome results. Well, we have tried to implement the same with our girls and there are days I am more successful at it than others but I start over the next day.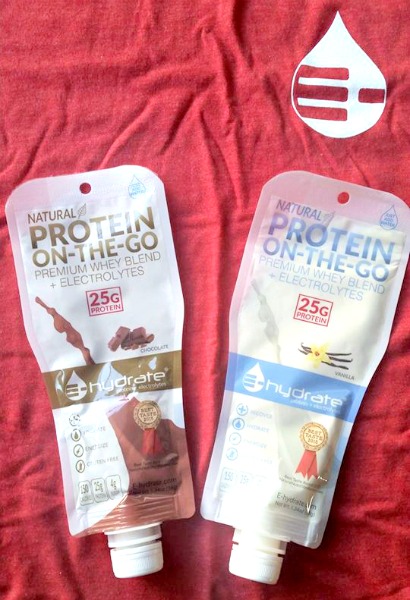 As a Moms Meet Ambassador, I love getting the chance to sample and review products because it teaches me about new products that are perfect for my family, like E-Hydrate. E-hydrate Protein On-The-Go is made from natural ingredients and provides essential electrolytes in an attractive and tasty way.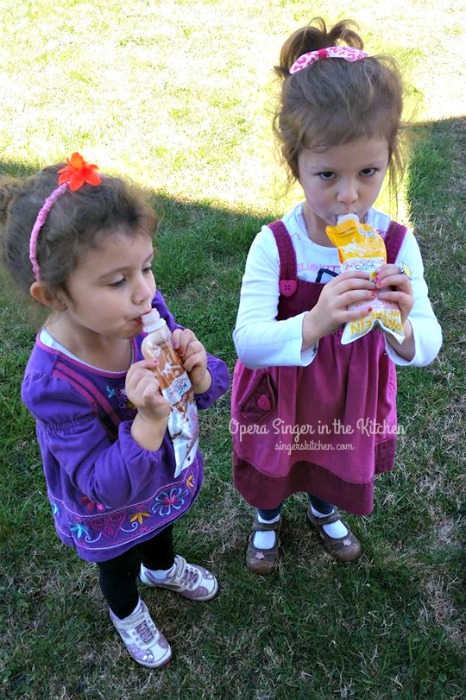 Each pouch contains 25 grams of protein and is delivered in a ready to mix pouch with a powder that dissolves quickly. Instructions are super easy with water added halfway to mix and then more water added to the brim to enjoy as a meal supplement. It has 1.5 grams of fat and 150 calories a pouch. While it is NOT dairy-free it is gluten-free and has a mixture of sweeteners. I personally do not like that it has fructose AND sugar in the ingredient list and would much prefer JUST stevia and erythritol, so hopefully in the future they can make a sugar-free option.
This pouch is also available for kids and only delivers 10 grams of protein per pouch. Both girls enjoyed tasting a chocolate and cinnamon bun flavored pouch. They know how to drink from pouches but since it is a 1.34 ounce long pouch it might be a little to long for toddlers little hands but they manages and required a bit of help at the end. Either way, they were fans and thanked me for the treat. HA! Little did they know they were receiving electrolytes and protein. Speaking of protein, my stomach very much welcomed this drink. I did not get a stomach especially since I am normally lactose-intolerant. I also tend to get sugar crashes when I have certain protein bars or powders. This is a plus!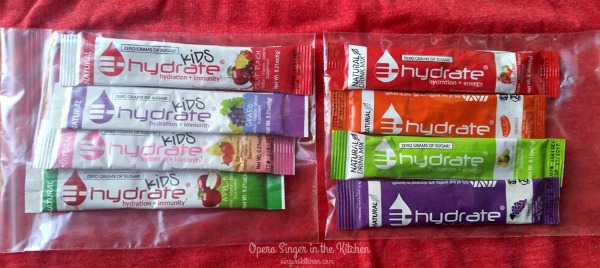 E-hydrate Adult Hydration Drink Mix and KIDS Hydration Drink Mix are also pretty delicious. Since summer will prove to be a hot one, I want my girls to receive recommended daily amounts of B, C, and D vitamins, minerals, and more electrolytes to keep them healthy and hydrated. I love the fact that these specific products are sweetened with all natural Stevia leaf extract and only have one carbohydrate and zero grams of sugar.  E-hydrate KIDS Hydration Drink Mix has only 15 calories and is caffeine and taurine-free, while E-hydrate's Adult Hydration Drink Mix only has four calories and 40mg of caffeine. This product is one I will definitely revisit.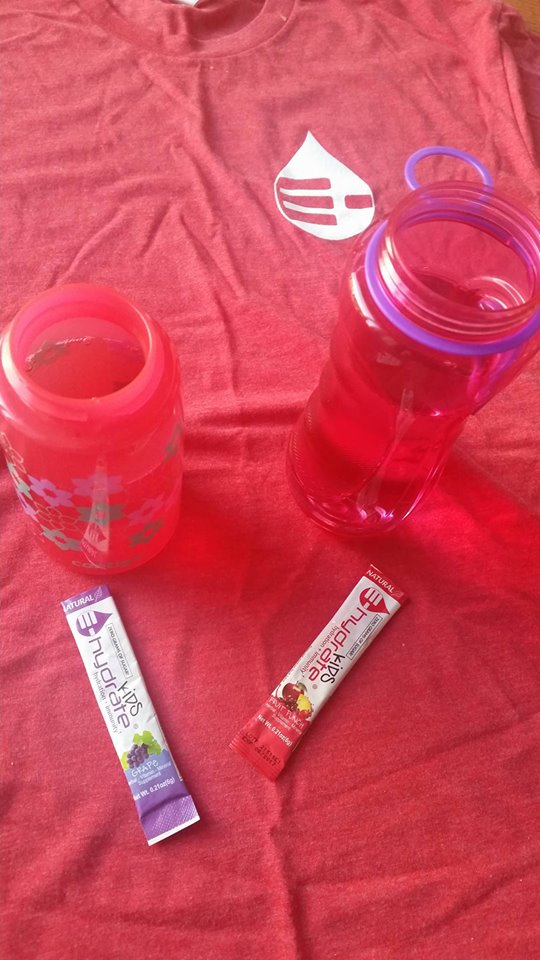 A single pouch of E-hydrate's Protein On-the-Go retails for $3.49 and a 3-pack box retails for $11.49. A 10-pack box of the Adult Hydration Drink Mix retails for $9.99 and a 10-pack box of the KIDS Hydration Drink Mix retails for $9.99.
Want a chance to try them yourselves? You can try them NOW by using the PROMO code

MOMSMEET

for

20% on your first order

& you can enter to be the

ONE lucky reader to win

TWO E-hydrate Ultimate Sample Packs!
A single pack is valued at $25, so the total prize is valued at $50. Each sample pack contains:
(2) Protein On-the-Go pouches (Chocolate and Vanilla)

 (4) Hydration Drink Mix sticks (Lemon-Lime, Red Berry, Orange, and Grape)

(4) KIDS Hydration Drink Mix sticks (Strawberry Lemonade, Fruit Punch, Grape, and Apple)
I received this product for free from the sponsor of the Moms Meet program (greenmomsmeet.com), May Media Group LLC, who received it directly from the manufacturer. As a Moms Meet blogger, I agree to use this product and post my opinion on my blog. My opinions do not necessarily reflect the opinions of May Media Group LLC or the manufacturer of this product.
Related