Want to learn how to get your kids to eat kale and salad anytime? Check out this scrumptious salad we created as a family for Produce for Kids and ACME Markets.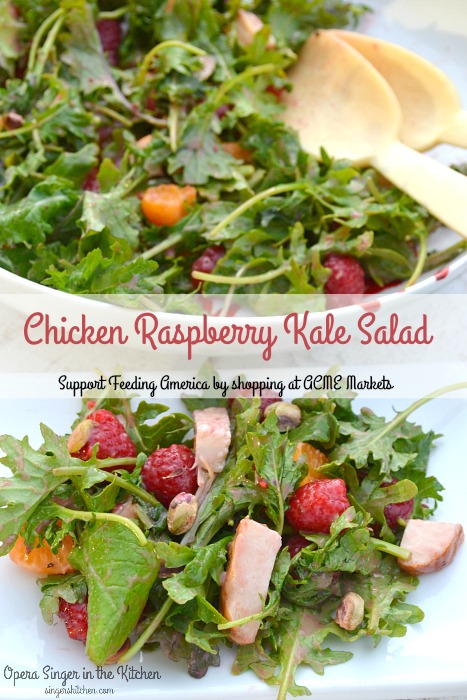 Gloomy and rainy days can take a toll on anyone especially when it is May and the winter seemed so long. Where are the sunny warm days? As a mother of three it is always a challenge to keep things interesting on a daily basis for my very energetic kids. At one point, I decided a great way to keep them occupied was to have them in the kitchen with me, learning skills that were safe for their age and learning about all kinds of foods. Produce for Kids® has been a great resource because they are all about educating families about healthy-eating. 
Eating what is in season only became part of my vocabulary in 2010 when I moved to Michigan and I frequented farmer's markets and learned about restaurants that changed their menus seasonally. It was so exciting and so inspiring. It continued inspiring me in my own kitchen even during the years I was vegan especially since I was eating lots of produce.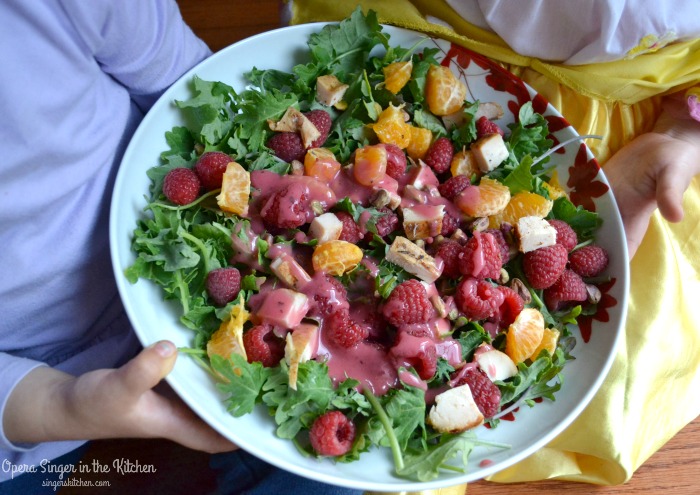 One of the things I purposed was to continue this way of cooking when my kids were born. My husband and i agreed that we would not be making separate meals for the kids but they would be eating as we did and as much as possible so they could have a well-rounded perspective of real food and healthy at that. After having my third and last child, I can tell you that this is not perfect in our home, but we have stuck to the rules and the girls really do eat what we eat. They ask questions and we encourage to taste before rejecting and it has been successful. If they do not like something we try again another time and if at the end they reject it we hope that they will grow to like it down the road at another time.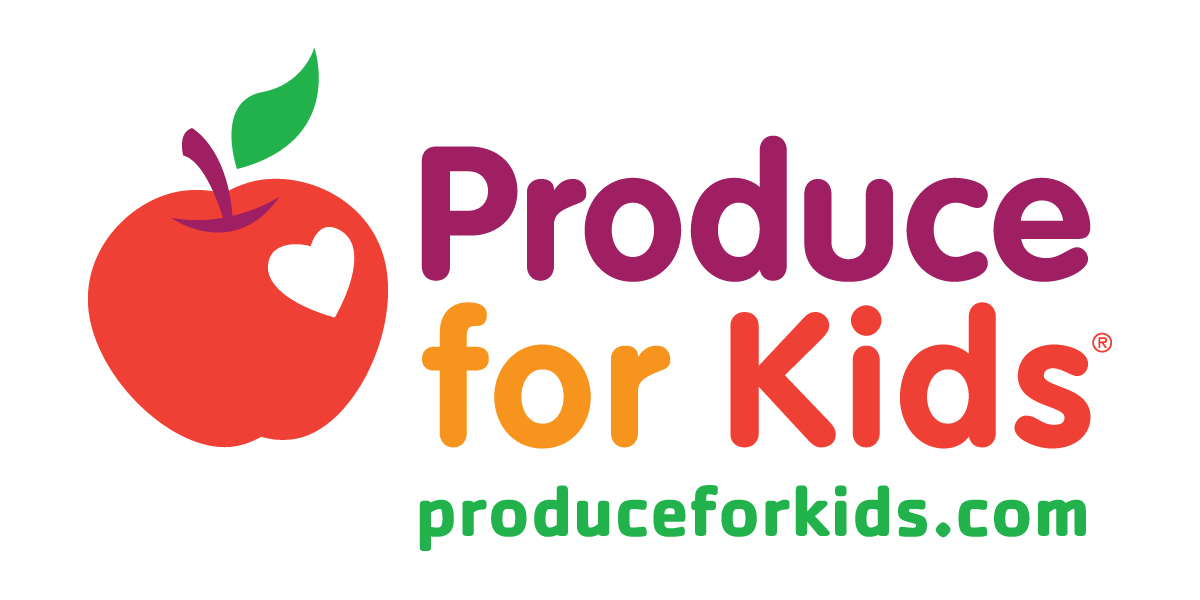 Even if you do not know where to start there are campaigns like the healthy eating-focused Produce for Kids® campaign with ACME Markets (ACME) which is making an incentive to encourage families to focus on healthy meal solutions by offering recipes and tips. The campaign launched on April 29 and will go through June 2nd and will raise funds for local Feeding America® food banks like:
Community Foodbank of New Jersey

Philabundance

The FoodBank of Monmouth and Ocean Counties, Inc.

Maryland Food Bank

Food Bank for Westchester

Regional Food Bank of Northeastern New York

Connecticut Food Bank

Food Bank of Delaware

Food Bank of South Jersey
When we went into the store we found the list of sponsors involved in the campaign and started planning a healthy recipe using primarily those products as listed on the board. Those included the following:
Avocados from Mexico Mexican Hass Avocados
Earthbound Farm®
Eat Smart® Fresh Cut Vegetables
Fresh Express® Packaged Salads
Kings River Packing California Citrus
Maries® Dressings
RealSweet® Vidalia® Onions
Setton Farms® Pistachios
To¬Jo Mushrooms
Wholly Guacamole®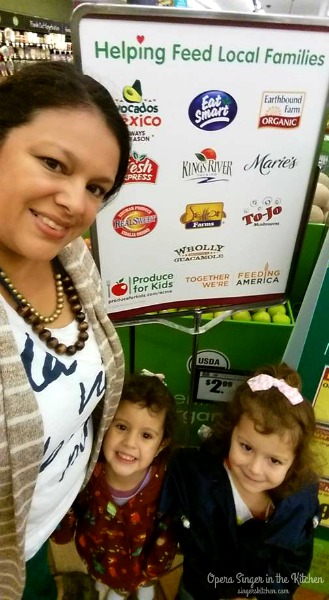 I thought it would be fun to talk through the items with my 3 and 4-year-old because I have experience that if I let them help and prepare the food they are for sure going to eat most of it. I shared them with ideas through the produce section and the girls picked out fruit, lettuce, and dressing and we promptly went home to prepare our dinner for the evening.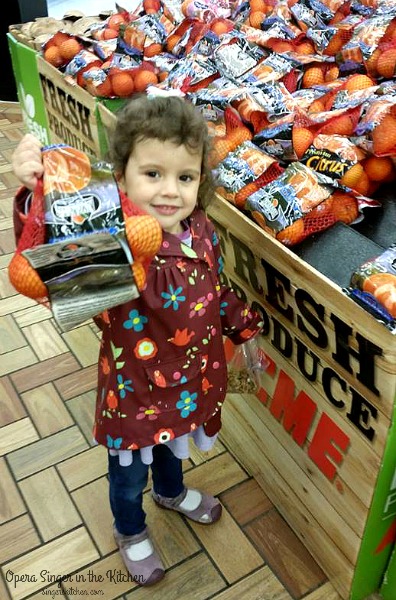 It is a great teaching time for any parent to show kids how to cut their produce and to understand the responsibility of helping out during meal times. We made a simple but scrumptious Chicken Raspberry Kale Salad. Anything with fruit is sure to be a hit with my girls especially berries.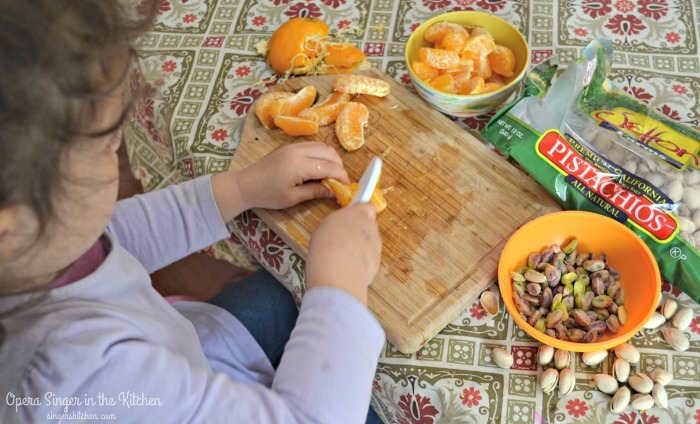 My middle daughter helped peel and cut the Kings River Packing oranges and my oldest helped shell the pistachios until she got distracted by having a bit of snack time. She loves salty foods. I then placed all ingredients in bowls and had them mix everything into a larger salad bowl and taught them to mix the salad gently while I poured the raspberry dressing.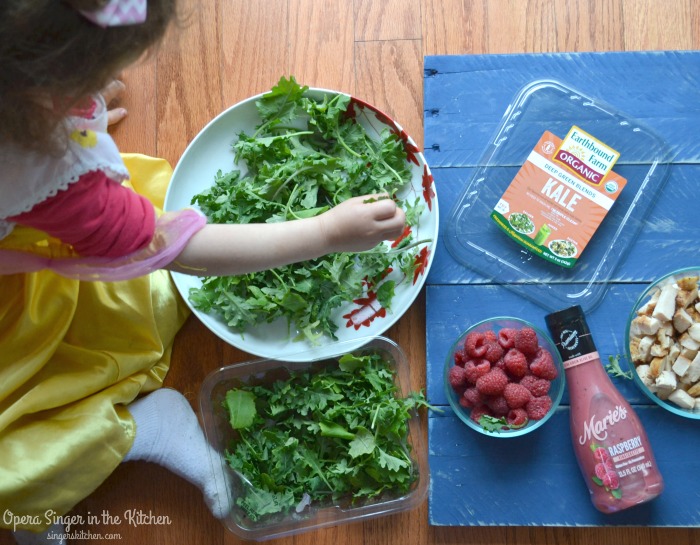 Was it a hit? Well, the girls did eat their favorite items from the salad but I also encouraged them to eat the thin kale greens along with their favorite fixings so they could experience the salad as a whole. I was happy with how they did and I hope you get your family in the kitchen because it brings everyone together.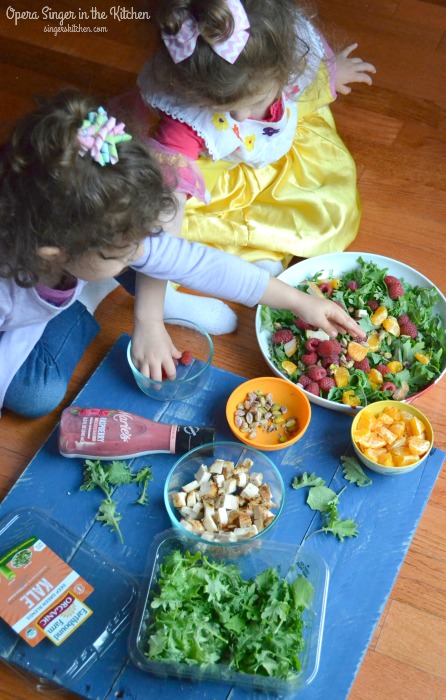 Need more healthy ideas and you want to know more about how you can support the campaign? Visit ProduceForKids.com/ACME for more info on the campaign and then visit ProduceForKids.com for more than 200 registered dietitian-approved and family tested recipes, meal planning tools, grocery store specific campaign details, and healthy tips from real parents.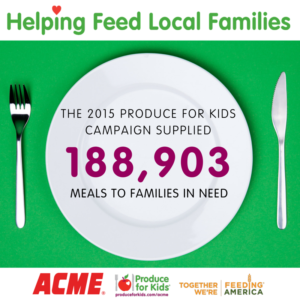 Last year's campaign was able to supply 188,000 meals to local families in need and raised more than $17,172.50 for Feeding America. How about we tell our friends and neighbors so it can double that?
Yield: 2 adult servings or 2 kid portions and 1 adult portion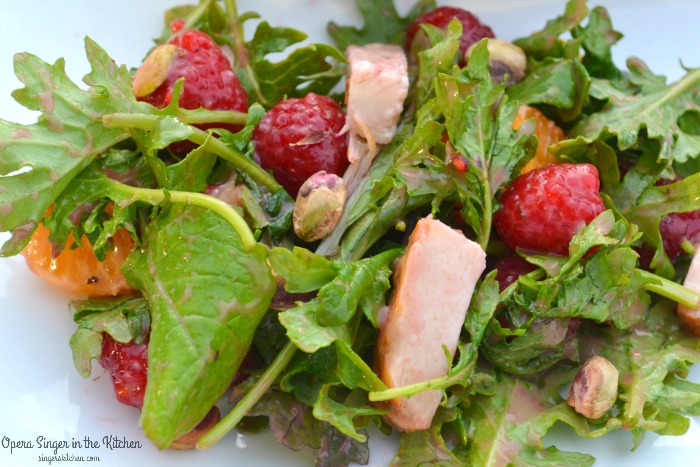 Ingredients
Salad:

1 container (5-ounces) Earthbound Farms Deep Green Blends Kale
1 1/2 cups grilled chicken, chopped
2 Kings River Mandarins, peeled, sliced and chopped
1/3 cup Setton Farms Pistachios, shelled
2/3 cups fresh raspberries
3 Tablespoons granola
3 Tablespoons Marie's Raspberry Vinaigrette
Instructions
Mix all the ingredients except nuts and granola together in a large salad bowl and toss. Add granola and pistachios at the end.
https://singerskitchen.com/2016/05/chicken-kale-salad-produce-kids.html/
Related