One of the things that I promised I would do when I arrived in Chile was to discover as much as a I could about Chilean cuisine. Before I left, I tried to do a little research, but there was so much going on in our lives that I discovered a lot of foodie treasures while I was in Santiago. Discovering Chile through its cuisine has definitely been a dream of mine and it finally came true.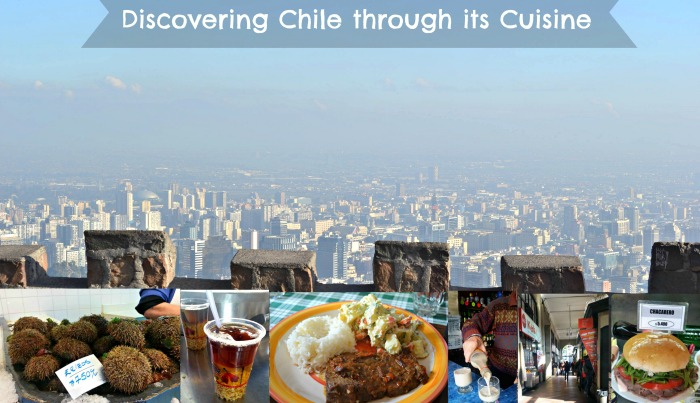 As I looked through Trip Advisor, I searched for cooking classes and food tours and narrowed down to doing a food tour. With that in mind, I knew I had to find one that would be ideal for a mom traveling with a baby. I wanted to make sure that there would be some flexibility in case the baby required some attention. I searched through Trip Advisor and found a few tours that looked intriguing especially the ones that included the markets. Many friends and family warned me about theft in Santiago so I knew I would feel comfortable being with a tour guide as opposed to being by myself.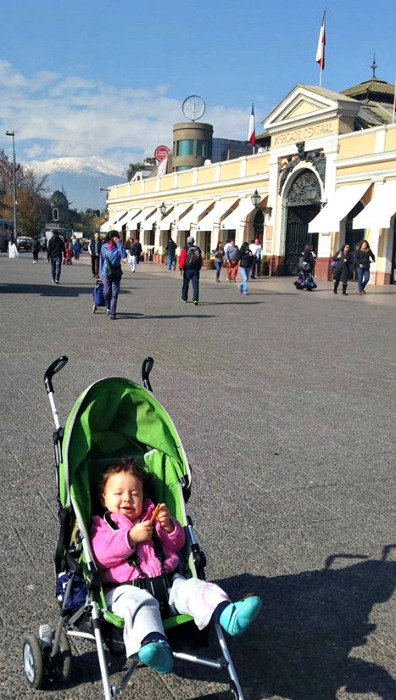 I discovered Foody Chile who is led by Colin, an American who has been living in Chile for 12 years and has made his home in Santiago. What I did not realize is that I was getting a tour by an English speaker and truth be told, I wanted a tour with a native Chilean. I should have been more specific and inquiring of the tour because when I met Colin, he thought he was giving the tour in English and I preferred in Spanish, so I think I threw him off. Either way, I made the best of the situation and we had a nice 3-hour tour of the different markets along with some food samples.
We started at Plaza de Armas and went along a main street to get to Mercado Central, La Vega Central, and La Vega Chica. We meandered through several markets that sold everything from flower arrangements, fish, meat, fruits, veggies to even pickled veggies.  The colors were amazing and watching the people buy and sell was fun too.
Our first stop was at a stand that served Mote con Huesillo, which is pretty much cooked barley or grains in stewed apricot juice. It is served cold and with a spoon. I did not know whether to ask for a straw or simply eat the grain but either way, it was a tasty treat I could see enjoying during the mid day.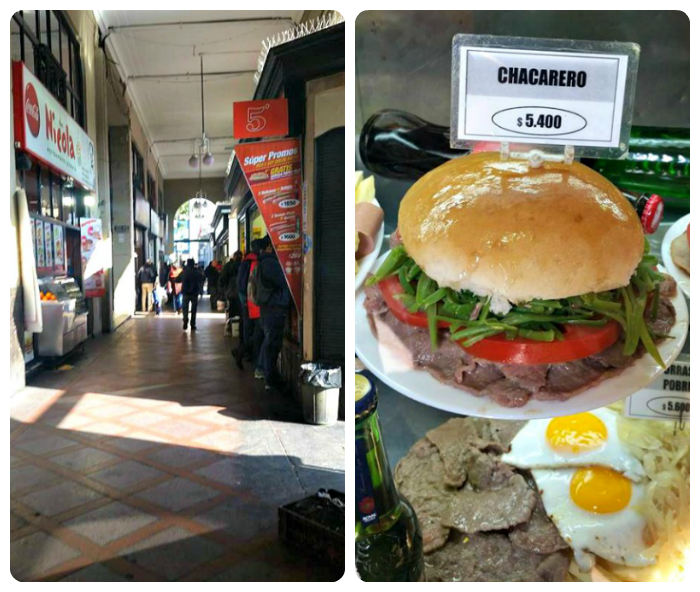 We stopped in a gallery where the guide talked about Chileans version of fast food. There were places where people could purchase hearty sandwiches and eat standing up or there were establishments advertising their local specials with samples by the window. It was basically window shopping for food. I was aghast at how huge Chilean sandwiches were. There were layers of thinly sliced meat called churrasco and layered with either fresh green beans, tomatoes or other toppings of choice. It could easily serve more than 2 people.
Lunch is really dinner for Chileans, where the main meal is mostly enjoyed in the middle of the day. My landlord at the bed and breakfast told me that la once , or elevensies, is usually enjoyed around 5pm, which is a light meal that is enjoyed. A dinner could later take place but usually the evening was kept for lighter refreshments. I know that my grandparents practiced this but I never knew it had a name.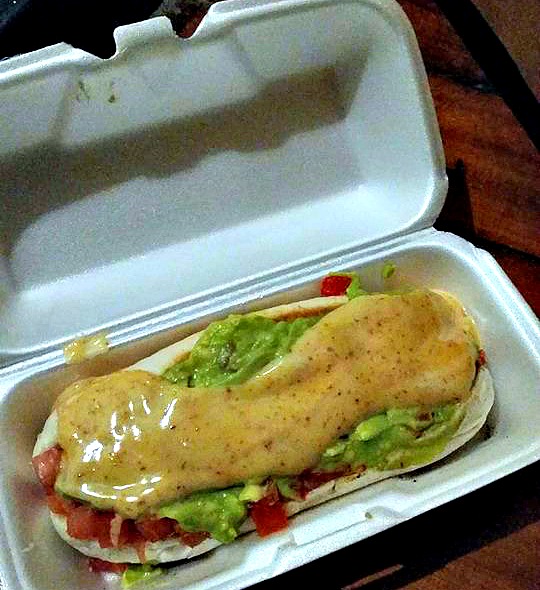 Back to the tour. I LOVED the time at the market because I was able to spot different types of produce I had not seen, like the varieties of avocados. Avocados, or palta as the Chileans say, are everywhere! I really did not realize that they are served on a lot of dishes! It is like the ketchup on fries. Can I say that? My dad told me to try a completo which is a hot dog on steroids. It is served with avocado, fresh tomatoes, sauerkraut, and a huge amount of mayonnaise. It was astounded by how popular this hot dog is. I was not completely sold on it but I know it made my dad happy.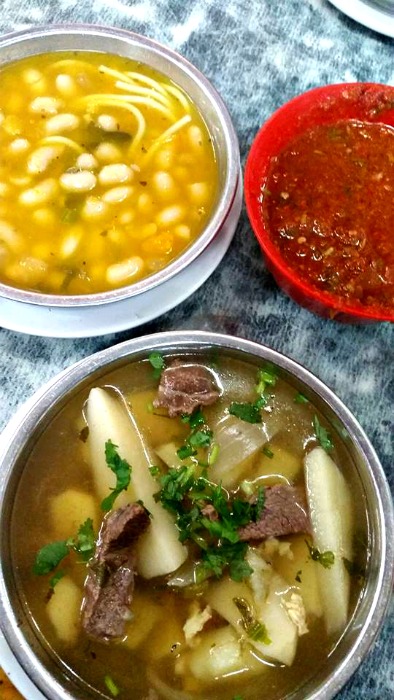 Another stop on our tour was at a restaurant in the market where I had three different soups. A side of bread and pebre, which is a Chilean condiment that almost looks like pico de gallo. I was so surprised by how different it looked than the one my grandmother prepared. Actually there are several different types and I enjoyed them all on different level. The soups we had were all very hearty and flavorful.
Ajiaco-Soup made with potatoes, meat and eggs

Tallarines con porotos- Beans and noodles with lots of flavor made also with added squash. My grandmother made this often.

Pancutras- A meat stew with noodles. Comfort food at its best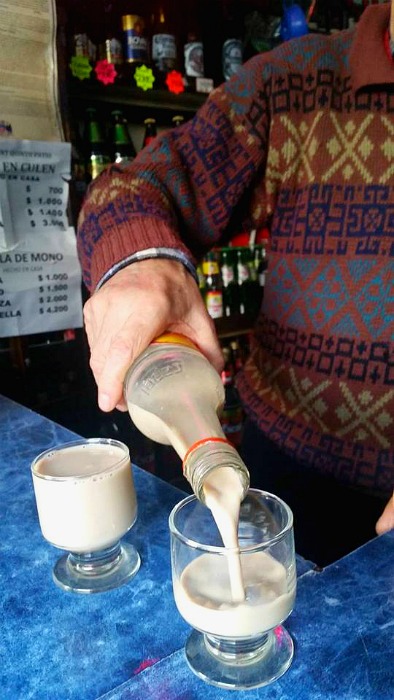 One of our stops was going to include empanadas but since I was familiar with that dish I asked for something different. Our last two stops consisted of seafood empanadas with white wine and some cola de mono, which is a coffee cocktail I have shared before. I felt like I got a great taste of Chile while walking through the markets. I definitely felt safe with my guide even though I did accidentally drop about 10 dollars that no one gave back to me. Oh well. If you are an English speaker and looking to get a taste of Chile, I would definitely recommend Colin of Foody Chile.
One more thing that I definitely knew I wanted to have before I left Chile was a pisco sour. I had heard so much about the drink that I mapped the place I was going to enjoy my first drink. Even though wine is produced in Chile, it is not the most popular beverage. Pisco is definitely enjoyed a lot more. It is produced in Chile and Peru and many drinks are made with it along with the cola de mono I mentioned before.
Chipe Libre also known as Independent Republic of Pisco, is known for their pisco varieties from Chile and Peru. They serve food from the pisco region of Chile and also food from Peru but I really knew I was not going the be able to dine so I went in the evening quickly while the baby was napping in the stroller. I was able to chat with the bartender to ask him about the varieties and what I would most enjoy on my first try. I loved the whole experience and the flavor of the pisco sour. I wish I had time for another at a more leisurely pace.
All in all, I am happy with what I was able to do on such a tight schedule and alone with a baby. I came home with a load of cookbooks with Chilean recipes and look forward sharing many of those to you in the coming months.
If you have a chance to experience a culture and its food, where would you go?
Related