Enjoy Caribbean eats at your local Bahama Breeze and be transported with all the delicious food and drink choices. From now until August 13th, Reggae Fest will be another experience with musical performers, unique menu selections and amazing sweepstakes.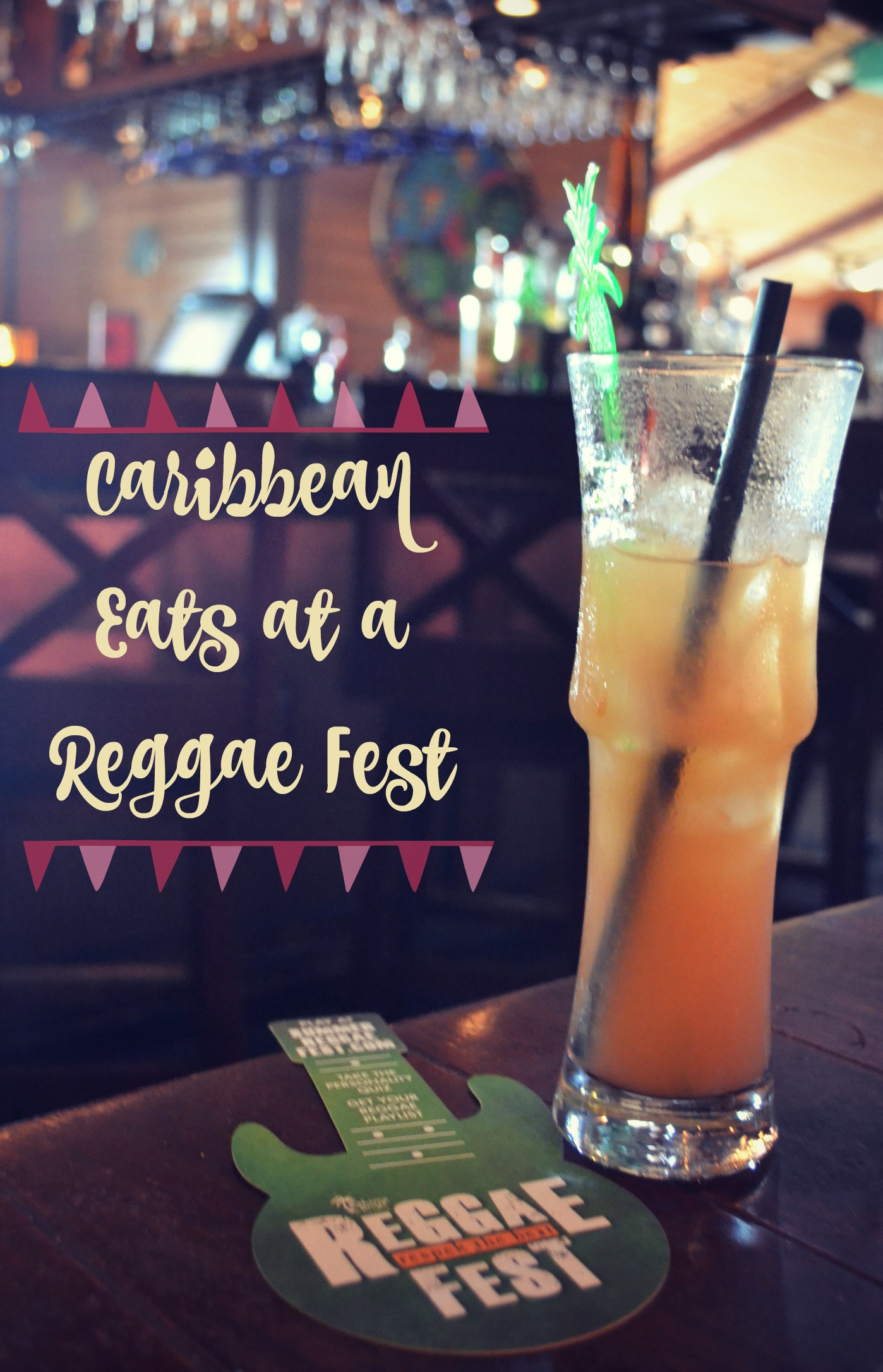 Disclosure: We were treated to a VIP experience thanks to Bahama Breeze. While it was our first time enjoying the venue and all opinions and reviews are unbiased and are based on our experience.
Since moving to the East Coast we have quickly learned that summers are spent on the beach. We have only been able to go twice to Cape May since moving to Pennsylvania but we are looking at enjoying a WHOLE week in Delaware next week. When it comes to enjoying a Caribbean beach, neither my husband nor I have enjoyed the pleasure of relaxing at a resort but I think we came close to that experience last night as we visited Bahama Breeze. Even though we have lived in the area for 5 years, we had never checked out the restaurant until last night!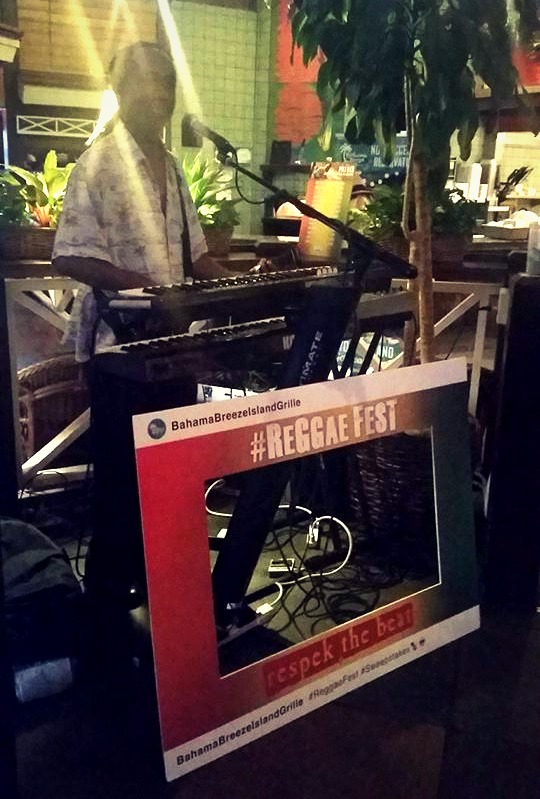 As we arrived, we immediately felt welcomed and almost expected a lei but instead we heard wonderful live music in the center of the restaurant. If anyone knows me, I love going to places with live music. I would drag my hubby to live jazz at local coffee shops in Houston when we were dating, and it is something I miss terribly. Music and dining just makes the perfect evening in my books.
Reggae Fest
Parker was our great server last night, explaining all the delicious options we had to drink and eat. We specifically were introduced to all that was involved within the Reggae Fest. Since July 1st, Bahama Breeze started out celebrating on International Reggae Fest. Every Saturday, there is a party with live bands that can be heard throughout the restaurant. Select cocktails, food and other beverages are available to celebrate the special season along with giveaways, pop up rum punch bars and more.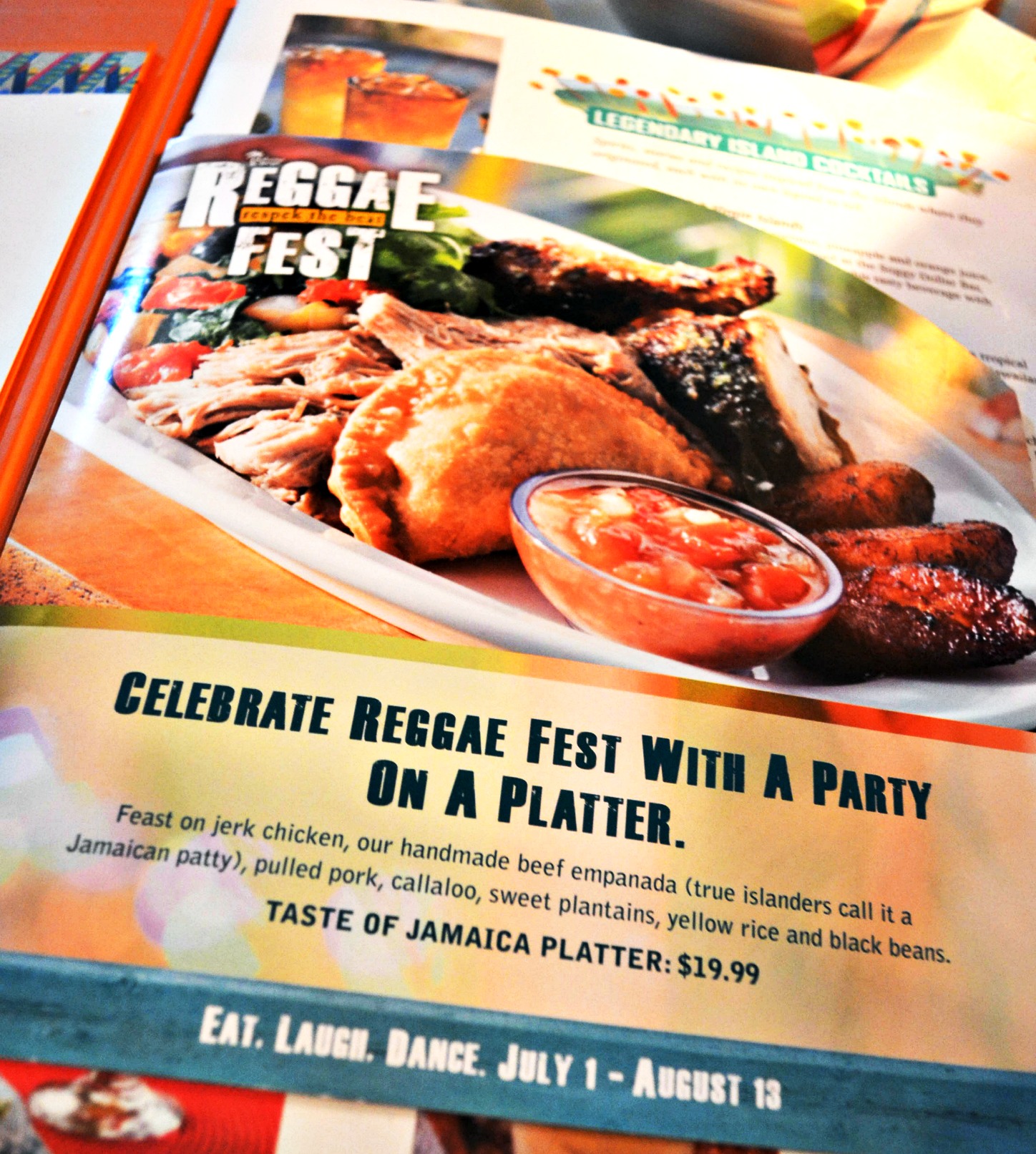 While we were not able to experience the party, we hope to the beginning of August after we are back from the beach. We were able to experience the food and the great ambiance and all in all it we had a relaxing time. Not only were we able to enjoy delicious food from the Caribbean for the first time, but my husband and I have great conversation because, dining with kids is a challenge. I know many of you know that! 

Drinks and Appetizers
While we waited for our starters we were greeted with One Love drinks a special during Reggae Fest. It consists of  Malibu Banana rum, pineapple, orange and guava juice shaken together and topped with an Appleton rum floater. It definitely was flavorful and was refreshing after coming in from the heat.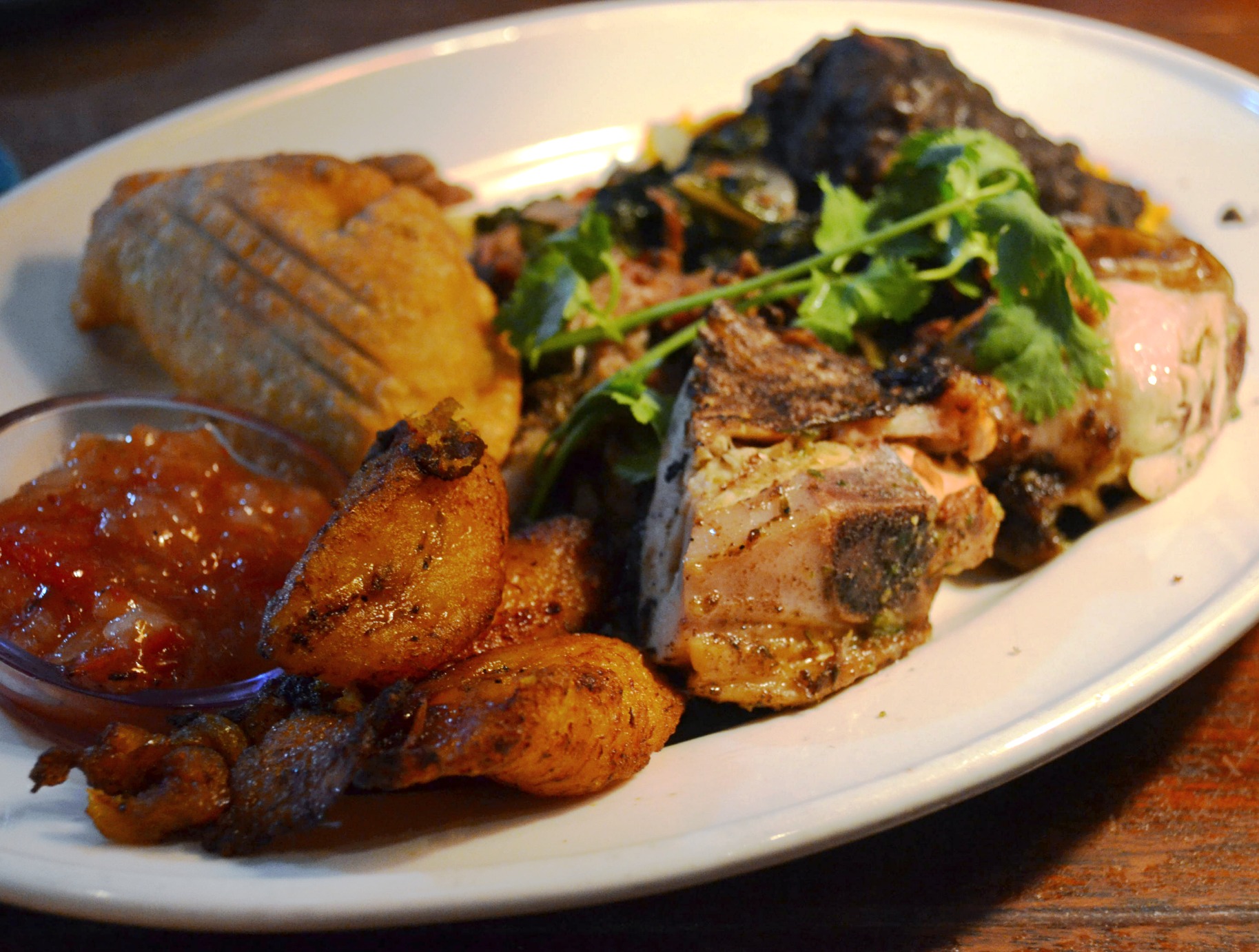 We started with the Taste of Jamaica which is a taste of Jamaican favorites like pulled pork, jerk chicken, beef empanada, callaloo, sweet plantains, yellow rice and black beans. We also had the Curry Goat which was a new dish for both of us. The spices in this dish were definitely made the dish very flavorful and even though curry is not a favorite of ours it was savory. The goat was tender with a mix of tender greens and rice. It is considered one of the Reggae Fest Chef Special.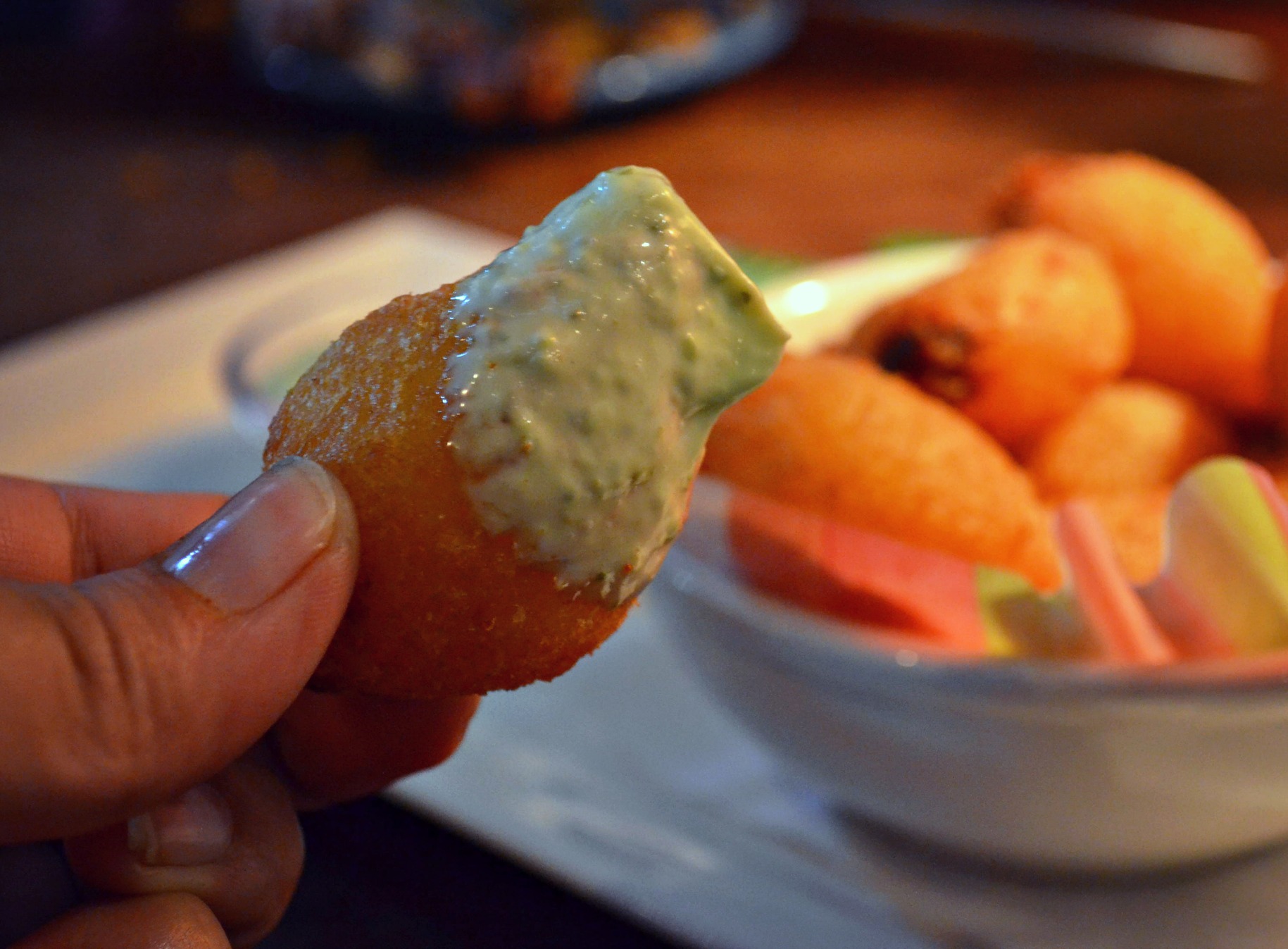 I also wanted to take some Breeze Cheese Bites because crisp fried yuca stuffed with melted cheese and cilantro-crema dipping sauce sound amazing don't they? They were super crispy and hot when they arrived and almost tasted like potato but as they got cooler you could tell the difference in texture. Yucca is also served in Cuba and over mojo a garlic and oil sauce on top. I liked this appetizer especially the dip.

Main Meal and Drinks
While we ordered our meals, we received another set of drinks that made for a lovelier evening. I have never been to a place that offered a margarita flight. I thought of ordering a Tamarind Margarita but the Hibiscus Margarita was calling my name so I ordered the flight that consisted of the two mentioned and a Grilled Pineapple Margarita. The presentation was amazing but my ultimate favorite was the Tamarind Margarita with the Hibiscus coming in at a close second. The Tamarind Margarita was slightly sweet but tangy with a great blend of tequila. I would totally order it next time especially since it is so unique!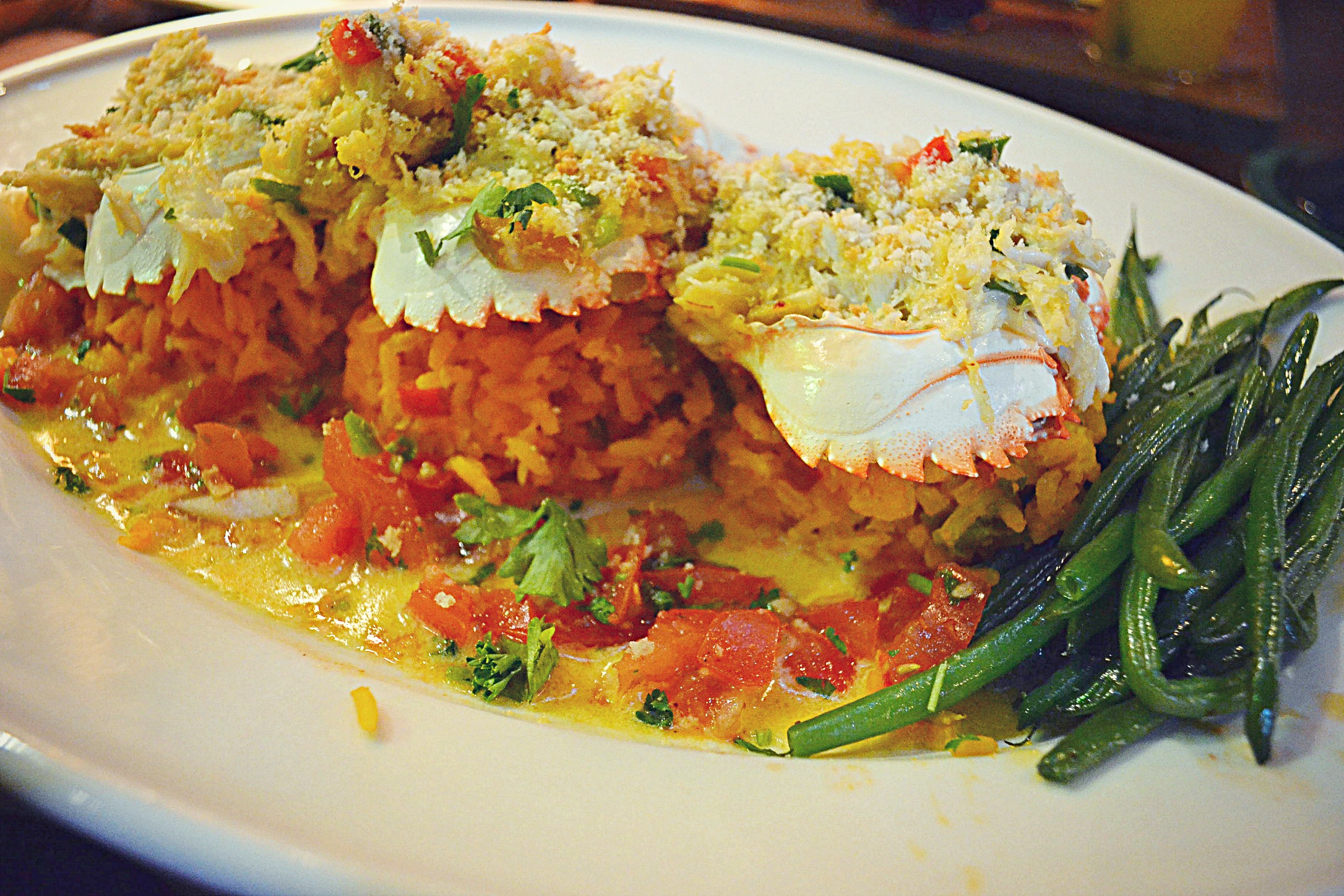 Bahama Breeze has an extensive menu and it took a while to decide what to order but since most of the special items consisted of seafood we stuck to the theme and ordered a Jumbo Stuffed Crab Shells and I ordered the Yellowtail Snapper Veracruz so we could taste from each other's plates. The portions are plentiful and come with fresh sides either with yellow rice, black beans and sweet plantains or a veggie.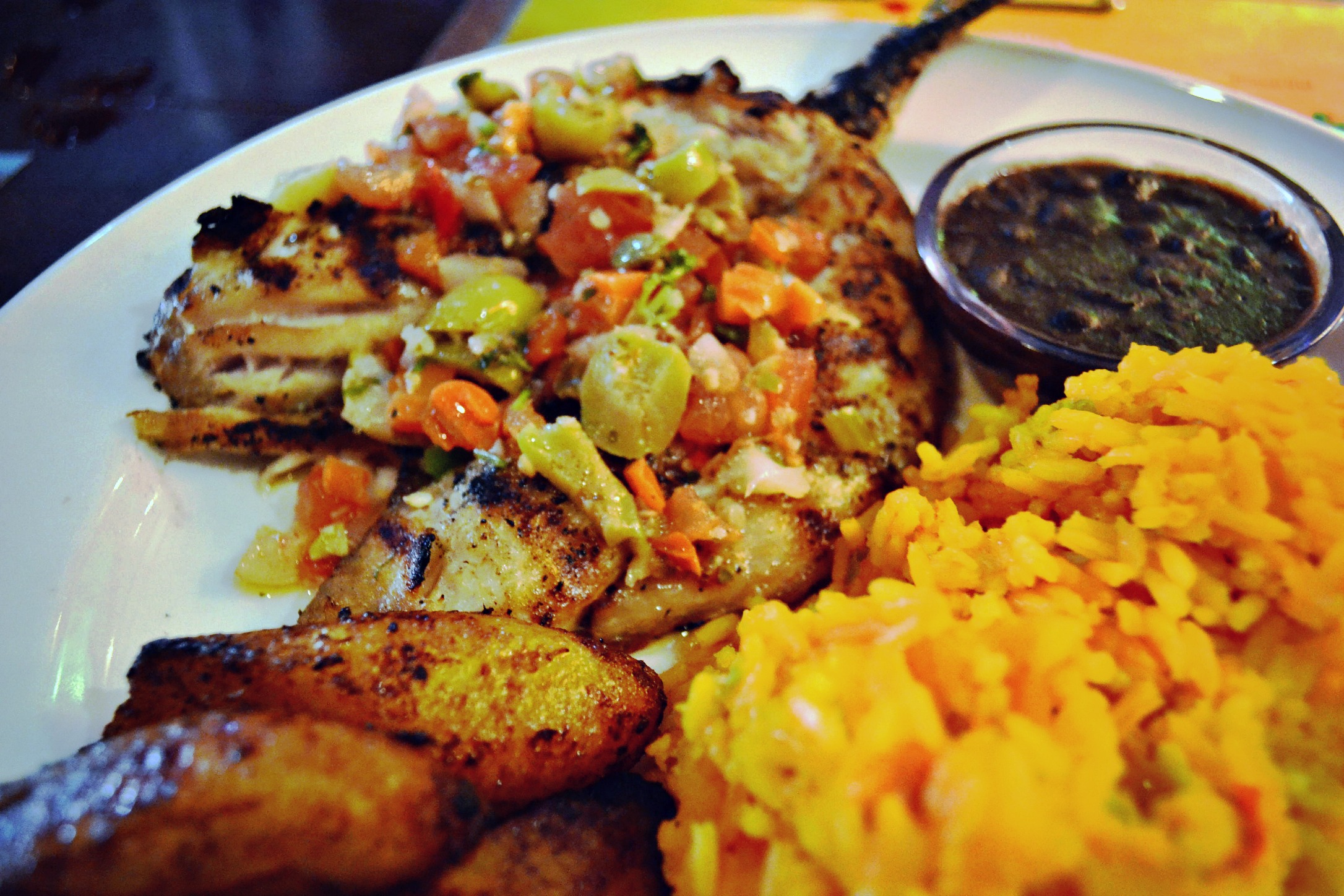 We loved how flavorful and fresh everything tasted. The snapper was grilled beautiful and combined well with the green olive and tomato garnish that came on top. My husband's stuffed crab shells were my favorite while he favored my dish so it was good that we were able to experience each other's choices. We were glad to start our week with a delightful dining experience and we will for sure be returning back. I think our girls would love the music as well. I also foresee a Ladies Night Out because the drinks are amazing!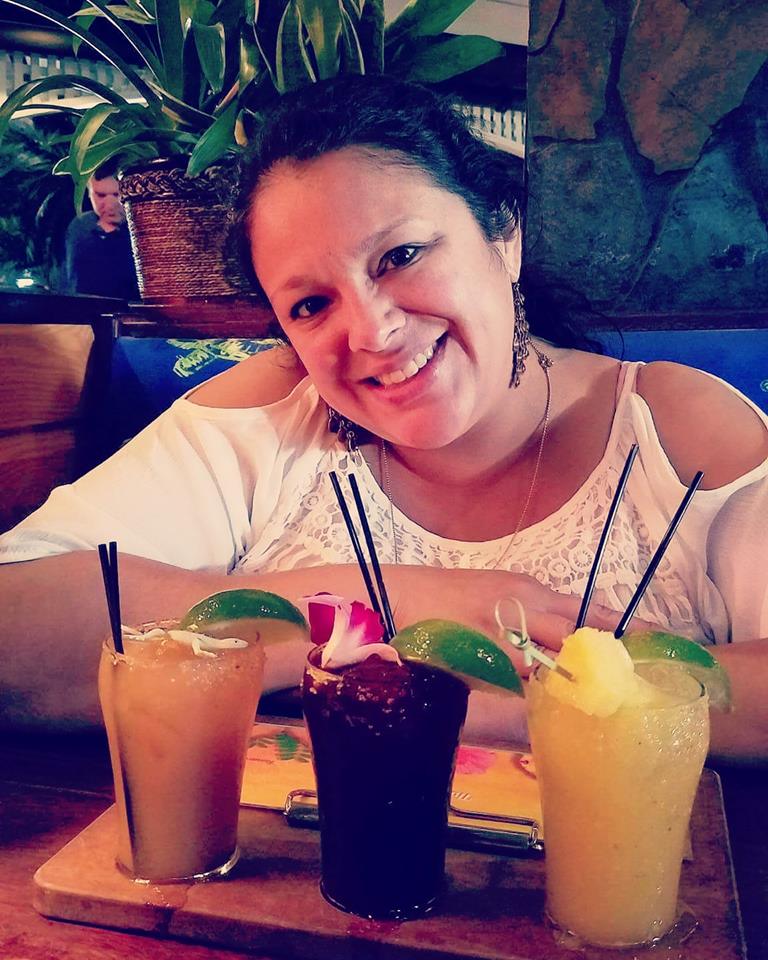 Think of checking Bahama Breeze? If you are in the Philly area, check out the location at King of Prussia. 
Sweepstakes
To continue the celebration, Bahama Breeze is giving away a cruise for one righteous winner and a friend to the JamRock 5-night cruise to Jamaica. This Reggae Cruise line features live music lineups daily including Sean Paul, Damian "Jr. Gong" Marley, Stephen "Regga" Marley, Toots and the Maytals. Starting July 1, guests can snap their best selfie at #ReggaeFest and upload their picture on social media using #ReggaeFest and #Sweepstakes. Guests can also register at SummerReggaeFest.com for a chance to win.
For more information about Reggae Fest, visit www.BahamaBreeze.com/Reggae.
Giveaway
What to experience your own Reggae Fest at home? Enter below to win media mailer kit to make have your very own reggae party at home!
Related