Disclosure: We received tickets in exchange for the show. Opinions and photos are my own.
 
Summer Series at Longwood Gardens
Summer is not complete without a few outdoor concerts and even more so when they are held at one the world's greatest gardens, Longwood Gardens. My family and I love visiting the gardens on a regular basis to see special exhibits or even during the holidays but I have to say that I have never attended one of their concerts especially during the summer. One of the reasons I wanted to go now is that Natalia Lafourcade, an award-winning Mexican indie pop artist, was coming through Philadelphia featuring songs from her album, Hasta La Raíz.

Ladies Night Out
As a mother of three I always have the challenge of finding other moms to enjoy an evening out but thankfully I was able to gather a group of three to come out for a nice evening of grown-up time. We met at Two Stones Pub in Kennet Square for a few appetizers and beers and then headed out to gardens for the concert.
The pub is an ideal spot for a ladies night out because it is 6 minutes from Longwood Gardens. We ordered and it seemed like the food hardly took any time to come out. We were out within 75 minutes with time to park and walk to the open air theater. We enjoyed Nachos with chorizo, crab dip with pretzels, and some Kettle Chip Nachos with great drinks. Thanks Two Pubs!

Open Air Theater
While it was a MUGGY evening, we thought the breeze would come in to cool us but we did have the consolation of the dusk to give us a break from the heat. The open air theater was set up nicely with rows numbered and waiting for us to receive the artist. It was an intimate environment especially with great company. With insect repellent and essential oils to prevent bugs from bothering us we were ready for a performance.
Truth be told I had never heard of Ms. Lafourcade. While I am constantly on Spotify discovering new artists I had not heard of her but once I started listening to her music a few weeks back, I knew I would enjoy the show. When I found out that a related artist in her niche was Julieta Venegas, also a Mexican singer and songwriter, I was set!
Natalia Lafourcade – singer and songwriter
Ms. Lafourcade is definitely up and coming since starting at the age of 14. After 15 years, she is one of the most popular and successful singer and songwriters. She swept the awards at the Latin Grammys this year! My cousins in Mexico were a little jealous I was getting a chance to see her live so I was sure to send them snaps on Snapchat so they could get to watch a little of her. Why not?
When Ms. Lafourcade came out to perform, I was surprised at how petite she was. She came out in a cute striped tube top and in her broken English she told her audience how unbelievably hot it was in Philadelphia. Her band consisted of a 5 band members but her pianist was missing due to not receiving a Visa to come to the US so Ms. Lafourcade played the keyboard when necessary and I believe she did really great!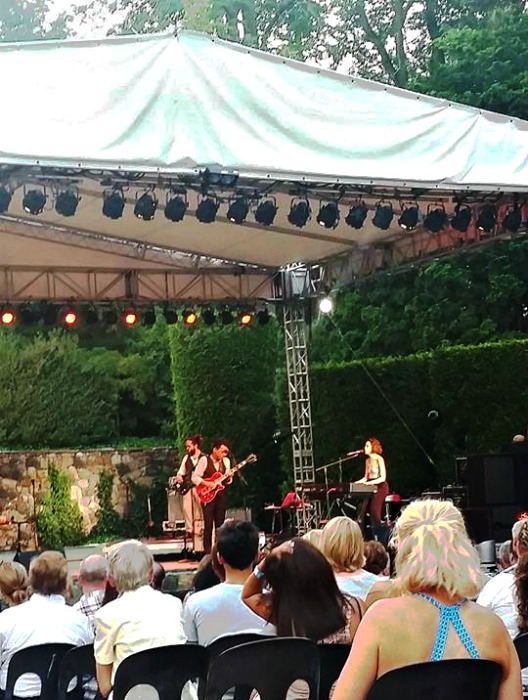 She has an amazing crisp voice and very charismatic. She loves dancing in between songs and seems very passionate about her songs. She was able to share a few things about her songs especially one that was written about a girl who stole her boyfriend. She was happy to reminisce and then joke about it. If you like pop, her sounds will keep your feet moving and if you like eclectic then it is also for you as well.
Audience
I think Ms. Lafourcade was received well by the mixed crowd. I know that Kennett Square has a higher Hispanic community so I was happy that there was a great crowd. I know I can say this since I feel like I live in an area with hardly any Hispanics. HA! They were very enthusiastic and great fans of Ms. Lafourcade and rightly so. 
I look forward going to my next concert because it is the IDEAL spot to enjoy great music. Go with a loved one or have a ladies night out and see what Longwood Gardens Summer Series is all about!

Related