Summer is not complete without a dose of ripe nectarines and cherries. This nectarine and cherry tabbouleh salad is a refreshing side to go with grilled fish or chicken and is well-consumed by all toddlers and babies in our home. What a great way to use fresh produce from your local farmer's markets.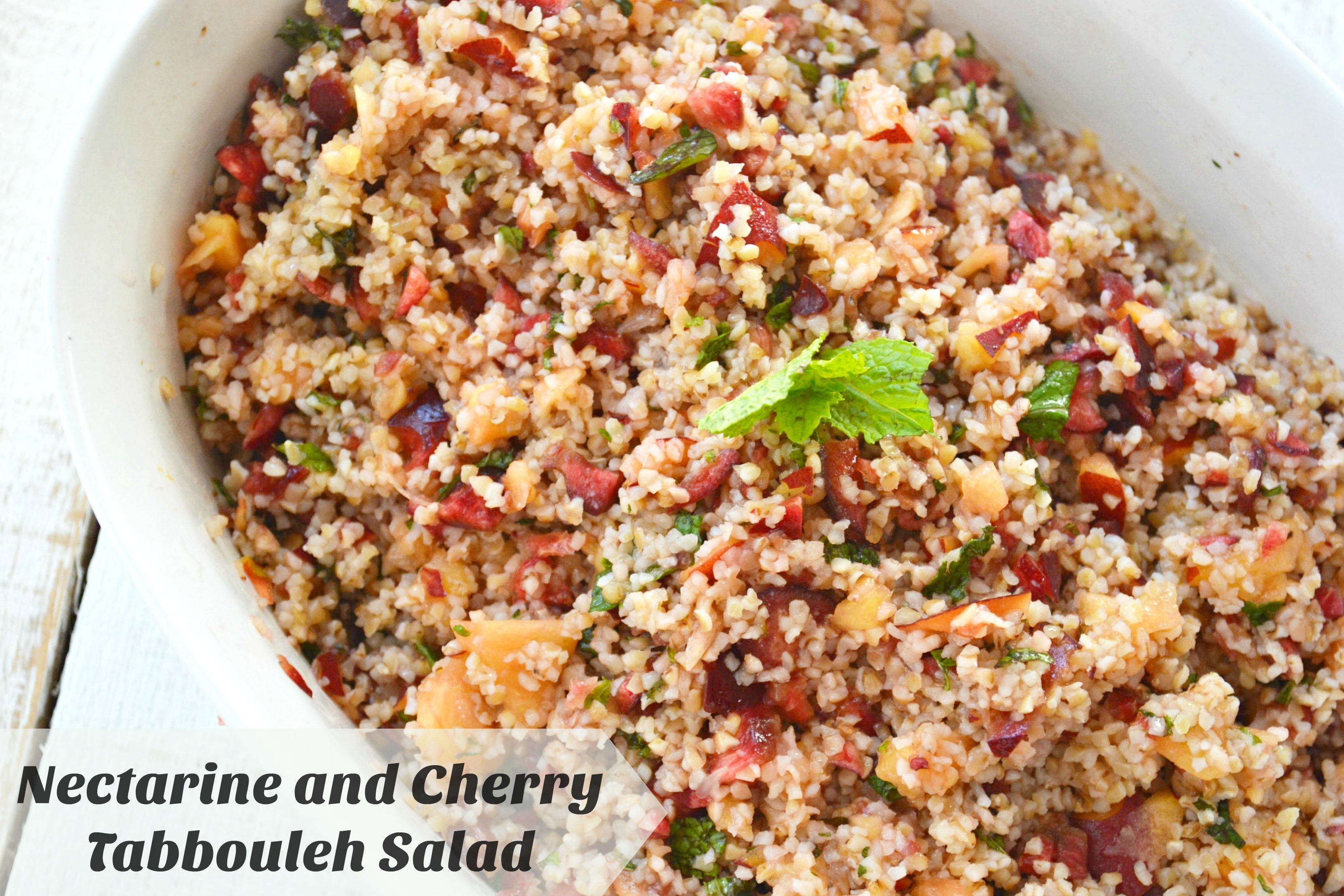 I hope everyone had a lovely Fourth of July weekend! It is nice to have a three-day weekend because a break from work is always welcome. We enjoyed a mild summer day with friends on two different days with at least a day filled with a round of fireworks.
I feel like after a full week and a half of being back from Texas that we are all back to our rhythm. While we love traveling and going places, it always throws our schedules and pace out a bit and it is just challenging to get back to normal. All I felt like doing was lounging and sleeping to make up for the high paced days. The high pace is ALWAYS there in our home with three girls under the age of 5 but it is just a bit different.
Summer meals
Summer is meant to be calm and refreshing but somehow it gets just as busy but even so we like to take the time to make home-cooked meals and grilling so we have been making light and quick meals that would be enjoyed by the whole family. When I discussed what side to make with the planned pan-fried hake (fish), mu husband suggested bulgur. I would not think of bulgur outside of Mediterranean food but that is because that is the only time I have consumed it.

What is bulgur?
What is bulgur, you might be asking? It is a dried cracked wheat and after reading more about it, I did find out that it is more common in European, Middle Eastern and Indian Cuisine. It is VERY quick to prepare since it is partially pre-cooked. I purchased the bag at my local Indian store or international grocery store and re-hydrate 1 cup of bulgur with 2 cups of boiling water. I made about 3 cups of ready-to-use bulgur wheat.
 
Nectarine and Cherry Tabbouleh Salad
Everyone in my family knows that I am a big fan of cherries. If I could put them in everything during the summer season, then I would. Add some fresh ripe nectarines and I am in fruit heaven. Fruit does not have to be for breakfast alone, but it is great in salads, especially this tabbouleh recipe that normally would call for tomatoes. I put a twist on my normal tabbouleh and make it sweet and savory.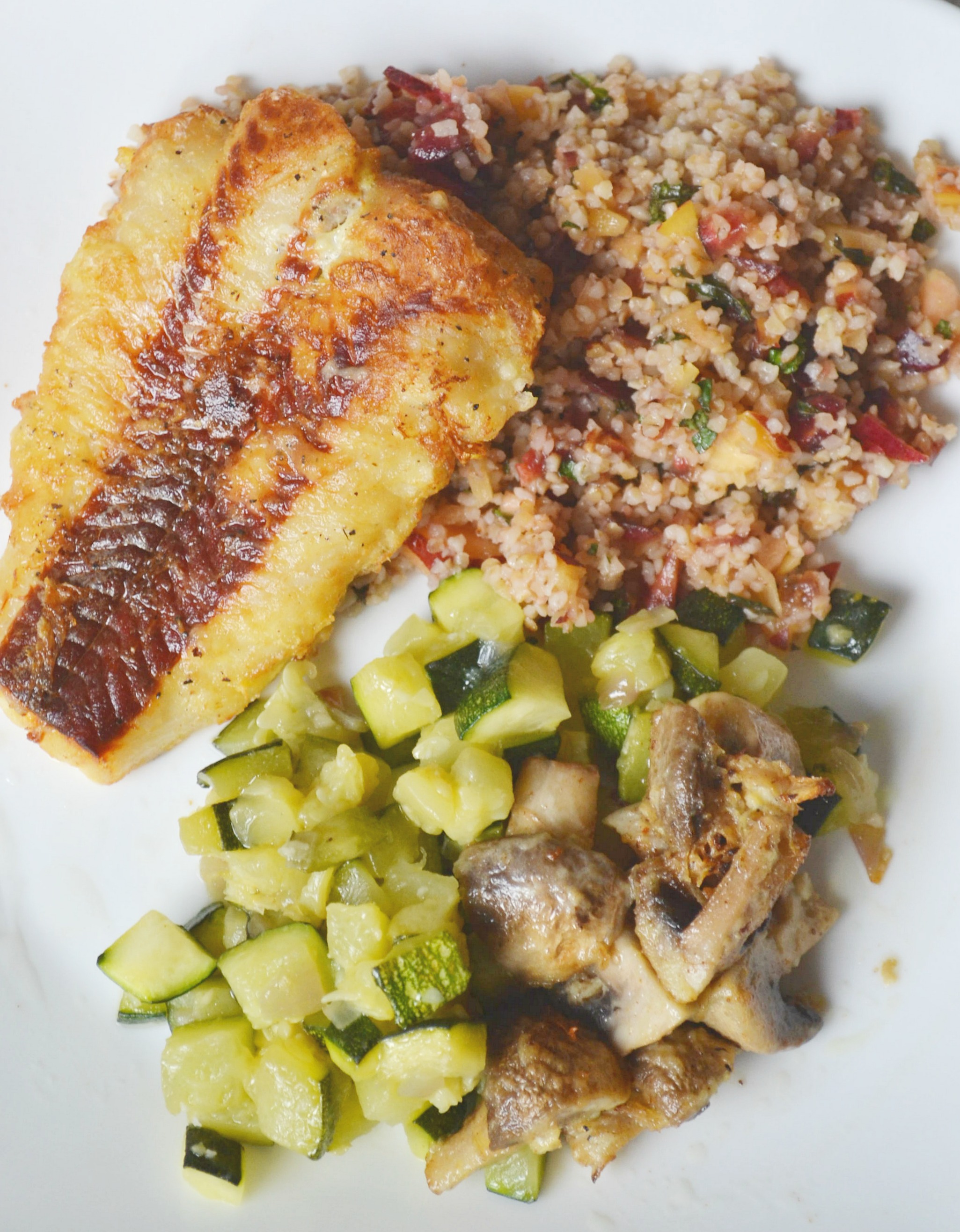 I used seasonal ingredients to make a quick salad to go with our dinner. I used fresh nectarines, cherries and mint to make a fruit tabbouleh salad. It was consumed by our 11-month old daughter and our toddlers enjoyed it even more because they were eating some of their favorite fruits in a salad! Serve it with grilled or fried fish and enjoy a fresh quick dinner this summer.
How would you enjoy this salad?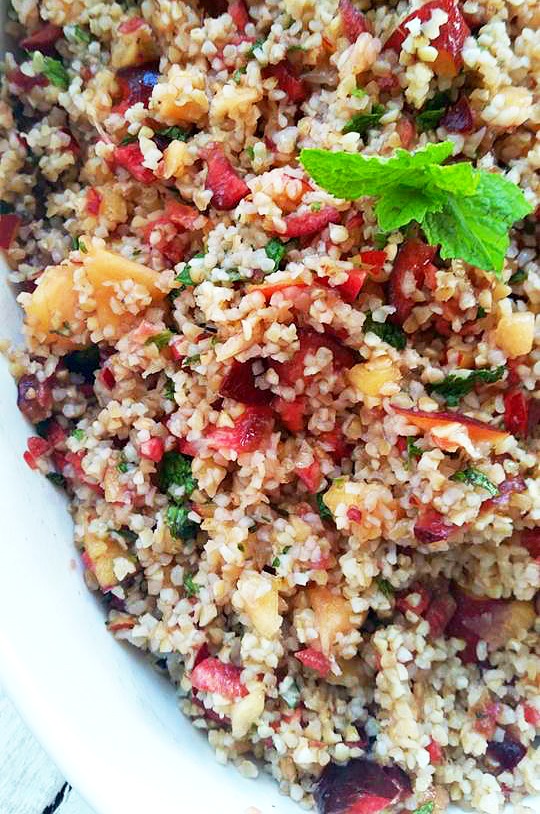 Ingredients
1 cup coarse bulgur
2 cups boiling water
½ teaspoon salt
½ cup finely chopped parsley, tightly packed
½ cup finely chopped mint, tightly packed
20 fresh sweet cherries, pitted and diced
2 nectarines, pitted and diced
2 tablespoons fresh lemon juice
3 tablespoons extra-virgin olive oil
Instructions
Place bulgur in a large glass bowl.
Add salt and cover with the boiling water and let sit for 20 until bulgur is tender and has absorbed most of the water.
Transfer bulgur to a strainer and press out excess water.
Dry glass bowl and pour the bulgur, parsley, mint and cherries, and nectarines in a large bowl and toss.
In a separate bowl, whisk together lemon juice, olive oil and add to bulgur mixture.
Refrigerate before dinner or serve immediately.
Great with grilled fish or chicken.
https://singerskitchen.com/2016/07/nectarine-cherry-tabbouleh-salad.html/
Related