Give your grill a break and try The Pub at Wegmans with your family or even on your next date night. Summer eats are exciting when there are new menu items like the Ultimate Steakhouse burger as seen below. Nice to add a new place to enjoy good food in the area.
Disclosure: Thanks to Wegmans for hosting and giving us a peek into the summer and permanent menu at The Pub.
When I left Texas about 8 years ago, I knew I would have to go through a lot of changes. I was prepared to make them since I had never lived in the East Coast. In Texas, we went grocery shopping and went home, but here in Pennsylvania, you can do so much more that shop at grocery stores like Wegmans, Giant Food Stores, and more.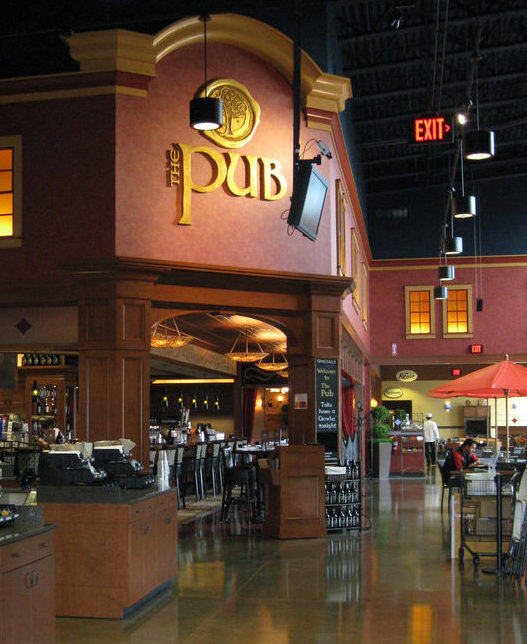 The Pub at Wegmans
Did you know that Wegmans has a sit down restaurant? It has a full bar and it has its own environment. Wegmans has a great sitting area for those buying food at the cold and hot bar. It is also a great place to plug-in and do some work like us telecommuters. Having a place to work away from home is really nice to have and even more when you can turn it into a business meeting and go to The Pub at Wegmans.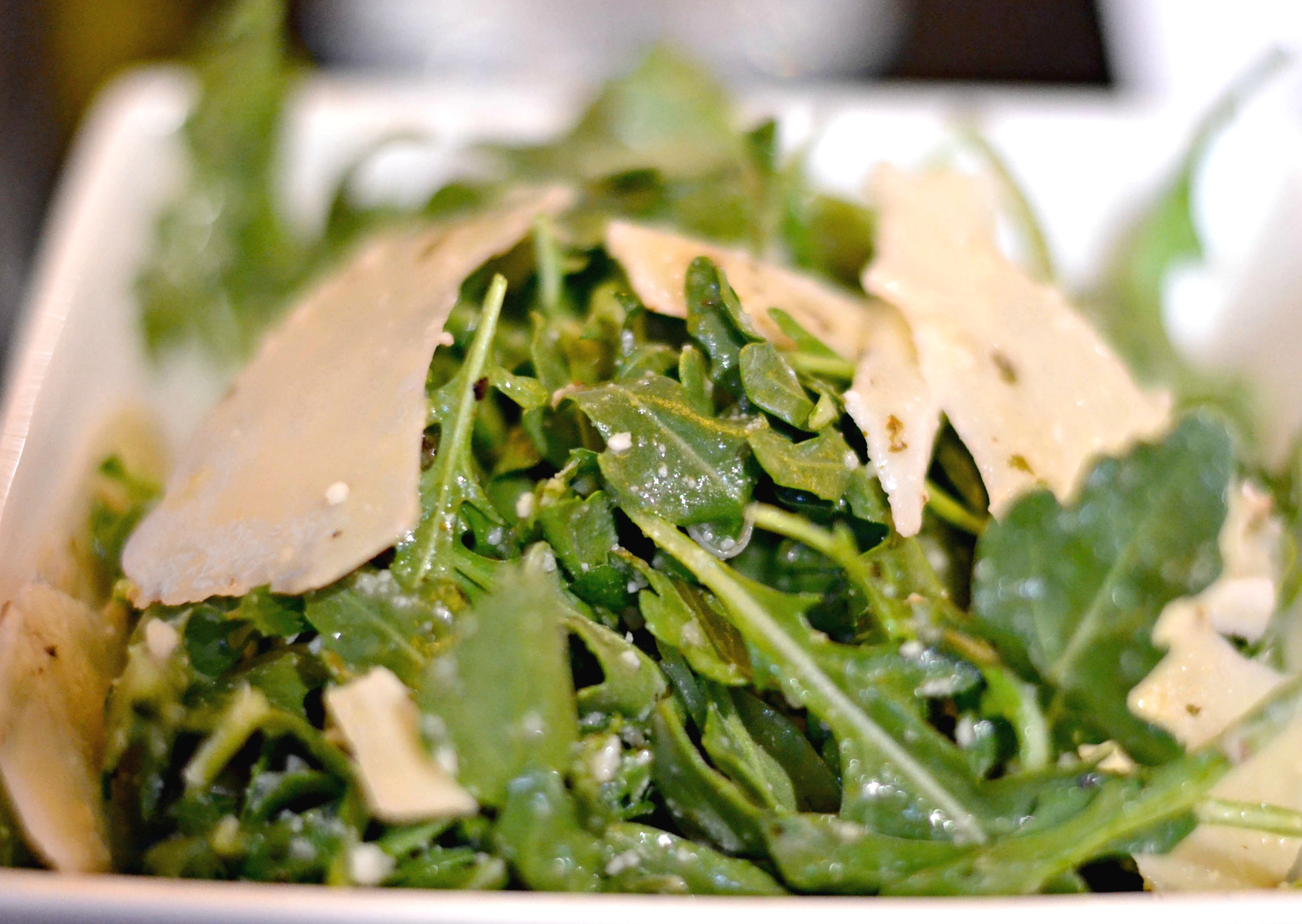 Since it was the middle of the day I enjoyed some water and lemonade before getting my lunch. I tried a simple arugula salad and the crispy calamari. While there were no exact descriptions for the salad, the waitress explained what kind of salad it would be.
I love having greens before my main meal and arugula has a great lemon and pepper flavor. It combined well with the citrus vinaigrette and the large Parmesan shavings. It was very delicious and a great starter.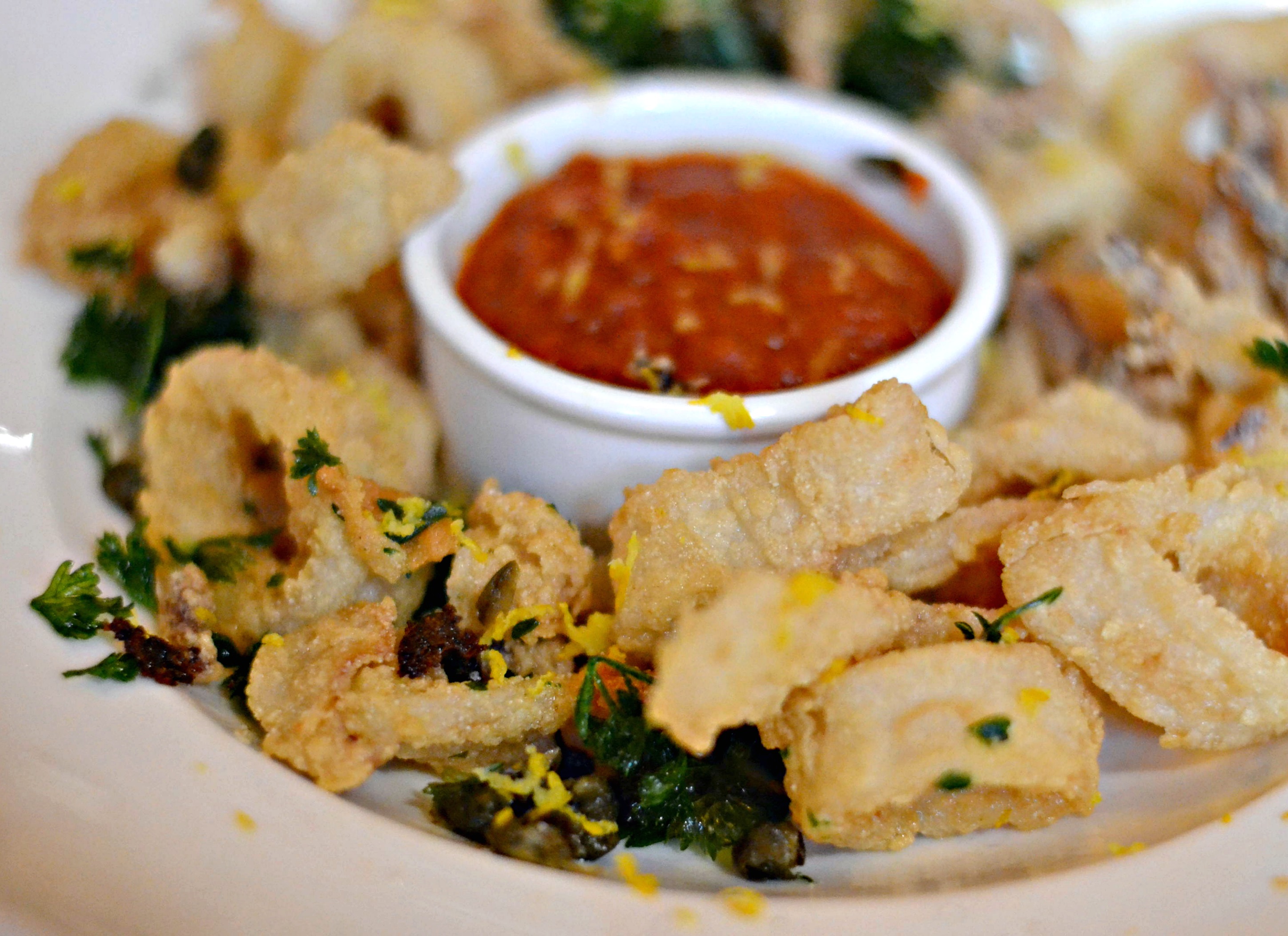 I decided to try the calamari because it is not something I eat all the time, but I like knowing my options for the future. The crispy and hot calamari arrived with a side of marinara and a lemon wedge. I was easily transported to Italy because anything with calamari seems so European to me. I  only tasted a few in order not to spoil my appetite for the reason for my visit.

The Ultimate Steakhouse Burger
My husband and I are always on a quest for the best burger. What we have found is that many are too small or lack in quality ingredients, but I knew that The Pub's newest burger addition was calling my name.
The Ultimate Steakhouse Burger is the newest addition to the menu and is a permanent one at that. It is a half-pound of dry-aged prime beef topped with a creamy spinach with added Gruyère cheese. In addition to this,  some savory steak sauce-marinated Portobello mushrooms are layered underneath the meat and finished with amazing fried shallots.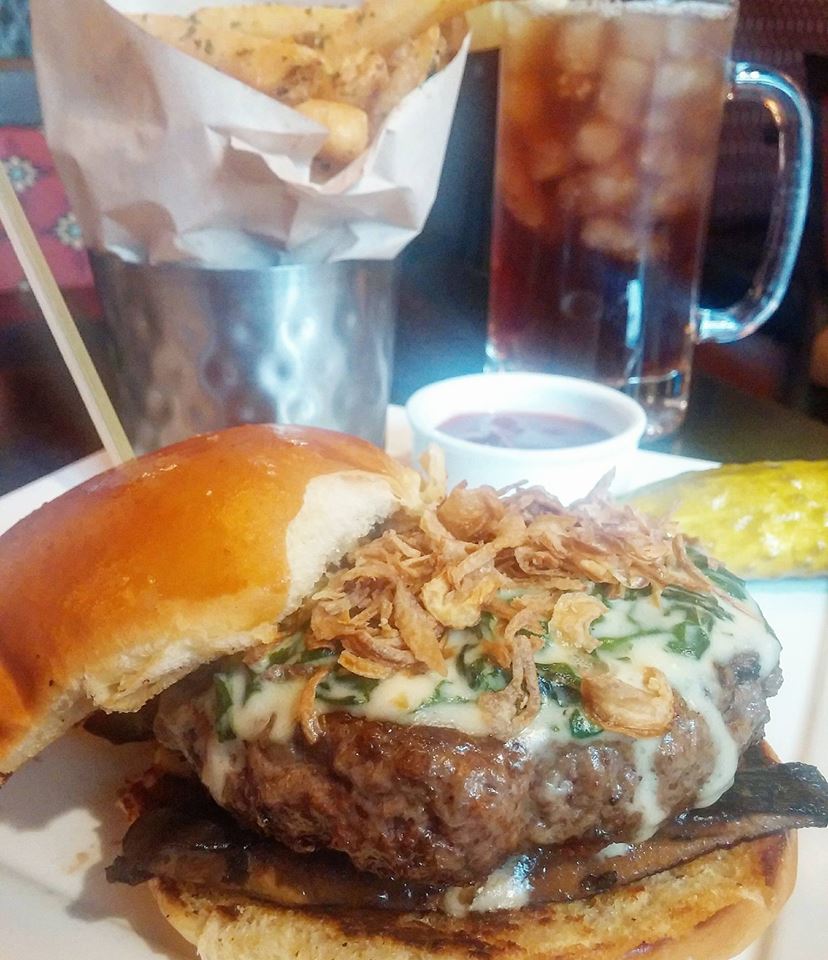 It was hard to even touch this burger because it was too pretty to consume. It was too much for me to consume but definitely worth the visit. While I would have added a bit more salt to the meat the combination of flavors and layers to the burger really did make this Steakhouse burger a unique one. The brioche bun made it all come together with each bite. It is nice to have a break from bacon and cheddar to an elegant yet manly burger.
While there was more on my plate besides the burger, I did not forget the Tuscan Fries. These were definitely my favorite version because it came with rosemary, sage, Italian parsley, and garlic. I think I liked these better than truffle fries. Maybe. I will have to go back and see if my husband agrees.
What a great way to give any family a break from grilling or even heating up the kitchen. 

Overall Experience
Pros: Nice and different environment. I did not feel like I was at a grocery store but indeed a separate restaurant. I liked the full bar and option to order drinks. 
Cons: The food did lack a bit of salt, but the presentation was great and of course salt can always be added.
Price point: Ultimate Steakhouse burger + Tuscan fries= almost $15
The Steakhouse Burger is only available at select Pub locations, including the Perinton, Malvern, Allentown, Alexandria, Montgomeryville, and Midlothian markets.
Related